High-SchoolBoys-Basketball:

Quinn Cook
June, 14, 2012
6/14/12
10:55
AM ET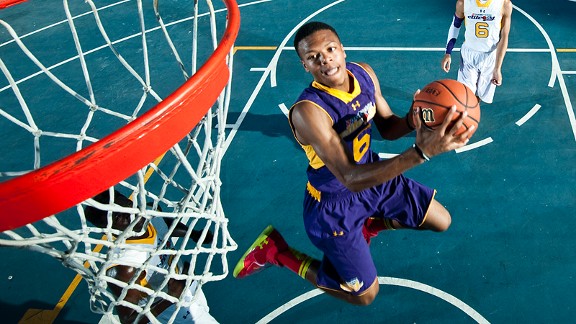 Kelly KlineD.C. Assault is in good hands with Nate Britt running the show at the point.
Each week this summer leading up to the AAU National Championships in Orlando in July, ESPNHS will profile one of the nation's top AAU teams and tell you why you should be paying attention.
Team:
D.C. Assault
Location:
Washington, D.C.
Coach:
Eddie Jordan
What you need to know about D.C. Assault:
If you ever get out to a D.C. Assault practice, make sure to keep an eye out for the front entrance.
Frequent visitors and program alums
Michael Beasley
,
Nolan Smith
,
Quinn Cook
,
Keith Bogans
or
Tyler Thornton
could come strolling through the gym for an impromptu pick-up game with the current members -- you know, just to make sure the young guns are ready to rep the squad the right way.
"They school us on how to be a great team," says forward
Kris Jenkins
, the No. 46 player in the
ESPN 100
. "We are on the outside looking in and they are where we want to eventually be."
Since its inception, Assault has landed nine of its ballers in the McDonald's All-American Game and spawned the career of a multitude of collegiate and NBA stars. The program's stellar player development puts Assault in exclusive company nationally, as does its new head coach,
Eddie Jordan
. The former Washington Wizards coach, who recorded more than 250 wins in the Association, is in his first year at the helm of the Under Amour-sponsored squad and is hoping to orchestrate a championship campaign with the loaded U-17 Gold squad. He has quickly instilled an NBA-like work ethic in his players with a strong emphasis on defense.
"Our identity is to really get after you," says Jordan. "All of our guys defend. We like to run out and play in the open floor.
"We don't take haphazard shots; we are very selective. We're very cerebral and share the ball. You help your teammates first and then help yourself."
Jordan inherited an extremely talented roster, with ESPN 100 members
Nate Britt
and Jenkins as the main headliners. Add in microwave scorer
Nigel Johnson
, post bruiser
Junior Etou
and versatile wing
Ahmad Fields
, and Jordan features a destructive lineup likely to spark barbershop discussions on where it ranks amongst Assault's all-time great squads.
"It's really about the way we choose our team," says Jordan. "(Co-founder) Curtis Malone and his staff chose the right kind of people. They're good players but they're also good people."
Jordan guided Assault to the title at the Real Deal in the Rock in Arkansas, taking down a Houston Defenders team that features a pair of top-10 guards in highly touted twins
Andrew
and
Aaron Harrison
in the finals. Assault also advanced to the final four in two other tourneys, giving Jordan high hopes for the upcoming July schedule.
"It hurts when they lose, because they want to be the best," says Jordan.
Key Players:
Nate Britt:
Britt has the makeup of an elite point guard, displaying a knack for penetrating defenses to score or to create easy looks for teammates. The UNC commit is rated the No. 22 player (No. 3 PG) in the ESPN 100 and has proved to be a valuable leader playing at Gonzaga the past two years. Britt, a smooth stroking lefty and a flytrap defender, qualified for the USA Men's U18 national team earlier this week.
Kris Jenkins:
The 6-foot-6 Jenkins is an undersized power forward for Gonzaga during the high school season, but he will play the 3 in Jordan's offense. He is a versatile inside-outside threat and has the tools (perimeter shooting and ability to attack the cup) to excel in the 1-3 pick-and-roll sets along with Britt.
Nigel Johnson:
This dynamic, Virginia-bred guard turned heads in February when he dropped a double-nickel during a regular season contest. "He's just an assassin, and he reminds me of Gilbert Arenas," says Jordan.
Junior Etou:
A rugged, defensive-minded post, the 6-foot-7, 210-pound Etou provides the squad with toughness on the interior and a strong presence on the boards. He holds offers from Kansas State, Maryland and West Virginia, among others.
Key Dates:
Under Armour Summer Jam in Milwaukee, Wisc. on July 18-22
Fab 48 in Las Vegas, Nev. On July 26-29
Player Breakdown:
We caught up with Jenkins to get his take on what he feels year's squad can accomplish and how it can maintain the club's rich pedigree.
"This is a team that's going to play hard and give all we got and hopefully win a national tournament," says Jenkins. "If we don't win, we need to walk away with our heads high and know the ball just didn't bounce our way.
"It would mean a lot (to win a national title) and go down in history as a D.C. team that won a national championship. It's something this team is always working toward."
Famous Alums:
Beasley (Minnesota Timberwolves forward)
Bogans (Chicago Bulls NBA guard)
Smith (Portland Trailblazers guard)
NaVorro Bowman
(San Francisco 49ers LB)
March, 28, 2012
3/28/12
11:10
PM ET
By
Jason Jordan
| ESPN.com
CHICAGO --
Brandon Ashley
had to admit that the point was valid, but he wasn't about to agree with it completely.
Last year,
Quinn Cook
,
Austin Rivers
and
Myck Kabongo
were all adamant that their hectic schedule during the week of the McDonald's All-American Game plus the minimal amount of sleep they got the night before they flew from Chicago to Bethesda, Md., to play in the National High School Invitational wouldn't have any bearing on how they performed in the opening round.
The result?
Kabongo's Findlay Prep (Henderson, Nev.) and Rivers' Winter Park (Winter Park, Fla.) squads both got sent packing on the first day, while Cook and the Oak Hill Academy (Mouth of Wilson, Va.) Warriors made it to the title game and lost in double overtime to Montrose Christian (Rockville, Md.).
All three later conceded that fatigue from a week's worth of Windy City grinding played a major role in their teams' ultimate demise.
"I hear all that, and that makes sense, but I'm gonna say exactly what they said," said Ashley, a forward at Findlay Prep who suited up for the West in the McDonald's All-American Game. "I'm gonna say it won't affect my game in the least."
Added Ashley's
Findlay Prep
and West teammate
Anthony Bennett
: "We do this. We will be ready to go out there and do what we've got to do at the NHSI, no question."
We'll find out Thursday (8 p.m. ET on ESPNU) when the top-seeded Pilots take on No. 8
Coolidge
(Washington, D.C.) in the quarterfinals at Georgetown Prep.
"See, what most people don't understand is that the schedule we've been on this week isn't even as bad as our AAU schedule," said Ashley, an Arizona signee. "It's way crazier during the summer. Three games a day; play at 10 p.m. one night and 8 a.m. the next morning. This is nothing."
Their "nothing" would be overwhelming for many high school players, but at Findlay Prep, even with a lighter load, the travel schedule is more Division I college than high school.
"What's crazy is we haven't even traveled as much as we did in the past," said Bennett, a forward who is ranked No. 7 in the
ESPNU 100
. "We still play in the big tournaments, but the schedule hasn't been as hectic this year."
That's something that "shocked" Ashley, who transferred to Findlay from Bishop O'Dowd (Oakland, Calif.) for his senior season.
"I expected the travel to be a little worse," said Ashley, who is ranked No. 10 in the ESPNU 100. "Because it's 'Findlay' and all that. It hasn't been that bad at all. This week may have been the craziest week, travel-wise, for us."
Ashley and Bennett will hop on a plane Thursday morning and plan to head straight to the shootaround. After that, both said they plan to grab a long nap before tonight's game.
"We'll just rest up and relax as much as possible," Bennett said. "We know how important this tournament is and we know what happened last year, so we won't have a repeat of that."
Kabongo, who just finished his freshman season running the point at Texas, said that the Pilots should be playing "with an enormous chip on their shoulders" after falling so early in last year's NHSI.
"We fell short of the Findlay standard," Kabongo said. "They will have to come out and play hard to regain that. I know they will."
Even if that means they won't get a shot at knocking off Oak Hill, the top team in the
POWERADE FAB 50
. Warriors coach Steve Smith opted not to participate in the NHSI this season for the first time since the tournament's inception in 2009 due to the timing.
The Warriors just returned from a 12-day trip to China on March 20 and immediately went on spring break.
"As a competitor we would've loved to see Oak Hill because they're No. 1 and we're No. 2," Ashley said. "But they went and did their thing in China, so it's all good. We're focused on what's in front of us and that's Coolidge. That's all we're worried about."
To the casual observer, a No. 1 facing a No. 8 is a gift, but Bennett was quick to point out that such thinking was "fool's gold."
"I don't know a whole lot about Coolidge, but I know you've got to be good to get in this tournament," Bennett said. "Only big-time teams get in this."
Added Ashley: "This isn't the NCAA tournament. It's not like a 16-seed playing the top seed. This is a small tournament and everyone is elite. You can't come in and expect a blowout. I'm not guaranteeing a championship, but what I will say is that we'll be giving a championship effort."
Jason Jordan is the basketball editor for ESPNHS. He can be reached at
jason.x.jordan.-ND@espn.com
. Don't forget to follow him on Twitter:
@JayJayESPN
.
March, 27, 2012
3/27/12
7:36
PM ET
By
Ronnie Flores & Jason Jordan
| ESPN.com
CHICAGO -- There is no doubt all 24 boys' basketball players set to take the floor Wednesday at the United Center for the 35th McDonald's All-American Game (9:30 p.m. ET, ESPN) are among the nation's best.
The question is whether the East team can keep up with the scoring prowess of West ringleaders
Shabazz Muhammad
of Bishop Gorman (Las Vegas),
Archie Goodwin
of Sylvan Hills (Little Rock, Ark.) and
Marcus Smart
of Marcus (Flower Mound, Texas).
Muhammad set the pace at the McDonald's practices with his work ethic, and many of his West teammates rose to the occasion as well. Smart in particular has been lauded for his ability to score in a variety of ways.
His physical presence at 6-foot-3, 200 pounds gives coach Gordon Kerkman of West Aurora (Aurora, Ill.) multiple lineup options. Smart can run the lead guard but will likely play on the wing on Wednesday, which should open up Goodwin for scoring opportunities. Goodwin is a volume shooter, so if gets hot the West should be in good shape.
The East team, coached by Billy Hicks of Scott County (Georgetown, Ky.), counters with a team that can pound it inside. The team will be extremely dangerous if the players stick to the team concept and balance the floor -- something easier said than done in all-star settings.
Alex Poythress
of Northeast (Clarksville, Tenn.) will be a load for the West team to handle with his combination of size and athleticism around the basket. National scouts and even some NBA brass in attendance have been impressed with the 6-foot-7 Kentucky recruit in practice.
DaJuan Coleman
of Jamesville-DeWitt (DeWitt, N.Y.) also has a strength advantage down low on the West's pivots, so the amount of touches he receives could be key.
Winning Time
The East counters Smart's versatility with
Kyle Anderson
of defending POWERADE FAB 50 national champion St. Anthony (Jersey City, N.J.). The 6-foot-8 point guard is a huge matchup problem for any team he's up against and is the key to distributing the ball for the East. His unique feel for the game allows him to know when and where a teammate needs the ball and who hasn't gotten into the flow.
Anderson isn't used to losing. The UCLA pledge led St. Anthony to a 32-0 season and its 12th New Jersey Tournament of Champions title one week ago. He did not lose a game in his St. Anthony career, going 65-0. Counting his sophomore year at now-defunct Patterson Catholic (Patterson, N.J.), Anderson is 94-1, and he has no intention of losing Wednesday's game.
"Our coaches let us know right away they didn't intend to lose this game," Anderson said. "I want to win this game, but everybody else has got to take it just as seriously."
The West team's practices have been more intense with a focus on scrimmaging, while the East has focused on footwork and fundamentals in drills. The West was getting after it so hard on Tuesday that forward
Devonta Pollard
of Kemper County (Porterville, Miss.) took a hard blow to his head and guard
Yogi Ferrell
of Park Tudor (Indianapolis) took a hard spill and crashed into a cameraman.
The intensity level is something Anderson and his teammates didn't see, but definitely heard about.
"I was talking to (East teammates)
Tony Parker
and
Rodney Purvis
about what they were reading on blogs how the West was playing hard and they were going to kill us," Anderson said. "So we're going to shock the world a bit and sweep them off their feet."
He likes what he sees in his backcourt partner
Tyler Lewis
of Oak Hill Academy (Mouth of Wilson, Va.). Anderson feels the combination of their abilities should create positive momentum for the East team.
"Myself and Tyler are working well together," Anderson said. "Both of us are unselfish and will get the ball to the right people who will score."
Tough and Toothless
Lewis may have won the
POWERADE Jam Fest skills competition
title Monday night, but even more impressive was the toughness he showed just being on the court after having a tooth knocked loose during Monday's practice.
During a live scrimmage, Anderson did a reverse dribble and caught Lewis right in his front tooth with an elbow.
"I knew it was loose enough that it was gonna have to come out," Lewis said. "I knew it."
After practice, Lewis went to a local dentist and had a false tooth put in.
"I've actually had that happen before to that same tooth," Lewis said. "It hurt pretty bad when it happened, but I wasn't gonna let it get me down. I'm having too much fun."
When asked if he planned on wearing a mouthpiece from now on, Lewis replied, "No way. I'm a point guard and it's hard to talk with a mouthpiece in my mouth."
Practice Makes McPerfect?
On Tuesday morning, the East club went live for approximately 10 minutes in practice to conserve energy for Tuesday afternoon's scrimmage against the West. The West went live for roughly the same amount of time in each of the last two practices.
The performance in those scrimmages would point to the West club being a prohibitive favorite for Wednesday's game. At prior McDonald's Games, however, there have been instances when the apparent underdog has rallied to win after being inspired by talk of poor practices or after losing the official scrimmage.
Free McDonald's?
When
Tony Parker
learned he'd been selected for the 2012 McDonald's All-American Game, he remembered something his friend
Quinn Cook
had told him after his McDonald's All-American experience in 2011.
"Quinn said we get free McDonald's for a year," said Parker. "Is that true?"
When told he'd been duped by the current Duke freshman, Parker laughed and said, "Are you serious? He got me, he got me."
December, 29, 2011
12/29/11
6:00
AM ET
By
Jason Jordan
| ESPN.com
RALEIGH, N.C. --
Rasheed Sulaimon
leans back on the padded chair inside the lobby of his swanky hotel on the eve of his High School OT Holiday Invitational debut in Raleigh, N.C.
He's stylishly underdressed in a Strake Jesuit College Prep (Houston) warm-up pulled over a black Duke shirt with blue letters. Finally, it's chill mode after a long day that included a 2:30 a.m. arrival, a brief meeting with the Duke players and coaches and a practice at Duke's Cameron Indoor Stadium with his Strake teammates.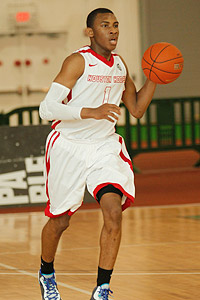 Courtesy of Andrew ShurtleffRasheed Sulaimon said Duke will sweep UNC this season.
Just as he begins to express mild concern with the fact that he's feeling a bit under the weather, a hotel employee, who has been staring at Sulaimon for the last 10 minutes, walks by and unnecessarily begins to fiddle around with the blinds just in front of his chair.
Minutes later, the employee, a middle-aged woman with short hair and a big, puffy coat, walks by again. This time she can't resist.
"You the guy that's going to Duke?" she asked matter-of-factly.
Sulaimon smiled and replied, "Yes ma'am, that's me."
"Oh," she said with a grin. "Well, you've got really pretty eyes."
For a split second, Sulaimon seems slightly uncomfortable. He shifts to the side in his chair and blushes, but just as he tries to get "thank you" out, she interrupted with, "But just so you know; I. Hate. Duke."
Such is the life of a high school player who's signed on to join college basketball's Evil Empire.
"I get stuff like that all the time," said Sulaimon, a senior shooting guard who committed to Duke on Feb. 10 and signed during the NCAA's early signing period in November. "It's crazy how much people really just hate on Duke. I've been dealing with the hate ever since I committed."
That's been a major adjustment for Sulaimon who has one of the most likable personalities of any high school player in the country, regardless of class.
"Oh yeah, everybody loves Sheed," said Sulaimon's teammate
John Gillon
, who is signed to Arkansas-Little Rock. "He's just so positive all the time and he's really easygoing. He's the kind of guy that people flock to. Everybody loves him."
Well, at least they used to.
Sulaimon and the Crusaders traveled to Taylor (Houston) the day after he gave Duke its first commitment from the class of 2012 and immediately Sulaimon noticed a drastic change in how he was received.
"The gym was packed and everyone had all of these signs made about how Duke sucked and how I sucked," recalled Sulaimon, who is ranked No. 12 in the
ESPNU 100
. "They were saying Duke was gonna revoke my scholarship, UNC was better, I'd never get off the bench there, all this crazy stuff. Since that day it hasn't cooled off at all. Whenever it happens I have to tell myself to block it out and then I'm usually fine. I still haven't gotten used to it."
Even in the loss to Garner in the quarterfinals, where Sulaimon was hunched over, gasping for breath and running up the court dizzy all night, he received more than six emails on Facebook telling him how terrible he played and how Duke coach
Mike Krzyzewski
, who attended the game, was going to take his scholarship back.
Duke point guard
Quinn Cook
said that it doesn't get any easier as the year progresses and certainly not when you put on the Blue Devil jersey.
"I had to deal with it too. We all have," said Cook, who also attended the quarterfinal loss along with teammates
Austin Rivers
and
Alex Murphy
. "Right when I committed I had fans just killing me with comments and players talking crazy and trying to go at me on the court. I just used it as motivation because every game someone was coming at my head. I wasn't gonna let anyone just get the best of me. It really helped."
Sulaimon has used the same motivation to average 28 points and five assists a game this season. And ironically, despite all of the tongue lashings and verbal assaults he gets due to his association with Duke, Sulaimon maintains that opposing fans' jabs don't equal true hate.
"The same people that are heckling me throughout the game are the ones dapping me up and saying they respect me after the game," he said. "A lot of times the haters are the biggest admirers."
Suddenly, seemingly out of nowhere, the middle-aged woman with the short hair and a big, puffy coat was back. This time she's brought her daughter over to meet Sulaimon.
"My little girl wanted to know if you'd sign her doll," she said while sliding it in front of him.
Without hesitation, Sulaimon smiles, grabs the doll and signs away.
The woman's daughter smiles and skips away looking at Sulaimon's name in purple ink on her worn doll. The woman thanks him, turns to walk away and immediately spins back around.
"Look I'm a North Carolina fan, so that's why I said that earlier," she explained. "But you seem really nice. I'll tell you what; I'll root for you individually when you get to Duke. Not the team. That's the best I can do."
Sulaimon laughs and nods.
Biggest admirers indeed.
Jason Jordan is the basketball editor for ESPNHS. He can be reached at
jason.x.jordan.-ND@espn.com
. Don't forget to follow him on Twitter:
@JayJayESPN
November, 7, 2011
11/07/11
2:59
PM ET
By
Ronnie Flores
| ESPN.com
Last week the program at United Faith Christian Academy (Charlotte, N.C.), ranked No. 30 in the preseason
POWERADE FAB 50
, was
banned from the North Carolina Independent Schools Athletic Association (NCISAA) playoffs
this season and next because of a violation of the NCISAA's rules on recruiting. The basketball program was also placed on probation for two years, according to the
Charlotte Observer
.
The violation stemmed from an email sent out in September by school headmaster
Dr. Joe Siragusa
, a NCISAA Board of Directors member, to guardians of the basketball program's international basketball players. The email was intended to inform its recipients the program was still going to compete at the national level in light of former NBA guard
Muggsy Bogues
replacing
Shaun Wiseman
as coach in the off-season.
"I never would have thought ...that my email would have waded into the area of recruitment," Siragusa told the newspaper. "They still will play a decent schedule. I feel terrible for the juniors and seniors who this directly affects."
The Falcons are still FAB 50 eligible. The playoff ban stems from a ruling determined to be an act of recruiting potential student-athletes. As we interpret it, the violation had nothing to do with player eligibility issues regarding UFCA's current roster.
The Falcons' 2011-12 season is going to end sooner than it normally would otherwise, hence they will play fewer games and see less quality opponents. At some point as other teams advance in the post-season in their respective state, the playoff ban will effect their national ranking.
"Unguarded" Uncut
"Unguarded," the
ESPN documentary
about the trials and tribulations of former NBA, Fresno State and Durfee (Fall River, Mass.) standout
Chris Herren
, premiered last week and made a strong impact in the basketball community. Current NBA and college players quickly hit their Twitter accounts to express respect for Herren's courage to speak publicly about the drug addiction that nearly took his life.
"Man this Chris Herren story really hit me. One of the strongest people I've ever seen. Made it through all he has been through," said Duke freshman guard
Quinn Cook
(@QCook323).
"This story on Chris Herren on ESPN is amazing!!!!!! Drugs will tear a family down. He might of lost millions but he MADE it," said Phoenix suns forward
Jared Dudley
(@JaredDudley619).

What if I told you a movie could change the way you look at sports? From the producers of 30 for 30, ESPN Films presents a new series. Every Tuesday at 8 p.m. ET on ESPN. ESPN Films index »

The documentary centered on Herren detailing his story in various public settings. He's spoken at correctional facilities to recovering addicts and shared his gripping experiences at last summer's
Boost Mobile Elite 24
with the event participants. What viewers didn't see, however, was any interviews or commentary from Herren's former teammates.
"How can Chris' story be told without Dominick Young? I'm the one who kept him eligible to play and stayed up night after night," said former Fresno State teammate
Dominick Young
. "Chris is one of my best friends, but he was a wreck, a mess and only I can explain that because we lived together the whole time. But that's why we parted over the years because my battle with trying to get him to shake drugs."
In
Jerry Tarkanian's
first year coaching at his alma mater in 1995-96, Herren sat out the season as a transfer from Boston College. That team was made up of holdovers from the
Gary Colson
era -- guards
DeAndre Austin
and Young, forward
Darnell McCulloch
and center
Khary Stanley
. They blended in with late JUCO signees
James "Gumby" Gray
and
Kendric Brooks
to form one of Tark's Bulldog teams that actually played up to expectations with a 22-11 record.
The next season Herren, former prep All-American
Terrance Roberson
and JUCO All-American
Daymond Forney
joined the fold with Young, McCulloch, Brooks and Stanley, but the team finished with two less wins than the year before. In 1997-98, an ultra-talented team that lost the core from 1995-96 was replaced by
playground legend Rafer Alston
, 1994-95 Pac-10 Freshman of the Year
Tremaine Fowlkes
, and former prep All-Americans
Winfred Walton
and
Avondre Jones
. That unit limped to a second place finish in the WAC's Pacific Division before a late run landed them in the NIT semifinals.
As documented in "Unguarded," the team lost Herren for a few weeks when he left for drug rehab. Forney, Fowlkes and Roberson were also suspended for failed drug tests. Alston was out at the beginning of the season because of a domestic incident and Jones was kicked off the team during the Bulldogs' NIT run for famously brandishing a samurai sword during an argument with an acquaintance at Jones' apartment.
"Every guy they brought in was a pro, but they didn't put the work in the gym," Young (@iceneeko) said. "It was crazy, there was always a suspension, an injury, or someone who could only play a certain amount of minutes."
Amazingly, many of the stories surrounding the team were chronicled by a production crew that followed the players throughout the 97-98 season. The final product,
"Between the Madness"
was an eye-opening look at a dozen or so scholarship student-athletes who were as unfocused as they were talented.
The documentary not only foreshadowed Herren's troubles, but was a prelude to today's popular sports reality shows such as
HBO's "24/7"
.
Herren, Roberson, Fowlkes and Alston eventually made it to the NBA, but only Alston enjoyed prolonged success.
"They were great guys, but they didn't work on their game and get better," Alston said.
Dorial Green-Beckham Bucks Trend
ESPNHS has honored the nation's best football-basketball combo athletes for over two decades, names such as
Ron Curry
of Hampton (Hampton, Va.),
Greg Paulus
of Christian Brothers Academy (Syracuse, N.Y.) and
Terrelle Pryor
of Jeannette (Jeannette, Pa.). A majority of the nation's top Grid-Hoop athletes have aspirations to play both sports at the Division I level, but the reality is most end up focusing on one sport and the sport that materializes into a pro career more often than not is football.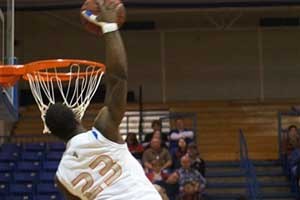 Tracy BeckhamDorial Green-Beckham is arguably the nation's top Grid-Hoop athlete.
With the competition so fierce to earn an athletic scholarship, there are less great Grid-Hoop athletes than ever before. Many top football recruits graduate mid-term and skip basketball in order to participate in spring drills in what would normally be their spring semester of high school. Others simply drop basketball to prepare for their freshman season in college.
A recent example of the trend is quarterback
Cody Kessler
of Centennial (Bakersfield, Calif.), the 2010
Gatorade State Player of the Year
in football who entered his senior year with a school record 1,771 points, but did not play basketball in order to participate in spring football practice at USC.
Record-setting wide receiver/forward
Dorial Green-Beckham
of Hillcrest (Springfield, Mo.), the No. 3 prospect in the
ESPNU 150
for football, confirmed to ESPNHS he will play basketball for the Hornets in his senior year. On October 27, Green-Beckham
set a reported national career record
for receiving yards, becoming the first gridder ever to surpass the 6,000 yard-mark.
Last season on the hardwood, the 6-foot-6 forward earned
ESPNHS second team Underclass All-American
and Ozark Conference Player of the Year honors for a team that reached the state Class 4 quarterfinals. As a sophomore, he led Hillcrest to the Class 5 state title while averaging 20 points and 8.5 rebounds per game.
Green-Beckham has a solid chance to earn All-American honors in both sports this year. He'll be hard-pressed to earn ESPNHS Mr. Basketball USA honors, but look for him on our early season watch list next week.
Oak Hill Academy Now 4-0
On November 1, Oak Hill Academy (Mouth of Wilson, Va.), the No. 3 ranked team in the POWERADE FAB 50, had an early road test against Quality Education Academy (Winston-Salem, N.C.) and came away with a 84-69 victory.
Jordan Adams
, a first team ESPNHS Underclass All-American last year headed for UCLA, led the Warriors with 22 points. Point guard
Tyler Lewis
, a transfer from Forsyth Country Day (Lewisville, N.C.), dished out 14 assists and had 19 points. Guard
D'Vauntes Smith-Rivera
, a newcomer from North Central (Indianapolis, Ind.), added 18 points.
If early results are any indication, Lewis might challenge
Rajon Rondo's
single-season school record of 494 assists set in 2003-04. That season, Rondo and forward
Josh Smith
led the Warriors to the No. 1 ranking in the FAB 50 with a 38-0 mark.
In their latest game on Saturday, the Warriors defeated Stoneridge Prep (Tarzana, Calif.), a non-member of the California Interscholastic Federation (CIF) whose program is ineligible for the POWERADE FAB 50. In the 80-64 victory, Adams finished with 29 points and eight rebounds while Lewis also has 20 points, dished out six assists and reportedly had zero turnovers.
Ronnie Flores is a senior editor for ESPNHS. He can be reached at
ronnie.flores@espn.com
. Don't forget to follow him on Twitter:
@RonFloresESPN
September, 12, 2011
9/12/11
2:00
PM ET
By
Jason Jordan
| ESPN.com
If you watched
Quinn Cook
run the point for Oak Hill Academy (Mouth of Wilson, Va.) last season then what he's about to say will probably shock you.
"I'm finally back to 100 percent," said Cook, now a freshman playing at Duke. "It feels great."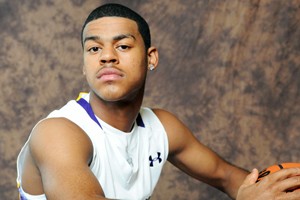 Kelly Kline/ESPNHSQuinn Cook says he's 100 percent after a year of playing on an injured knee.
The immediate "head-scratch" reaction would come from the fact that, despite playing his entire senior season with torn ligaments in his right knee, Cook managed to average 21 points and 11 assists to lead the Warriors, who finished ranked No. 7 in the
POWERADE Fab 50
.
Cook averaged 28 points per game in the ESPNHS National High School Invitational in April but fell in the championship game to Montrose Christian (Rockville, Md.), 71-64, in a
double-overtime thriller
.
The lingering injury left Cook sidelined for Duke's trip to China and Dubai in August, but for Cook it's all about what's ahead.
"I'm happy to be healthy now," Cook said. "I'm ready to go."
Don't forget to follow Jason Jordan on Twitter:
@JayJayESPN