High-SchoolBoys-Basketball:

Recruiting
July, 6, 2012
7/06/12
9:00
AM ET
Come take another look.
That's the advice Columbia (Decatur, Ga.) point guard
Tahj Shamsid-Deen
has for anyone who doubts he possesses the physical tools to be successful at the collegiate level. Despite all he has accomplished on the court during his tenure with the Decatur, Ga., powerhouse, the diminutive floor general's name rarely comes up in the discussion of the nation's premier point guards.
"I think they're missing out. They're going off potential and what they think we're going to do," says Shamsid-Deen, who is the 67th-ranked PG in the class of 2013 according to the ESPN 100 rankers. "I really don't play for a ranking, but I know what I can do and what I can do against [other highly touted] guards."
His accomplishments certainly create a compelling case for the 5-foot-9 guard.
In three seasons running the show at Columbia, Shamsid-Deen has averaged a double-double while orchestrating a three-peat at state and three consecutive finishes in the
POWERADE FAB 50
. Shamsid-Deen is blessed with an uncanny ability to finish at the rim that belies his small stature and a cunning acumen on both ends, and there aren't many ballers in the nation as indispensable to their squads as he is. And even fewer who can match his stacked resume.
Still, the rising senior is an outsider in the
ESPNU 100
, and before garnering interest from UConn and Stanford in recent months he had only a handful of offers, from the likes of Butler, Auburn and Northwestern.
"A lot of teams are afraid of his height," says Columbia assistant coach Clint McCray. "He's playing like he has a point to prove. The kid's had an uphill battle since he got here."
That battle began with trying to convince his teammates he was actually a varsity player.
"I thought he was a little kid," laughs
Jarmal Reid
, a former Columbia forward who will play for Oregon State this upcoming season. "I said, 'Ain't he in middle school or something?' When he got on the court, though, he just tore it up."
It didn't take long for Shamsid-Deen to turn his teammates from skeptics to believers. And he did it against one of the state's biggest squads in Miller Grove, which featured multiple future Division I prospects in its frontcourt. While no one remembers his exact stat line, everyone agrees the bite-sized freshman was among the standouts on the floor that day.
"I was surprised at the maturity level he played with," Miller Grove coach Sharman White said. "He's been a general since Day 1. He has a very high basketball IQ and the right kind of savvy and spunk. If he was 6-5, he would be the best player in the state."
That day was all the coaching staff needed to see before anointing Shamsid-Deen the team's starter at the point. From there, it became apparent that Columbia would be a team to be reckoned with. Over the next three seasons, the Eagles went 89-9 with three consecutive Class AAA crowns. Shamsid-Deen wrapped up the 2011-12 campaign averaging 15 points and 10 dimes a contest, and pumped in a game-high 19 points in the final.
Shamsid-Deen sports championship rings on three fingers, but he's still getting the cold shoulder from some around the nation. The
NBA Top 100 Camp
selection committee shunned him for its prestigious event, and he finds himself ranked in the bottom half of the nation's top 100 floor generals by ESPN.
Such is the plight of an undersized player in a recruiting world where the words "height" and "length" have become as germane to today's game as the set shot was in the infancy of the sport.
"What you lack in size and height can get you exposed on defense at times," says Paul Biancardi, ESPN's national director of recruiting, who has not evaluated Shamsid-Deen but helped recruit mini mite Scoonie Penn while coaching at Boston College. "The No. 1 criteria is being able to make open shots and break pressure. You can't let your lack of height be a factor in the game."
The ESPN 100 features two such sub-6-footers in 5-10 sharpshooting SG
Stevie Clark
and 5-7 YouTube phenom
Aquille Carr
. Shamsid-Deen is hoping another big season will help him garner some recognition alongside the nation's top backcourt stars.
"The other guards in our class are like 6-2, 6-3," says Shamsid-Deen. "Smaller guards are dominating this summer, too. It just gives me more motivation. I'm a winner. I go out and play hard every night. If the respect is not there, I'll just have to get it in college."
Shamsid-Deen could gain more attention this summer playing for the Southern Stampede AAU squad and has targeted this fall to announce his commitment. In addition to his previously mentioned suitors, Ivy League schools could also be in play as Shamsid-Deen boasts a 3.9 GPA and is on pace to become valedictorian of his class. Wherever he lands, Reid is predicting his former point guard and close friend will send reverberations throughout the college hoops world -- much like he's done in his Columbia career.
"Some people around Georgia say he's overrated, some say he's the best to come out of Columbia," says Reid. "He's somebody to be reckoned with, and he's going to take everyone by storm. He's going to make a lot of teams pay once he gets to college."
January, 5, 2012
1/05/12
10:45
AM ET
Ever wonder what it's like to be an elite high school basketball player?

To be the object of affection for the country's top-tier college programs? To be bombarded after games by autograph seekers and grant interviews several times a week to recruiting analysts who are dying to know what school you're leaning toward?

What is that world really like?

ESPNHS has summoned the help of a highly rated recruit and granted him anonymity in order to bring you a raw and real account of just what goes on in their lives that don't make the press clippings.

As told to Jason Jordan.


I'm Recruit X and I'm here to tell you the truth about what goes on in the life of a heavily recruited high school basketball player. I promise to keep it 100 percent real; hopefully you're ready to hear what's actually going on out here.

I'm being actively recruited by most of the top 25 programs, and one of the most popular questions I'm always getting is when I'm going to visit certain schools. That's why I decided to start this series with what actually goes on when we go on these visits.

Recently, I took a visit to a top 25 school that has offered me and I had the time of my life.

I'm a young guy so I liked the social part of the visit the most, of course. I was on the visit with two other players this school was recruiting.

After we met with the coaches and all of that, the assistants had us go out with the players and hang out for the night. They ended up taking us to a club.

Of course we're underage, but it didn't matter. The players had the hookup and we got in no problem. We weren't carded at all.

Obviously we're at a party so there was definitely some drinking and yeah one of the recruits had a few drinks, but I didn't. That's just not my thing, but I can't lie -- I was thinking the whole time about how many NCAA rules we must've been breaking. I didn't think it was too serious, though -- I'm just a young guy having fun.

When we got back to the dorms, the players had girls set up for us. If you've ever seen the movie "He Got Game" then you'll understand better, but there were three of us and there were three girls there for us. We'd never met these girls before, but they were there for us.

I won't go into all the details, but let's just say we had a great time with them and they were saying the whole time that we should come to the school and it could be like this all the time.

I was loving it, personally. I'm not gonna front.

What guy my age and in my position wouldn't love that?

The next morning we met with the coaches and that was it. It was one of the best visits I went on, but it's pretty typical of most visits.

I'm cool with most of the top players and we all have stories like this. It's nothing new. It's just not something you're gonna read about in articles.

I'm not 100 percent sure the coaches knew every detail, but I know that they wanted the players to show us a good time.

That's all I've got for now, everyone.

Make sure you continue to check back soon for my next entry because everything I say is 100 percent real.

Believe that.
September, 27, 2011
9/27/11
12:03
AM ET
By
Rodney Purvis
| ESPN.com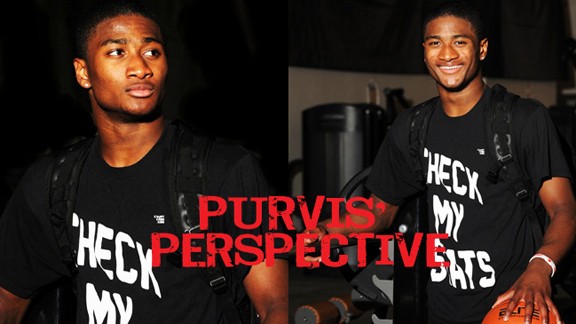 Scott Kurtz/ESPNHSESPNHS Student Blogger: Rodney Purvis
Rodney Purvis
| Senior | Shooting Guard | Upper Room Christian Academy (Raleigh, N.C.)
Purvis Blog 1
|
Purvis Blog 2
|
Purvis Blog 3
|
Purvis Blog 4
Rodney Purvis is the No. 5 shooting guard in the ESPNU 100. Since de-committing from Louisville in the spring, Purvis, a shooting guard at Upper Room Christian Academy (Raleigh, N.C.), has been one of the hottest stories of the summer with nearly every major college coach in the country hot on his trail. Purvis has agreed to give ESPNHS exclusive access to his life and chronicle his thoughts in a monthly blog.
What's up world!
Of course it's been crazy over the last few weeks with school starting up and taking a few visits to schools. I've visited UConn and North Carolina Central over the last few weeks and had a few in-home visits as well.
I'm still taking my time with the recruitment process and weighing everything out. I'll definitely have more information coming in my blog soon.
Other than that, the biggest thing going on with me is that I've started my senior year. It's hard to believe that this is the last time I'll play high school ball so my teammates and I are just working hard trying to do big things this year. We workout as a team twice a week and I workout with my trainer on the weekends.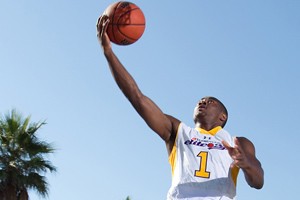 Kelly Kline/ESPNHSRodney Purvis visited North Carolina Central recently.
I can't wait because we've got a preseason event going on at my high school where we'll play against some different teams so we can see where we're at. I definitely think we'll be even better than we were last year.
Our point guard
Waymond Wright
tore his ACL, but he'll be back by late December or early January. We've also got a little more size down there in the paint and a lot of talented players.
I'm really excited about the season. We've got a game against my bro
Julius Randle
in Dallas, and we've also got games against
Aquille Carr
and
Nate Britt
too.
One of my biggest goals is for us to do really well so my teammates can get looks from colleges and earn scholarships. I think we've got some underrated guys on our team that have a chance to play at the next level.
Personally, I want to be a McDonald's All-American and I also want to be a part of the Jordan Brand Classic. One of my biggest goals is to average a triple-double this year.
I know it's gonna be tough, but I think that I have a chance to do that with the players I'll have around me.
Well, that's all for now everyone.
As always, I really appreciate you guys reading my blog and I hope you'll check back soon for my next entry.
Until next time.
Don't forget to follow Rodney Purvis on Twitter: @RPurvis_5