High-SchoolBoys-Basketball:

Ricardo Gathers
May, 18, 2012
5/18/12
9:00
AM ET
By
David Auguste
| ESPN.com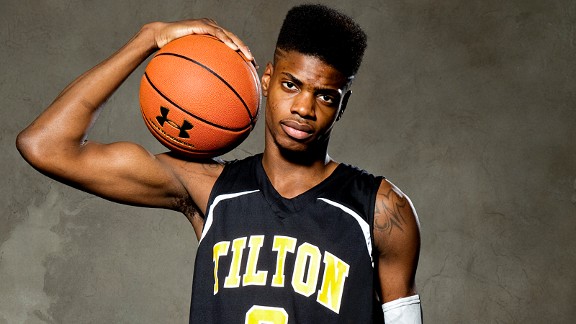 Kelly KlineWe think UK recruit Nerlens Noel is headed toward a bright future both on and off the court.
With graduation right around the corner, it's almost time to bid adieu to the class of 2012. Before the veteran ballers flip that tassel, we're going to bless them with some last-second love and immortalize them in the form of senior superlatives. We'll gaze into our crystal ball to make a few predictions as well as reflect on the myriad achievements of this talented crew.
These are our picks, but feel free to chime in with your selections on Twitter
@espnhs
.
Most important commitment
Kyle Anderson, St. Anthony (Jersey City, N.J.)
Sure, Anderson's commitment to UCLA might have been overshadowed by the subsequent pledges of Shabazz Muhammad and Tony Parker. But who knows if the Bruins would've landed those two prized recruits had it not been for Anderson -- the ultimate team-first guy and winner -- jumping on board first. Anderson's versatility will be valuable as the heralded class looks to restore UCLA's lore after a tumultuous last few years.
Runner-up: Baylor lands Isaiah Austin, Grace Prep (Arlington, Texas)
Most likely to succeed in the NBA
Shabazz Muhammad, Bishop Gorman (Las Vegas)
We're not the only ones envisioning Muhammad going toe-to-toe with Bron Bron and the rest of the league's heavyweights. The consensus among pro scouts at the Nike Hoop Summit was that 'Bazz was the most pro-ready domestic prospect in the class. His Kobe-like demeanor and ability to get buckets in a variety of ways should bode well for whatever squad scoops him up in the Association.
Runner-up: Anthony Bennett, Findlay Prep (Henderson, Nev.)
Most likely to land an acting role
Nerlens Noel, Tilton (Tilton, N.H.)
The high top fade alone should be enough to land this menacing shot blocker in the reboot of "The Fresh Prince of Bel-Air" or if they ever recast Kid or Play for the next "House Party." Combine his tight 'do with his affable personality and his ability to take over defensively on the hardwood, and we could be looking at a star both on and off the court.
Runner-up: Justin Anderson, Montrose Christian (Rockville, Md.)
February, 14, 2012
2/14/12
9:33
AM ET
By
David Auguste
| ESPN.com
Huntington Prep (Huntington, W.V.) senior forward
Elijah Macon
will always be grateful for his mom setting him up with his first true love: Basketball.
A die-hard Shaquille O' Neal fan, Renai Payne would tune into the Lake Show whenever the Lakers played on national television and often, little Elijah would park himself on the couch with her to ingest all the action. He quickly grew a fondness for the sport, taking a liking to Kobe Bryant's hunger for success and propensity for clutch plays.
"He was more of my generation than Michael Jordan was," says Macon of Bryant. "I just watched him hit buzzer-beaters and win all those championships. That was my generation of basketball, and he was my idol. That was in middle school, when I really started to love the game of basketball."
Now rated the No. 42 player in the
ESPNU 100
, Macon's love has intensified significantly over the years — to the point that he now can't live without the sphere.
"I love it. It's gotten me noticed as one of the top players in the country," Macon says.
So what does an elite hoop prospect do on Valentine's Day for the game he loves? Bouquet of flowers? Box of chocolate?
Nah. More basketball, duh.
"If I was to get a Valentine's Day gift for basketball, I'd take it out to eat then to see Kobe play," laughs Macon.
Macon isn't the only hoop recruit looking to profess his love today. We caught up with several of the nation's top players to see why they love this game.
February, 13, 2012
2/13/12
12:47
PM ET
By
David Auguste
| ESPN.com
We're just a few weeks away from crowning the first
ESPNHS Fans' Choice Player of the Year
. The final four candidates have made their pitches for the honor during the past few months on the campaign trail, voting in the second round ends Feb. 21 and final-round voting will begin Feb. 23.
To change things up a bit, we asked several of the nation's top ballers who they are endorsing in this election. Check out the video below to see who top 100 recruits like
Ricardo Gathers
,
Grant Jerrett,
Kyle Anderson
and
Katin Reinhardt
are throwing their support behind.
January, 14, 2012
1/14/12
6:28
PM ET
By
Jason Jordan
| ESPN.com
SPRINGFIELD, Mass. --
Kris Jenkins
is used to being the little big man who's got to contend with the human skyscrapers night in and night out.
At 6-foot-5, Jenkins, a junior forward at Gonzaga College (Washington, D.C.), isn't going to win a jump ball or fly over his defender for a monster slam, but by the end of the game he finds different ways to outplay his man.
"I'm just really confident in my abilities on the court," Jenkins said. "I think the game through and I find weaknesses that I'm able to expose. That's worked for me my whole career."
It worked again Saturday.
Jenkins scored 30 points and grabbed 11 rebounds to lead the Eagles, ranked No. 9 in the
POWERADE FAB 50
, past No. 50 Riverside (Reserve, La.) 77-65 at the Spalding Hoophall Classic in Springfield, Mass.
Nate Britt
chipped in with 16 points and
Ricardo Gathers
led Riverside with 22 points and eight rebounds.
"It's another great win for our team," said Britt, a junior point guard who is committed to North Carolina. "We just came out and forced the tempo and the best part was we finished even stronger than we started."
Jenkins got going early, scoring 17 points and grabbing seven rebounds in the first half to give the Eagles a 36-29 lead at the half.
The Eagles shot 66 percent in the second half and forced 12 turnovers to secure the comfortable win over the Runnin' Rebels.
Britt said that three years ago when the Eagles won the Washington Catholic Athletic Conference they went in to conference play undefeated.
"It's just like our scenario this season," Britt said. "I really feel like wins like these over great competition gives us the confidence we need to make it happen this year."
Added Jenkins: "We really believe that this is the year that we win it. This win just builds us as a team."
Jason Jordan is the basketball editor for ESPNHS. He can be reached at jason.x.jordan.-ND@espn.com. Don't forget to follow him on Twitter: @JayJayESPN.
December, 23, 2011
12/23/11
1:00
AM ET
By
Jason Jordan
| ESPN.com
FORT MYERS, Fla. -- In a tournament like the City of Palms Classic, which is full of stars, here are the players who managed to shine just a little brighter than the rest.
First Team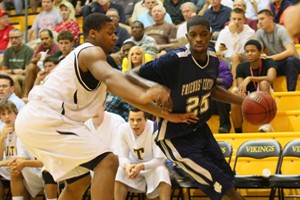 Lori Young/ESPNHSAmile Jefferson didn't have much help but still managed to put up big numbers at the City of Palms Classic.
Shabazz Muhammad
, Bishop Gorman (Las Vegas), SF, 2012
Muhammad was electrifying in every game, scoring in every way imaginable and willing his team back to contention. Though Bishop Gorman came up short, no other player was as dominant as Muhammad, who averaged 33 points a game for the week.
Wayne Selden
, Tilton (Tilton, N.H.), 2014, SG
Selden was dynamic for the Rams all week, coming up with the big plays Tilton needed to win the City of Palms Signature Series. Selden averaged 20 points, six rebounds a five assists.
Julius Randle
, Prestonwood Christian (Plano, Texas), PF, 2013
Randle was dominant in a variety of different ways all tournament. He overpowered the opposition in the paint and played the point-forward role to perfection finding open teammates and also rebounding exceptionally well. Randle averaged 22 points and 12 rebounds.
Nerlens Noel
, Tilton (Tilton, N.H.), C, 2013
Noel dominated both ends of the court, blocking, changing and deflecting shots on defense and scoring and finding teammates offensively. Noel was also a rebounding machine snatching 15 rebounds a game.
Mickey Mitchell
, Prestonwood Christian (Plano, Texas), SF, 2015
Mitchell was the spark that propelled the Lions to the title, scoring 19 points and grabbing eight rebounds in the championship. Mitchell was equally stellar all week.
Second Team
Amile Jefferson
, Friends Central (Philadelphia), 2012, PF
Jefferson didn't have much help form his team at the City of Palms, but managed to put up 19 points per game with the defensive focus solely on stopping him.
Georges Niang
, Tilton, (Tilton, N.H.), PF, 2012
Niang was one of the most versatile players on the court every time he played, which made him virtually impossible to stop. Niang averaged 21 points a game.
Ricardo Gathers
, Riverside Academy (Reserve, La.), PF, 2012
Gathers was dominant in the paint and on the wing all week and was the key to the Rebels big win over Miller Grove in the quarterfinals, where he pumped in 19 points against Tony Parker.
Jaylen Brantley
, Willbraham Monson (Willbraham, Mass.), 2013, PG
Brantley was the most clutch player at the City of Palms, and even hit the game-winning shot that sent his team to the finals. He was crafty, got his teammates involved and picked his spots exceptionally well.
Tony Parker
, Miller Grove (Lithonia, Ga.), 2012, PF
Parker carried the Wolverines inside offensively and was a workhorse on the boards as well. He pumped in 16 points and 13 rebounds a game.
Adolphus Washington
, Taft (Cincinnati, Ohio), 2012, SF
Washington was a matchup problem all week because of his versatility. He pumped in 21 points a game.
Alex Mitola
, Gill St. Bernard's (Gladstone, N.J.), 2012, PG
The speedy point guard wreaked havoc on opposing defenses all week pumping in 22 points and dishing out four assists a game.
Isaiah Austin
, Grace Prep (Arlington, Texas), 2012, C
Austin thrived at the City of Palms on both ends of the court, providing an intimidating last line of defense and pouring in 14 points and 12 rebounds a game.
Jason Jordan is the basketball editor for ESPNHS. He can be reached at
jason.x.jordan.-ND@espn.com
. Don't forget to follow him on Twitter:
@JayJayESPN