High-SchoolBoys-Basketball:

Stanley Johnson
May, 24, 2012
5/24/12
12:35
PM ET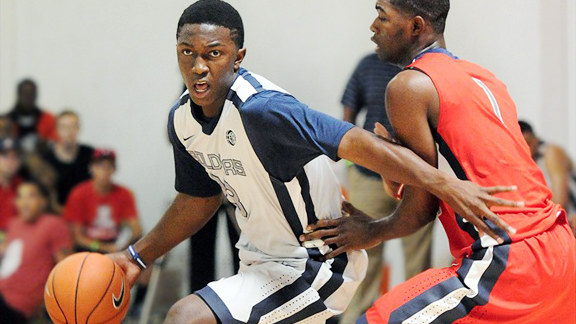 Chris Williams/Icon SMIStanley Johnson's "meat and potatoes" game has powered the Oakland Soldiers this summer.
Each week this summer leading up to the AAU National Championships in Orlando in July, ESPNHS will profile one of the nation's top AAU teams and tell you why you should be paying attention.
Team:
Oakland Soldiers

Location:
Oakland, Calif.

Coach:
Mark Olivier
What you need to know about the Oakland Soldiers:
The Oakland Soldiers are probably best known for being one of
LeBron James
' AAU teams back when the King was in high school, but the program has produced enough NBA talent in addition to James to form its own All-Star team.
Coach Mark Olivier says that's one of the reasons why the Soldiers are able to draw such elite talent, year after year.
"I think we have a history that makes kids want to play for us," says Olivier. "Guys like LeBron James played for us. And in the last couple years we've had
Nick Johnson
,
Jabari Brown
. That's a draw for kids."
The current roster is loaded with elite prospects, led by
Aaron Gordon
and
Jabari Bird
, both of whom are highly ranked in the
Class of 2013
. Gordon, a 6-foot-7 forward, can
dominate the paint and play in the open court
, while Bird is one of the nation's top scoring guards. Small forward
Stanley Johnson
is ranked No. 28 in the
Class of 2014
, with multiple Division I offers already on the table.
"We've got a really well-rounded team," says Gordon. "We don't have a lot of bigs, but we have a lot of athletes who can get out and run. We outrun other teams."
The Soldiers are currently playing without Gordon, who is resting a foot injury, and Bird has been forced to miss time with a shoulder injury. But the team has hardly missed a beat, compiling an impressive 9-5 record in Nike Elite Youth Basketball League play. Johnson has come up big, leading the team with 16.1 points per game in EYBL action.
"My role kind of changed when we had the injuries," says Johnson. "I went from basically having one-third of the scoring load to having two-thirds of the scoring load. I'm just trying to do a little bit of everything."
Key Players:
Aaron Gordon, F, 2013: Gordon is currently sitting out with a broken bone in his foot, but he's progressing nicely and expects to be back by the end of the summer. "He told me he could play right now if he had to," says Olivier. "But the foot needs rest. He'll be back at 100 percent." Gordon is No. 4 in the ESPN 100.
Jabari Bird, G/F, 2013: A 6-foot-5 swingman, Bird possesses a deadly outside shot. "I think he's the best mid-range shooter in the country," says Gordon. "I know that's a bold statement, but I really think he's the best." Bird is averaging 11.2 points per game during EYBL play. He's ranked No. 11 in the ESPN 100.
Stanley Johnson, F, 2014: A 6-foot-5 forward, Johnson has stepped up in Gordon's absence, averaging a team-high 16.1 points during EYBL play. He's also posting 6.6 rebounds per game and shooting 50 percent from the floor. "He's a meat-and-potatoes player," says Olivier. "He's just so fundamentally sound. He's the ultimate team player."
Key Dates:
EYBL Session 4: May 25-27 in Oakland, Calif.
Nike Peach Jam: July 18-22 in Augusta, S.C.
Fab 48 AAU Finals: July 22-28 in Las Vegas
The Soldiers came up short at last year's Nike Peach Jam but rebounded to take the FAB 48 title in Las Vegas. They would like to win both crowns this season, and once Gordon returns to the lineup, they may have to be considered the favorite at both events.
"When we had everybody playing, we were really good," says Johnson. "So I think as we start to get them back and the season goes on and we get more practice, I think we'll be able to compete for the final four at Peach Jam, or even win the championship."
"That's our main focus this summer," says Gordon. "We don't just want to get to Peach Jam, we want to compete and come out on top there."
Famous Alums:
LeBron James (Three-time NBA Most Valuable Player)
Kendrick Perkins
(2003 1st-round NBA Draft pick)
Chauncey Billups
(2004 NBA Finals Most Valuable Player)
Brandon Jennings
(2009 1st-round NBA Draft pick)
Follow Mike Grimala on Twitter (@MGrimalaESPN).
May, 2, 2012
5/02/12
11:48
AM ET
By
Ronnie Flores
| ESPN.com
Aaron Gordon
, a 6-foot-8 forward from Archbishop Mitty (San Jose, Calif.) and a third team
ESPNHS All-American
this past season, will be off the AAU circuit indefinitely because of a broken bone in his foot.
On April 24, Gordon told KOB, a television station in New Mexico, that he has a slight fracture in his toe. On May 1, his mother Shelly Davis Gordon told ESPNHS a recent MRI confirmed what the family already knew about the fracture.
"He has a fracture at the base of his toe that he played on for several months," Shelly said. "We really won't know if it will heal with time or if it has to be repaired until later this week after a CT scan. Right now, it's unclear how long he'll be out."
The No. 3 prospect in the
ESPN 60
, Gordon averaged 22.9 points, 12.8 rebounds, 2.6 assists and 2.3 blocks for the CIF Division II state champs in 2011-12 and was the first junior in 12 years to be named state player of the year by
Cal-Hi Sports
.
Hatch plans return to court
Austin Hatch
, a Canterbury (Fort Wayne, Ind.) junior who
survived a plane crash last summer
, says he still
plans to play for the Michigan Wolverines in 2013
.
Hatch's tragic story made national news in June, when a plane piloted by his father crashed while trying to make an emergency landing. Hatch's father and stepmother died in the accident, and Hatch suffered near-fatal injuries to his brain, lungs and ribs. Hatch had committed to Michigan just two weeks earlier, and Wolverines coach John Beilein will honor the scholarship.
Incredibly, it was the second plane crash Hatch has survived; in 2003, he lost his biological mother, a sister and a brother in a similar accident, which he and his father survived. Hatch is now out of the hospital, and though he hasn't played basketball and remains unsure if he'll ever regain his form, he says he's fully committed to playing for Michigan in 2013. As a sophomore, the 6-foot-6 forward hit 45 percent of his 3-point attempts.
Don't call it a comeback
After sitting out the 2011-12 season, center
Dakari Johnson
of Montverde Academy (Montverde, Fla.) is having an excellent spring so far playing for E1T1 Elite.
One of the country's few true elite pivot players is in excellent shape and has led E1T1 to a 8-1 record through two sessions of the
Nike EYBL
. Through nine games, Johnson is averaging 16.7 points and 8.6 rebounds, which is second to
Julius Randle
(9.4) of the Team Texas Titians among all EYBL participants.
The New York City native was the ESPNHS
National Freshman of the Year
in 2010-11 at St. Patrick (Elizabeth, N.Y.) before sitting out his sophomore season because of transfer rules.
Other talented prospects who college coaches and fans are eager to catch on the circuit because they missed all or portions of the 2011-12 season with injury include forward
Thomas Hamilton Jr.
of Whitney Young (Chicago, Ill.), the No. 42 prospect in the ESPN 60, and guard
Bronson Koenig
of Aquinas (La Crosse, Wis.).
Sophomore guard
James Blackmon Jr.
of Bishop Luers (Fort Wayne, Ind.) will likely miss the entire summer after tearing his ACL in early February.
Ennis the menace
Some questioned
Tyler Ennis
' selection as
Gatorade State Player of the Year
in New Jersey over
Kyle Anderson
, but the junior guard is silencing many of his critics with his play at the Nike EYBL. The 6-foot-2 Ontario native and St. Benedict's (Newark, N.J.) standout has paced CIA Bounce to a 9-0 mark at the prestigious event.
Ennis tallied a game-high 20 points to spur Bounce to a 69-55 win over the NJ Playaz during the second session in Hampton, Va. He went 8-of-15 from the field and added six boards in the victory. Ennis added 12 points and six dimes in a win over Mokan Elite and flirted with a triple double as Bounce routed The Family by 27.
David Auguste and Mike Grimala contributed to this report.
Ronnie Flores is a senior editor for ESPNHS. He can be reached at ronnie.flores@espn.com. Don't forget to follow him on Twitter: @RonFloresESPN
March, 9, 2012
3/09/12
10:43
AM ET
By
Ronnie Flores
| ESPN.com
Last week, we took a look at the most important criteria in the ESPNHS Mr. Basketball. This week, we asked players from across the country to give their opinions on what makes a national player of the year.
It should come as no surprise top vote-getter
Shabazz Muhammad
(94 points, 10 ballots) solicited plenty of support, but the reasons why he and other top candidates were the choice varied.
Student-athletes around the country placed great emphasis on leadership skills and the ability to make teammates better which leads to team success, regardless of the amount of talent on the roster.
"Is he a winner? How's his attitude? Does he play hard consistently? Has he had big games against good teams? ...I haven't seen all the guys this year, so I guess I'll go with Shabazz (Muhammad)."
-Zena Edosomwan, Harvard-Westlake (North Hollywood, Calif.), 2012
"Of course I'm going to say myself. But if not me, then Shabazz Muhammad. I think the player of the year should be a great person on and off the court. He should also be a warrior that hates to lose."
-Archie Goodwin, Sylvan Hills (Sherwood, Ark.), 2012
To read the rest of this story and see the Mr. Basketball USA voting results,
CLICK HERE.
Ronnie Flores is a senior editor for ESPNHS. He can be reached at
ronnie.flores@espn.com
. Don't forget to follow him on Twitter:
@RonFloresESPN
December, 12, 2011
12/12/11
7:00
AM ET
By
Ronnie Flores
| ESPN.com
After a grueling 161 days of countless meetings, finger-pointing and accusations which at times got nasty, NBA owners and players ratified a new collective bargaining agreement last Thursday. The ratified deal ended a work stoppage that was on pubic display and scrutinized as much as the league's actual games.
The 19-year old age limit rule did not change with the new CBA, so high school players are not directly affected by the new labor deal this season.
So, what did prep players around the country learn from the NBA lockout?
ESPNHS interviewed high school players from across the country and found out teenagers are happy the NBA will return on Christmas. We also found out that they appreciated the insight that they got on the business aspect of the pro game during these lockout months.
The lockout also opened some eyes about the importance of education and a non-basketball related career.
Prepsters also learned about the dedication required to become one of the best players in the world and that ample opportunities exist to earn a living playing the game outside of the NBA.
Predictably, some players can't wait until Christmas, while others are not particularly enthralled by the star-driven league.
Here is what some high school players had to say about the NBA lockout:
[+] Enlarge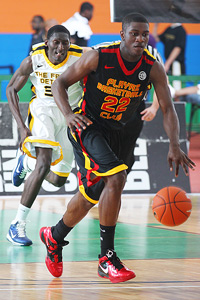 Andrew Shurtleff for ESPN.comSavon Goodman and others learned alot about basketball's business side during the NBA lockout.
"I learned players definitely have a voice. I also learned basketball can be taken away from you... you have to learn to get money from other things in life. I learned a lot about basketball from the lockout. I didn't know players had an association to help them understand and fight for what was right for them. I also didn't know there were so many leagues out there. I thought there was the NBA and a European league. I got to play with some NBA players and it was an eye-opening experience to see how hard they work at their game."
-Stanley Johnson, Mater Dei (Santa Ana, Calif.) 2014
"It taught me how really important a college degree is. Also that nothing is promised so always have a backup plan. And control what you can control."
-Rodney Purvis, Upper Room Christian Academy (Raleigh, N.C.) 2012
"I learned that you have to be smart and understand at the end of the day, it's a business. I also learned that you always have to work on your game because in a situation like the NBA lockout you don't have it written in stone when your going to play again."
-Savon Goodman, Constitution (Philadelphia) 2012
"I learned you always need a back up plan when basketball ends. It can't last forever and that's where education comes into place. It taught me to really take care of my academics and try something new that could get me a job besides basketball."
-Grant Jerrett, La Verne Lutheran (La Verne, Calif.) 2012
"I learned to have a backup plan, because the NBA is not always going to be there. I don't look at the NBA differently. For me, it's always fun to just play basketball. I was surprised how long it took to come up with a deal."
-Demarquise Johnson, Westwind Prep (Phoenix, Ariz.) 2012
"I learned a few things. First, stars and superstars never stop working. No matter what, basketball never stops for those guys. Two, if you make it to the NBA you have to be smart with your check. If you get to that level, you have to put yourself in a good financial situation. I don't look at the NBA different, basketball is still basketball, but I do realize now it's more of a business."
-Archie Goodwin, Sylvan Hills (Little Rock, Ark.) 2012
"I just realized at the end of the day, the game is about money. These guys work so hard to get paid for what they do. Money is a big issue. The lockout was tough. I'm a huge Lakers fan, plus I want to see how the new NBA draft picks perform."
- Zena Edosomwan, Harvard-Westlake (North Hollywood, Calif.) 2012
"The main thing I learned is to not take the NBA for granted. I remember how exciting it was last year with the Miami Heat, the trades and the playoffs. You even see it this year already with the Dwight Howard/Chris Paul to the Lakers talk. Personally, I enjoy watching college basketball more. It's more about teamwork and plays."
-Kaleb Rodriguez, ThunderRidge (Littleton, Col.) 2012
"I learned you can't take nothing for granted. I realized it's a job for them. Once they were stripped of it [playing basketball], it put a tremendous strain on the players and fans. Personally, I'm ecstatic about the NBA coming back. Whenever I'm at home relaxing, I watch basketball. I want to watch the great games on Christmas Day."
-Jalen Ward, O'Dea (Seattle) 2012
Ronnie Flores is a senior editor for ESPNHS. He can be reached at
ronnie.flores@espn.com
. Don't forget to follow him on Twitter:
@RonFloresESPN