High-SchoolBoys-Basketball:

Syracuse
July, 3, 2012
7/03/12
10:00
AM ET
Goodluck Okonoboh
is in a tough spot.
The 6-foot-9 center is getting ready for his senior year at the Tilton School (Tilton, N.H.), and college offers are rolling in for the athletic big man. But it's not all good news for Okonoboh.
That's because no one wants to be "The Replacement."
In all of sports, it might the worst situation in which to find yourself: replacing a departed superstar. Especially at the high school level, where a dominant player can graduate, take his game to a Division I college and leave a huge hole in the lineup.
[+] Enlarge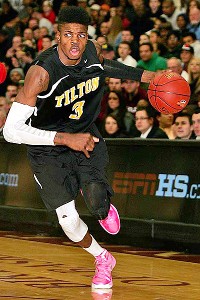 J.Anthony Roberts/ESPNHS.comIt will be a challenge replacing Nerlens Noel, pictured, at Tilton, but Goodluck Okonoboh is up for it.
Unfortunately for Okonoboh, that's exactly where he is right now. With former Tilton School star
Nerlens Noel
having graduated and heading to Kentucky, Okonoboh will step into the void next season, and he'll be tasked with replacing much of Noel's defensive presence, rebounding, shot-blocking and leadership.
Noel was the No. 1 player in the
Class of 2012
, so Okonoboh has some huge shoes to fill.
"I think I'm ready," Okonoboh said. "I learned a lot from Nerlens, and I give him credit for a lot of the things he has taught me. I think during the high school season I'm going to be a different player, and I'm going to open a lot of people's eyes."
Okonoboh is considered more raw than his predecessor was at this stage in his career, but it will be hard to stop people from holding Okonoboh up to the standard set by Noel. The comparisons are too easy: same school, same position, same style of play, same elite athleticism -- they even sport a similar high-top hairstyle.
Okonoboh has the talent to get the job done. He started in the frontcourt alongside Noel last year and put up solid numbers, and his defense was especially impressive. Schools like Syracuse, Pittsburgh, Missouri and Gonzaga have already offered, and he's ranked as the
No. 11 center
in the Class of 2013 by ESPN. Luckily for Okonoboh, he got to learn from Noel, one of the greatest shot-blockers in high school history, before trying to replace him.
"He taught me that, like anything else, you've got to work at it," said Okonoboh. "Blocking shots is an art form. It's not just about being big -- it's about timing. Nerlens has great timing, and I've been working on it."
Okonoboh also plays for the same AAU team that Noel did, and this summer he's performed well as the top big man on Boston-based
BABC
, averaging 3.0 blocks per game.
That should give him some experience in playing outside of Noel's shadow, but it still won't be easy next year. It's never easy being "The Replacement."
Who's got next?
Here's a look at five other big-name ballers with big shoes to fill this upcoming season:
Rashad Muhammad
replacing
Shabazz Muhammad
(No. 2 in Class of 2012)
Bishop Gorman (Las Vegas, Nev.)
Perhaps no player will be under the microscope as much as Rashad, who is tasked with stepping in for his older brother and last year's
Morgan Wooten National Player of the Year
in Gorman's lineup. Rashad, an unranked 6-foot-5 junior wing, is a talented playmaker and rebounder and has interest from the likes of Maryland, USC and UNLV.
Karviar Shepherd
replacing
Isaiah Austin
(No. 3)
Grace Prep Academy (Dallas)
Shepherd could very well join Austin at Baylor during the 2013 season, but for now, he'll take a shot at replacing the standout 7-footer in the middle of the Lions' lineup. Shepherd (No. 29 in the ESPN 100) is a physical presence in the middle with his 6-foot-9 and 215-pound frame, and he will use every bit of that size to alter shots and keep opponents off the offensive glass. While he lacks the refined offensive game Austin hung his hat on at Prep, Shepherd is a capable finisher and will form a nice 1-2 frontcourt tandem along with classmate
Jordan Mickey
.
Hallice Cooke
and
Josh Brown
replacing
Kyle Anderson
(No. 5)
St. Anthony (Jersey City, N.J.)
It just might take two players to replace the all-around play Anderson wowed spectators with every time he stepped on the floor for this storied program. St. Anthony's hasn't lost a contest in either of the past two seasons and won a national title in 2011 with Anderson running the show. Cooke is a 6-foot-3 off guard with a deft touch from the outside, while Brown is another dangerous perimeter threat and holds offers from Gonzaga, UVA and Temple, among others.
Ishmail Wainright
replacing
Justin Anderson
(No. 49)
Montrose Christian (Rockville, Md.)
Don't expect much of a drop off in production at the 3 spot this winter as Wainright and Anderson are similarly built forwards who could take over a contest with their athleticism and basketball smarts. Anderson averaged 18 points with 5.7 helpers last season to guide Montrose to a top-15 national ranking. Wainright, the No. 18 player in the rising senior class, should enjoy a spike in production after posting 8.0 points, 8.2 assists and 4.4 rebounds a contest as a junior.
November, 10, 2011
11/10/11
2:42
PM ET
By
Ronnie Flores
| ESPN.com
Early signing period for high school seniors began Wednesday. Here is a look at the first 24 hectic hours of this weeklong period for boys' hoops.
2 --
Number of recruits who signed with the University of Arizona, the No. 1-ranked class by
ESPNU Recruiting
: ESPNU 100 No. 4
Brandon Ashley
of Findlay Prep (Henderson, Nev.); No. 36
Gabe York
of Orange Lutheran (Orange, Calif.). No. 6
Kaleb Tarczewski
of St. Mark's School (Southborough, Mass.) is going to wait until his parents, who live in Claremont, N.H., are able to be in attendance with him on Friday. No. 9
Grant Jerrett
of La Verne Lutheran (La Verne, Calif.) is not expected to sign until Monday, according to La Verne Lutheran coach
Eric Cooper Sr.
4 --
Number of text messages received by
Amile Jefferson
of Friends' Central (Wynnewood, Pa.) from reporters looking to do a story on the first day of the early signing period.
4.4 --
Number of miles from the home of
DaJuan Coleman
to the Carrier Dome, the home arena for Syracuse University. The No. 14 prospect in the
ESPNU 100
, the Jamesville-DeWitt (Dewitt, N.Y) product signed with the Orangemen.
5 --
Number of early signees from Oak Hill Academy (Mouth of Wilson, Va.), the most from a single high school level program: W
Jordan Adams
to UCLA; C
A.J. Hammons
to Purdue; PG
Tyler Lewis
to NC. State; G
D'Vauntes Smith-Rivera
to Georgetown; W
Damien Wilson
to Memphis. Huntington Prep (Huntington, W. Va.) and Findlay Prep (Henderson, Nev.) are also expected to have five signees. For the Express, four will sign in the fall and one player (
Evan Payne
) is expected to sign in the spring. Three players for the Pilots will ink in the spring (
Anthony Bennett
,
Winston Shepard
,
Amedeo Della Valle
).
7 --
Number of committed prospects in the ESPNU 100 who did not yet sign their letter of intent agreement.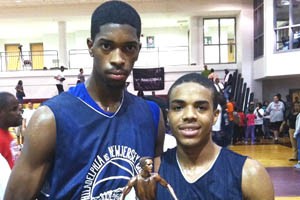 Jeff WattsAmile Jefferson (left) will visit Stanford this weekend. He will take all five of his official visits and also is considering Villanova.
10 --
Number of 2011 Boost Mobile Elite 24 participants who inked with colleges on the first day of the early signing period:
Justin Anderson
of Montrose Christian (Rockville, Md.) to Virginia;
Kyle Anderson
of St. Anthony (Jersey City, N.J.) to UCLA;
Brandon Ashley
of Findlay Prep (Henderson, Nev.) to Arizona;
DaJuan Coleman
of Jamesville-DeWitt (Dewitt, N.Y) to Syracuse;
Perry Ellis
of Wichita Heights (Wichita, Kan.) to Kansas;
Shaquille Johnson
of Milton (Milton, Ga.) to Auburn;
Mitch McGary
of Brewster Academy (Wolfeboro, N.H.) to Michigan;
Marcus Paige
of Linn-Mar (Marion, Iowa) to North Carolina;
Rodney Purvis
of Upper Room Christian Academy (Raleigh, N.C.) to North Carolina State;
Rasheed Sulaimon
of Strake Jesuit (Houston, Texas) to Duke;
Gabe York
of Orange Lutheran (Orange, Calif.) to Arizona.
14 --
Number of phone calls received on the first day of the early signing period by Amile Jefferson. His father,
Malcolm Musgrove
, handles many of the phone calls for his son.
15 --
Number of uncommitted prospects in the ESPNU 100.
26 --
Number of total text messages received on the first day of the early signing period by Amile Jefferson. The No. 24 recruit in the ESPNU 100 did not sign. He is going to take his last official visit to Stanford this weekend. Jefferson also took officials to UConn, Kentucky, NC State, Ohio State. The other school still in the running for his services is hometown Villanova.
30 --
Number of ESPNU 100 signees who inked with an in-state program.
48 --
Number of ESPNU 100 signees who inked with an out-of-state program.
78 --
Number of ESPNU 100 prospects who signed their letter of intent agreement.
120 --
Number of minutes of the ESPNU Basketball Signing Day Special on Nov. 11 from 1 to 3 p.m. ET.
1,978 --
Number of Twitter followers for
Anthony Bennett
of Findlay Prep (Henderson, Nev.) as of Friday, Nov. 4, at 6 p.m. PT. Bennett (@ABennett24) is the second-highest ranked uncommitted and unsigned prospect in the ESPNU 100 (No. 7).
2,058 -
- Number of Twitter followers for Anthony Bennett as of Thursday, Nov. 10 at 2 p.m. PT. Bennett (@ABennett24) will sign in the spring, according to Pilots associate head coach
Todd Simon
.
Ronnie Flores is a senior editor for ESPNHS. He can be reached at
ronnie.flores@espn.com
. Don't forget to follow him on Twitter:
@RonFloresESPN
Johnny Curren and Andrew Knepper contributed to this report.