High-SchoolBoys-Basketball:

Syracuse Orangemen
April, 10, 2012
4/10/12
11:35
AM ET
By
Nerlens Noel
| ESPN.com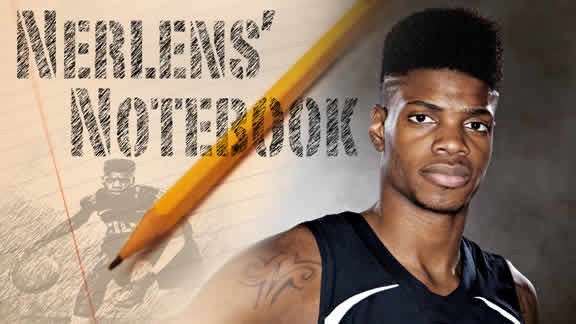 ESPNHS IllustrationNerlens Noel, the top-ranked player in the ESPNU 100, blogs about his recruiting experience.
Nerlens Noel
| Senior | Center | Tilton School (Tilton, N.H.)
Read all of Nerlens' Notebooks
After reclassifying from 2013 to 2012, Nerlens Noel went from being the No. 2-ranked junior to the No. 1-ranked senior in the ESPNU 100. Since then, heavyweight programs like UConn, Kentucky, North Carolina and Syracuse, among others, have scrambled to get him on campus next season. He recently narrowed his choices to Kentucky, Georgetown and Syracuse. Noel has agreed to give ESPNHS exclusive access into his world by chronicling his thoughts in a blog.
What's good, everybody. Like I promised, I'm back to check in with you guys and get a few thoughts out before I make my big decision.
It's my birthday today, so I'm back home to celebrate with my family but also to sit down with them and talk about these schools and come up with a decision.
Before I get into that, I know everyone was talking about the game we lost the other night against the World Team in the Nike Hoop Summit.
We were all feeling pretty down after the loss. It was tough. I thought we competed a lot better in the second half because coach [Kevin Boyle] made some good adjustments. He wanted us to pick it up defensively and we definitely did.
They missed their first 12 shots and that allowed us to get back in it, but they made some big shots in the end and got the win.
The locker room was a little quiet at first, but we had good leaders that spoke up and made us all feel a little better. Like
Mitch [McGary]
, he just talked about how we were a family and that we were all brothers and that we played our hearts out. It made a lot of us feel better.
OK, so back to the announcement. Like I said, tonight we're gonna have a group discussion and write things out and see where we're most comfortable and what the best decision will be. The rumors about me already being committed are just crazy.
Anyone who knows me knows my mom, Dorcina, has to sign off on any decision and that she will play a major part in any decision. So tonight is when I'll talk to her about it all.
Any "recruiting guy" who says he has some news from a "source" is funny, too, because the source would have to be me or my mom and they're not talking to her and I don't talk to anyone. Like I always say, only believe what you read here.
This is such a tough decision, though. I look at Syracuse and I love the way that the coaches say they'll use me in their offense. I really like the family atmosphere there and I feel really comfortable there. Syracuse has been on me the longest of all three schools and that is big for me.
Then you've got Georgetown, and I really just like everything about them. When I went down there with my mom, it really opened my eyes to what they were all about. I have to factor in what a school like that can do for me, even away from being a basketball player. It's just a great school and they have a history of developing big men. Georgetown is definitely a great option for me.
Then there's Kentucky.
Of course they're coming off the national championship, but I'd look more at how I'd be able to fit in and how I'd be used there. I'd factor in what my role would be offensively, like
Anthony Davis
with a lot of lobs and catching it at the high post and things like that. Defensively, I think it'll take care of itself.
So as you all can see, this thing won't be easy. Of course, me and
Shabazz (Muhammad)
will be deciding at the same time and I talked to him about that at the Hoop Summit, but we didn't talk about schools at all. We never have.
I read the story where all the players gave
predictions on where me and Shabazz would go
. That was pretty funny. Man, they were sleeping pretty hard on the other schools, but everyone's entitled to his own opinion.
Well, I've definitely got some celebrating to do and some discussing to do with my family, so I'm gonna head out now, everyone. Definitely check out the decision (7:30 p.m. ET Wednesday on ESPNU) -- and again, I have 100 percent not made any decision yet because I really don't know.
Thanks, as always, for reading.
I'll holler at y'all later.
Don't forget to follow Nerlens Noel on Twitter: @NerlensNoel3
April, 4, 2012
4/04/12
10:43
AM ET
By
Nerlens Noel
| ESPN.com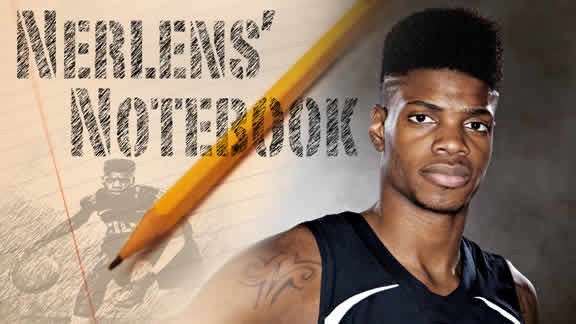 ESPNHS IllustrationNerlens Noel, the top-ranked player in the ESPNU 100, blogs about his recruiting experience.
Nerlens Noel
| Senior | Center | Tilton School (Tilton, N.H.)
Read all of Nerlens' Notebooks
After reclassifying from 2013 to 2012, Nerlens Noel went from being the No. 2-ranked junior to the No. 1-ranked senior in the ESPNU 100. Since then, heavyweight programs like UConn, Kentucky, North Carolina and Syracuse, among others, have scrambled to get him on campus next season. He recently narrowed his choices to Kentucky, Georgetown and Syracuse. Noel has agreed to give ESPNHS exclusive access into his world by chronicling his thoughts in a blog.
Hey, what's up, everybody. Of course it's me, Nerlens. Sorry I haven't written in my blog in a couple weeks. Things have been pretty crazy.
I just got back from New Orleans playing in the All-American Championships and had a ball. The game was fun, of course, just playing with all my boys, but we had even more fun hanging out in the city.
I checked out Bourbon Street and,
man
, that was just crazy! No other word for that.
I've never taken that many pictures in my life. Ever.
I literally got stopped hundreds of times and took dozens and dozens of pictures. The fans were showing me so much love out there, and I definitely have to say that most of the fans were from Kentucky.
Now, of course that had a lot to do with the fact that they were playing there, but I'm always just shocked at how dedicated Kentucky fans are. One man asked me if I wanted to take his wife home with me, ha ha. I couldn't believe it. I was like, "Nah, I'm good," but that's just how insane the fans were down there. Great atmosphere.
OK, so by now I assume most of you guys know that I cut my list to Kentucky, Georgetown and Syracuse a few weeks back. I just thought it was time to get it down to the schools that I was really looking at the hardest.
Kentucky had the big win Monday night and I had a good time watching that game. I was really liking how
Anthony Davis
continued to be effective even without scoring the ball. I know how it feels to not be able to get it going on the offensive end at times, and that makes you just want to go even harder defensively. I loved that he got Most Outstanding Player, too.
Just seeing him have all the success that he's had this year definitely makes me think a lot about what I could be doing there. That's really appealing to me.
His IQ on the court is crazy. I talked to him a lot while I was down there and he told me all about how much better he'd gotten since he got there. He told me that I'd have to be ready when I got there because it was going to be a lot of hard work.
I'd definitely say it makes me think about Kentucky more, and with them winning with all of those freshmen was very attractive. Just seeing that it doesn't matter how young you are, you can win a national title.
I talked to (Kentucky assistant) coach Orlando (Antigua) after they won and he was really happy, of course. He said that all he could think about was me being a part of something like that next season.
I wouldn't say that all of that stuff gives Kentucky an advantage, though. It's just something I think about a lot.
With Syracuse, they've been on me the longest of the three schools on my list. That factors in heavy with me. That's big for me. With Georgetown, I would've been crazy not to really give them a look with all the history they've had with big men and the development that I could get there.
This is going to be a hard decision, y'all.
I've decided to announce my decision a week from today on ESPN, so I've got a lot of thinking to do between now and then. And I've heard the rumors about me making a decision already. That's not true. Rumors are rumors, what can you do, but just know that I'm far from a decision no matter what you hear.
Like I always say, don't believe things you don't read from me right here in my blog. I definitely haven't made up my mind yet.
Me and
Shabazz Muhammad
are deciding at the same time on ESPN, so that should be pretty cool. It's definitely just a coincidence, because me and Shabazz have never even talked about schools or anything like that.
I would love to play with him in college, though, but we've never talked about that and he's got to do what's best for him like I've got to do what's best for me.
I will say that one of the biggest factors in my decision will be who will be there on the team when I get there because my No. 1 goal is to win a national title.
OK, everybody, I've got to run off to class now, but I'm planning to do another blog next week before I decide so check back for that. And I'm going to have something cool planned for how I announce on TV so definitely check that out, too.
Now if only I could figure out which school that's going to be …
OK, thanks again for reading, everyone. I'm out.
Don't forget to follow Nerlens Noel on Twitter: @NerlensNoel3
February, 3, 2012
2/03/12
8:43
AM ET
By
Nerlens Noel
| ESPN.com
Nerlens Noel
| Senior | Center| Tilton School (Tilton, N.H.)
After reclassifying from 2013 to 2012, Nerlens Noel went from being the No. 2-ranked junior to the No. 1-ranked senior in the ESPNU 100. Now heavyweight programs like UConn, Kentucky, North Carolina and Syracuse, among others, are scrambling to get Noel on campus next season. That makes him the most sought-after player in the country. Noel has agreed to give ESPNHS exclusive access into his world by chronicling his thoughts in a blog.
What's happening everyone, this is Boston's own Nerlens Noel, and I'm excited to be starting my blog.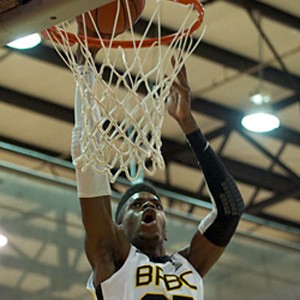 Steve Johnson/ESPNHSNerlens Noel said he wants to decide around the time of the McDonald's All-American game.
By now most of you know that
I've reclassified from 2013 to 2012
. It was official as of Wednesday night. It was something that I had been thinking about for months, and I talked it over with my family and we came to the final decision. I really just felt like I was ready to come back to my original class.
Most people don't know that I was always supposed to be in the 2012 class, but during my sophomore year I cracked my growth plate in my left knee and that kept me out for around six weeks. I played the first five games of the season and then I missed the rest of the season.
At the time, I thought the best option was to reclassify to 2013 because of all the time I missed, but I worked really hard and I felt like I was ready to come back to 2012.
Basically, I checked on things academically and I made sure that I had all of the credits to reclassify and I have everything lined up now.
I'm really excited about it. It's weird because now I'm gonna be in college next season. That's kinda crazy when I think about it.
When I came into the season I wasn't sure that I was gonna do it, but after playing really well against all of the big time guys last summer and this season it kinda put my decision to come back to 2012 over the top. I know that I'll be able to contribute right away to whatever college I decide to go to.
Of course everyone wants to know about my recruitment even more now and I'm gonna clear something up; I don't really have an "official" list. The list I put out is of the schools that I'm really interested in and schools that I'm gonna take official visits to.
Those schools are Kentucky, Florida, North Carolina and Georgetown. I'm visiting Syracuse on Feb. 11, but I'm not sure if that will be an official visit since it's closer to me. I'll decide that in the next day or two. I don't have dates for the other visits. I'll set those up soon.
I'll also visit Providence and UConn unofficially, but there could be other visits.
There are things I love about all of the schools.
With Syracuse I love the environment over there. It's so live. I like the players there and I've built a great relationship with the coaching staff. With Kentucky, I really love the fan base. They're crazy supportive, especially on Twitter. I've been building a solid relationship with the coaches there too.
Florida is one of the first schools that started recruiting me. I like the coaches and I like the school. Georgetown has a history that speaks for itself, and I just love their offense. They really do a great job with their big men.
North Carolina has a great history and a great coach in
Roy Williams
. I haven't spoken to him yet, but I like the school and I like what they do. They just came in with me recently.
Providence has been on me for a while. I just love what they're doing there and I've got a great relationship with
Ricky Ledo
, he's been recruiting me really hard to come there with him. UConn is another one of those schools that speaks for itself. They produce really strong big men, and I think a lot of coach
Jim Calhoun
and his staff. They really know how to develop their players.
As you all can see this won't be an easy decision.
I've definitely had some players hitting me up since I reclassified. The first player to hit me up was
Rasheed (Sulaimon)
, who's going to Duke. He was basically just talking about how there would be an open spot for me to come to Duke and how he wanted me to come join him. That's definitely something I would look at. Duke has been in contact with me, but I haven't heard from them in a little while.
Archie (Goodwin)
, who's going to Kentucky, hit me up too. We didn't talk directly about Kentucky. We were just talking about video games and talking about the summer.
Things of course have been crazy in the last 24 hours. I think I've gained over 1,000 followers on
Twitter
since last night. It's funny because I must get about 20 mentions on Twitter every five minutes.
One of the things I thought about was whether I would miss out on postseason all-star games like the
Jordan Brand Classic
and the McDonald's All-American games. I feel like I'm just in time so hopefully I'll have a chance to make those two games.
We'll see what happens. I would love to have a decision around the McDonald's game after I visit all the schools that I want to see.
I know by now there are a lot of rumors popping up about me and my recruitment, but I just want to say that I have no favorites at all. There's no official list because I'm open to different schools.
Basically, if you don't read it from me here on my blog, in my own words, then it's not true.
Well, I want to thank everyone for reading my first blog. I hope everyone liked it, and I hope you guys come back for my next blog, which will be after I visit Syracuse on Feb. 11.
I'll catch you guys next time.
Don't forget to follow Nerlens Noel on Twitter: @NerlensNoel3
January, 12, 2012
1/12/12
11:41
AM ET
By
David Auguste
| ESPN.com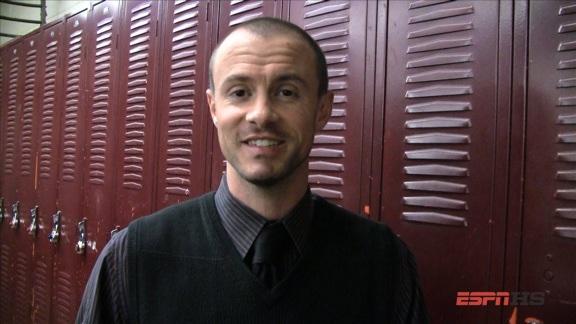 James Robinson III
just can't get enough basketball.
A fervent Magic Johnson fan, the DeMatha (Hyattsville, Md.) guard never passes up an opportunity to immerse himself in hardwood history.
The Pittsburgh signee is a hoophead to his core, so you can understand why he gets amped when it's time for DeMatha to play in the annual Spalding Hoophall Classic in Springfield, Mass., just steps away from the Basketball Hall of Fame.
"We take a tour of the Hall and it's a great experience for us," the DeMatha guard said. "I love seeing the lockers with DeMatha's name on it since us and Oak Hill (Va.) are the only high schools at the Hall. That and seeing all of Michael Jordan's rings, shows and jerseys. I enjoy the entire experience."
But the excitement surrounding last year's event would be short-lived for Robinson and Co. Playing in front of Hall of Famer and former DeMatha coach Morgan Wootten, the Stags were historically bad once they took the court. The team had the dubious distinction of suffering the worst defeat in school history, falling 75-25 to St. Anthony (Jersey City, N.J.) on national television.
"It was bad," said Robinson. "We were too careless with the ball. They punched us first and we didn't respond."
DeMatha came out lackadaisical and quickly fell behind the more aggressive Friars. The Stags' first basket came in the waning minutes of the opening quarter as they trailed 18-2. Things got so out of hand that St. Anthony's guard Myles Mack (28 points) outscored DeMatha by himself.
"I can't imagine there was a worst loss for us," said Stags coach Mike Jones. "We played as bad as we're capable of and St. Anthony's played very, very well. It was very humbling."
The loss sent the team into a tailspin as DeMatha lost three of its next six contests and struggled to regain its swagger.
"It was embarrassing and a wake-up call," senior forward
Jerami Grant
said. "Our season went downhill after that loss. I think we were a little too confident going into that game."
Jones' troops will finally get their shot at redemption this weekend when they return to the scene of that ugly loss.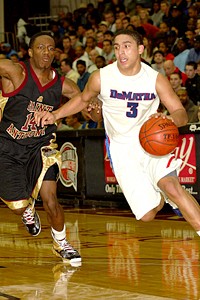 J. Anthony Roberts/ESPNHSDeMatha guard James Robinson will lead the Stags into action at this weekend's Spalding Hoophall Classic.
The Stags begin with a Saturday night matchup against Northwest Catholic (West Hartford, Conn.) followed by a nationally televised tilt on Monday (1 p.m. ET, ESPNU) with Bishop Gorman (Las Vegas) and the nation's top senior prospect, Shabazz Muhammad.
"We all know what happened last year, and we've matured," said Robinson. "I think we'll approach the game differently this time."
The circumstances surrounding this weekend's contests are eerily similar to last year's. DeMatha was 13-1 and ranked No. 14 in the POWERADE FAB 50 last year. Going into this week's action, it sports an 11-0 mark and sits in the No. 5 spot nationally.
DeMatha was able to rebound from its poor Hoophall performance to win its 22
nd
City crown last winter, but the loss still stings for the team's veterans. Robinson and Grant are intent on flipping the script at this year's event and proving that last season's effort was out of character for DeMatha basketball.
"We want to let everybody know the team that played last year wasn't us," said Grant, who signed with Syracuse in the fall. "We know we're better than that."
Robinson and Grant are each averaging double figures, but the key to sweeping the two contests could be the continued emergence of juniors
BeeJay Anya
and
Jairus Lyles
.
Anya, a 6-foot-8 forward, has been a dominant force on the interior with his scoring and shot blocking, while Lyles, a guard, has been a valuable starter with his ball-handling and 3-point shooting. That foursome can create some serious matchup problems and their experience manifests itself in clutch situations.
"Those guys bring a lot of experience to the table," Jones said. "We're a lot more experienced this time around. Last year we had a lot of guys playing their first year on varsity."
It's apparent playing better at Hoophall is of the utmost importance to the Stags, but even if they win both games, they're not ready to put that St. Anthony loss out of their minds just yet. It still serves as motivation for a larger goal — another City crown.
"In terms of forgetting that loss, I don't think that's possible," says Jones. "But that game is not the memory we want people to have of DeMatha basketball. We hope people get to see the real DeMatha this time."
David Auguste is an associate editor for ESPNHS and ESPNHS.com. Follow him on Twitter
@ESPNHSAuguste
or email him at David.Auguste@espn.com.
December, 4, 2011
12/04/11
10:37
PM ET
By
Jason Jordan
| ESPN.com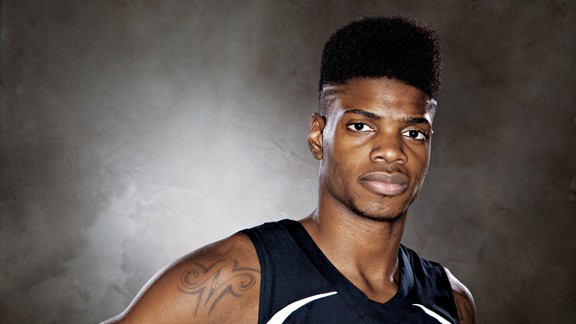 Kelly Kline/ESPNHSNerlens Noel said he's still very interested in Syracuse.
You'd be hard pressed to find a player in any class that impacts the game on both ends of the floor like Tilton's (Tilton, N.H.)
Nerlens Noel.
From swatting shots to deflections to low post scoring, Noel, a junior center who is ranked No. 2 in the
ESPNU 60
, dominates to the tune of 12 points, 12 rebounds and eight blocks a game.
This past summer he led the Boston Amateur Basketball Club AAU team to the prestigious Nike Peach Jam title and struck fear in the hearts of every elite big man in the country, making them think twice about taking shots in his lane.
That's made Noel a must-have for most of the country's elite college programs, one of which is Syracuse.
"Syracuse has told me that I'm their top priority in the class," said Noel, who has heard the same spiel from Kentucky, Florida, Connecticut, Georgetown and Louisville, among others. "I had a really good time when I visited there for Midnight Madness."
But have allegations against longtime assistant
Bernie Fine
, who has been accused by three men of molestation and recently placed on administrative leave, turned Noel off to the Orangemen?
"Well, if it was Coach
(Jim) Boeheim
it'd be a different story," Noel said. "But I wouldn't stop looking at them based off of what an assistant coach may have done years ago. I don't think that's fair."
Noel said he hadn't spoken with Fine regularly throughout his recruitment, only when he visited the campus. Noel's primary recruiter is assistant coach
Mike Hopkins
.
"Coach Fine came up to me on my visit and just basically was recruiting me," Noel said. "He just asked how much I liked the campus and things like that. He seemed nice."
Noel admitted that part of the appeal of playing for Syracuse is Boeheim, but added that "Coach Hopkins is a great coach too."
"I hope Coach Boeheim is there, but I'm not taking them off of my list if he's not," Noel said. "Coach Hopkins is next in line at Syracuse, and I would love to play for him. The whole situation is unfortunate, but I'm just as interested in Syracuse as I was before this all happened."
Jason Jordan is the basketball editor for ESPNHS. He can be reached at
jason.x.jordan.-ND@espn.com
. Don't forget to follow him on Twitter:
@JayJayESPN