High-SchoolBoys-Basketball:

Troy Williams
June, 11, 2012
6/11/12
9:00
AM ET
By
Jason Jordan
| ESPN.com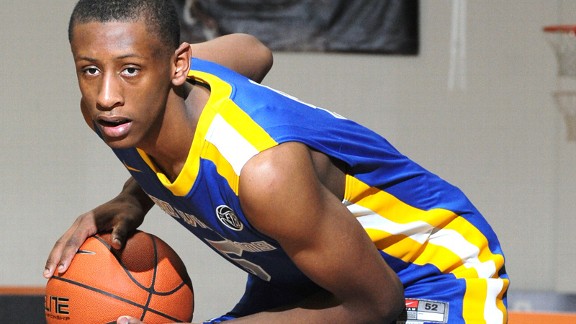 Scott KurtzTroy Williams of Oak Hill (Mouth of Wilson, Va.) was shocked that he had dropped to No. 42 from No. 6 in the ESPN rankings, but he says the shift forced him to focus more and play smarter.
Roughly two weeks ago,
Troy Williams
underwent a mental metamorphosis which caused him to develop a rather sizable chip smack-dab on his shoulder.
When ESPN
RecruitingNation
released its updated hoops class rankings, Williams learned he'd plummeted from No. 6 all the way to No. 42 in the
ESPN 100
, a drop that he said he "never saw coming."
"I was shocked that I dropped that low," said Williams, a rising senior swingman who runs with Boo Williams Summer League's AAU squad. "I don't get it at all, but that's someone's opinion, and it's up to me to prove them wrong. It definitely bothered me though."
Williams' sentiments were shared by plenty of players on the AAU circuit, who felt their ranking fell short of their production thus far this AAU season.
"I think most players think they should be ranked higher," said
Tyus Jones
, a rising junior point guard who runs with the Howard Pulley Panthers and is ranked No. 3 in the ESPN 60. "I wouldn't want the job of rankings players. Too many people would be mad at me."
It's no cakewalk for ESPN.com recruiting analyst Dave Telep and Co.
Not when the reality is that every player who isn't the top player in his respective class thinks he's underrated to some degree.
"It's extremely challenging," Telep said. "Rankings should be taken as a snapshot for where the players are and help them size-up the competition for where they want to go. If it motivates them, great, if they don't care, even better. The best players just put their heads down and go about their business. I've never had a conversation with John Wall (No. 5 in the ESPN 100 in 2009) about where he was ranked."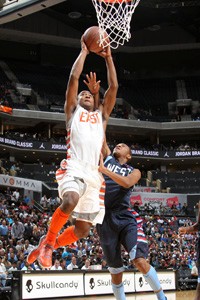 Kelly KlineN.C. State-bound guard Rodney Purvis used his No. 20 rank as motivation. He scored a game-high 22 points to earn co-MVP honors at this year's Jordan Brand Classic.
Added Jones: "I've never had a coach mention anything about where I'm ranked. They don't care about that stuff so that tells you all you need to know about rankings getting you to the next level. Most coaches don't even look at rankings."
Neither do players. Or so they say.
Most players are reluctant to even admit that they pay attention to rankings; a "defense mechanism" according to
Xavier Rathan-Mayes
.
"Guys try and say that they don't look at rankings, but they do," said Rathan-Mayes, a rising senior combo guard with
CIA Bounce
who is ranked No. 20 in the ESPN 100. "We all look at them; it's the difference between the guys that use rankings as motivation to get better and the guys who don't."
Rodney Purvis
was definitely part of the former.
Purvis always felt slighted when the rankings were updated, but eventually developed the mindset that he'd just have to prove why he should've been ranked higher. He focused particularly on one aspect.
"Any time you play a person ranked above you, you've got to destroy them," said Purvis, a shooting guard who will play at N.C. State next season and finished his senior season ranked No. 20 in the
ESPN 100
. "That's a must, but you also have to destroy the players ranked below you. Use it as fuel and build on that. That's what I did."
Purvis' result?
Roster spots in both the
Jordan Brand
and
McDonald's All-American
games.
"You can turn it around," Purvis said.
Still, it's important to keep rankings in proper perspective.
Jahlil Okafor
doesn't concern himself with ascending from No. 2 in the
ESPN 60
to No. 1 because the way he sees it "anyone of the top six players could be No. 1."
"Most times you dropping or not moving up doesn't mean you were bad, it just meant some other players were great," said Okafor, a rising junior center who runs with Mac Irvin Fire. "Rankings, for most players, are like adversity because we all want to be the best. So you've just got to approach it like you would a tough situation on the court. You just have to respond."
Williams is responding.
Two days after his fall from grace, he led BWSL to a 6-0 record in the fourth session of the Nike Elite Youth Basketball League, averaging 14 points per game.
"I think dropping like that helped me focus more and play smarter," Williams said. "I definitely learned a valuable lesson, and that's to go hard at all times and everything else will take care of itself. That's what's gonna make you a winner."
A fail-proof plan no matter where you're ranked.
June, 8, 2012
6/08/12
10:42
AM ET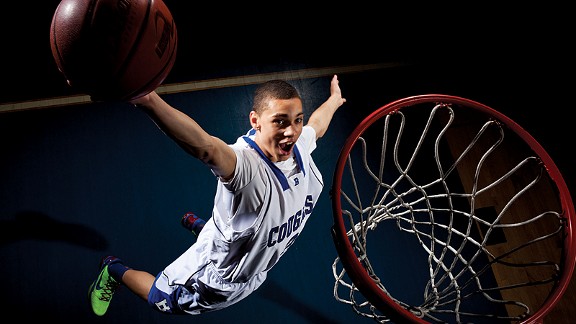 Rick DahmsZach LaVine could continue to climb the rankings with a good performance at the NBPA Top 100 camp.
The roster for the National Basketball Players Association Top 100 camp (June 14-16) was announced, and it left us with several questions. ESPNHS basketball editors Mike Grimala and David Auguste break down the Top 100 roster below. See the
complete roster here
.
True or False: The NBPA Top 100 is the most important skills camp of the summer.
Grimala:
TRUE. I believe that for a lot of players, this is the biggest event on their calendar because of three letters -- NBA. Every single kid there wants to play in the league someday, and for now this is basically as close as they can get, as they'll be receiving instruction and counseling from the pros.
Auguste:
TRUE. Despite the field being somewhat watered down due to USA Basketball tryouts and other scheduling conflicts, this camp remains the preeminent event of the summer. No disrespect to any other skills camp, but there's something to be said about the unique opportunity to learn about the on-court work needed to get to the league from guys who have previously embarked on that journey.
True or False: Someone's stock will skyrocket after their performance at the Top 100.
Grimala:
TRUE. A number of players have already made their move up the rankings so far this summer, and nothing boosts your stock like playing well against other elite guys. I could envision someone like
Zak Irvin
or
Kuran Iverson
playing lights out at the Top 100 camp and climbing up the rankings because of it.
Auguste:
TRUE. There's no easier way to prove you're a top 100 player than holding your own against other elite ballers. No question. Look for
Zach LaVine
, whose stock is high coming off his performance at the
Pangos All-American Camp
, along with fringe top 50 guys like
Billy Garrett, Jr.
,
Nigel Williams-Goss
and
Rashad Vaughn
to ascend with a strong effort at UVA.
True or False: Julius Randle is the non-invitee you would've most liked to see on the roster.
Grimala:
FALSE. Randle is great -- he's No. 2 in the
ESPN 100
for a reason -- but I think we know what he is at this point. It would have been more exciting to see
Andrew Wiggins
at the camp. Wiggins is No. 1 in the
Class of 2014
, and he's probably the most electrifying player in the country. His ceiling is higher than anyone else's, and I would have like to see him competing against the best at the Top 100 camp.
Auguste:
TRUE. Come on, Mike. Why wouldn't you want to see the big Texan try to wrestle away the No. 1 spot from Simeon's
Jabari Parker
. Like the saying goes: to be the best, you have to beat the best. With Randle not in attendance, us hoop fans could again be denied a chance to see the game's top two stars go head-to-head (come on, LeBron).
True or False: Troy Williams, who plummeted to No. 42, has the most to prove at NBPA Top 100.
Grimala:
TRUE. Williams' recent drop in the rankings (from the fringe of the Top 10 down to No. 42) has been rough, and this will be his first chance to bounce back. If Williams shows out at Top 100, he could start moving back up; if he doesn't perform as well as expected, his slide could continue.
Auguste:
FALSE.
Bobby Portis
made a huge vault in the latest rankings and has emerged as the new it guy in the senior class. So like he
told ESPNHS last week
, other players will now be looking to outperform him. Expect lower ranked players to affix a target on Portis' back throughout the event to see if he's really the 12
th
-best player in the country.
January, 3, 2012
1/03/12
6:00
AM ET
By
Jason Jordan
and
Ronnie Flores
| ESPN.com
From
Mitch McGary
picking Michigan over Duke to Montrose Christian (Rockville, Md.) winning a double-overtime thriller over Oak Hill Academy (Mouth of Wilson, Va.) at the ESPNHS National High School Invitational, 2011 had lots of memorable moments.
Our guess is that 2012 won't be any different.
Here are 12 bold predictions for the new year.
1. Phoebus' (Hampton, Va.)
Troy Williams
, who is ranked No. 8 in the
ESPNU 60
, will become the most famous basketball player in his family after a show-stopping performance on the summer circuit. Right now that honor belongs to his uncle,
Boo Williams
.
When Boo, a 6-foot-7 forward, graduated from Phoebus in 1977, he was an all-state selection and went on play at St. Joseph's University. Of course, he's most famous for his tireless contributions to the explosion of AAU basketball in the South with his flagship program, the Boo Williams Summer League. Regardless of how good a player Troy becomes, uncle Boo can always tease Troy that he wore his uncle's retired jersey No. 5.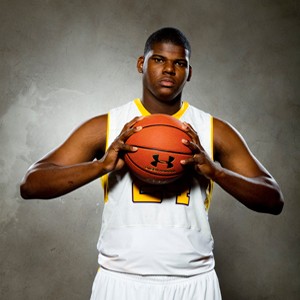 Kelly Kline/ESPNHSWe predict that Tony Parker will be anchoring the paint for the Buckeyes come November.
2.
Tony Parker
will pick Ohio State. Parker, a senior forward at Miller Grove (Lithonia, Ga.) who is ranked No. 31 in the
ESPNU 100
, won't be able to resist the draw of becoming the next
Jared Sullinger
and opt for the Buckeyes over Duke, Memphis, Kansas and UCLA.
3.
Julius Randle
will pick Duke. This is sure to rattle a few fan bases' feathers, but Randle, a junior forward at Prestonwood Christian (Plano, Texas) who is ranked No. 3 in the ESPNU 60, will take his five official visits then sign on to join college basketball's Evil Empire because of his relationships with
Mike Krzyzewski
and his close friend and Texas Titans AAU teammate Matt Jones, who recently committed to Duke.
4.
Nerlens Noel
will lead BABC (Boston) to repeat as champs of the Nike Elite Youth Basketball League this summer. The trio of Noel, a junior center at Tilton (Tilton, N.H.) who is ranked No. 2 in the ESPNU 60;
Jaylen Brantley
, a junior point guard at Wilbraham Monson (Wilbraham, Mass.); and
Wayne Selden
, a sophomore shooting guard at Tilton who is ranked No. 10 in the
ESPNU 25
, will be too much for teams to handle.
5. The Harrison twins,
Aaron
and
Andrew
, will lead the Houston Defenders (Texas) to the ESPNHS Super Showcase title again this July. Last year the junior tandem, which leads a talented Travis (Travis, Texas) team, handily beat BABC and will prove to be too much for teams on the AAU circuit again come spring. Andrew is ranked No. 4 in the ESPNU 60 and Aaron checks in at No. 7.
6.
Damon Harge Jr.
will lead the North Carolina Rising Prospects to the 13-and-under AAU national title. Coach Kendrick Williams' talented young bunch already took home the King James Classic title and finished No. 18 in the nation last summer with
Jordan Riley
anchoring the paint.
Add Harge,
the country's top sixth-grader
, at the point, and the Prospects will be a problem. Harge is currently running the point for Williams on Christian Faith Center Academy's (Creedmoor, N.C.) varsity team, and the last time he played 13- and 14-year-olds he averaged 35 points per game. The Prospects could go undefeated.
7. Brewster Academy (Wolfeboro, N.H.) forward
Mitch McGary
, who is ranked No. 2 in the ESPNU 100, will take home MVP honors at the Jordan Brand Classic. Much like
James McAdoo
last season, McGary -- a senior who is signed to
Michigan
-- will clean up the misses from guards who are trying to do too much in the all-star setting.
8. Mitty's (San Jose, Calif.)
Aaron Gordon
, the No. 6 recruit in the ESPNU 60, will become the first underclassman to win Cal-Hi Sports Mr. Basketball honors since 2000. That year, 7-footer
Tyson Chandler
led Dominguez (Compton, Calif.) to the FAB 50 national title and was named national junior player of the year by ESPNHS.
9. Findlay Prep (Henderson, Nev.) forward
Anthony Bennett
will win MVP honors at the 2012 McDonald's All-American Game in Chicago on March 28 and challenge Shabazz Muhammad and junior
Jabari Parker
of Simeon (Chicago) for 2011-12 ESPNHS Mr. Basketball USA honors.
10.
Harrison Barnes
will become the third consecutive Boost Mobile Elite 24 alumnus to earn NCAA tournament most outstanding player honors. That obviously means we're predicting North Carolina to win its third NCAA title in the past eight seasons. Barnes will follow 2011 MOP
Kemba Walker
of Connecticut (2007 game) and
Kyle Singler
of Duke (2006).
11. Oak Hill Academy will finish No. 1 in the final
POWERADE FAB 50
national rankings. It will be the seventh mythical national title under veteran coach
Steve Smith
. The Warriors finished No. 1 in the FAB 50/National Prep Poll in 1993, 1994, 1999, 2001, 2004 and 2007.
12. Bishop Gorman (Las Vegas) swingman
Shabazz Muhammad
, the No. 1 recruit in the ESPNU 100, will make fans in his hometown rejoice by choosing to stay home and play college basketball for the University of Nevada, Las Vegas.
He will be UNLV's most important recruit since forward
Larry Johnson
picked the Runnin' Rebels in 1989 out of Odessa Junior College in Texas. Johnson originally signed with SMU out of high school but was a non-qualifier and led the Runnin' Rebels to their only NCAA title in his first season.
October, 16, 2011
10/16/11
11:53
PM ET
By
Jason Jordan
| ESPN.com
Last Friday when hundreds of teams across the country ushered in the college basketball season with Midnight Madness events, committed and potential recruits intently looked on to see just how crazy and passionate fan bases were about their teams.
We caught up with a handful of players who attended different Madness events who swear their experience was "by far" the best.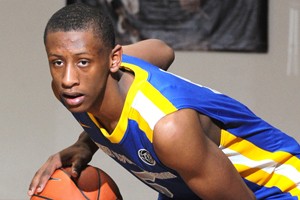 Scott Kurtz/ESPNHSTroy Williams said his Midnight Madness experience at Georgetown was second to none.
Troy Williams, Phoebus (Hampton, Va.), 2013: Uncommitted.
Midnight Madness event:
Georgetown
My Midnight Madness experience was the best because…

"Of the fans. They were dedicated, crazy and smart. I'd say the best part was the girls."
Shabazz Muhammad, Bishop Gorman (Las Vegas), 2012: Uncommitted.
Midnight Madness event:
Kentucky
My Midnight Madness experience was the best because…

"Of the fan support. It was just so crazy. Even though Kentucky didn't have a rapper perform at Big Blue Madness there was so much energy in the building and that made it the best."
Nate Britt, Gonzaga College (Washington, D.C.), 2013: Uncommitted.
Midnight Madness event:
North Carolina
My Midnight Madness experience was the best because…

"For one, Stuart Scott (ESPN) hosted it so that was just cool right there. But the main reason I know that I had the best Midnight Madness experience was because I got to see Coach Roy Williams dance. That was so funny. I've got to say, Coach Williams is a really good dancer too.
I would give him an eight, but that's because he was dancing to hip hop music. I think if he was dancing to his own music he'd get a 10 for sure. We've got to find a way to get him on "Dancing with the Stars."
Chris Walker, Holmes County (Bonifay, Fla.), 2013: Uncommitted.
Midnight Madness event:
Kansas
My Midnight Madness experience was the best because…

"When the recruits walked in to Kansas the fans went crazy and started screaming our names. Then you had young kids and college dudes that had posters of us everywhere.
That was real cool so that's why I had the best experience."
Rasheed Sulaimon, Strake Jesuit (Houston), 2012: Committed to Duke.
Midnight Madness event:
Duke
My Midnight Madness experience was the best because…

"Of the fans. The atmosphere in Cameron was just so crazy. Their theme was first class and they did everything first class.
The best part was when Quinn (Cook) and Mason (Plumlee) were dancing and when Miles (Plumlee) cleared his younger brother Marshall (Plumlee) in the dunk contest. Marshall is 7-foot-1."
Jason Jordan is the basketball editor for ESPNHS. He can be reached at
jason.x.jordan.-ND@espn.com
. Don't forget to follow him on Twitter:
@JayJayESPN
October, 9, 2011
10/09/11
11:32
PM ET
By
Jason Jordan
| ESPN.com
Last Wednesday marked the end of the NCAA's contact period, which had been in effect since September 9. That meant hundreds of high school hoopers around the country had to sift through all of their visits from college coaches and decide who made the most lasting impressions.
We rounded up a handful of the top players in the country and had them dish on the big winners over the last month.
Coolest customers:
Providence
Brannen Greene, Mary Persons (Monroe, Ga.), 2013, SG:
"Coach (Ed) Cooley told me he only recruits anacondas and not garden snakes. Very cool guy."
Best perspective:
Texas Christian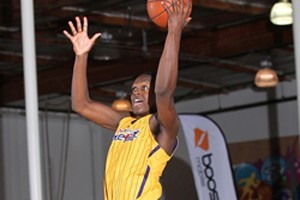 Kelly Kline/ESPNHSJulius Randle was impressed with TCU's "create your own legacy" perspective.
Julius Randle, Prestonwood Christian (Plano, Texas), 2013, F:
"TCU gave me a whole different way to look at things. They told me that I could come in and change the program and begin my own legacy. That's a different perspective than the other schools. A lot of those schools can't present that to me. Most already have hall of fame players. So definitely TCU on perspective because who wouldn't want to have their very own legacy."
Most swag:
Kentucky
Chris Walker, Holmes County (Bonifay, Fla.), 2013, F:
"The coach with the most swag… I would have to say Coach (John) Calipari and assistant Coach Orlando (Antigua). They came in and everyone was going crazy. Coach Cal is running things and he's put a lot of players in the NBA. Plus he came in wearing a suit. That's swag."
Best sales pitch:
Duke
Shabazz Muhammad, Bishop Gorman (Las Vegas, Nev.), 2012, SF:
"Coach K (Mike Krzyzewski) definitely has the best sales pitch. He talks a lot about the Duke brand and what he could do for me and how he could develop me and about all of the exposure that I could get at Duke. I think the thing that makes his sales pitch so good is that he's really speaking from the heart. That's the best part."
Most relatable:
Louisville
Isaiah Lewis, Christ the King (Middle Village, N.Y.), 2013, SG:
"I just had fun getting to know the coaches at Louisville, especially Coach (Wyking) Jones. After my workout he offered me, but that was in the middle of us talking about school, football, what kind of shoes we like. He just seemed like one of the guys. I definitely felt like he was just one of my friends."
Best gear:
Georgetown
Troy Williams, Phoebus (Hampton, Va.), 2013, SF:
"Definitely had to be Georgetown because they wear Jordan everything. The shoes were just fresh and the sweat suits they had were cool. I told them I like to ball in Nike's, but I walk around in J's. They had on the new Melo's (Carmelo Anthony) and they weren't tied all the way up."
Jason Jordan is the basketball editor for ESPNHS. He can be reached at
jason.x.jordan.-ND@espn.com
. Don't forget to follow him on Twitter:
@JayJayESPN