High-SchoolBoys-Basketball:

UNLV
July, 3, 2012
7/03/12
10:00
AM ET
Goodluck Okonoboh
is in a tough spot.
The 6-foot-9 center is getting ready for his senior year at the Tilton School (Tilton, N.H.), and college offers are rolling in for the athletic big man. But it's not all good news for Okonoboh.
That's because no one wants to be "The Replacement."
In all of sports, it might the worst situation in which to find yourself: replacing a departed superstar. Especially at the high school level, where a dominant player can graduate, take his game to a Division I college and leave a huge hole in the lineup.
[+] Enlarge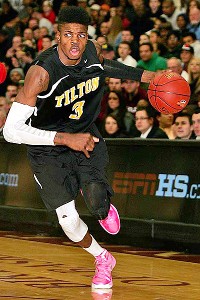 J.Anthony Roberts/ESPNHS.comIt will be a challenge replacing Nerlens Noel, pictured, at Tilton, but Goodluck Okonoboh is up for it.
Unfortunately for Okonoboh, that's exactly where he is right now. With former Tilton School star
Nerlens Noel
having graduated and heading to Kentucky, Okonoboh will step into the void next season, and he'll be tasked with replacing much of Noel's defensive presence, rebounding, shot-blocking and leadership.
Noel was the No. 1 player in the
Class of 2012
, so Okonoboh has some huge shoes to fill.
"I think I'm ready," Okonoboh said. "I learned a lot from Nerlens, and I give him credit for a lot of the things he has taught me. I think during the high school season I'm going to be a different player, and I'm going to open a lot of people's eyes."
Okonoboh is considered more raw than his predecessor was at this stage in his career, but it will be hard to stop people from holding Okonoboh up to the standard set by Noel. The comparisons are too easy: same school, same position, same style of play, same elite athleticism -- they even sport a similar high-top hairstyle.
Okonoboh has the talent to get the job done. He started in the frontcourt alongside Noel last year and put up solid numbers, and his defense was especially impressive. Schools like Syracuse, Pittsburgh, Missouri and Gonzaga have already offered, and he's ranked as the
No. 11 center
in the Class of 2013 by ESPN. Luckily for Okonoboh, he got to learn from Noel, one of the greatest shot-blockers in high school history, before trying to replace him.
"He taught me that, like anything else, you've got to work at it," said Okonoboh. "Blocking shots is an art form. It's not just about being big -- it's about timing. Nerlens has great timing, and I've been working on it."
Okonoboh also plays for the same AAU team that Noel did, and this summer he's performed well as the top big man on Boston-based
BABC
, averaging 3.0 blocks per game.
That should give him some experience in playing outside of Noel's shadow, but it still won't be easy next year. It's never easy being "The Replacement."
Who's got next?
Here's a look at five other big-name ballers with big shoes to fill this upcoming season:
Rashad Muhammad
replacing
Shabazz Muhammad
(No. 2 in Class of 2012)
Bishop Gorman (Las Vegas, Nev.)
Perhaps no player will be under the microscope as much as Rashad, who is tasked with stepping in for his older brother and last year's
Morgan Wooten National Player of the Year
in Gorman's lineup. Rashad, an unranked 6-foot-5 junior wing, is a talented playmaker and rebounder and has interest from the likes of Maryland, USC and UNLV.
Karviar Shepherd
replacing
Isaiah Austin
(No. 3)
Grace Prep Academy (Dallas)
Shepherd could very well join Austin at Baylor during the 2013 season, but for now, he'll take a shot at replacing the standout 7-footer in the middle of the Lions' lineup. Shepherd (No. 29 in the ESPN 100) is a physical presence in the middle with his 6-foot-9 and 215-pound frame, and he will use every bit of that size to alter shots and keep opponents off the offensive glass. While he lacks the refined offensive game Austin hung his hat on at Prep, Shepherd is a capable finisher and will form a nice 1-2 frontcourt tandem along with classmate
Jordan Mickey
.
Hallice Cooke
and
Josh Brown
replacing
Kyle Anderson
(No. 5)
St. Anthony (Jersey City, N.J.)
It just might take two players to replace the all-around play Anderson wowed spectators with every time he stepped on the floor for this storied program. St. Anthony's hasn't lost a contest in either of the past two seasons and won a national title in 2011 with Anderson running the show. Cooke is a 6-foot-3 off guard with a deft touch from the outside, while Brown is another dangerous perimeter threat and holds offers from Gonzaga, UVA and Temple, among others.
Ishmail Wainright
replacing
Justin Anderson
(No. 49)
Montrose Christian (Rockville, Md.)
Don't expect much of a drop off in production at the 3 spot this winter as Wainright and Anderson are similarly built forwards who could take over a contest with their athleticism and basketball smarts. Anderson averaged 18 points with 5.7 helpers last season to guide Montrose to a top-15 national ranking. Wainright, the No. 18 player in the rising senior class, should enjoy a spike in production after posting 8.0 points, 8.2 assists and 4.4 rebounds a contest as a junior.
May, 18, 2012
5/18/12
9:00
AM ET
By
David Auguste
| ESPN.com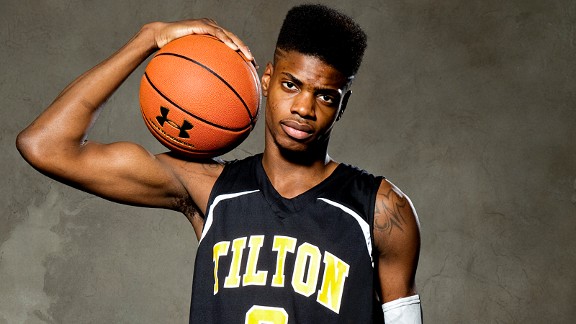 Kelly KlineWe think UK recruit Nerlens Noel is headed toward a bright future both on and off the court.
With graduation right around the corner, it's almost time to bid adieu to the class of 2012. Before the veteran ballers flip that tassel, we're going to bless them with some last-second love and immortalize them in the form of senior superlatives. We'll gaze into our crystal ball to make a few predictions as well as reflect on the myriad achievements of this talented crew.
These are our picks, but feel free to chime in with your selections on Twitter
@espnhs
.
Most important commitment
Kyle Anderson, St. Anthony (Jersey City, N.J.)
Sure, Anderson's commitment to UCLA might have been overshadowed by the subsequent pledges of Shabazz Muhammad and Tony Parker. But who knows if the Bruins would've landed those two prized recruits had it not been for Anderson -- the ultimate team-first guy and winner -- jumping on board first. Anderson's versatility will be valuable as the heralded class looks to restore UCLA's lore after a tumultuous last few years.
Runner-up: Baylor lands Isaiah Austin, Grace Prep (Arlington, Texas)
Most likely to succeed in the NBA
Shabazz Muhammad, Bishop Gorman (Las Vegas)
We're not the only ones envisioning Muhammad going toe-to-toe with Bron Bron and the rest of the league's heavyweights. The consensus among pro scouts at the Nike Hoop Summit was that 'Bazz was the most pro-ready domestic prospect in the class. His Kobe-like demeanor and ability to get buckets in a variety of ways should bode well for whatever squad scoops him up in the Association.
Runner-up: Anthony Bennett, Findlay Prep (Henderson, Nev.)
Most likely to land an acting role
Nerlens Noel, Tilton (Tilton, N.H.)
The high top fade alone should be enough to land this menacing shot blocker in the reboot of "The Fresh Prince of Bel-Air" or if they ever recast Kid or Play for the next "House Party." Combine his tight 'do with his affable personality and his ability to take over defensively on the hardwood, and we could be looking at a star both on and off the court.
Runner-up: Justin Anderson, Montrose Christian (Rockville, Md.)
January, 20, 2012
1/20/12
10:06
AM ET
By
Ronnie Flores
| ESPN.com
Being the younger brother of the No. 1 recruit in the nation and playing on the same basketball team isn't always easy, but it helps to have a coach who is in a similar predicament.
It happened last year in the middle of a heavyweight bout at Las Vegas' Cox Pavilion between high school basketball powers Bishop Gorman (Las Vegas) and Findlay Prep (Henderson, Nev.). Midway through the third quarter of Findlay's dramatic double-overtime win,
Shabazz Muhammad's
instincts as an older brother, rather than teammate, took over.
An out-of-bounds play under the basket was designed for Muhammad to receive a back pick from a teammate, roll to his strong side and receive the ball for a close-range shot or possibly a lob near the front of the rim. Gorman's screener coming from the opposite baseline was
Rashad Muhammad
, Shabazz's younger brother.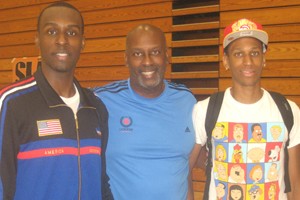 Ronnie Flores/ESPNHSRon Holmes, the father of No. 1 recruit Shabazz Muhammad (left) and youger brother Rashad, has seen his sons grow closer off the court as Rashad expands his on-court game.
"Rashad," Shabazz called out.
"Rashad!" he said louder.
"RASHAD, what are you doing?"
The younger Muhammad never set the screen before the ball came into play. It probably was insignificant to the game, but it was a perfect example of the Muhammads' on-court relationship last season.
It was also indicative of Rashad's play at times during his sophomore season -- and big brother's normal reaction.
"Last year I would play thinking coach will take me out if I made a mistake," Rashad said. "This year I play my game. I have no worries."
So what actually happened? Did Rashad (who does not recall the actual moment) not understand the play or did he simply get tight during the course of battle? Their father, Ron Holmes, offers his own theory.
"On the court, Rashad doesn't like to listen to [Shabazz]. ... It goes in one ear and out the other," Holmes said. "Shabazz is always trying to help him out, and when they are not competing he's all ears."
This year Shabazz is still the alpha male on the team, but he's also the nation's top-ranked recruit in the
ESPNU 100
. Rashad, meanwhile, sees more than the spot minutes he did last season, averaging roughly 10 points and four rebounds as a pass-first combo guard and defensive specialist for a Bishop Gorman team ranked No. 16 in the latest
POWERADE FAB 50
. His expanded role has brought the brothers closer, and 6-foot-4, 170-pound junior Rashad hopes to make a big contribution in the rematch with No. 3 Findlay Prep Saturday at
5 p.m. ET on ESPNU
.
The siblings' relationship is one Bishop Gorman coach Grant Rice has seen evolve -- and can relate to.
Rice has a special relationship with Rashad because he understands what the younger Muhammad is going through. The Gaels' 11th-year coach often plays second fiddle in Las Vegas to older brother Dave Rice, who's in his first season as UNLV head coach.
"I feel for him because we have a lot in common," said Grant, the winning coach at last summer's
Boost Mobile Elite 24
and a four-time state title-winning coach. "I get a lot of, 'Aren't you Dave Rice's little brother?' I have to tell them I've been coaching here in Las Vegas a long time.
"I've had a heart-to-heart talk with [Rashad] about being his own person and own player. I tell him just because I have a successful older brother, doesn't mean my job isn't important, too. I can also make an impact on kids' lives."
Because he knows Shabazz's dominant personality, Holmes gets a laugh out of watching his oldest son get on his younger brother on the court. On the other hand, he understands how being the younger sibling of a budding celebrity can be difficult.
"They're close as brothers, but it's tough for [Rashad] sometimes because he puts pressure on himself to be on the same level [as Shabazz]," Holmes said. "It's been tough for him trying to figure out how to deal with it."
Rashad does get tired of answering the same questions over and over about his brother, but he brushes it off as no big deal because of their strong bond and because he's aware how good a player his brother is.
"We've been close all of our lives, so it hasn't really hit me how big he is," Rashad said.
As far as the public is concerned, Holmes doesn't have many concerns about people using Rashad to get closer to or be associated with Shabazz -- unless it's an adult. In that case, he would step in. If it's a kid, however, it's just another aspect of Rashad's maturation process.
"You got to allow kids to be kids," Holmes said.
Long term, Rashad would like to play a big role in sending his brother off to college with three state titles on his resume. Short term, he wants to hit his double-digit norm in helping the Gaels to their first-ever win over Findlay Prep.
Like any normal teenager, he also wouldn't mind getting some recognition of his own. After all, he is getting the opportunity to play in a nationally televised game for the second time in six days.
"It's a lot different this year; I'm way more comfortable and catching up to the speed of varsity," Rashad said. "I want people to know I'm trying to make a name for myself, too."
Ronnie Flores is a senior editor for ESPNHS. He can be reached at
ronnie.flores@espn.com
. Don't forget to follow him on Twitter:
@RonFloresESPN
September, 5, 2011
9/05/11
12:40
PM ET
By
Jason Jordan
| ESPN.com
Ask any high school basketball player and he'll undoubtedly tell you that a major factor in deciding on any college is how passionate its fan base gets.
"You want to go somewhere where the fans get really live and rowdy," said
Shabazz Muhammad
, a senior small forward at Bishop Gorman (Las Vegas, Nev.) who is the top ranked player in the
ESPNU 100
. "That's a big part of it."
If their spirited ploys to keep Muhammad home are any indication, UNLV fans may very well be giving the Rebels a slight advantage.
Check out the video.
Don't forget to follow Jason Jordan on Twitter: @JayJayESPN