High-SchoolBoys-Basketball:

Virginia
January, 2, 2012
1/02/12
6:00
AM ET
By
Jason Jordan
| ESPN.com
RALEIGH, N.C. --
Nik Stauskas
is completely aware that New Year's resolutions are practically synonymous with famous last words.
Still, he thinks it's important to have aspirations, especially on the court.
"It's important to have something to reach for in basketball," said Stauskas, a senior shooting guard at St. Mark's (Southborough, Mass.). "You need those goals for sure."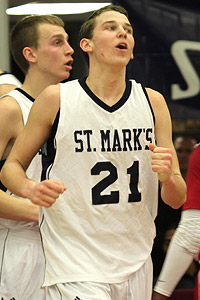 Courtesy of Brendan NolanNik Stauskas said New Year's resolutions are important on the hardwood.
We caught up with players at the High School OT Holiday Invitational and had them dish on their basketball-related New Year's resolutions.
Rasheed Sulaimon
Strake Jesuit (Houston), 2012, SG
College:
Duke
New Year's resolution:
"Get bigger, stronger and quicker so I can absorb contact when I'm driving into the lane and finish on a more consistent basis."
Nik Stauskas
St. Mark's (Southborough, Mass.), 2012, SG
College:
Michigan
New Year's resolution:
"Wake up at 6 a.m. four days a week and get in the gym and work on my floaters and my midrange game. That's something that I really want to improve on before I get to Michigan. I just want to stay consistent and stay motivated, and I think this will help me."
Rodney Purvis
Upper Room Christian Academy (Raleigh, N.C.), 2012, SG
College:
North Carolina State
New Year's resolution:
"Get more consistent with my jump shot and my handles. Those are the things that I'm constantly trying to improve so with 2012 here I'm determined to master both of those areas."
Andrew White
Miller School (Charlottesville, Va.), 2012, SG
College:
Kansas
New Year's resolution:
"Work on my scoring off the dribble. That would be so huge for me because I'm a shooter. Also to work on my foot speed and my dribbling, those are the main things I'm making my New Year's resolutions."
Kaleb Tarczewski
St. Mark's (Southborough, Mass.), 2012, C
College:
Arizona
New Year's resolution:
"Get my team to continue to jell together so that we can accomplish our goals. We want to win the states and we've come up short in the past and this is the year that I want it to all come together so my main resolution is to do everything that I can to continue to help this team grow."
Jason Jordan is the basketball editor for ESPNHS. He can be reached at jason.x.jordan.-ND@espn.com. Don't forget to follow him on Twitter: @JayJayESPN.
December, 15, 2011
12/15/11
10:37
PM ET
By
Jason Jordan
| ESPN.com
This year more than any other, Oak Hill Academy (Mouth of Wilson, Va.) coach
Steve Smith
firmly believes in the saying "never judge a book by its cover." Smith said his point guard,
Tyler Lewis
, was "the only player I've ever coached that wouldn't get picked up in an open-gym setting."
Good thing Smith and the Warriors knew better.
Lewis scored 18 points and dished out eight assists to lead
POWERADE FAB 50
No. 3 Oak Hill past No. 2 Miller Grove (Lithonia, Ga.), 82-78, Thursday in a
nationally televised game
at Morehouse College in Atlanta.
D'Vauntes Smith-Rivera
led Oak Hill (17-0) with 20 points while
Tony Parker
led Miller Grove (6-1) with 29 points and 10 rebounds.
The frantic pace to start favored Oak Hill and its high-octane transition offense, which has averaged 94 points per game this season.
Lewis picked the usually suffocating Miller Grove defense apart, finding
Jordan Adams
for three 3-pointers in the first quarter. That helped Oak Hill claim a 23-20 lead early on.
The Wolverines switched to a match-up zone in the second quarter and fed Parker in the paint to keep it close. Parker dominated the Warriors' big men with 15 points in the first half, but Lewis paced Oak Hill to a 42-36 lead at the half. Miller Grove shot a scorching 69 percent from the field before the break, but Oak Hill drained three more 3-pointers than the Wolverines.
Late in the fourth quarter, the Wolverines pulled to within one after
Justin Colvin
drilled a 3-pointer from the right wing with 47 seconds left. After two free throws from Lewis, Miller Grove forward
Brandon Morris
went 1-for-2 at the free-throw line, got his own rebound and got fouled again on the putback, putting him at the line with a chance to tie the game.
But Morris failed to convert on both free throws and the Warriors went 5-for-6 from the line down the stretch to secure the win.
The road doesn't get any easier for either team.
Oak Hill heads to Evelyn Mack Academy (Charlotte, N.C.) on Saturday before heading off to the Chick-fil-A Classic in Columbia, S.C. Miller Grove leaves Friday for Fort Myers, Fla., where it will compete in the City of Palms Classic.
Elsewhere in the POWERADE FAB 50
The Oak Hill-Miller Grove game was one of three games televised on ESPN networks Thursday night with FAB 50 ramifications.
With its
79-64 setback
to No. 15 Grace Prep (Arlington, Texas), No. 42 Prestonwood Christian Academy (Plano, Texas) will need a big performance at the upcoming
City of Palms Tournament
to remain in the next set of rankings due for Dec. 27. Prestonwood (5-1) opens the loaded tournament against Constitution (Philadelphia) and the winner is likely to take on No. 6 Bishop Gorman (Las Vegas) in the second round.
Also last night, No. 11 Marcus (Flower Mound, Texas) upped its record to 14-1 with its
42-40 victory
over No. 4 Montrose Christian (Rockville, Md.), and the victory bodes well for No. 7 Findlay Prep (Henderson. Nev.). The
Pilots beat Marcus
47-39 on Dec. 3 to snap a 42-game winning streak. Since Findlay Prep won't compete at the City of Palms and plays two winnable games this upcoming weekend, there is a chance the Pilots could climb to as high as No. 3 in the next FAB 50 depending who wins the City of Palms. In addition to Bishop Gorman, No. 5 Mater Dei (Santa Ana, Calif.) and No. 2 Miller Grove will be in Ft. Myers, Fla.
Miller Grove's loss Thursday night to Oak Hill bodes well for Grace Prep since its only loss so far came in a 68-59 setback to Oak Hill. Grace Prep opens at the City of Palms with No. 35 Taft (Cincinnati, Ohio) and could meet Mater Dei in the second round.
Ronnie Flores contributed to this report
December, 15, 2011
12/15/11
1:00
AM ET
By
Jason Jordan
| ESPN.com
Tony Parker
likens it to a temporary madness that erupts suddenly.
The faster you contain the mess it inevitably makes, the more success you're likely to have.
"It's just something about those TV cameras," said Parker, a senior forward whose No. 2 Miller Grove (Lithonia, Ga.) squad faces No. 3 Oak Hill Academy (Mouth of Wilson, Va.) at 8 p.m. ET Thursday on ESPN. "They can make you, but they can kill you too. "
For that reason, Parker and a handful of other elite players who have experience playing on national TV are being proactive in preaching to their teammates about fighting off the urge to ham it up for the cameras.
The 2011-12
GEICO ESPNHS Basketball Showcase
will feature 16 televised games on ESPN, ESPN2, ESPNU and
ESPN3
. This year's Showcase will highlight the top nine teams ranked in the
POWERADE FAB 50 preseason rankings
.
"It never fails you've always got someone who's doing something that they wouldn't normally do because they're on TV," said
Julius Randle
, a junior forward whose Prestonwood Christian (Plano, Texas) squad will play No. 15 Grace Prep (Arlington, Texas) at 7 p.m. ET Thursday on ESPNU. "It's crazy. I mean on one hand I understand what they're thinking, but on the other hand it's like, 'Come on, forget all that, we've got to win this game.'"
The ironic part for
Isaiah Austin
, a senior center at Grace Prep, is that, in his opinion, the best way to stand out is to stay within the parameters of your game.
"It's like if you want to get noticed you've got to stay with what you're good at," said Austin, a Baylor signee. "The crazy thing is that most players don't understand that most people notice the small things and not so much the big things. It's supposed to be all about the win."
That's the part that's baffling for Oak Hill point guard
Tyler Lewis
.
"The players want the fans watching on TV to be impressed with their play," said Lewis, a North Carolina State signee. "But the thing is it comes back to haunt them because they're doing too much and that leads to mistakes."
For Parker and the Wolverines, who are working on a state title four-peat and eyeing a No. 1 national ranking, mistakes need to be kept to a minimum.
"I'll tell my teammates that the best way to shine is to not get out of character," Parker said. "You've just got to play your game and the rest will take care of itself. A good way to get noticed is to play hard and do what you do every day, but the best way is to win."
Jason Jordan is the basketball editor for ESPNHS. He can be reached at
jason.x.jordan.-ND@espn.com
. Don't forget to follow him on Twitter: @JayJayESPN.
December, 6, 2011
12/06/11
11:54
AM ET
By
Jason Jordan
| ESPN.com
It's hard to imagine that there's unchartered territory for Oak Hill Academy (Mouth of Wilson, Va.)
Steve Smith
. Not for a guy who's led a program to a 65-game winning streak, who's had a team score 4,296 points in a season and who's produced 23 NBA Draft picks.
But last weekend marked the beginning of a grueling 30-day period that will have the Warriors on the hardwood every other day on average.
"That's 15 games in 30 days and that's definitely going to be difficult," said Smith, whose Warriors are ranked
No. 3 in the preseason POWERADE FAB 50
. "There's no doubt about it, but we wanted to really challenge this group. The next month will really determine how successful we're gonna be as a team this year."
Currently, the Warriors are 14-0 with wins this past weekend over Hales Franciscan (Chicago) and La Lumiere (La Porte, Ind.) at the Marshall County Hoopfest (Benton, Ky.). This weekend the Warriors will face Grace Prep (Arlington, Texas), No. 16 in the
Fab 50
. Then on Dec. 15, they meet No. 2 Miller Grove (Lithonia, Ga.) before a
nationally televised (ESPN, 8 p.m.) audience
.
Later this month Oak Hill will play in the Chick-fil-A Classic (Columbia, S.C.) and the
Les Schwab Invitational
(Portland), two of the most competitive tournaments of the season.
"Well, the thing that helps is that we've got a lot of depth," Smith said. "In my opinion, we've got 10 Division I players on our team counting the juniors so in the games that we're able to play a lot of guys we'll absolutely do that. I'm not too worried about these guys getting tired."
Neither is Warriors' point guard
Tyler Lewis
, a senior who is signed to North Carolina State. He likened the high volume of games to the AAU season where players are used to playing three games a day.
"Sometimes it can be more," said Lewis, who attends extra study halls with his teammates throughout the week and weekend to stay on top of schoolwork. "We'll all be prepared physically for this next 30 days, but it will definitely be different. At my high school last year we only played two games a week. Still, I think physically we'll be fine."
It's the mental aspect that concerns
Jordan Adams
, a senior shooting guard who is signed to UCLA.
"With that many games in that little amount of time sometimes you can get drained a little," said Adams, who broke Oak Hill's free-throw record Saturday night with 32-consecutive makes this season. "As a senior I know I'll have to be more vocal and we'll just have to work together even more than we have been. We'll just have to help each other and that won't be a problem because we all like playing with one another. We can't afford to have any letdowns."
That's largely because Oak Hill will get everyone's best shot. Smith knows that comes with the territory.
"Our kids know what it means for our competition to play against us," Smith said. "Outside of their state championship game, it's probably the biggest game on their schedule and they're gonna do everything that they possibly can to win. We'll have to be ready."
Added Lewis: "Having to play 15 games in 30 days sounds like a lot, but honestly we're all really excited to be playing this much. We know that we'll have to be focused, but we're gonna have fun out there too. And winning is one of the most fun things that you can do. We don't plan on losing over this stretch."
Jason Jordan is the basketball editor for ESPNHS. He can be reached at
jason.x.jordan.-ND@espn.com
. Don't forget to follow him on Twitter:
@JayJayESPN
November, 7, 2011
11/07/11
2:59
PM ET
By
Ronnie Flores
| ESPN.com
Last week the program at United Faith Christian Academy (Charlotte, N.C.), ranked No. 30 in the preseason
POWERADE FAB 50
, was
banned from the North Carolina Independent Schools Athletic Association (NCISAA) playoffs
this season and next because of a violation of the NCISAA's rules on recruiting. The basketball program was also placed on probation for two years, according to the
Charlotte Observer
.
The violation stemmed from an email sent out in September by school headmaster
Dr. Joe Siragusa
, a NCISAA Board of Directors member, to guardians of the basketball program's international basketball players. The email was intended to inform its recipients the program was still going to compete at the national level in light of former NBA guard
Muggsy Bogues
replacing
Shaun Wiseman
as coach in the off-season.
"I never would have thought ...that my email would have waded into the area of recruitment," Siragusa told the newspaper. "They still will play a decent schedule. I feel terrible for the juniors and seniors who this directly affects."
The Falcons are still FAB 50 eligible. The playoff ban stems from a ruling determined to be an act of recruiting potential student-athletes. As we interpret it, the violation had nothing to do with player eligibility issues regarding UFCA's current roster.
The Falcons' 2011-12 season is going to end sooner than it normally would otherwise, hence they will play fewer games and see less quality opponents. At some point as other teams advance in the post-season in their respective state, the playoff ban will effect their national ranking.
"Unguarded" Uncut
"Unguarded," the
ESPN documentary
about the trials and tribulations of former NBA, Fresno State and Durfee (Fall River, Mass.) standout
Chris Herren
, premiered last week and made a strong impact in the basketball community. Current NBA and college players quickly hit their Twitter accounts to express respect for Herren's courage to speak publicly about the drug addiction that nearly took his life.
"Man this Chris Herren story really hit me. One of the strongest people I've ever seen. Made it through all he has been through," said Duke freshman guard
Quinn Cook
(@QCook323).
"This story on Chris Herren on ESPN is amazing!!!!!! Drugs will tear a family down. He might of lost millions but he MADE it," said Phoenix suns forward
Jared Dudley
(@JaredDudley619).

What if I told you a movie could change the way you look at sports? From the producers of 30 for 30, ESPN Films presents a new series. Every Tuesday at 8 p.m. ET on ESPN. ESPN Films index »

The documentary centered on Herren detailing his story in various public settings. He's spoken at correctional facilities to recovering addicts and shared his gripping experiences at last summer's
Boost Mobile Elite 24
with the event participants. What viewers didn't see, however, was any interviews or commentary from Herren's former teammates.
"How can Chris' story be told without Dominick Young? I'm the one who kept him eligible to play and stayed up night after night," said former Fresno State teammate
Dominick Young
. "Chris is one of my best friends, but he was a wreck, a mess and only I can explain that because we lived together the whole time. But that's why we parted over the years because my battle with trying to get him to shake drugs."
In
Jerry Tarkanian's
first year coaching at his alma mater in 1995-96, Herren sat out the season as a transfer from Boston College. That team was made up of holdovers from the
Gary Colson
era -- guards
DeAndre Austin
and Young, forward
Darnell McCulloch
and center
Khary Stanley
. They blended in with late JUCO signees
James "Gumby" Gray
and
Kendric Brooks
to form one of Tark's Bulldog teams that actually played up to expectations with a 22-11 record.
The next season Herren, former prep All-American
Terrance Roberson
and JUCO All-American
Daymond Forney
joined the fold with Young, McCulloch, Brooks and Stanley, but the team finished with two less wins than the year before. In 1997-98, an ultra-talented team that lost the core from 1995-96 was replaced by
playground legend Rafer Alston
, 1994-95 Pac-10 Freshman of the Year
Tremaine Fowlkes
, and former prep All-Americans
Winfred Walton
and
Avondre Jones
. That unit limped to a second place finish in the WAC's Pacific Division before a late run landed them in the NIT semifinals.
As documented in "Unguarded," the team lost Herren for a few weeks when he left for drug rehab. Forney, Fowlkes and Roberson were also suspended for failed drug tests. Alston was out at the beginning of the season because of a domestic incident and Jones was kicked off the team during the Bulldogs' NIT run for famously brandishing a samurai sword during an argument with an acquaintance at Jones' apartment.
"Every guy they brought in was a pro, but they didn't put the work in the gym," Young (@iceneeko) said. "It was crazy, there was always a suspension, an injury, or someone who could only play a certain amount of minutes."
Amazingly, many of the stories surrounding the team were chronicled by a production crew that followed the players throughout the 97-98 season. The final product,
"Between the Madness"
was an eye-opening look at a dozen or so scholarship student-athletes who were as unfocused as they were talented.
The documentary not only foreshadowed Herren's troubles, but was a prelude to today's popular sports reality shows such as
HBO's "24/7"
.
Herren, Roberson, Fowlkes and Alston eventually made it to the NBA, but only Alston enjoyed prolonged success.
"They were great guys, but they didn't work on their game and get better," Alston said.
Dorial Green-Beckham Bucks Trend
ESPNHS has honored the nation's best football-basketball combo athletes for over two decades, names such as
Ron Curry
of Hampton (Hampton, Va.),
Greg Paulus
of Christian Brothers Academy (Syracuse, N.Y.) and
Terrelle Pryor
of Jeannette (Jeannette, Pa.). A majority of the nation's top Grid-Hoop athletes have aspirations to play both sports at the Division I level, but the reality is most end up focusing on one sport and the sport that materializes into a pro career more often than not is football.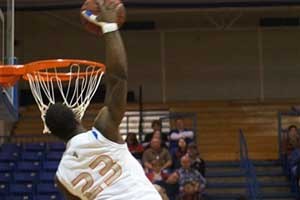 Tracy BeckhamDorial Green-Beckham is arguably the nation's top Grid-Hoop athlete.
With the competition so fierce to earn an athletic scholarship, there are less great Grid-Hoop athletes than ever before. Many top football recruits graduate mid-term and skip basketball in order to participate in spring drills in what would normally be their spring semester of high school. Others simply drop basketball to prepare for their freshman season in college.
A recent example of the trend is quarterback
Cody Kessler
of Centennial (Bakersfield, Calif.), the 2010
Gatorade State Player of the Year
in football who entered his senior year with a school record 1,771 points, but did not play basketball in order to participate in spring football practice at USC.
Record-setting wide receiver/forward
Dorial Green-Beckham
of Hillcrest (Springfield, Mo.), the No. 3 prospect in the
ESPNU 150
for football, confirmed to ESPNHS he will play basketball for the Hornets in his senior year. On October 27, Green-Beckham
set a reported national career record
for receiving yards, becoming the first gridder ever to surpass the 6,000 yard-mark.
Last season on the hardwood, the 6-foot-6 forward earned
ESPNHS second team Underclass All-American
and Ozark Conference Player of the Year honors for a team that reached the state Class 4 quarterfinals. As a sophomore, he led Hillcrest to the Class 5 state title while averaging 20 points and 8.5 rebounds per game.
Green-Beckham has a solid chance to earn All-American honors in both sports this year. He'll be hard-pressed to earn ESPNHS Mr. Basketball USA honors, but look for him on our early season watch list next week.
Oak Hill Academy Now 4-0
On November 1, Oak Hill Academy (Mouth of Wilson, Va.), the No. 3 ranked team in the POWERADE FAB 50, had an early road test against Quality Education Academy (Winston-Salem, N.C.) and came away with a 84-69 victory.
Jordan Adams
, a first team ESPNHS Underclass All-American last year headed for UCLA, led the Warriors with 22 points. Point guard
Tyler Lewis
, a transfer from Forsyth Country Day (Lewisville, N.C.), dished out 14 assists and had 19 points. Guard
D'Vauntes Smith-Rivera
, a newcomer from North Central (Indianapolis, Ind.), added 18 points.
If early results are any indication, Lewis might challenge
Rajon Rondo's
single-season school record of 494 assists set in 2003-04. That season, Rondo and forward
Josh Smith
led the Warriors to the No. 1 ranking in the FAB 50 with a 38-0 mark.
In their latest game on Saturday, the Warriors defeated Stoneridge Prep (Tarzana, Calif.), a non-member of the California Interscholastic Federation (CIF) whose program is ineligible for the POWERADE FAB 50. In the 80-64 victory, Adams finished with 29 points and eight rebounds while Lewis also has 20 points, dished out six assists and reportedly had zero turnovers.
Ronnie Flores is a senior editor for ESPNHS. He can be reached at
ronnie.flores@espn.com
. Don't forget to follow him on Twitter:
@RonFloresESPN
October, 28, 2011
10/28/11
4:07
PM ET
By
Ronnie Flores
| ESPN.com
Preseason
POWERADE FAB 50
No. 3 Oak Hill Academy (Mouth of Wilson, Va.) unofficially kicked off the 2011-12 season with a 91-54 victory over Covenant Christian (Loganville, Ga.) on October 21. The Warriors also participated in their annual scrimmages with Fork Union, Massanuttan and Hargrave Military Academies this month. Those schools are not eligible for the FAB 50 rankings.
The Warriors next game on November 1 will take place on the road against Quality Education Academy (Winston-Salem, N.C.). QEA, if you recall, was removed from last year's FAB 50 rankings when head coach
Isaac Pitts
informed us about fifth-year players on his roster, namely
Sir' Dominic Pointer
(now at St. John's University), when we called last January to confirm if Sacramento, Calif., native
Josiah Turner
was indeed enrolled at QEA after leaving Sacramento High mid-season.
At the time, we applauded Pitts for his honesty and if that trait were displayed by every single high school coach we deal with when it comes to player eligibility and team rankings, it would streamline the process of ranking teams and make them more accurate. Pitts stated in writing his current club doesn't carry any post-graduates, so QEA is eligible for the FAB 50 this season. Our ultimate goal is to determine which schools are eligible and for them to remain eligible for the foreseeable future and for ineligible clubs to never return. We want to avoid programs being eligible for the FAB 50 one year and ineligible the next.
Pitts' club is one of a handful of teams itching to break into the FAB 50. QEA has a young club and a player to watch when they do battle next week with Oak Hill is 6-1 PG
Jevon Thomas
, a Dayton commit. Pitts is also high on 6-9 freshman
Ibrabiima Diallo
, a native of Dakar, Senegal.
UFCA Could Face Sanctions
According to the
Charlotte Observer
, FAB 50 No. 30 United Faith Christian Academy (Charlotte, N.C.) might be in hot water with the North Carolina Independent Schools Athletic Association (NCISAA). According to the newspaper, the potential violation of NCISAA rules involves an email sent out by school headmaster
Dr. Joe Siragusa
in September. The question at hand is whether Siragusa's email violated the NCISAA's statues against the recruitment of potential student-athletes.
If the email is ruled to be a recruiting violation, UFCA would be placed on probation and banned from the playoffs for one year according to the NCISAA handbook. As far as the FAB 50 is concerned, UFCA would remain eligible as long as its current roster was made up of players who would be eligible at other public or private schools in North Carolina. This situation reminds us of the
Kyrie Irving-Mike Gilchrist
led St. Patrick (Elizabeth, N.J.) team that finished the
2009-10 season
ranked No. 7 in the FAB 50.
St. Patrick was banned from the New Jersey TOC
after the NJSIAA ruled then head coach
Kevin Boyle
was in violation of its coaching rules involving pre-season workouts.
Findlay Prep schedule finalized
Another team looking to move up in the FAB 50 is Findlay Prep (Henderson, Nev.). Unlike QEA, the Pilots are already in the rankings, opening up at No. 8. Findlay Prep has a loaded roaster and this week the program
announced its loaded 2011-12 schedule
. One early season game that will draw plenty of attention from fans and pollsters is the Pilots' December 3 match up in Dallas against No. 5 Marcus (Flower Mound, Texas). Coach Mike Peck's club also has a crucial six-day stretch in January where they'll face No. 1 Simeon (Chicago) and No. 7 Bishop Gorman (Las Vegas, Nev.).
Ronnie Flores is a senior editor for ESPNHS. He can be reached at
ronnie.flores@espn.com
. Don't forget to follow him on Twitter:
@RonFloresESPN
October, 24, 2011
10/24/11
10:37
PM ET
By
Jason Jordan
| ESPN.com
HAMPTON, Va. --
To hear
Brandan Stith
tell it, as spirited and as gifted as the Virginia coaching staff has been throughout his recruitment, they pale in comparison to his younger brother
Broderick
and his barrage of constant Cavaliers' sales pitches.
"He is always talking to me about Virginia. Always," said Brandan, a junior forward. "I've got some good schools that I'm considering but none of them have someone in my ear at all times. Virginia has that in my brother. I think his whole wardrobe is orange and blue."
That much was evident at the Boo Williams Skills Clinic in Hampton, Va., last weekend where Broderick, who had to sit out with a minor injury, was sporting a Virginia letterman's jacket, a Virginia shirt and orange and blue shoes to match.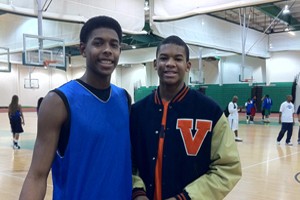 Jason Jordan/ESPNHSBrandan Stith (left) is warming up to the idea of becoming a Cavalier like his younger brother Broderick.
His loyalty is understandable, Broderick committed to Virginia on Sept. 3, due in large part to their father
Bryant Stith's
legacy with the Cavaliers.
Bryant was a third-team All-American as a senior at Virginia, ending his career as the Cavaliers' all-time scoring leader (2,516 points) before he was taken with the 13th pick in the 1992 NBA Draft by the Denver Nuggets. Stith played eight seasons in Denver before being traded to the Boston Celtics in 2000. He spent his final year with the Cleveland Cavaliers in 2002.
"I knew what I wanted to do and I knew there was no reason to wait," said Broderick, a sophomore combo guard. "Now I'm trying to get my brother to join me. I love playing with him and want to continue it at the next level."
For now, the brothers form a lethal tandem at Brunswick (Lawrenceville, Va.). Last year they helped the Bulldogs to a state title.
"They've both just constantly gotten better over the years and it's paying off," said Bryant, who is the head coach at Brunswick. "I definitely think that it's pretty cool to have my son at my alma mater, but it's not something I'll push on Brandan. I want it to be the right decision for him."
It's the same message that Bryant preached to Broderick when he told his father that he was ready to be a Cavalier.
"I asked him straight up what he'd do if Kentucky and Duke and North Carolina came calling in a year," Bryant said. "He said it wouldn't matter, he'd still be committed to Virginia 100 percent. After that, he made the call to Virginia."
Brandan doesn't anticipate making a similar call to any school any time soon. Ohio, Clemson, Notre Dame, Xavier and Virginia Tech are all competing with Virginia and Broderick for Brandan.
There's a legitimate reason behind his reluctance with the whole "keep it in the family" scenario.
Virginia's plan for him is different from the way they recruited Broderick. The Cavs' coaches want Brandan to go to prep school for a year after he graduates in 2013, an idea he "wasn't feeling" initially.
"Just going to school for another year isn't all that appealing," Brandan said. "I've been thinking about it though. It's an idea that I'm starting to warm-up to."
Added Bryant: "Brandan is ultimately the one who will have to spend four years at the college he picks so it needs to be a school where he'll be happy."
Salesman aside, Broderick gets that and even conceded that he wanted his brother to be in the best situation in college… Sort of.
"What better situation is there than to play with your brother at a college where your dad is a legend," Broderick said. "I'm gonna keep working on him."
Jason Jordan is the basketball editor for ESPNHS. He can be reached at
jason.x.jordan.-ND@espn.com
. Don't forget to follow him on Twitter:
@JayJayESPN
October, 11, 2011
10/11/11
10:12
PM ET
By
Jason Jordan
| ESPN.com
With the offseason in full effect, ballers around the country have begun what is widely regarded as one of the most grueling grind modes of the year as they prepare for the up-and-coming season.
Every week we'll profile an elite player and have them dish on one of their most unorthodox training methods and explain why it's been so beneficial.
Next up?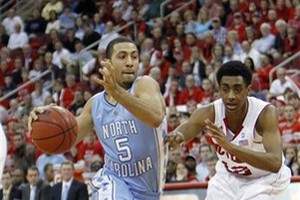 Associated Press/ESPNHSKendall Marshall said dribbling in the dark made him a better ball handler.
North Carolina point guard
Kendall Marshall
.
The Drill
: Dark dribbling
The Rundown
: "Well, back home my laundry room had a concrete floor and so I would go in there and shut off all the lights and dribble. It was a small space and it was pitch black in there, but I would just stand there doing moves and working on my handles.
As a point guard you've got to see this game from all angles. You've got to see it mentally. So when you can see it without being able to see what's in front of you, you're on your way."
The Benefit
: "It really helps with your hand-eye coordination and getting comfortable with the ball. When you're out there on the court you've got to be worried about pressure defense and traps and things like that so this drill gives you one less thing to worry about on the court.
This drill really jumpstarted my handles. It will definitely help out a lot if you're trying to improve in that area."
Jason Jordan is the basketball editor for ESPNHS. He can be reached at
jason.x.jordan.-ND@espn.com
. Don't forget to follow him on Twitter:
@JayJayESPN
September, 12, 2011
9/12/11
2:00
PM ET
By
Jason Jordan
| ESPN.com
If you watched
Quinn Cook
run the point for Oak Hill Academy (Mouth of Wilson, Va.) last season then what he's about to say will probably shock you.
"I'm finally back to 100 percent," said Cook, now a freshman playing at Duke. "It feels great."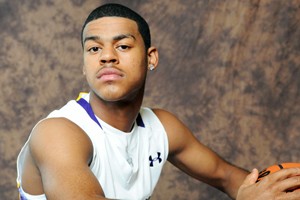 Kelly Kline/ESPNHSQuinn Cook says he's 100 percent after a year of playing on an injured knee.
The immediate "head-scratch" reaction would come from the fact that, despite playing his entire senior season with torn ligaments in his right knee, Cook managed to average 21 points and 11 assists to lead the Warriors, who finished ranked No. 7 in the
POWERADE Fab 50
.
Cook averaged 28 points per game in the ESPNHS National High School Invitational in April but fell in the championship game to Montrose Christian (Rockville, Md.), 71-64, in a
double-overtime thriller
.
The lingering injury left Cook sidelined for Duke's trip to China and Dubai in August, but for Cook it's all about what's ahead.
"I'm happy to be healthy now," Cook said. "I'm ready to go."
Don't forget to follow Jason Jordan on Twitter:
@JayJayESPN