Soccer recruits break down the final four
December, 9, 2011
12/09/11
8:38
AM ET
By
Sheldon Shealer
| ESPN.com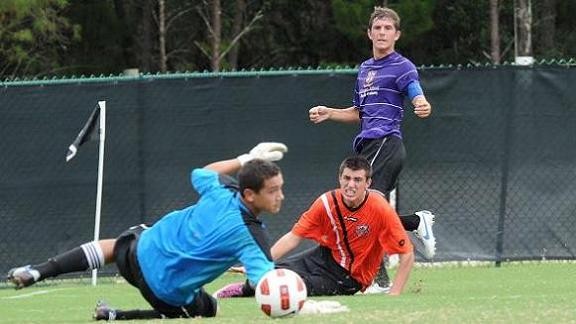 Darlington SchoolMyles Englis, in purple, slips a shot past the keeper and into the goal during last year's Disney Showcase. The Creighton commit makes his pitch as to why the Bluejays will win a national title.
High school seniors Jonathan Campbell, Myles Englis, Brandon Kardos and Javanon Torre will watch the NCAA Men's Soccer College Cup with a little more interest this weekend. After all, they have verbally committed to the schools remaining in the national title chase. ESPNHS asked these elite prospects to break down the NCAA semifinals and make a pitch for their future programs.
Friday's NCAA semifinals pit Creighton (21-2) against UNC Charlotte (16-4-2) at 6 p.m. EST, followed by North Carolina (20-2-2) against UCLA (18-4-1) at 8:30 p.m.
Jonathan Campbell, Greensboro, N.C.
High School:
Greensboro Day School (Greensboro, N.C.)
Club:
USSDA North Carolina Fusion
College Commitment:
North Carolina
Why North Carolina Will Win:
"They don't want to psych themselves out about [possibly] playing Creighton [coached by former UNC head coach Elmar Bolowich]. They got to take it one step at a time, but you know that [possible matchup] will be on their mind. … I think North Carolina incorporates their freshmen really well. They have [Boyd Okwuono], Mikey [Lopez] and Jordan [McCrary] starting, and they have a vast array of options with Mikey Lopez a very quick player, Kirk [Urso] a team captain and team leader, and speed with [Billy] Shuler and [Rob] Lovejoy. Ben Speas is a very technical player. They use Matt Hedges really well to isolate on corners or free kicks. They do a great job using all parts of soccer. They win their headers, because they've got some players with height. They can play quick because they've got speed. They're all around balanced, and that's why I think they will win."
Myles Englis, Rome, Ga.
High School:
Darlington School (Rome, Ga.)
Club:
Cobb FC
College Commitment:
Creighton
Why Creighton Will Win:
"They have a high pressure [front] line, so the goalkeeper doesn't have to do much and the backline doesn't have to do much and most of the defending is done in the midfield. The forward is Ethan Finlay [14 goals, six assists] and that pretty much speaks for itself. He's the best in the NCAA right now -- breaking records left and right. Between [Finlay] and the other co-captain Brian Holt, the goalkeeper, setting school records, I think those are the two keys. … They deserve to be the national champion because they've played well all season. I feel like all the teams have an equal shot, but I feel like Creighton plays better soccer. They play on the ground. They don't like to lump it forward like a lot of college soccer teams do. They like to play and build it up and once they find the hole or the opportunity, they do it well and they convert their chances very well."
Brandon Kardos, Charlotte, N.C.
High School:
Providence (Charlotte, N.C.)
Club:
USSDA Charlotte Soccer Academy
College Commitment:
UNC-Charlotte
Why UNC-Charlotte Will Win:
"UNCC is going to win this tournament for a couple different reasons, the first is team chemistry. UNCC works so well together and being around the team in the locker room before games and on my visits has shown me that they truly have a special bond that I believe is second to none. The second reason is pure talent, [freshman forward Giuseppe] Gentile has made a huge impact in the 49ers side. I played with Gentile on my Academy team and I know firsthand his scoring talent. Even bigger than the offensive game of Charlotte is its defensive game. Charlotte's defense, in my opinion, is the best in the country, and I'm confident they will hold strong and see the 49ers through to another victory. As a center back, I will have big shoes to fill when I come in the program. The third and final reason is [coach] Jeremy Gunn and all the coaching staff at Charlotte. I have been coached by Jeremy so I know how good of a coach he really is and what a difference he can make in the game. All of these things paired together will see the 49ers through to another great victory."
Javan Torre, Santa Monica, Calif.
High School:
Crossroads (Santa Monica, Calif.)
Club:
South Bay Force
College Commitment:
UCLA
Why UCLA Will Win:
"The organization of the back line. They have eight shutouts in a row, and since I'm a defender, I'm leaning toward that. Over the course of the year, UCLA has been very consistent. Well, they had a rough patch early, but they won league without losing a game and they're showing they want to be here [in the NCAA semifinals]. I think they need to hold the back line. Shutouts are always key to winning, and even if the front line is not doing well, a shutout keeps you in the game. I think UCLA will have to finish its chances."