High-SchoolCalifornia:

Alemany
March, 24, 2012
3/24/12
6:03
PM ET
By
Mark Tennis & Ronnie Flores
| ESPN.com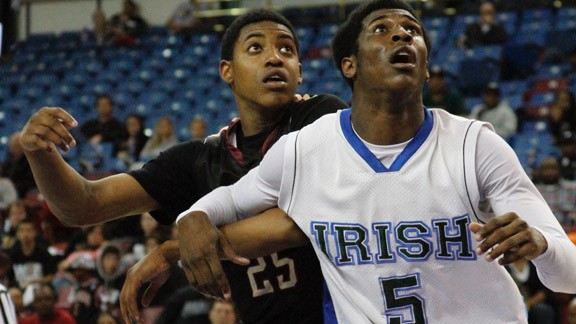 Willie Eashman/ESPNHSAlemany's Malik Anderson battles Sacred Heart Cathedral's Taylor Johns for position.
Behind 30 points from Katin Reinhardt, Mater Dei beats Sheldon in D1 final and gets state record ninth championship for coach Gary McKnight. Alemany also completes quest with D3 victory while Village Christian upends defending champ for first D5 crown.

The CIF Division I, Division III and Division V state title games in boys basketball were played at Power Balance Arena in Sacramento. The Division II and Division IV titles were decided on Friday (
click here for writeups
).
Division I:
Mater Dei (Santa Ana) 66, Sheldon (Sacramento) 48
Two hours after Mater Dei girls' coach Kevin Kiernan became the winningest in CIF history, boys' coach Gary McKnight topped even that by earning his ninth and the program's second in a row.
McKnight, who began coaching the team in 1983, broke the state record of eight set in 1997 by retired Crenshaw of Los Angeles coach Willie West.
March, 4, 2012
3/04/12
4:05
AM ET
By
Ronnie Flores
| ESPN.com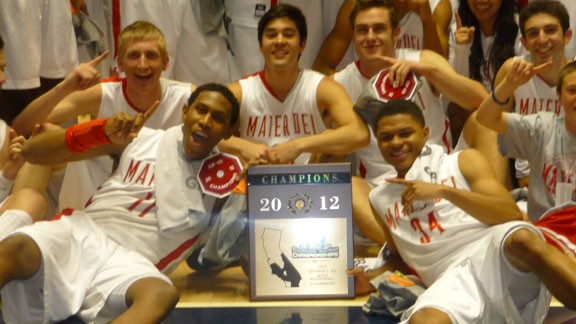 Mark Tennis/ESPNHSMater Dei standouts Xavier Johnson (left) and Jordan Strawberry (right) spread out on the floor with CIFSS title plaque in between.
According to Cal-Hi Sports record book, school's 21st section title also ties state record. Barring a regional upset or strange seeding, the Monarchs and Jackrabbits could meet again in the D1 South championship with trip to state title game on the line. Other winners in CIFSS finals on Saturday in Anaheim include Orange Lutheran, Alemany, Mayfair, Pasadena and Inglewood.
Going into the highly-anticipated CIF Southern Section Division I-AA final between state No. 1 Mater Dei of Santa Ana, the defending state champions, and No. 2 Long Beach Poly, the defending CIFSS Div. I-AA champ, Mater Dei coach Gary McKnight felt rebounding was the key.
September, 18, 2011
9/18/11
3:37
AM ET
Check here to see which teams may be going up, which ones going down in next week's state rankings, the third of the 2011 regular season
The upset of Friday night has to be J.W. North of Riverside coming up with a 36-35 triumph over No. 7 Alemany of Mission Hills. Alemany's only loss last year was to No. 2 Servite and the Warriors had no trouble in their fist two games. J.W. North is coming off a 2-8 season. It's good to see the Huskies, a state power in the early 2000s, back in the limelight. The team is coached by Mark Paredes, who earlier in his career had top state-ranked teams at Bishop Amat of La Puente.
The complete Top 25 state weekend scoreboard through reported results of Saturday night follows:
1. De La Salle (Concord, Calif.) 2-0
Defeated St. Mary's of Stockton 35-0.
2. Servite (Anaheim, Calif.) 3-0
Defeated La Habra 24-16.
3. Mission Viejo (Mission Viejo, Calif.) 2-1
Defeated La Quinta 34-0.
4. Long Beach Poly (Long Beach, Calif.) 3-0
Defeated Narbonne of Harbor City 19-16.
5. St. Bonaventure (Ventura, Calif.) 2-0
Defeated Royal of Simi Valley 59-0.
6. Centennial (Corona, Calif.) 1-1
Defeated Mater Dei of Santa Ana 28-20.
7. Alemany (Mission Hills, Calif.) 2-1
LOST to J.W. North of Riverside 36-35.
8. Grant (Sacramento, Calif.) 2-2
LOST to No. 13 Lincoln of Stockton 56-20 on Saturday.
9. Santa Margarita (Rancho SM, Calif.) 3-0
Defeated Trabuco Hills of Mission Viejo 35-14 on Thursday.
10. Bellarmine (San Jose, Calif.) 1-1
Defeated San Leandro 41-6.
11. Crespi (Encino, Calif.) 2-0
Defeated Clovis West of Fresno 42-28 on Saturday.
12. Oaks Christian (Westlake Village, Calif.) 1-1
Defeated Agoura of Agoura Hills 50-11.
13. Lincoln (Stockton, Calif.) 4-0
Defeated No. 8 Grant of Sacramento 56-20 on Saturday.
14. Pleasant Grove (Elk Grove, Calif.) 3-1
Defeated McNair of Stockton 77-7.
15. Buhach Colony (Atwater, Calif.) 4-0
Defeated Lodi 42-7.
16. California (San Ramon, Calif.) 2-0
Defeated Castro Valley 45-14.
17. Granite Bay (Granite Bay, Calif.) 3-1
LOST to Vacaville 38-27.
18. Palo Alto (Palo Alto, Calif.) 1-1
LOST to Archbishop Mitty of San Jose 27-21.
19. Westlake (Westlake Village, Calif.) 2-0
Defeated Calabasas 63-0.
20. Eastlake (Chula Vista, Calif.) 3-0
Defeated El Camino of Oceanside 21-7.
21. Lutheran (Orange, Calif.) 3-0
Defeated Tustin 45-6.
22. Vista Murrieta (Murrieta, Calif.) 2-0
Defeated Santiago of Corona 25-0.
23. Oceanside (Oceanside, Calif.) 2-1
Defeated Mira Mesa of San Diego 17-3
24. Del Oro (Loomis, Calif.) 3-1
Defeated Oak Ridge of El Dorado Hills 49-29.
25. Clovis (Clovis, Calif.) 3-0
Defeated Centennial of Bakersfield 28-22 in 2 OTs.
Teams on the Bubble (Alphabetical)
Bakersfield 3-0
Cardinal Newman (Santa Rosa) 3-0
Folsom 3-1
Helix (La Mesa) 2-1
J.W. North (Riverside) 2-0
Mater Dei (Santa Ana) 0-2
Nevada Union (Grass Valley) 4-0
Palma (Salinas) 2-0
Pittsburg 3-0
San Clemente 3-0
St. John Bosco (Bellflower) 3-0
St. Mary's (Stockton) 1-2
Upland 3-0
For corrections or to send a recommendation about the next rankings, email Mark.Tennis@espn.com