High-SchoolCalifornia:

Amador Valley
July, 4, 2012
7/04/12
4:24
AM ET
By
Mark Tennis
| ESPN.com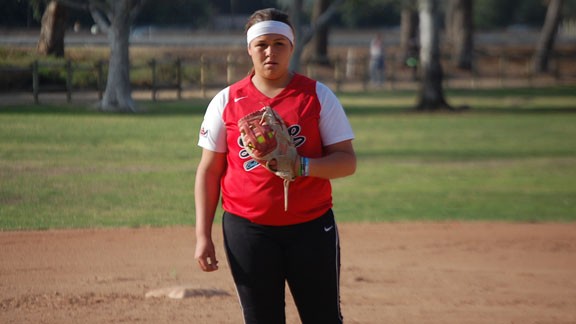 Morales Family/ESPNHSIndio's Heather Morales has put her name into the state record book.
With baseball done, it's time to switch to softball and first up is the 2012 Cal-Hi Sports all-state underclass honorees. There is a first team of 30 players and a second team of 30 more. All are non-seniors.
CIF Southern Section powerhouse Pacifica of Garden Grove lands two pitchers and two position players on either first or second team to lead the way on the 2012 Cal-Hi Sports all-state softball underclass teams.
Amador Valley of the CIF North Coast Section has three players selected while other schools to have more than one player named are Chino Hills, Colton, Edison of Huntington Beach, El Diamante of Visalia, Mission Viejo and Norco.
With help from assistant editor Paul Muyskens, here are the
2012 Cal-Hi Sports All-State Softball Underclass Teams
:
April, 9, 2012
4/09/12
3:15
PM ET
By
Harold Abend
| ESPN.com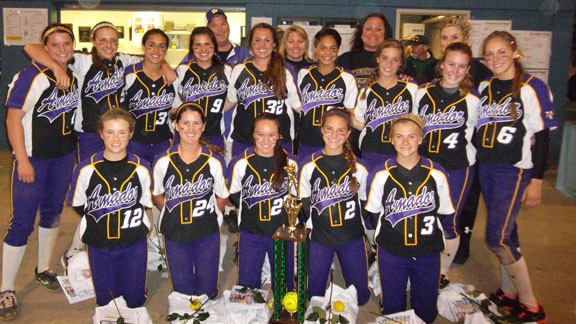 Harold Abend/ESPNHSAmador Valley won its last two games at the Livermore Stampede by combined score of 19-1.
Dons roll past Mitty and Livermore to win Livermore Stampede and will now close in on being No. 1 in the state after top-ranked Norco falls at Michelle Carew Classic.
After her performance in the 18th Annual Livermore Stampede, there's a new queen of Northern California high school softball and her name is Johanna Grauer from Amador Valley of Pleasanton.
The championship game of the Stampede was played at 7:15 p.m. last Saturday, but to softball aficionados and for rankings purposes, the 3 p.m. semifinal between Cal-Hi Sports No. 3 Archbishop Mitty (San Jose) and No. 7 Amador Valley was the game of the day.
April, 4, 2012
4/04/12
3:52
PM ET
By
Mark Tennis
| ESPN.com
There's limited movement in this week's rankings, but that could change after this weekend's Michelle Carew Classic and the Livermore Stampede.

As rankings compilers, it sure is nice sometimes when just about every team from the week before doesn't lose. In most weeks, especially in baseball and softball, it's the opposite.

For this week's new top 20 for California softball, the only team to lose and drop was previous No. 8 Torrey Pines. The Falcons didn't drop far after losing to San Marcos on Monday because it was just their first loss of the season.

Previous No. 15 Simi Valley didn't lose, but had to take a tie when weather forced a halt to a tie game between the Pioneers and El Segundo in the title game of the Savanna tourney in Anaheim.

Next week's rankings don't figure to be as calm. Many top teams will be in the brackets of the Michelle Carew Classic in Anaheim Hills and the Livermore Stampede in Livermore.

(Through games played Monday, April 2)
(Previous ranking in parentheses)

1. (1) Norco 14-0
The Cougars, who were idle last week, hope to add the Michelle Carew Classic title to previous tournament crowns they've won at Bullhead City, Ariz., and Torrance, Calif.

March, 23, 2012
3/23/12
4:55
PM ET
By
Paul Muyskens & Harold Abend
| ESPN.com
Johanna Grauer of Amador Valley throws big no-hitter on Thursday in battle of state-ranked teams. San Marino's Michelle Floyd and Ridgeview's Nisa Ontiveros are at it again while girl from Stockton gets her name into the state record book.

Note: We're proud once again to collect weekly writeups of the most significant individual high school softball totals in California. We use these as the basis for updating the state record book, which has been published seven times, most recently in the spring of 2009. To report a state stat star of your own, please email highlights to Mark.Tennis@espn.com.

(After games of Saturday, March 17; includes some games as of Wedneday, March 21; Contributing: Bob Barnett, Mark Tennis)

Maggie Arriola & Tyler Hughes (Garces, Bakersfield)
Arriola hit a grand slam to go along with seven RBIs for the game in a 13-5 win over Wasco. Hughes, meanwhile, moved to 5-0 this season in the circle, struck out eight and didn't allow a hit in a 9-0 win over South of Bakersfield.

March, 16, 2012
3/16/12
1:17
PM ET
By
Mark Tennis
| ESPN.com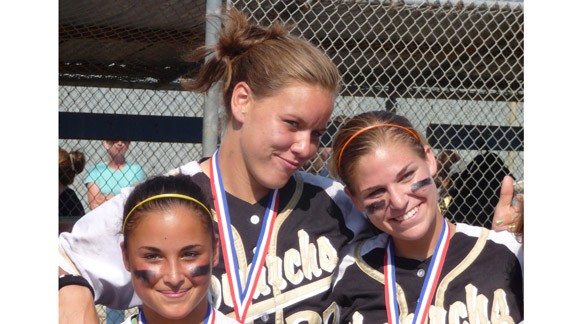 Mark Tennis/ESPNHSAmong those celebrating in 2010 when Archbishop Mitty clinched FAB 50 national title were Vanessa Alvarez (left), Keilani Ricketts (center) and Alex Arnold (right). Ricketts now stars at Oklahoma while Alvarez and Arnold are now seniors.
Norco surges to the top while other teams coming up quickly include Woodcreek, Amador Valley, Lutheran of Orange and Torrey Pines.
This week's state top 20 for girls softball was actually completed on Wednesday so that the POWERADE FAB 50 national rankings could be done, but it wasn't possible to complete the package for the California page until Friday morning. Some results from Wednesday and Thursday may not be included. Thanks to Harold Abend and Paul Muyskens for their contributions to these rankings.
(Through games played Tuesday, March 15)
(Previous ranking in parentheses)
1. (8) Norco 5-0

Coach Rick Robinson's team is stuffed with experienced, talented players and showed just how good it will be this season by winning the prestigious title of last weekend's Arizona Tournament of Champions. Among those that the Cougars beat during the week were state-ranked Chino Hills in the semifinals and previous state No. 3 Pacifica in the final.
2. (3) Pacifica (Garden Grove) 6-1

Sophomore Kaylee Carlson pitched well all weekend for the Mariners at the big tourney in Bullhead City, Ariz. Although Norco got to her for a four-run inning in the 4-0 loss in the final, Carlson was more than solid in the team's earlier wins against Taylorsville (Utah), previous state No. 1 Los Alamitos, Lakewood and Saugus.