High-SchoolCalifornia:

Archbishop Mitty
July, 11, 2012
7/11/12
12:17
PM ET
By
Mark Tennis
| ESPN.com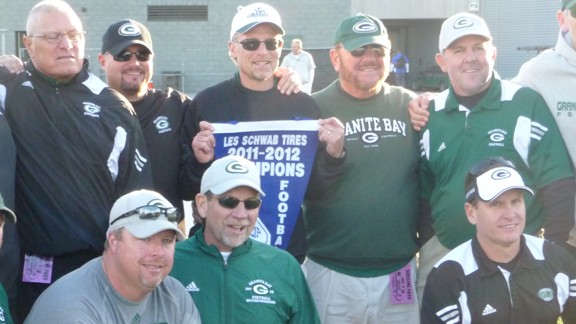 Mark Tennis/ESPNHSGranite Bay football coach Ernie Cooper (holding flag) poses with staff after 2011 Sac-Joaquin Section title game.
Mitty is best for girls sports for the ninth time while other honorees include La Costa Canyon (D2), Campolindo (D3), Serra of Gardena (D4) and St. Margaret's (D5). Eight more schools who deserve special mention for overall athletic excellence also have been singled out.
Congratulations to the following schools for collecting a statewide all-sports honor for the 2011-12 school year:
Girls Sports Only:
Archbishop Mitty (San Jose)
It might seem like the Monarchs have won this honor every year, but they actually didn't the last two years. Regarded as perhaps the best school for girls sports in the nation, Mitty lived up to that claim by winning the CIF Division II state title in basketball and by going 29-2 and finishing top 10 in the nation in softball. Mitty's other girls sports highlights included a CIF Central Coast Section co-title in soccer, the best finish in school history (2nd) in CCS golf, a second-place finish in the loaded CCS swim meet plus semifinal appearances in the CCS field hockey and tennis playoffs. This is the ninth time Mitty has been tops in the state for girls sports since the 1994-95 school year.
May, 11, 2012
5/11/12
8:18
PM ET
By
Mark Tennis
| ESPN.com
As with baseball, we strive to put out the annual Cal-Hi Sports five-division softball state rankings before the playoffs start so teams know which ones are in contention to be a mythical state champion.

The five teams that have been slotted in No. 1 positions at the start of the various section playoffs around the state are Pacifica of Garden Grove (Division I), Archbishop Mitty of San Jose (Division II), Chino Hills (Division III), La Canada (Division IV) and Pomona Catholic (Division V).

Here are the first divisional state rankings for the 2012 season (through games of Monday, May 7 and including some results from this week):

DIVISION I
1. Pacifica (Garden Grove) 25-1
2. Norco 24-2
3. Amador Valley (Pleasanton) 21-0
4. Lutheran (Orange) 25-4
5. El Diamante (Visalia) 27-1
April, 9, 2012
4/09/12
3:15
PM ET
By
Harold Abend
| ESPN.com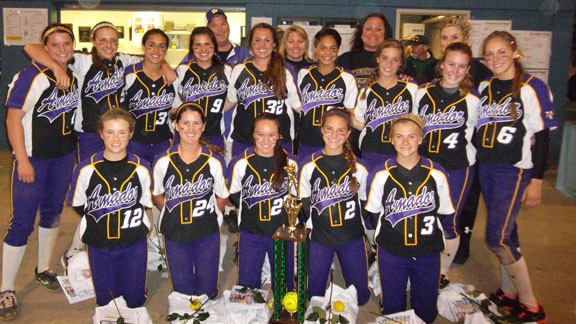 Harold Abend/ESPNHSAmador Valley won its last two games at the Livermore Stampede by combined score of 19-1.
Dons roll past Mitty and Livermore to win Livermore Stampede and will now close in on being No. 1 in the state after top-ranked Norco falls at Michelle Carew Classic.
After her performance in the 18th Annual Livermore Stampede, there's a new queen of Northern California high school softball and her name is Johanna Grauer from Amador Valley of Pleasanton.
The championship game of the Stampede was played at 7:15 p.m. last Saturday, but to softball aficionados and for rankings purposes, the 3 p.m. semifinal between Cal-Hi Sports No. 3 Archbishop Mitty (San Jose) and No. 7 Amador Valley was the game of the day.
April, 8, 2012
4/08/12
9:26
PM ET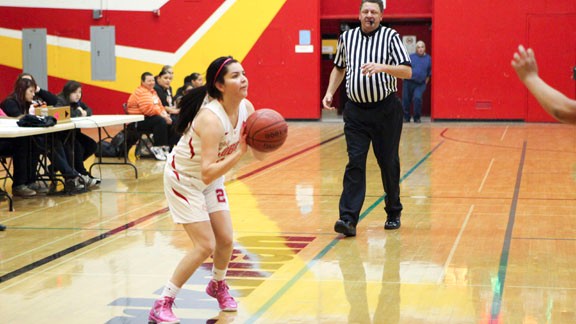 Workman H.S./ESPNHSEvelyn Herrera from Workman (City of Industry) was one of the state's leading scorers.
Choosing the 31st annual all-state teams is a process that begins with this list of more than 300 players on our board. Some of those who've been on our all-state teams in the past have included Cheryl Miller, Lisa Leslie, Diana Taurasi, Candice Wiggins and Marion Jones.

Note:
This list is compiled so that coaches, parents and readers can submit additions, corrections and make comments (anonymously of course) about which players should be selected when all information is received. Nominations are always welcome. This list will be updated and posted one more time prior to the teams being finalized by April 20 and announced over the following weekend.
March, 27, 2012
3/27/12
9:00
AM ET
By
Mark Tennis
| ESPN.com
Open Division might be coming next season so here's a look ahead if it happens and what teams could be in it.

At her last press conference during the CIF basketball championships, retiring executive director Marie Ishida said it was "a toss-up" whether the proposal to add an open division to the basketball championship event would pass when the CIF Federated Council votes on it in May.

To the uninitiated, a preferred total of eight teams in Northern California and eight teams in Southern California would be chosen for the open division after all of the section playoffs are complete. These teams would then compete for north and south open division titles and would then play each other for the open division state crown.

March, 23, 2012
3/23/12
10:11
PM ET
By
Harold Abend & Ronnie Flores
| ESPN.com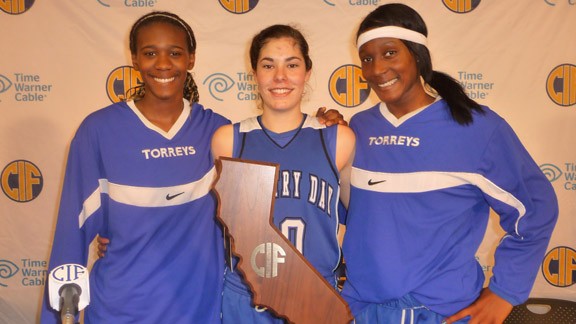 Mark Tennis/ESPNHSA pair and a Plum -- Malina Hood, Kelsey Plum and Maya Hood -- stand with CIF trophy.
Mitty holds off J.W. North for fifth state title, while La Jolla Country Day rolls to early lead and wins first Division IV crown.

The CIF Division IV and Division II state title games in girls basketball were played at Power Balance Arena in Sacramento. The Division I, Division III and Division V titles will be decided on Saturday.
Division II:
Archbishop Mitty (San Jose) 56, J.W. North (Riverside) 54
The NorCal representative came in steeped in championship tradition against an upstart SoCal representative looking to win its first state title.
J.W. North, the team with a new coach and a cast of new players looking to become the first Riverside County team to win a girls state title since all-time great Cheryl Miller led Riverside Poly to the Division I title in 1982, played a valiant game.
March, 17, 2012
3/17/12
4:05
PM ET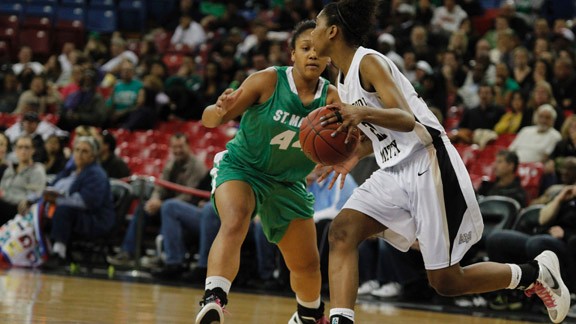 Willie Eashman/ESPNHSKelli Hayes had 23 points for Archbishop Mitty in upset vs. St. Mary's of Stockton.
Mitty's stunner over two-time D2 state champ St. Mary's of Stockton highlights the day. Berkeley's repeat in D1 highlights the night. Also taking titles are Bishop O'Dowd (D3), Salesian of Richmond (D4) and Brookside Christian (D5).

The CIF Northern Regional title games were played at Power Balance Arena in Sacramento (Divisions 1-3) and at Folsom High School (Divisions 4-5). Writeups by Harold Abend, Paul Muyskens.
Division II
Archbishop Mitty (San Jose) 53, St. Mary's (Stockton) 51
In what is a fairly huge upset, No. 3 seed Archbishop Mitty got 23 points and nine rebounds from 6-foot-1 super sophomore Kelli Hayes, and 12 points and 12 rebounds from Pepperdine-bound 6-3 senior Amanda Lovely to turn back No. 1 seed and defending state champion St. Mary's.
The winning basket and game's final points came on a 4-foot floater by Hayes with 25.9 seconds left on a brilliant pass from senior Courtney Lisowski.
March, 3, 2012
3/03/12
6:18
PM ET
By
Mark Tennis
| ESPN.com
Here's the first installment of two posts we'll be doing Saturday in which we'll make our recommendations for which boys teams should be seeded No. 1 in next week's CIF regional playoffs.

Division I North: De La Salle (Concord)
Since the Spartans won that overtime game on MLK Day over Archbishop Mitty of San Jose, they've been better than even they usually are. De La Salle won its 10th North Coast Section title on Friday by defeating Deer Valley of Antioch 54-31. Since coach Frank Allocco's team is the defending NorCal champ and is the region's highest ranked team in the state (fifth overall and No. 44 in the FAB 50) other than Div. IV Salesian of Richmond, it's an easy choice for the Spartans to be a top seed.

February, 25, 2012
2/25/12
8:00
AM ET
By
Mark Tennis
| ESPN.com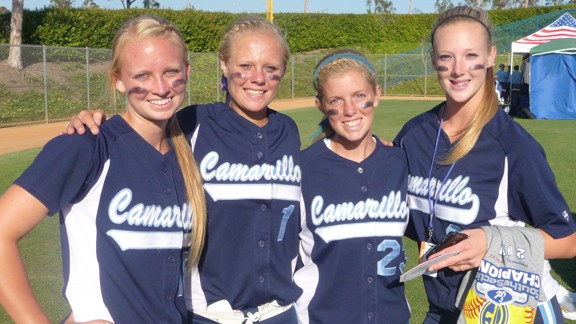 Mark Tennis/ESPNHSPitcher Sarah Shadinger (far right) is one of many top players returning at Camarillo, which won 2011 CIF Southern Section Div. II title.
Important announcement from Cal-Hi Sports
|
Archived Cal-Hi Sports content
Close call to start with Archbishop Mitty just in front of Los Alamitos. With a state packed so tightly with top teams, however, it's never surprising if an unheralded squad in the preseason breaks through.
It doesn't take much for a very good high school softball team to get to an elite level among the best in California.
If a team has an ace pitcher and many top position players returning from the previous season, just getting that one extra bat in the lineup or that one great defensive player up the middle can be the difference between an early exit in the playoffs and going all the way to win a major section championship.
It's also takes very little in the form of an injury or the loss of a key player, such as a table-setting leadoff hitter, to cause an elite team to begin losing 2-1 games instead of winning them.
This is why California softball preseason rankings in particular are so hard to do. Yes, we do check more than 100 teams to evaluate lost starters, returning standouts and strength of schedule. But in the end, there are razor-thin differences between many of these teams and not much separates No. 1 from No. 20 and No. 21 from No. 40.
Here are the complete preseason top 20 state rankings (listed with last year's records)
1. Archbishop Mitty (San Jose) 28-3
The Monarchs have been near the top of the state softball rankings for many years, including a No. 1 finish in the state and nation in 2009, and should have one of their best teams this spring. Cal-bound pitcher-hitter Vanessa Alvarez, who had a 0.80 ERA and had .333 batting average, is among many returning starters. Super sophomore Jazmyn Jackson, one of the top prospects nationally in her class and almost the State Freshman of the Year, also is back. She hit .485 and drove in 32 runs. Another top talent is junior infielder Kiersten Nordin. She was an all-league sophomore in 2011 with a .333 batting average.
February, 21, 2012
2/21/12
8:35
PM ET
By
Harold Abend
| ESPN.com
Important announcement from Cal-Hi Sports
|
Archived Cal-Hi Sports content
There are no big upsets yet in any of the state's section playoffs, but that could change by this weekend. This week's biggest noise in the rankings comes from Archbishop Mitty of San Jose, which rolled in its league final against state-ranked St. Ignatius and had to jump into the top 15.
The Cal-Hi Sports caravan was at Foothill College in Los Altos Hills last Saturday for the West Catholic Athletic League playoff championships.
The Archbishop Mitty girls opened up the evening's sweep by the San Jose school of both the girls and boys playoff titles with a convincing 63-47 victory over St. Ignatius of San Francisco.
In winning, coach Sue Phillips' charges left no doubt as to who is the top team in the CIF Central Coast Section. The impressive win also enabled Mitty to jump up to No. 14 in this week's overall state top 20.
Mitty trailed 10-7 early before going on a 17-2 run to take control. The lead got to 19 points on two occasions, and SI was never able to get closer than 13 points after trailing 52-33 early in the fourth quarter.
Monarchs' sophomore Kelli Hayes led the way with 15 points. Senior guard Vanessa Garner had 13 points, nine rebounds, three steals and three assists. She was instrumental in taking control early and igniting the run.
Pepperdine-bound 6-foot-3 senior Amanda Lovely had a double-double 12 points and 10 rebounds. Junior Emily Dinger scored 11 points with three 3-pointers, including two during the 17-2 run.
"After the loss to SI and especially this week in practice we really turned it on," said Lovely on a post-game live video feed.
The victory was the third straight playoff title and fifth overall for the Monarchs since the league adopted girls playoffs 10 years ago.
(Through games played on Saturday, Feb. 18)
(Last week's ranking in parentheses)
1. (1) Windward (Los Angeles) 25-3
To say the girls flexed their muscles in the first week of the CIF Southern Section Division 4AA playoffs would be an understatement. First, the Wildcats smothered Nipomo 98-14 in the opening round. Then, in what was a display of total firepower, they posted a 115-46 blasting of Workman (City of Industry). The point total is the equivalent of 173-points in an NBA-length game. Nationally-rated sophomores Kristen Simon and Jordin Canada had double-doubles against Workman. Simon had 23 points and 14 rebounds, while Canada had 21 points and 10 assists with six rebounds and five steals. Texas-bound 6-foot-7 Imani Stafford also had a double-double 20 points and 13 rebounds with five blocks. Coach Steve Smith's girls will ride a nine-game winning streak into a quarterfinal game with visiting JSerra of San Juan Capistrano.