High-SchoolCalifornia:

Bishop O'Dowd
March, 24, 2012
3/24/12
4:55
PM ET
By
Harold Abend & Mark Tennis
| ESPN.com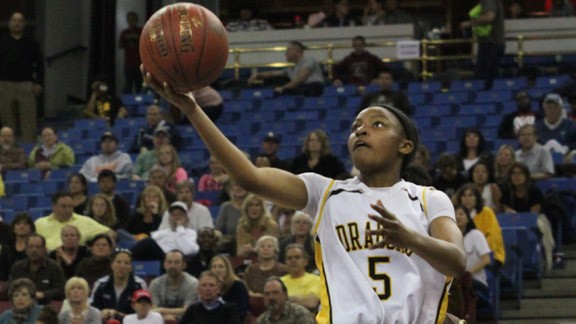 Willie Eashman/ESPNHSFreshman Aisia Robertson gave Bishop O'Dowd a lift in D3 final.
Mater Dei three-peats by pulling away from Berkeley in what looks like final game for coach Cheryl Draper. Defensive record also set by Bishop O'Dowd in Division III victory while Brookside Christian brings another state title to Stockton with D5 triumph.

The CIF Division I, Division III and Division V state title games in girls basketball were played at Power Balance Arena in Sacramento. The Division II and Division IV titles were decided on Friday.
Division I:
Mater Dei (Santa Ana) 57, Berkeley 40
In a game that was very reminiscent of the 2011 Division I state title game matchup, Mater Dei (34-3) overcame a first quarter deficit to win easily and claim its third straight state championship.
The 2010 title came in Division II with the last two in the state's big school division.
The win also solidifies Mater Dei's No. 1 position in the final Cal-Hi Sports rankings and a top 10 finish in the POWERADE FAB 50 national rankings where the Monarchs were No. 8 this past week.
February, 9, 2012
2/09/12
6:59
PM ET
By
Mark Tennis
| ESPN.com
Important announcement from Cal-Hi Sports
|
Archived Cal-Hi Sports content
No. 1 teams collide Saturday in Stockton when Bishop O'Dowd (Div. III) plays St. Mary's (Div. II). New No. 2 Lynwood (D2) and new No. 3 Santiago of Corona (D1) among those climbing.
Two No. 1 teams as ranked by Cal-Hi Sports from different CIF divisions met last weekend when Windward of Los Angeles (D4) topped Mater Dei of Santa Ana (D1). This week, it will happen again when St. Mary's of Stockton (D2) hosts Bishop O'Dowd of Oakland (D4).
All four teams continue to be No. 1 in this week's divisional state rankings. The other No. 1 is Mission Prep of San Luis Obispo in D5.
Here is the second listing of girls teams this season with analysis and bubble teams for each division (records listed after games of Feb. 4 with some teams that have results included for this week; previous ranking in parentheses):
CIF Division I
1. (1) Mater Dei (Santa Ana) 21-3
2. (2) Long Beach Poly (Long Beach) 22-2
3. (5) Santiago (Corona) 25-0
4. (6) Summit (Fontana) 19-3
5. (8) Berkeley 17-2
6. (3) Edison (Huntington Beach) 19-3
7. (4) Brea Olinda (Brea) 18-5
8. (9) Etiwanda 19-3
9. (NR) Huntington Beach 19-4
10. (10) Narbonne (Harbor City) 20-6
11. (12) El Toro (Lake Forest) 22-2
12. (7) Troy (Fullerton) 15-7
13. (13) San Diego 19-5
14. (NR) Rialto 21-1
15. (15) Lincoln (Stockton) 18-3
Drops:
Previous No. 11 Centennial (Corona); No. 14 Poly (Riverside).
Bubble:
Centennial (Corona) 20-5; Deer Valley (Antioch) 15-6, Eastlake (Chula Vista) 21-3, Hanford 18-4, Heritage (Brentwood) 18-4, Poly (Riverside) 17-7, Stockdale (Bakersfield) 20-3, Wilcox (Santa Clara) 16-2.
Comments:
We couldn't really drop Mater Dei at all in this division after its loss to D4 No. 1 Windward at the Nike Extravaganza. The defeat does have rankings ramifications, though, as it could prevent the Monarchs from a State Team of the Year three-peat. Edison's loss to Huntington Beach did cause some changes as the Chargers had to fall behind three teams. It also pushed the victorious Oilers past several teams as a newcomer in this week's rankings all the way up to No. 9.