High-SchoolCalifornia:

Brett Stephens
June, 30, 2012
6/30/12
3:31
PM ET
By
Mark Tennis
| ESPN.com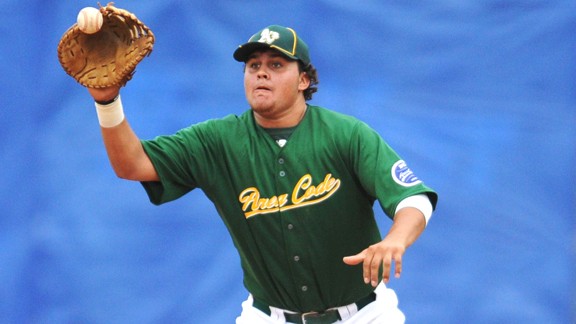 Scott Kurtz/ESPNHSRyan 'Rowdy" Tellez is a slugging star for Elk Grove.
First group of honorees for the 2012 Cal-Hi Sports all-state baseball teams is for non-seniors. We have a first team of 30 players and a second team of 20 more.
State Team of the Year Vista and Division II State Team of the Year Campolindo of Moraga might be very good again next season if selections to the 2012 Cal-Hi Sports all-state baseball underclass teams are a barometer.
Both Vista and Campolindo landed three players each among the 50 who were either named first team or second team. Other schools to collect more than one player chosen are Elk Grove, El Toro, Harvard-Westlake, Rancho Bernardo and Willow Glen.
Here are the
2012 Cal-Hi Sports All-State Baseball Underclass Teams
:
May, 31, 2012
5/31/12
9:31
PM ET
By
Harold Abend & Paul Muyskens
| ESPN.com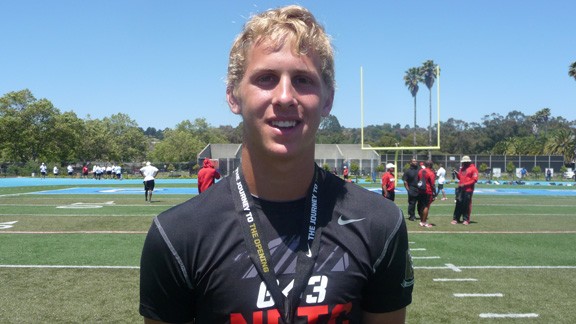 Mark Tennis/ESPNHSMarin Catholic's Jared Goff is the son of a former MLB pitcher.
It's a big week for those who are star quarterbacks as well as baseball standouts. Honor roll includes Kevin Farley, Jared Goff, Khari McGee, Stephen Nogosek, Nick Pacheco and Brett Stephens.
Note:
We're proud once again to collect weekly writeups of the most significant individual high school baseball totals in California. We use these as the basis for updating the state record book, which has been published seven times, most recently in the spring of 2009. To report a state stat star of your own, please email highlights to Mark.Tennis@espn.com.
(After games of Saturday, May 26; includes some games as of Wednesday, May 30; Contributing: Bob Barnett, Mark Tennis)
January, 22, 2012
1/22/12
11:20
PM ET
By
Mark Tennis
| ESPN.com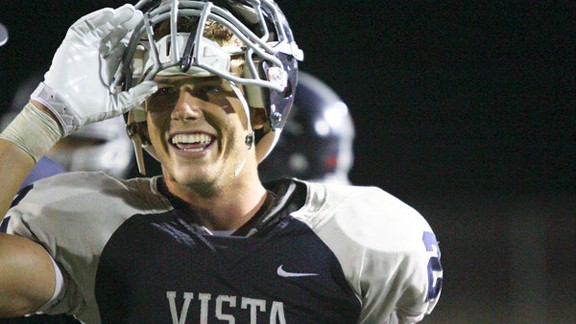 Smith FamilyAll-State Medium Schools player Logan Smith from Vista del Lago of Folsom set state record for most catches in a season.
Important announcement from Cal-Hi Sports
|
Archived Cal-Hi Sports content
Note: This is the third release of several highlighting the 33rd annual edition of the ESPNHS Cal-Hi Sports All-State Football Team. Still to come are All-State First Team, All-State Second Team and All-State Third Team. The medium schools team is comprised of players from Division III and some Division II schools that are eligible for our traditional state rankings.
Click here for the All-State Underclass teams (juniors, sophomores).

Click here for the list of those that were on our board as nominees for this year's all-state teams in all divisions.

Led by Medium Schools State Player of the Year Ellis McCarthy, the strength of this year's annual
Cal-Hi Sports All-State Medium Schools Football Team
is along the defensive line.
McCarthy has received numerous All-American accolades and was a major reason why his team from Monrovia won the CIF Southern Section Mid-Valley Division rankings. The 6-foot-5, 295-pound lineman just last week changed his college commitment from Cal to UCLA.
Joining McCarthy on the Medium Schools All-State defensive line are three others headed for the Pac-12 – Kyle Kelley from Woodbridge of Irvine (Arizona); Cory Littleton frome Mt. Miguel of Spring Valley (Washington); and Pio Vatuvei of Patterson (USC).
Two schools landed three players on either the first or second teams.
Lompoc has two on the first team with junior running back LaVon Coleman and junior kicker Jose Morales and one on the second with senior defensive back Colton Concellos.
Campolindo of Moraga has one on the first team with junior quarterback/running back Brett Stephens and two on the second team with senior defensive back Carl Thornton and senior receiver/defensive back Griffin Piatt. Both Thornton and Piatt cemented their status as all-state picks by each intercepting 12 passes for the 13-1 Cougars.
Here is the complete roster of the 2011 Cal-Hi Sports All-State Medium Schools Football Teams:
December, 17, 2011
12/17/11
9:08
PM ET
By
Harold Abend
| ESPN.com
The first-ever appearance by a team from the CIF Central Section in the six-year history of the CIF Bowl Game format proved fortuitous for Washington Union of Easton.
The Panthers (14-0) rode a 14-0 first quarter lead to post a 21-16 Division III victory over Campolindo of Moraga in the 12 noon game on Saturday in Carson.
The contest was billed as a matchup of a Cinderella Campolindo team, fresh off back-to-back upsets of Santa Rosa Cardinal Newman and Kentfield Marin Catholic in the North Coast Section Division II playoffs, against the explosive offense of Washington Union and its record-setting wide receiver
Deontay Greenberry.
Greenberry added to his records, but his defensive play and that of his Panther teammates was the difference in a game that at times looked like neither team really wanted to take charge and put the other away.
"I wasn't even supposed to play defense, but coach put me out there and I was able to make some plays. We came up big when we had to," Greenberry told
Cal-Hi Sports
.
Campolindo (14-1) moved the ball well on the game's opening drive but stalled on Washington Union's 29-yard line and gave the ball up on downs.
It would be the first of six drives the Cougars would have that got inside the Panther 30 that resulted in only one field goal and one touchdown.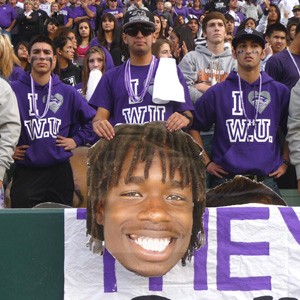 Mark Tennis/ESPNHSFans of CIF Div. III state champ Washington Union can't get enough of record-breaking wide receiver Deontay Greenberry.
When Washington Union got the ball,
Donald Phelps
immediately broke of a 34-yard run on the first play and the Panthers were in business.
Five plays later, quarterback
Chris Cain
found Greenberry for a 26-yard touchdown pass and Washington had a 7-0 lead it never relinquished.
Padding his records
Greenberry, who was pretty much held in check by the double- and triple-teaming of Campolindo's defense, finished with four catches for 57 yards and the one score.
The 6-foot-3, 195-pound senior entered the game with state records for touchdown receptions and yardage in a season, according to the
Cal-Hi Sports Record Book
. He ends the year with 109 catches for 2,165 yards and 33 touchdowns.
Unable to run the ball
Although Campolindo held Washington Union scoreless for 27:42 after falling behind by two touchdowns, its offense never really got untracked and couldn't put a big enough dent in the Panther defense to close the gap.
The Cougars' running game that coming in averaged 161 yards and over two touchdowns per game, managed only 72 yards and one score.
Campolindo junior quarterback
Brett Stephens
was 25-of-40 for 264 yards, but his four interceptions matched the number he had coming into the game.
Game MVP: Donald Phelps
Phelps, who rushed for a 182 yards, also had two of the picks on defense. Greenberry added an interception and a fumble recovery.
"I just wanted to come out and play hard and do what I could do for the team on defense," said Phelps. "No, I don't think our defense has been overlooked this season. We practiced hard all week against certain plays and dominated."
Despite the turnovers and an inability to take advantage of field position, Campolindo closed to 14-10 on a 36-yard pass from Stephens to
Griffin Piatt
with 2:57 left in the third quarter.
When
Mason Windatt
intercepted Cain on the final play of the third quarter, Campolindo got the ball and an opportunity to take the lead.
However, this game belonged to the boys from the Fresno suburbs. After two short Campolindo runs, Washington Union's
K.C. Migliore
stepped in front of a would be Cougar receiver to intercept the pass and snuff out the opportunity.
Five plays later, Cain took it in from 1-yard out and the game was all but over.
Campolindo would score with 44 seconds remaining on a 19-yard Stephens to Windblatt TD pass, but the ensuing onside kick was recovered by Greenberry to seal the deal.
Greenberry now becomes the second straight player to set a state record and win a CIF Bowl Game title. Mr. Football State Player of the Year
Dano Graves
turned the trick last year with Folsom. His record was for rushing-passing combined touchdowns.
"That was the goal I set in the summer. Yes, both of them. I wanted a state record and a state championship," said Greenberry, who is still committed to Notre Dame, but will visit USC later this weekend with teammate/cousin
Tee Shepard
, a Fresno Central transfer that was denied eligibility by the section.
Despite the loss, Campolindo coach
Kevin Macy
was upbeat in defeat.
"We've been playing with house money for such a long time. There was nothing left to give," Macy remarked. "It was such a tough week, and we were so spent from our playoff run, that when we got going, it was a little too late. But I don't have any regrets."
For Washington Union and the Central Section as a whole, the victory would seem to legitimize the fact that teams from the valley belong in the CIF bowl games.
"It feels great. I kept thinking right at the end, 'Wow, this is really going to happen,'" said Washington Union coach
Jeff Freitas
. "I don't want to say anything about the selection process, but I definitely think it's time for more teams (from the Central Section) to get the opportunity. With new games next year, you'll see more teams here in the future."