High-SchoolCalifornia:

Cal-Hi Sports top 20 rankings
May, 22, 2012
5/22/12
2:55
PM ET
By
Mark Tennis
| ESPN.com
There could be a lot of changes next week, but this week the first 15 teams from last week are the same. Only newcomers are Heritage of Brentwood and Canyon of Anaheim.

The next two weeks of the state top 20 softball rankings are especially tricky because there are so many important games on Tuesdays. Our aim has been to get the new rankings posted at least a few hours before those games are played.

This week's most important Tuesday game is No. 2 Pacifica of Garden Grove playing No. 8 Royal of Simi Valley in the CIF Southern Section Division 1 playoffs. That score won't be included in this week's top 20, but we'll have updated info when the next divisional state rankings are compiled.

(Through games played Monday, May 21)
(Contributing: Harold Abend, Paul Muyskens)
(Previous ranking in parentheses)

April, 23, 2012
4/23/12
9:18
PM ET
After first four teams from last week, it's the usual chaos as many top squads split a pair or lost in league matchups. Lakewood, J.W. North move back up into the top five.
Other highlights from this week's baseball rankings include:
Deer Valley of Antioch rocketing to No. 11 from unranked after series of S.F. Bay Area upsets.
Jesuit of Carmichael beats St. Mary's of Stockton to earn its way back into the top 20.
Other newcomers are Bonita of La Verne and El Capitan of Lakeside.
Click here to see the complete list within the ESPNHS rankings tool.
March, 16, 2012
3/16/12
1:17
PM ET
By
Mark Tennis
| ESPN.com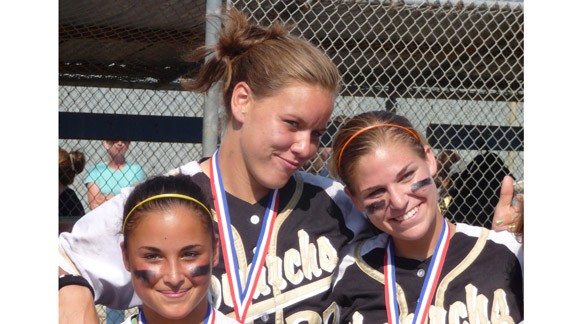 Mark Tennis/ESPNHSAmong those celebrating in 2010 when Archbishop Mitty clinched FAB 50 national title were Vanessa Alvarez (left), Keilani Ricketts (center) and Alex Arnold (right). Ricketts now stars at Oklahoma while Alvarez and Arnold are now seniors.
Norco surges to the top while other teams coming up quickly include Woodcreek, Amador Valley, Lutheran of Orange and Torrey Pines.
This week's state top 20 for girls softball was actually completed on Wednesday so that the POWERADE FAB 50 national rankings could be done, but it wasn't possible to complete the package for the California page until Friday morning. Some results from Wednesday and Thursday may not be included. Thanks to Harold Abend and Paul Muyskens for their contributions to these rankings.
(Through games played Tuesday, March 15)
(Previous ranking in parentheses)
1. (8) Norco 5-0

Coach Rick Robinson's team is stuffed with experienced, talented players and showed just how good it will be this season by winning the prestigious title of last weekend's Arizona Tournament of Champions. Among those that the Cougars beat during the week were state-ranked Chino Hills in the semifinals and previous state No. 3 Pacifica in the final.
2. (3) Pacifica (Garden Grove) 6-1

Sophomore Kaylee Carlson pitched well all weekend for the Mariners at the big tourney in Bullhead City, Ariz. Although Norco got to her for a four-run inning in the 4-0 loss in the final, Carlson was more than solid in the team's earlier wins against Taylorsville (Utah), previous state No. 1 Los Alamitos, Lakewood and Saugus.
March, 13, 2012
3/13/12
2:00
PM ET
By
Harold Abend
| ESPN.com
Summit beating Santiago and Sac High getting some love accounts for the only changes in this week's rankings. Regional semis on Tuesday, though, could produce upset or two.

The first two rounds of the CIF Southern and Northern Regional playoffs went pretty much as seeded with a few exceptions.

It's this week that the proverbial rubber meets the road, since we'll know by Saturday night which teams will be playing for a state titles in Sacramento at Power Balance Pavilion on March 23-24.

The Cal-Hi Sports caravan was in San Francisco last week to see Kentfield Marin Catholic pull out an exciting 45-44 overtime victory over Mercy of San Francisco in Division IV action. Marin Catholic then went on the road to San Andreas where it lost 33-31 to Calaveras of San Andreas in the quarterfinals.

(Through games played on Saturday, March 10)
(Last week's ranking in parentheses)

1. (1) Mater Dei (Santa Ana) 31-3
The Monarchs will play a doubleheader with the boys once again this week after Coach Kevin Kiernan's girls won two games pretty handily last week, including ending the run of Huntington Beach in the quarterfinals with an 80-52 victory. Jordan Adams led the way against the Beach with a double-double 24 points and 13 rebounds (six assists, three steals) and Nirra Fields had 18 points after going for 25 in a 77-35 opening round win over Burbank. If Adams, after nursing an ankle injury the last two months, is rolling again with Fields, the Monarchs have to be heavy favorites to win a third straight Division I state title. They still have to deal with a hot Summit team on Tuesday to continue the run. The Long Beach Poly at Brea Olinda winner then looms before hotel rooms in Sacramento can be booked.

March, 12, 2012
3/12/12
5:22
PM ET
No new teams crack the list, but there's lots of shuffling due to Bullard beating Taft of Woodland Hills and Loyola sending Etiwanda out of the SoCal playoffs.
Other highlights of this week's rankings include:
Archbishop Mitty joins the top five after easy win in NorCal Division II playoffs.
Grant Jerrett shines in matchup versus another of state's top centers and leads La Verne Lutheran into CIF Division IV South semifinals.
Mayfair holds on to win in D2 playoffs and moves up into this week's top 10.
Get all the details in the ESPNHS rankings tool.
March, 6, 2012
3/06/12
2:29
AM ET
NorCal teams Salesian of Richmond and De La Salle of Concord go up to No. 2 and No. 4 in this week's pecking order. Bullard of Fresno also debuts at No. 19 after winning Central Section crown.
Other highlights of this week's rankings include:
Serra of Gardena joining the top 10 after winning section title and edging in front of L.A. Loyola.
Sacred Heart Cathedral of San Francisco rolling to CCS crown and going up from No. 18 to No. 15.
Price of Los Angeles staying at No. 17 even though team had already lost in CIFSS Div. 4-AA semifinals.
Get all the details in the ESPNHS rankings tool.
February, 27, 2012
2/27/12
5:27
PM ET
Important announcement from Cal-Hi Sports
|
Archived Cal-Hi Sports content
Top ranked CIF Southern Section Div. I-AA teams to run into each other in this week's semifinals and finals. Will there be a new No. 1 for the state next week?

Other highlights of this week's rankings include:
Sacred Heart Cathedral, Jesuit of Carmichael and Lincoln of San Diego all get the nod to go into the top 20 as newcomers.
Previous No. 13 Damien of La Verne and No. 15 Bishop Montgomery of Torrance are upset and done for the season.
Huge games by Mayfair's Dion Wright and Gardena Serra's Dakarai Tucker lead their teams to section championship games.
Get all the details in the ESPNHS rankings tool.
February, 15, 2012
2/15/12
2:29
AM ET
By
Harold Abend
| ESPN.com
Important announcement from Cal-Hi Sports
|
Archived Cal-Hi Sports content
Alemany knocks off Chaminade and makes a move into this week's rankings. The only other change sees St. Mary's of Stockton and Bishop O'Dowd switching positions with the Rams going up after last Saturday's win.
This is the time of the season when the cream rises to the top, as the best teams are either in their respective section playoffs, finishing up league play, or in league playoffs in preparation of section playoffs.
The bottom line is at this time of the year there are very few surprises.
Certainly the 76-67 win by St. Mary's of Stockton over Bishop O'Dowd of Oakland last Saturday wasn't really a surprise, considering the last time the three-time defending state champions lost at home was to the Danielle Robinson-led Archbishop Mitty of San Jose team six years ago.
The bottom line was St. Mary's was the better prepared team and executed its game plan of all-out pressing and excellent 3-point shooting perfectly, especially early on.
Courtney Range was dominant in the paint, Charise Holloway converted scoring opportunities, Regina Camera hit from outside and played good defense, and Onome Jemerigbe was a significant contributor on both ends of the court.
The strategy of Coach Tom Gonsalves also successfully got O'Dowd's two big girls, K.C. Waters and Oderah Chidom, in foul trouble early.
Was this the same team that lost 71-52 in early January to La Jolla Country Day?
"We're a much better team than we were then. We're at a different level now," Gonsalves told Cal-Hi Sports after the O'Dowd win.
"We needed this game," said Range, who finished with 21 points and nine rebounds. "In Arizona and against Country Day we didn't play that well. As a team, we needed to prove we could play against good teams."
The only other rumble in the rankings this week occurred toward the bottom where Alemany of Mission Hills won the grudge match of the three games with West Hills Chaminade to reclaim that spot.
(Previous ranking in parentheses)
(After games of Saturday, Feb. 11)
1. (1) Windward (Los Angeles) 23-3

After the big win over Mater Dei two weeks ago, the Wildcats finished Alpha League play with running-clock victories over Campbell Hall of North Hollywood and crosstown Pacific Hills. No one gets a bye in the 32-team CIF Southern Section Division 4AA playoffs, so the top seed will open at home on Thursday against Nipomo.