High-SchoolCalifornia:

Concord Carondelet
February, 15, 2012
2/15/12
2:29
AM ET
By
Harold Abend
| ESPN.com
Important announcement from Cal-Hi Sports
|
Archived Cal-Hi Sports content
Alemany knocks off Chaminade and makes a move into this week's rankings. The only other change sees St. Mary's of Stockton and Bishop O'Dowd switching positions with the Rams going up after last Saturday's win.
This is the time of the season when the cream rises to the top, as the best teams are either in their respective section playoffs, finishing up league play, or in league playoffs in preparation of section playoffs.
The bottom line is at this time of the year there are very few surprises.
Certainly the 76-67 win by St. Mary's of Stockton over Bishop O'Dowd of Oakland last Saturday wasn't really a surprise, considering the last time the three-time defending state champions lost at home was to the Danielle Robinson-led Archbishop Mitty of San Jose team six years ago.
The bottom line was St. Mary's was the better prepared team and executed its game plan of all-out pressing and excellent 3-point shooting perfectly, especially early on.
Courtney Range was dominant in the paint, Charise Holloway converted scoring opportunities, Regina Camera hit from outside and played good defense, and Onome Jemerigbe was a significant contributor on both ends of the court.
The strategy of Coach Tom Gonsalves also successfully got O'Dowd's two big girls, K.C. Waters and Oderah Chidom, in foul trouble early.
Was this the same team that lost 71-52 in early January to La Jolla Country Day?
"We're a much better team than we were then. We're at a different level now," Gonsalves told Cal-Hi Sports after the O'Dowd win.
"We needed this game," said Range, who finished with 21 points and nine rebounds. "In Arizona and against Country Day we didn't play that well. As a team, we needed to prove we could play against good teams."
The only other rumble in the rankings this week occurred toward the bottom where Alemany of Mission Hills won the grudge match of the three games with West Hills Chaminade to reclaim that spot.
(Previous ranking in parentheses)
(After games of Saturday, Feb. 11)
1. (1) Windward (Los Angeles) 23-3

After the big win over Mater Dei two weeks ago, the Wildcats finished Alpha League play with running-clock victories over Campbell Hall of North Hollywood and crosstown Pacific Hills. No one gets a bye in the 32-team CIF Southern Section Division 4AA playoffs, so the top seed will open at home on Thursday against Nipomo.
January, 25, 2012
1/25/12
3:18
PM ET
By
Harold Abend
| ESPN.com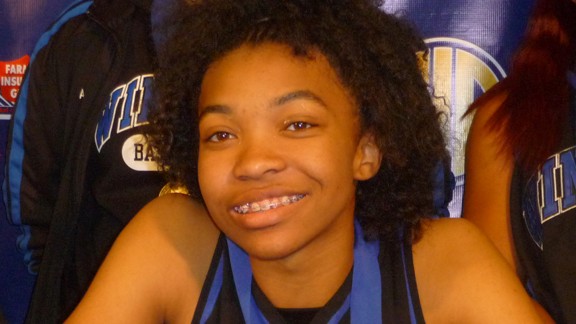 Mark Tennis/ESPNHSImani Stafford and her teammates from top-ranked Windward face tough task Saturday with game in Long Beach against No. 3 Long Beach Poly.
Important announcement from Cal-Hi Sports
|
Archived Cal-Hi Sports content
Karlie Samuelson returns for No. 7 Edison of Huntington Beach. This week's newcomers are Carondelet and Chaminade with huge matchup coming Saturday between No. 1 Windward and No. 3 Long Beach Poly.
Junior guard Karlie Samuelson from Edison of Huntington Beach, a who gets a 90 scout's grade from ESPNHS Girls Basketball, returned from injury last week with a 15-point performance in a 59-37 win over Los Alamitos. Two nights later, she had a season-high 28 points (five 3-pointers) in a 75-59 victory over Bishop's of La Jolla.
The 6-foot-1 Samuelson had been hobbled for a month by a bad ankle.
"She's taped up and wearing a brace but the swelling is down and she came back really strong against Bishop's – and that's good because we're going to need her," Chargers' coach Dan Wiley told Cal-Hi Sports.
This week, St. Mary's of Berkeley will welcome back sophomore phenom Gabby Green, which could help that team make a push for a spot in the top 20. The No. 5 player and No. 2 guard from the Class of 2014 according to ESPNHS Girls Basketball is scheduled to make her return in a game against Richmond Kennedy.
The 6-foot-1 Green has been out since July when she broke her ankle early on in her first game with California Storm's Team Taurasi.
The Berkeley girls were the only top 10 team to take a loss last week, and while it looks bad on the surface coming to a St. Mary's (Berkeley) team with six losses, the loss actually shows how good St. Mary's is even severely short-handed.
Despite playing without Green, and another promising sophomore, 5-foot-11 forward Taylor Berry, the Panthers have played very well, learning how to play without Green in a super tough early schedule, and improving all along.
Now, with Green back, together with fellow sophomore standout Mikayla Cowling and senior Shannon Mauldin, they'll be gearing up for the Division IV playoffs and a return trip to Power Balance Arena in Sacramento in March.
(Previous ranking in parentheses)
(After games of Saturday, Jan. 21)
(Contributing: Mark Tennis, Paul Muyskens)
1. (1) Windward (Los Angeles) 16-3

The Wildcats had a week to rest up after the long stretch of travel that concluded last Monday with the loss to FAB 50 No. 1 St. Mary's of Phoenix. After playing Pacific Hills (Los Angeles) on Tuesday, Windward then gets a matchup Saturday against No. 3 Long Beach Poly at Long Beach City College. In that one, coach Steve Smith and the girls will certainly have their top state ranking challenged.