High-SchoolCalifornia:

Courtney Range
May, 3, 2012
5/03/12
7:49
PM ET
By
Mark Tennis
| ESPN.com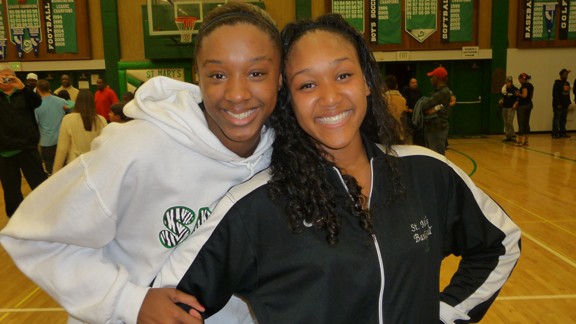 Mark Tennis/ESPNHSCourtney Range and Charise Holloway of Stockton St. Mary's both earned spots on an all-state underclass team.
The first of three posts announcing the 32nd edition of the Cal-Hi Sports all-state teams in girls hoops is ready to launch. This first one honors those players from the Class of 2013, 2014 and 2015 who had hard-to-miss seasons.
ALL-STATE JUNIORS
First Team
G Kelsey Plum (La Jolla Country Day) 5-9
F Courtney Range (St. Mary's, Stockton) 6-1
G Chrishae Rowe (Santiago, Corona) 5-9
G Briteesha Solomon (Mission Bay, San Diego) 5-9
F K.C. Waters (Bishop O'Dowd, Oakland) 6-2
February, 11, 2012
2/11/12
12:42
AM ET
By
Mark Tennis
| ESPN.com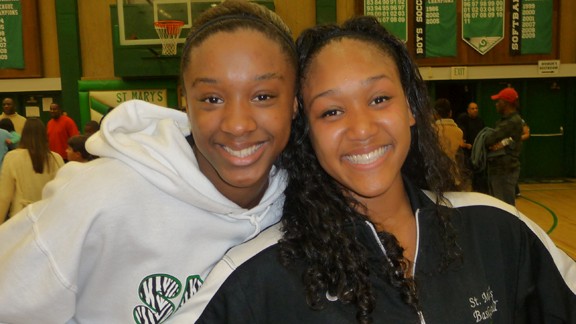 Mark Tennis/ESPNHSCourtney Range and Charise Holloway both shined for St. Mary's in big win over Bishop O'Dowd.
Important announcement from Cal-Hi Sports
|
Archived Cal-Hi Sports content
Special night for longtime L.A. Fremont boys coach Sam Sullivan
Rams beat Bishop O'Dowd of Oakland in matchup of region's top two teams. Courtney Range, Charise Holloway both star for St. Mary's.
Since winning a memorable 2009 CIF Division III Northern California title game over Sacred Heart Cathedral of San Francisco, the St. Mary's of Stockton girls basketball team has for the most part ruled the region.
According to the final
Cal-Hi Sports
state rankings, the Rams were the top-ranked team in Northern California after winning CIF state titles in 2009, 2010 and 2011, but in order to make it an unprecedented four in a row it was paramount for them to beat visiting Bishop O'Dowd of Oakland on Saturday afternoon at Morelli Gym in Stockton.
Bishop O'Dowd actually came into Saturday's game as the higher-ranked team at No. 5 in the state and No. 1 in the region. The Dragons also will be in a different state playoff division than St. Mary's, which meant the winner Saturday would have the rankings edge at the end of the season.
With the home crowd rocking, the Rams buried eight of their first 11 shots from beyond the 3-point line and were successful getting the game into a frantic pace in the first half. The Dragons mounted a fourth quarter comeback, but had to come from too far behind and ended up with a 76-67 defeat.
January, 16, 2012
1/16/12
5:46
PM ET
By
Mark Tennis
| ESPN.com
For most of the last 10 years, two of the top girls basketball programs in the state have been St. Mary's of Stockton and Carondelet of Concord and it's not often the two have met.

We remember the last time quite clearly in 2006 when a Carondelet team led by former Stanford star Jayne Appel came to Stockton and battled a St. Mary's squad led by All-American Jacki Gemelos. St. Mary's won as Gemelos scored 43 points and had nine rebounds and nine assists while Appel had a great game as well. It ended up being the difference between Gemelos being the 2006 Cal-Hi Sports Ms. Basketball State Player of the Year instead of Appel.

During Monday's 15th annual Martin Luther King Holiday Classic at UC Berkeley's Haas Pavilion, the two Northern California powers met again. There wasn't an individual battle like the last time, but it was a statement game for the St. Mary's team as the Rams defeated Carondelet 73-58.

St. Mary's, which has won three straight CIF state titles (last year in Division II), improved to 11-3. The Rams should stay at No. 6 in this week's Cal-Hi Sports state top 20 rankings.

Carondelet fell to 11-3 and needed the win to get back into the top 20. The Cougars are still trying to overcome a loss to Oaks Christian of Westlake Village, which just went into the top 20 last week.

"We scrimmage every year, but we don't play that often," said St. Mary's coach Tom Gonsalves. "We wanted to play them last year and it didn't work out. We jumped to it this year."

The individuals that did battle in this game were St. Mary's junior Courtney Range and Carondelet senior Hannah Huffman. Range led the Rams with 18 points and 13 rebounds while Huffman led all scorers with 21 points, 10 rebounds and three assists.

In the first quarter, Carondelet came out strong and took an 8-3 lead. St. Mary's, as is its custom, answered with made 3-point baskets and creating turnovers.

The Rams were balanced in their 3-point shooting, too. Non-starter Jessie Viss joined starting guard Lexi Campbell by both making a pair while non-starter Maria Lauron-Ramos and Range each hit for one.

Combined with Range's strong overall play, St. Mary's ended up leading 38-32 at halftime.

In the third quarter, the Rams put the game away by scoring the first eight points of the half and going on a 16-2 run.

"The pressure eventually got to them and this was a good win," Gonsalves said. "It was really good that our bench came alive (in the second quarter). It also was good because we won without (starting guard) Onome (Jemerigbe), who has been out since the first quarter of the La Jolla Country Day game."

Range said the presence of a standout player like Huffman on the floor helped bring out the best in her game.

"You can't take plays off because you know she can hurt you," Range said. "I think it was one of my best games. I was finishing a lot better and was playing with more confidence,"

Sophomore forward Charise Holloway added 12 points and eight rebounds for the Rams while senior Regina Camera had 10 points and five steals.

Carondelet sophomore guard Natalie Romeo also helped keep her team in the game and ended with 16 points, six rebounds and five assists.

The two teams may meet again much quicker than six years from now. Carondelet, which lost to Berkeley in last year's CIF Division I Northern Regional final, has been re-classified for Division II this year, which is the same division as the Rams.