High-SchoolCalifornia:

Curtis Goins
September, 6, 2012
9/06/12
8:32
PM ET
By
Paul Muyskens & Harold Abend
| ESPN.com
Girl from Seaside makes history by scoring a touchdown. This week's best also includes 14 carries for 398 yards rushing by a quarterback plus a seven-TD game for Anthony Cota from Sierra of Manteca.

Thanks to CIF Central Section historian Bob Barnett for contribution. To send in a stat star of your own, email highlights to markjtennis@gmail.com. If you attempt to see Cal-Hi Sports content on this ESPN page and you are pointed somewhere else, please go to our twitter page @CalHiSports or visit our Facebook page at https://www.facebook.com/pages/CalHiSportscom/162897664162 for updates. This page will be discontinued by Sept. 14. After that, a temporary home for this content will be available.

Chris Anderson (West Valley, Hemet)
Despite carrying the ball just eight times, he rushed for over 200 yards for the second week in a row with 220 yards and scored three touchdowns in a 70-0 win over Coachella Valley of Thermal.

August, 16, 2012
8/16/12
6:23
PM ET
By
Mark Tennis
| ESPN.com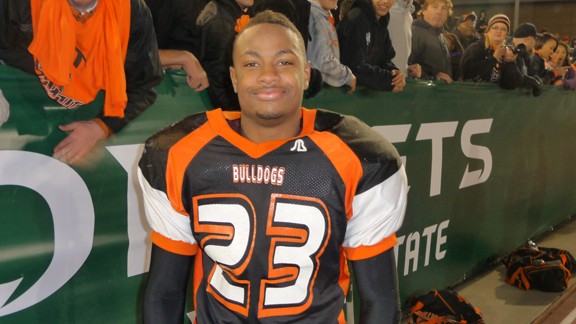 Mark Tennis/ESPNHSCurtis Goins is top returning player from team that won CIF Sac-Joaquin Section Division II title.
Those that just missed getting into the top 25 include Vacaville, Palma of Salinas and Notre Dame of Sherman Oaks. Check this post as well for writeups through No. 39.
With contributions from Harold Abend and Paul Muyskens, here are the teams ranked from No. 26 through No. 39 in the Cal-Hi Sports preseason overall state football rankings (listed with last year's win-loss record and coach's record if available):
November, 22, 2011
11/22/11
7:16
PM ET
By
Harold Abend
| ESPN.com
Although both schools boast a long presence and football tradition in the Sacramento/San Joaquin Valley area, with St. Mary's of Stockton opening in 1876 and Vacaville in 1898, the two teams had only met once before on the gridiron prior to last Friday in Vacaville.

Now, after a 27-19 victory by the host Bulldogs in the second round of the CIF Sac-Joaquin Section Division II playoffs, Vacaville has won both meetings. The first was a 36-0 triumph in the 1985 section playoffs.

The game also marked the return of St. Mary's quarterback Bowe Merin after he missed five weeks with a broken collarbone.

The 6-foot-2, 195-pound senior started strong, throwing touchdown passes in the first and second quarter to give the Rams a 13-6 lead, but near the end of the first half he caught a bad break.

After the St. Mary's defense (which played well) forced a punt, Merin was intercepted on a tipped ball that went right to Timmy Scott.

Five plays later and with 32 seconds left in the half, Curtis Goins scored on a 1-yard plunge to knot things at 13-13.

When St. Mary's got the ball back, Merin threw an incompletion and a second interception to end the half. The momentum had clearly swung to the home team.

Last week's NorCal Top 20 Offensive Player of the Week, senior running back Melvin Mason, took it 55 yards to the house on the first play from scrimmage in the second half, and the force was even more with Vacaville.

Mason would score a third straight Bulldogs' touchdown before the Rams posted a TD with 11 seconds to play.

"The coaches told me to fake the ball and the defense would fly to me so it would open up the other guys," said Mason, who did most of his damage in the second half, finishing with 23 carries for 150 yards and the two scores, plus an interception on defense.

The recipient of that faking was backfield mate Goins. The junior halfback rushed for 122 yards and a touchdown. He also threw a 22-yard option pass that set up Mason's final score.

"There's a lot of resolve in the kids we have. This was a game we measured our program on this year and they just beat a great team," Vacaville coach Mike Papadopoulos told Cal-Hi Sports.

The win had major implications on the various state and Northern California rankings. Marin Catholic of Kentfield, having a win over Vacaville ,means the Wildcats could leapfrog a few teams and bring the Bulldogs along.

The Cal-Hi Sports caravan then completed a 250-mile weekend on Saturday at Novato, where the Hornets improved to 9-2 after a 34-16 win over Sebastopol Analy in the CIF North Coast Section Division III playoffs.

Herve Changeux went for 300 yards for the second straight week. The junior running back rushed for a school record 346 yards with one score, and now has 1,090 yards and 11 touchdowns in his last four games. For the season, he's run for 1,763 yards and 19 scores.