High-SchoolCalifornia:

D'Erryl Williams
April, 30, 2012
4/30/12
11:09
AM ET
By
Mark Tennis & Ronnie Flores
| ESPN.com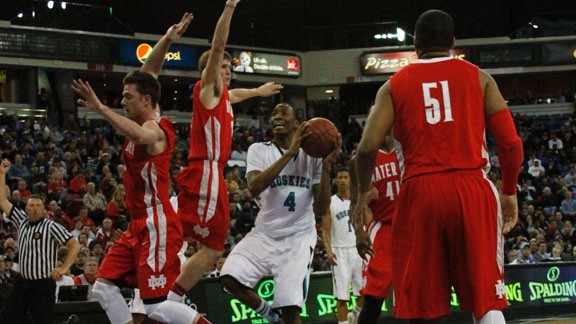 Willie Eashman/ESPNHSIt's a minefield of Monarchs for all-state player Dakarai Allen in D1 state final.
The five finalists for Mr. Basketball are joined by 25 others on the overall Cal-Hi Sports All-State teams regardless of CIF division or year in school. Click here for All-State Underclass or All-State by CIF Divisions.
FIRST FIVE
F Jabari Bird (Salesian, Richmond) 6-6 Jr.
The first team all-state junior and Mr. Basketball State Player of the Year finalist was the catalyst to Salesian's Division IV state title appearance. He scored 24 points to lead his team to a come-from behind win over Price of Los Angeles in the championship. Salesian's leading scorer (18.7 points per game) and rebounder (4.8) is the No. 8 player in the nation for the 2013 class by ESPN.
April, 7, 2012
4/07/12
12:48
PM ET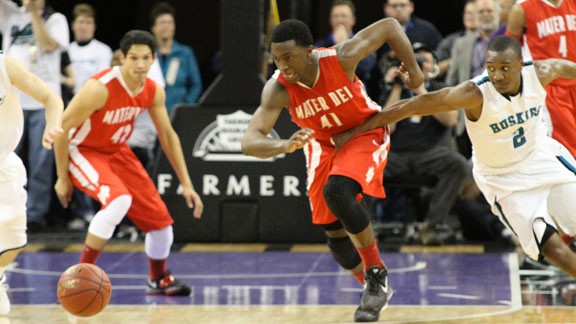 Willie Eashman/ESPNHSStanley Johnson (41) and D'Erryl Williams (2) scramble for loose ball in CIF state final.
It's time to get rolling toward the selection of the 33rd annual all-state teams. The first step is our list of nominees, which includes more than 350 players. Previous all-state picks have included Jason Kidd, Reggie Miller, Paul Pierce, Kevin Johnson, Jeremy Lin and many more.

Note:
This list is compiled so that coaches, parents and readers can submit additions, corrections and make comments (anonymously of course) about which players should be selected when all information is received. Nominations are always welcome. This list will be updated and posted one more time prior to the teams being finalized on April 20 and announced over the following weekend.
March, 22, 2012
3/22/12
6:38
PM ET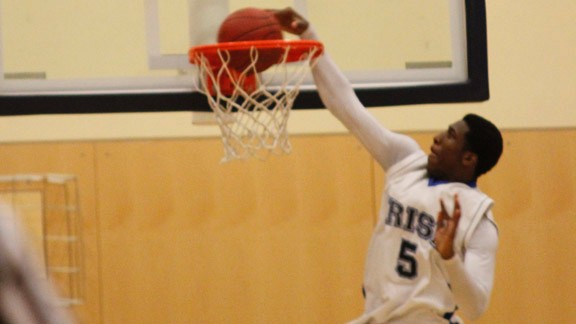 Willie Eashman/ESPNHSTaylor Johns slams one home for Sacred Heart Cathedral
As is our custom prior to CIF state finals in football and basketball, we take a crack at choosing which teams we think will win.
Note:
All of the following writeups and selections are done with the highest level of respect to both teams and all coaches. We never use point spreads and, sure, some of the scores might be a bit more lopsided than we might think. But you also never know what might happen. After all, these are teenagers.
We had one of our worst years ever in last year's CIF finals (boys and girls combined) with just six correct and four wrong. We were 7-for-10 in 2010 and were 9-for-10 in 2009.
The following writeups were completed by Ronnie Flores, Harold Abend, Mark Tennis, Paul Muyskens.
Boys Division I
(Saturday, March 24, 8 p.m.)
Cal-Hi Sports' predicted score:
Mater Dei (Santa Ana) 77, Sheldon (Sacramento) 66
The marquee game of the 2012 CIF boys state championships could live up to its billing as both teams look for historic victories.
Mater Dei, the top-ranked team in the state and the No. 8 team in the country in the POWERADE FAB 50, is gunning for its second consecutive CIF state title. Sheldon is looking to become the first Sacramento-area Division I state champion ever.
March, 17, 2012
3/17/12
5:44
PM ET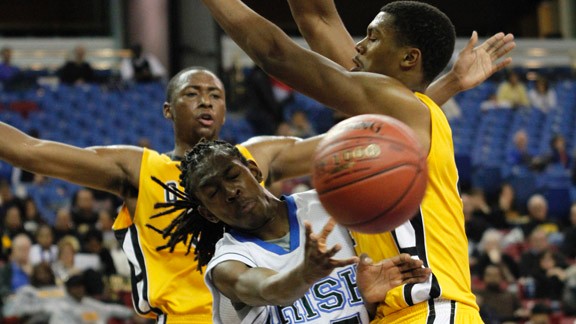 Willie Eashman/ESPNHSHerman Pratt looks for opening against Bishop O'Dowd defense.
Sheldon turns back upset bid in Division I final. Other victors are Archbishop Mitty in D2, Sacred Heart Cathedral in D3, Salesian in D4 and St. Joseph Notre Dame in D5.
The CIF Northern Regional title games were played at Power Balance Arena in Sacramento (Divisions 1-3) and at Folsom High School (Divisions 4-5). Writeups by Mark Tennis and Paul Muyskens.
Division I:
Sheldon (Sacramento) 61, Jesuit (Carmichael) 56

All the clichés about the fourth time being the charm for Jesuit in the NorCal final after going 0-3 during the season against the Huskies were getting dusted off in the first half of this matchup.
The Marauders came out of the locker room on fire, making eight of their first 11 shots and were up by as much as 17 points at 23-6 early in the second quarter.
A 10-point run later in the second period got Sheldon within striking distance with a 25-16 halftime score. The team's two main standouts, juniors Dakarai Allen and D'Erryl Williams, then came through in the second half and especially down the stretch.