High-SchoolCalifornia:

Ellis Barfield
March, 3, 2012
3/03/12
3:05
AM ET
By
Mark Tennis
| ESPN.com
Archived Cal-Hi Sports content from previous platform
Mater Dei defeats Brea Olinda with fourth-quarter comeback and could return to No. 1 in the state next week due to Windward's upset loss in three overtimes earlier this week. Lynwood, Summit and Arroyo Grande also win titles.

For three quarters and most of the fourth, it looked like a third big upset of the week in the CIF Southern Section girls basketball championship was more than a possibility in the Division I-AA final played Friday night at the Anaheim Convention Center.
Brea Olinda of Brea had a 39-36 lead over two-time defending CIF Division I state champ Mater Dei of Santa Ana and took a 45-43 advantage midway through the final quarter on a pair of free throws by senior Taylor Spears.
In the last three minutes of the game, however, Mater Dei (30-3) reared up and slapped down the upset special with an 11-2 run that gave the Monarchs a 54-47 triumph.
February, 7, 2012
2/07/12
10:03
PM ET
By
Harold Abend
| ESPN.com
Important announcement from Cal-Hi Sports
|
Archived Cal-Hi Sports content
Major changes this week after the first six due to Orange County and Inland Empire teams falling. Big movers led by Lynwood (now in the top 10), Carondelet and Huntington Beach.
There was a ceremony at halftime of the San Diego Mission Bay at Lynwood game last Saturday night to retire the jersey of current Mission Bay coach
Sa'de Wiley-Gatewood
, the 2002 Ms. Basketball State Player of the Year who led Lynwood to the CIF Division I state championship that season as a sophomore.
By the time the game was over, despite a 31-point performance by previous State Athlete of the Week
Briteesha Solomon
, the pupil was schooled by the teacher, as longtime Lynwood coach
Ellis Barfield
and his Lady Knights breezed to a 70-51 victory over the Bucs.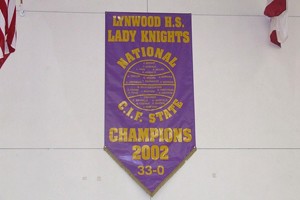 Cal-Hi SportsSa'de Wiley-Gatewood, who had her No. 15 retired last weekend when her Mission Bay team lost to Lynwood, led the Lady Knights to the 2002 FAB 50 national title.
It's been a while since Barfield, now in his 19th season at Lynwood, has had a team in the spotlight.
The 2003 team with Wiley-Gatewood as a junior got Barfield his third CIF Division I state championship, but since then, while they've been taking care of business in the San Gabriel Valley League and making some noise in the CIFSS playoffs, it hasn't been until this year that Barfield has had a team capable of making a run to Sacramento.
Plus, with the new Southern Section playoff format based on enrollment and performance over the past four years, Lynwood is now Division II and avoids the crowded D1 bracket.
Like his teams of old, Barfield has a lot of girls that can play, with seven of them averaging over five points a game.
"We have a lot of kids under the radar that don't know how good they are," Barfield said.
Barfield has coached senior point guard
Shahana Zeigler
(8.0 ppg, 3.8 rpg, 2.8 assists, 2.4 steals) since sixth grade. Versatile 6-foot senior
Jolana Ford
can play any of the positions down low.
Amber Blockmon
, a 6-foot-2 junior, is long, slender and quick, and she can hit the outside shot. According to Barfield, she's getting a lot of looks from colleges.
"Putting the kids in college, that's what keeps me here," Barfield told Cal-Hi Sports.
Unfortunately, due to a tragic loss to the California girls basketball community, the start time of Saturday's jersey ceremony and game with Mission Bay had to be pushed back to accommodate a memorial service for former Long Beach Poly star
Judith Smith
. Smith recently passed away at the age of 25 after battling health issues for several years.
(Previous ranking in parentheses)
(After games of Saturday, Feb. 4)

1. (1) Windward (Los Angeles) 21-3
The Wildcats proved on the court they are deserving of top billing in California after winning 65-62 at No. 2 Mater Dei in the Nike Extravaganza on Friday night in Santa Ana. That makes it two straight weeks the Wildcats have beaten a California heavyweight after the close win over Long Beach Poly. Macchi Smith, the hero of the victory over Poly, came through again. The sophomore guard had a team-high 16 points, including a rebound and putback off a missed free-throw by Imani Stafford with 26 seconds left that pretty much sealed the deal. The Wildcats now finish up Alpha League play and then the CIFSS playoffs, but at this point it's hard not to look ahead to a Division IV SoCal showdown with La Jolla Country Day.
January, 31, 2012
1/31/12
7:49
PM ET
By
Harold Abend
| ESPN.com
Important announcement from Cal-Hi Sports
|
Archived Cal-Hi Sports content
No. 1 Windward doesn't think of itself as being state's best heading into Saturday matchup with No. 2 Mater Dei. "They're No. 1," says Windward coach Steve Smith. This week's only newcomers, by the way, are St. Ignatius of San Francisco and Lynwood.
Last Saturday's marquee game of the eight-team Real Run Classic at Long Beach City College featured state No. 1 Windward of Los Angeles against No. 3 Long Beach Poly and as one would expect it went down to the wire with Windward holding on for a 54-53 win.
After opening a 51-42 lead with 3:45 left, Windward saw it evaporate after an 11-1 Jackrabbit run gave Poly a 53-52 advantage with 1:28 remaining.
Three lead changes later,
Macchiati Smith
hit a left-handed running layup with 11.5 seconds remaining for the game-winner.
Even after the sophomore's basket, the game was far from over. The Wildcats used a foul at the seven-second mark.
Courtney Jaco
then forced a jump ball with 1.4 seconds remaining. With the 6-foot-7
Imani Stafford
defending the inbounds and forcing a pass out beyond the arc, a desperation 3-pointer at the buzzer by Poly's
Justyce Dawson
clanked off the rim.
Jordin Canada
dazzled the Long Beach City College crowd with a game-high 22 points and four assists.
Sophomore
Arica Carter
paced the Jackrabbits with 18 points while
Destiny King
scored 16 and added five steals and four rebounds.
The reward for coach
Steve Smith
and his girls is a road game at No. 2 Mater Dei where the state's top spot will be at stake in a much-anticipated game Friday at the Nike Extravaganza in Santa Ana.
"It's just like boxing. You have to knock out the champion," Smith told Cal-Hi Sports.
"Hey, I saw them destroy Poly by 42 points in a game during fall when they were healthy," Smith continued. "We may be the top-ranked team right now, but until someone in-state beats Mater Dei they're number one in the state."
Smith has a point. The Monarchs also have been State Team of the Year for 2010 and 2011.
(Previous ranking in parentheses)
(After games of Saturday, Jan. 28)
1. (1) Windward (Los Angeles) 18-3
Prior to the win against Long Beach Poly, the Wildcats had a running clock win over crosstown Pacific Hills. Sophomore 6-foot Kristen Simon had a double-double 21 points and 10 rebounds. This week, before taking on Mater Dei, the girls have two Alpha League games at nearby Brentwood and at home against Chatsworth Sierra Canyon.