High-SchoolCalifornia:

Folsom
August, 26, 2012
8/26/12
4:47
PM ET
By
Mark Tennis
| ESPN.com
Founder of National Federation record book has listing of player with 15 TD passes for one game.

It's getting to be an all-too-familiar pattern. Player puts up huge statistical totals. Reporters everywhere go nuts, most of the time citing state records (and most of the time without crediting the source of those records, which is Cal-Hi Sports) and most of the time there is incorrect information.

It's not even September yet and it's happened again, this time in the case of Folsom sophomore quarterback Jake Browning. Following David Graves, Dano Graves and Tanner Trosin, Browning is apparently the latest in a string of Folsom quarterbacks who is going to put up prolific stats.

In a 66-28 victory over Woodcreek of Roseville on Friday night, Browning completed 34 of 51 passes for 689 yards and 10 touchdowns. Since he's a sophomore and based on the system he is in, barring injury Browning could be on his way to throwing for 15,000 yards or more in the next three years.

July, 16, 2012
7/16/12
5:56
PM ET
By
Cal-Hi Sports Staff
| ESPN.com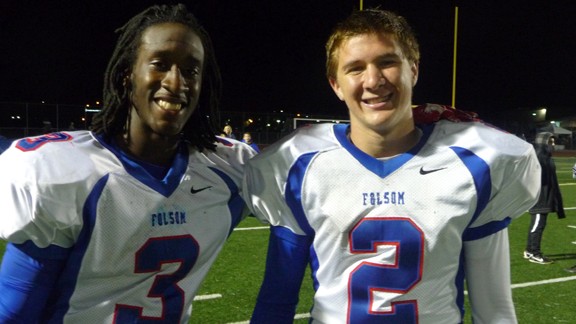 Mark Tennis/ESPNHSJ'Juan Muldrow (left) caught 99-yard pass from Tanner Trosin that gave Trosin new state record.
Latest new, updated list of all-time bests for a single season from the exclusive Cal-Hi Sports state record book is topped by a new record holder from the 2011 season. Heisman Trophy favorite Matt Barkley of USC along with several other likely college starters – like Brett Nottingham at Stanford and Joe Southwick at Boise State – also are included.
California's first 5,000-yard passer eclipsed the previous state record for most yards in a season on a state record-tying 99-yard touchdown pass in the CIF Sac-Joaquin Section Division II championship. Tanner Trosin couldn't do enough, however, to prevent his team at Folsom from losing in that game to Vacaville. Still, his final season total of 5,185 yards easily surpassed the earlier record of 4,907 established in 1999 by David Koral from Palisades of Pacific Palisades.
Here are the updated all-time leaders from the state record book heading into the 2012 season now with nearly 200 listings:
May, 27, 2012
5/27/12
1:53
PM ET
By
Mark Tennis
| ESPN.com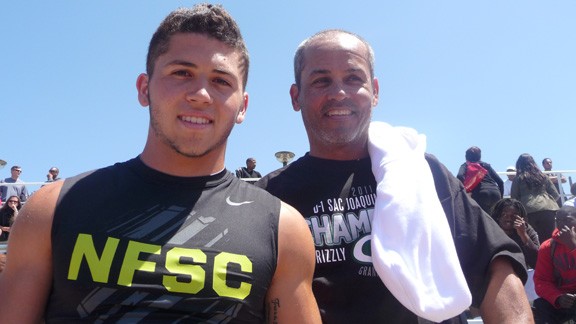 Mark Tennis/ESPNHSGranite Bay's Johnny Cooley (with dad, Robert) had one of top SPARQ ratings at 2012 Nike combine in Oakland.
From the Nike events of last weekend, it's obvious that rebuilding seasons are becoming extinct for top programs in the CIF Sac-Joaquin Section. Lincoln of Stockton may have early edge in 2012 for the Cal-Hi Sports preseason state rankings with its running back-quarterback combo, but defending champs in Division I, II and III have impressive players, too.
After watching the Division I and Division II championship games last December in the CIF Sac-Joaquin Section and noticing all of the seniors leading squads at Granite Bay, Pleasant Grove of Elk Grove, Vacaville and Folsom, you'd think that those teams are going to drastically fall off in 2012.
You'd be thinking incorrectly. The section has emerged as a genuine hot spot in the state in the last five to six years and at last weekend's Nike-based football events in the Bay Area all of the top teams from the section showcased players who look like they'll be able to step up this fall.
February, 16, 2012
2/16/12
11:44
PM ET
By
Harold Abend & Paul Muyskens
| ESPN.com
Important announcement from Cal-Hi Sports
|
Archived Cal-Hi Sports content
Folsom's Justin Woody has one of the more improbable 47-point explosions we've ever seen. Plus, big numbers for big-time junior athlete Tyree Robinson of San Diego Lincoln.
Note:
We're proud once again to collect weekly writeups of the most significant individual high school basketball totals in California. We use these as the basis for updating the state record book, which has been published seven times, most recently in the spring of 2009. To report a state stat star of your own, please email highlights to Mark.Tennis@espn.com.
(After games of Saturday, Feb. 11 and some games as of Tuesday, Feb. 14; contributing: Bob Barnett, Mark Tennis)
Joel Anderson (Banning, Wilmington)
In a game that just didn't seem like it wanted to end, Anderson had 12 points in the extra periods to finish with 35 points in a 83-80 triple overtime win against Narbonne of Harbor City. Anderson is averaging 26 points per game.
Jamir Andrews (Dublin)
The 6-foot-2 junior went for a season-high 34 points in a 66-63 win over Martinez Alhambra.
Aaric Armstead (Bullard, Fresno)
The senior by the way of Chicago scored a career high 36 points, the fourth best in school history according to Central Section historian Bob Barnett, in a wild 87-86 overtime win by the Knights over Edison of Fresno. Armstead had 24 points after halftime.