High-SchoolCalifornia:

Gabe York
April, 30, 2012
4/30/12
11:09
AM ET
By
Mark Tennis & Ronnie Flores
| ESPN.com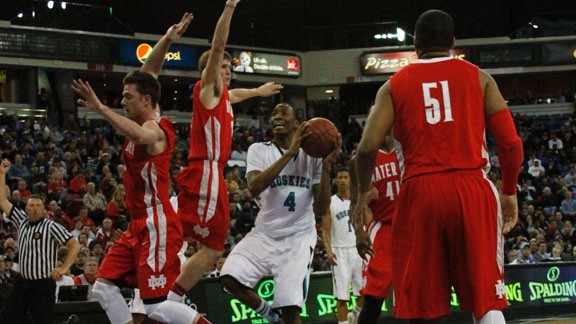 Willie Eashman/ESPNHSIt's a minefield of Monarchs for all-state player Dakarai Allen in D1 state final.
The five finalists for Mr. Basketball are joined by 25 others on the overall Cal-Hi Sports All-State teams regardless of CIF division or year in school. Click here for All-State Underclass or All-State by CIF Divisions.
FIRST FIVE
F Jabari Bird (Salesian, Richmond) 6-6 Jr.
The first team all-state junior and Mr. Basketball State Player of the Year finalist was the catalyst to Salesian's Division IV state title appearance. He scored 24 points to lead his team to a come-from behind win over Price of Los Angeles in the championship. Salesian's leading scorer (18.7 points per game) and rebounder (4.8) is the No. 8 player in the nation for the 2013 class by ESPN.
April, 29, 2012
4/29/12
2:02
PM ET
By
Mark Tennis
| ESPN.com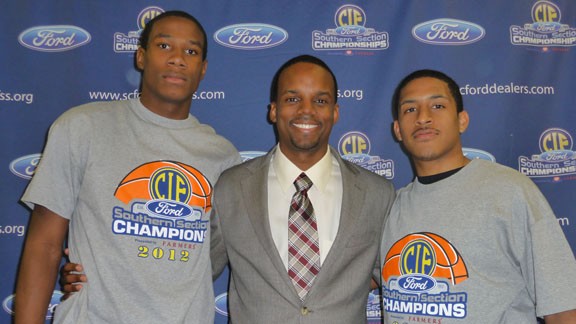 Mark Tennis/ESPNHSDivision III all-state players Marqueze Coleman and Max Guercy of Alemany flank coach Tray Meeks.
This is the second group of 2012 Cal-Hi Sports all-state boys basketball teams, which breaks down best of the best within each CIF state playoff division. Click here for the all-state underclass teams.
ALL-STATE DIVISION I

First Team
G Aaric Armstead (Bullard, Fresno) 6-4 Sr.
F Anthony January (Taft, Woodland Hills) 6-7 Sr.
F Xavier Johnson (Mater Dei, Santa Ana) 6-7 Sr.
G Katin Reinhardt (Mater Dei, Santa Ana) 6-5 Sr.
G Gabe York (Lutheran, Orange) 6-2 Sr.
March, 9, 2012
3/09/12
8:08
PM ET
By
Harold Abend & Paul Muyskens
| ESPN.com
Check out the boys stat stars of the week from March 1
Hoopsters led by Grant Verhoeven, who moves to No. 2 in state history for career rebounds.

On the diamond, pitchers Paul Blackburn, Kevin George, Isaac Horigan and Cameron Stewart turn in eye-opening outings.

Also, player comes through in memory of longtime coach Jerry Coakley.
(After games of Wednesday, March 7; Contributing: Bob Barnett, Mark Tennis)
BASKETBALL
Alex Fertig (Buchanan, Clovis)
The senior standout fouled out in the first overtime but still led his team with 29 points in a playoff loss to Clovis West. According to Central Section historian Bob Barnett, Fertig ended his four-year career with 2,287 points, the sixth best in section history.
March, 4, 2012
3/04/12
4:05
AM ET
By
Ronnie Flores
| ESPN.com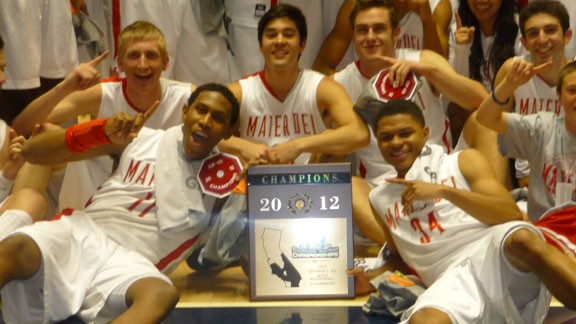 Mark Tennis/ESPNHSMater Dei standouts Xavier Johnson (left) and Jordan Strawberry (right) spread out on the floor with CIFSS title plaque in between.
According to Cal-Hi Sports record book, school's 21st section title also ties state record. Barring a regional upset or strange seeding, the Monarchs and Jackrabbits could meet again in the D1 South championship with trip to state title game on the line. Other winners in CIFSS finals on Saturday in Anaheim include Orange Lutheran, Alemany, Mayfair, Pasadena and Inglewood.
Going into the highly-anticipated CIF Southern Section Division I-AA final between state No. 1 Mater Dei of Santa Ana, the defending state champions, and No. 2 Long Beach Poly, the defending CIFSS Div. I-AA champ, Mater Dei coach Gary McKnight felt rebounding was the key.
March, 1, 2012
3/01/12
11:55
PM ET
By
Paul Muyskens & Harold Abend
| ESPN.com
Archived Cal-Hi Sports content from previous platform
Basketball still reigns with big-time totals from those such as Robert Upshaw of San Joaquin Memorial, Gabe York of Orange Lutheran and Marcus Lee of Antioch Deer Valley. But baseball joins the show as well, led by Lucas Giolito and his 100-mph fastball.
Note:
We're proud once again to collect weekly writeups of the most significant individual high school basketball totals in California. This week, we also are adding baseball for the first time this school year. We use these as the basis for updating the state record book, which has been published seven times, most recently in the spring of 2009. To report a state stat star of your own, please email highlights to Mark.Tennis@espn.com.
(After games of Saturday, Feb. 25 and some games as of Tuesday, Feb. 28; Contributing: Bob Barnett, Mark Tennis)
Leroy Abraham (Natomas, Sacramento)

He scored a game-high 39 points while teammate Marquice Clark added 24 points in a 81-77 road win against El Dorado of Placerville in Sac-Joaquin Section Division III post-season play.
Alex Fertig (Buchanan, Clovis)

The senior standout scored a game-high of 30 points in a 72-54 win over Edison of Fresno in the CIF Central Section Division I playoffs. Before the season-ending loss to Clovis West, Alex had scored scored 2,258 career points, sixth-best in section history.
January, 17, 2012
1/17/12
3:46
AM ET
By
Ronnie Flores
| ESPN.com
The marquee boys game of the 3rd Annual Tony Matson Memorial Classic at Orange Lutheran High School on MLK Monday was supposed to be a battle of Southern California teams looking to make a splash in the POWERADE FAB 50 national rankings and the Cal-Hi Sports state rankings.

Lutheran (Orange) came into the game ranked No. 49 in the FAB 50 and No. 4 in the state, but was reeling without the services of state Mr. Basketball candidate Gabe York. He suffered an appendectomy before New Year's and on MLK Monday the Lancers lost to state No. 15 La Verne Lutheran 60-58.

It was Orange Lutheran's third consecutive loss. It was a game effort, but last week the Lancers also lost to unranked JSerra (San Juan Capistrano) 67-52 and to state No. 1 Mater Dei (Santa Ana), 65-51 without the services of the No. 36 player in the ESPNU 100.

Outside of Lutheran's struggles, California's top teams fared well over MLK weekend and will move up in the next set of FAB 50 and West Region rankings.

Mater Dei, which was No. 22 in the FAB 50, routed Christ The King (Middle Village, N.Y.) 88-50 Monday at the Hoophall Classic in Springfield, Mass. UNLV commit Katin Reinhardt drained nine 3-pointers and finished with 35 points.

New York City basketball is not what it used to be on a national level, but Mater Dei's victory was still impressive nonetheless.

Mater Dei's victory also came one game after Bishop Gorman (Las Vegas) defeated DeMatha Catholic (Hyattsville, Md.) 73-65 behind a 37-point performance from Mr. Basketball USA candidate Shabazz Muhammad. DeMatha came into the came ranked No. 5 in the FAB 50 and Mater Dei owns a 10-point victory over Bishop Gorman, so that bodes well for the Monarchs and California's other top-ranked teams.

La Verne Lutheran also won a game at the Hoophall Classic on Saturday, defeating traditional New Jersey power St. Patrick (Elizabeth, N.J.) 68-66 behind 30 points from state Mr. Basketball candidate Grant Jerrett.

State No. 2 Long Beach Poly ventured to the University of Washington for the King Holiday Hoop Fest and came away with a 64-58 victory over Rainier Beach (Seattle). Poly came into the game No. 26 in the FAB 50 with Rainier Beach No. 27. Juniors Roschon Prince (20 points, eight rebounds) and Jordan Bell (13 points, 13 rebounds, 5 assists, four blocks) led the way for the Jackrabbits.

The one California team likely to move into the FAB 50 this week would be 17-1 Crespi of Encino, which did not play on MLK Monday. As for Orange Lutheran, the Lancers could have more potential problems as the school is looking into claims York may have jeopardized his high school eligibility by participating in an adult league game, according to the Los Angeles Times.

In an email sent to EPNHS and Cal-Hi Sports, CIF Southern Section spokesman Thom Simmons did not have any facts about the unfolding situation. He did clarify that York (or any other player in a similar situation) would be immediately ineligible for two games for every game he participated in with another team during the high school season.

According to our colleague Neal Nieves of CaliforniaPreps.com, who spoke to York before Monday's game, the Arizona recruit will sit out at least one more week because of the appendectomy.

According to Nieves, York would have sat out Monday evening's game even if there weren't any questions surrounding his eligibility with the Lancers.

December, 15, 2011
12/15/11
2:24
PM ET

Monday

|

Tuesday

|

Wednesday | Thursday |

Friday

Whether you're putting together a grouping of best quarterbacks or worst albums, or you're making that special list for Santa, there's nothing quite like a good list. So in honor of the holiday season we're bringing you lists all week long — Merry List-Mas! Today: The five best NBA players ever to come out of California.

Grant Jerrett, Gabe York and Aaron Gordon are all standout basketball recruits who are likely headed to D-I colleges — and possibly beyond. California has sent its share of school players to the NBA. But who's been the best? Here's our list of the five best players from California to play in the NBA.

* Note: This list doesn't include 11-time NBA champion and five-time MVP Bill Russell, who played his high school and college ball in California but was born in Louisiana. We wanted this list to represent born-and-bred Cali guys. 5. Gail Goodrich

A 6-foot-1 guard from Los Angeles, Goodrich played at Polytechnic in Sun Valley before going on to UCLA and then the Los Angeles Lakers. Goodrich played 14 NBA seasons, including nine for the Lakers, and averaged more than 18 points per game. A five-time All-Star, Goodrich was inducted into the Hall of Fame in 1996.

4. Jason Kidd


Kidd will go down as one of the greatest point guards in NBA history. An alum of St. Joseph Notre Dame in Alameda, Kidd stayed in-state to play his college ball at Cal. A 10-time NBA All-Star, he's led the league in assists five times, averaging 9.1 per game for his career. He won his first NBA championship this past season with the Dallas Mavericks.

3. Reggie Miller

One of the greatest shooters in basketball history (and my personal favorite player of all-time), Miller was born in Riverside and played at Riverside Polytechnic. Like Goodrich, he stayed close to home and played college ball at UCLA before becoming a first-round pick of the Indiana Pacers in 1987. Miller was a five-time All-Star and held the NBA's record for most 3-pointers until he was passed by Ray Allen last year. Miller averaged 19.3 points per game, but his true legacy is his reputation as a late-game assassin. Evidence

here

,

here

, and

here

.

2. Bill Walton

Walton's career was cut short by injuries, but at his peak there may have been no one better in the history of the game. The 6-foot-11 center started out at Helix High School in La Mesa, then became an NCAA legend at UCLA, winning two national championships under legendary coach John Wooden. The first overall pick in the 1974 draft, Walton led the Portland Trail Blazers to a championship in 1976-77 by averaging 18.6 points and leading the league with 14.4 rebounds and 3.2 blocks. Walton played more than 65 games in a season just once, when he came off the bench for the 1985-86 Boston Celtics. Walton was named Sixth Man of the Year, helping the Celtics win the NBA title that year. For his career, Walton posted 13.3 points and 10.5 rebounds per game. He was inducted into the Hall of Fame in 1993.

1. Paul Pierce

This one might sting a little bit, as Pierce has achieved his legendary status while playing for the hated Boston Celtics. But you can't deny his rightful place atop this list. Pierce starred at Inglewood in the early 1990s, then became an All-American during his three years at Kansas. The 10th pick of the 1998 NBA draft by the Celtics, Pierce has averaged 22.2 points and 6.1 rebounds per game and made nine All-Star teams, and his greatest moment came in the 2008 NBA Finals against his hometown LA Lakers. Pierce scored 21.8 points per game and also averaged 6.3 assists and 4.5 rebounds in the series, leading the Celtics to their 17th championship and earning Finals MVP. Regarded as one of the

best clutch players

in the league, Pierce can also now be called Cali's all-time greatest.

Tomorrow: Wild Card! Check back tomorrow to find out what our list is.