High-SchoolCalifornia:

Gardena Serra
July, 14, 2012
7/14/12
1:16
PM ET
By
Mark Tennis & Paul Muyskens
| ESPN.com
With the overall Cal-Hi Sports Athlete of the Year being a junior, a senior of the year also had to be chosen among this year's best. We also have five winners for each CIF division plus a freshman and sophomore. A total of 53 more of the state's top multi-sport and single-sport athletes named on honor roll.

Congratulations to the following boys for being selected as a 2011-12 Cal-Hi Sports State Athlete of the Year:

Seniors:
Darren Fahy (La Costa Canyon, Carlsbad) Cross Country, Track
With a runner who won a CIF Division II state cross country title and then swept both the 1600 and 3200 events at the CIF state track meet, you might be surprised that Fahy's best running event is none of those. He's best at the 3,000-meter steeplechase and several weeks ago he won at the USA Junior Championships in 9:06.83. Fahy also has clocked the best 3,000-meter steeplechase time in state history. Already named the San Diego Union-Tribune Male Athlete of the Year and the Gatorade Boys Track State Athlete of the Year, Fahy's times at the CIF state meet were 4:08.78 in the 1600 and 9:03.29 in the 3200. His best race, however, might have been the 8:54.21 he ran in the 3200 at the Arcadia Invitational. Fahy will attend Georgetown University in the fall.

Note: For additional seniors who have been singled out, look for lists under each CIF division.

July, 11, 2012
7/11/12
12:17
PM ET
By
Mark Tennis
| ESPN.com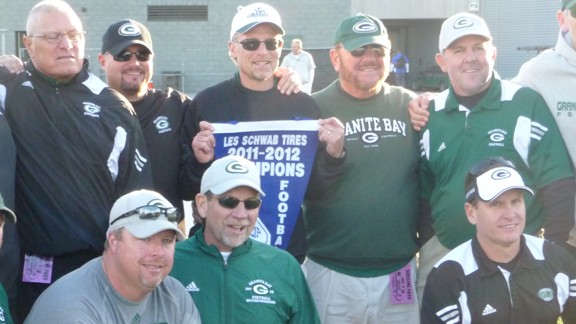 Mark Tennis/ESPNHSGranite Bay football coach Ernie Cooper (holding flag) poses with staff after 2011 Sac-Joaquin Section title game.
Mitty is best for girls sports for the ninth time while other honorees include La Costa Canyon (D2), Campolindo (D3), Serra of Gardena (D4) and St. Margaret's (D5). Eight more schools who deserve special mention for overall athletic excellence also have been singled out.
Congratulations to the following schools for collecting a statewide all-sports honor for the 2011-12 school year:
Girls Sports Only:
Archbishop Mitty (San Jose)
It might seem like the Monarchs have won this honor every year, but they actually didn't the last two years. Regarded as perhaps the best school for girls sports in the nation, Mitty lived up to that claim by winning the CIF Division II state title in basketball and by going 29-2 and finishing top 10 in the nation in softball. Mitty's other girls sports highlights included a CIF Central Coast Section co-title in soccer, the best finish in school history (2nd) in CCS golf, a second-place finish in the loaded CCS swim meet plus semifinal appearances in the CCS field hockey and tennis playoffs. This is the ninth time Mitty has been tops in the state for girls sports since the 1994-95 school year.
March, 15, 2012
3/15/12
11:35
PM ET
By
Mark Tennis
| ESPN.com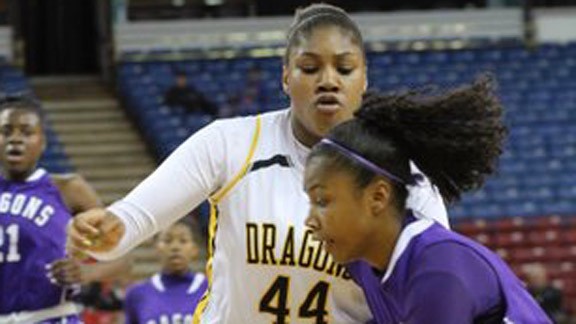 Willie Eashman/ESPNHSBishop O'Dowd's Kendall Waters plays tough defense in 2011 CIF Division III Northern California final.
No. 1 teams according to ESPNHS Cal-Hi Sports heading into Saturday's regional championships at four sites include Mater Dei (D1), St. Mary's of Stockton (D2), Bishop O'Dowd (D3), La Jolla Country Day (D4) and Mission Prep (D5).
Highlights from Tuesday's games included:
"Serra of Gardena posting a surprisingly easy win over Windward, which was No. 1 in the state just two weeks ago
"Long Beach Poly getting a revenge victory over Brea Olinda and setting up clash with Mater Dei
"Two-time defending Division V state champ Pinewood being eliminated by Brookside Christian
March, 6, 2012
3/06/12
2:29
AM ET
NorCal teams Salesian of Richmond and De La Salle of Concord go up to No. 2 and No. 4 in this week's pecking order. Bullard of Fresno also debuts at No. 19 after winning Central Section crown.
Other highlights of this week's rankings include:
Serra of Gardena joining the top 10 after winning section title and edging in front of L.A. Loyola.
Sacred Heart Cathedral of San Francisco rolling to CCS crown and going up from No. 18 to No. 15.
Price of Los Angeles staying at No. 17 even though team had already lost in CIFSS Div. 4-AA semifinals.
Get all the details in the ESPNHS rankings tool.
March, 3, 2012
3/03/12
6:18
PM ET
By
Mark Tennis
| ESPN.com
Here's the first installment of two posts we'll be doing Saturday in which we'll make our recommendations for which boys teams should be seeded No. 1 in next week's CIF regional playoffs.

Division I North: De La Salle (Concord)
Since the Spartans won that overtime game on MLK Day over Archbishop Mitty of San Jose, they've been better than even they usually are. De La Salle won its 10th North Coast Section title on Friday by defeating Deer Valley of Antioch 54-31. Since coach Frank Allocco's team is the defending NorCal champ and is the region's highest ranked team in the state (fifth overall and No. 44 in the FAB 50) other than Div. IV Salesian of Richmond, it's an easy choice for the Spartans to be a top seed.

February, 28, 2012
2/28/12
4:58
PM ET
By
Harold Abend
| ESPN.com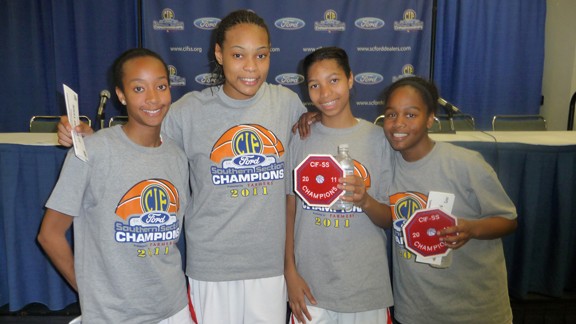 Mark Tennis/ESPNHSRejane Verin (second from left) and the rest of the Gardena Serra girls have earned a return trip to the CIFSS championships in Anaheim.
Important announcement from Cal-Hi Sports
|
Archived Cal-Hi Sports content
Serra of Gardena posts two eye-opening wins and goes from unranked to No. 16 in this week's rankings. The Cavaliers take on No. 1 Windward in CIFSS final.
The Cal-Hi Sports caravan was busy last week covering mostly boys in the CIF North Coast Section and CIF Central Coast Section, but we did have an opportunity to take in the Carondelet of Concord versus Northgate of Walnut Creek quarterfinal matchup in the NCS that preceded the host De La Salle boys game in Concord.
The Cougars led from start to finish, bolting out to a 24-9 lead after one quarter en route to an 87-58 victory.
Notre Dame-bound senior guard
Hannah Huffman
led the way with 22 points and seven rebounds with three assists. Super sophomore
Natalie Romeo
added 14 points, four rebounds, three assists and three steals. Senior
Melissa Russi
chipped in with 11 points.
Top-ranked Windward, meanwhile, proved that no matter how good you are, a poor shooting night in the playoffs can keep a game close, especially against a quality opponent like St. Bernard of Playa del Rey, which moved up to D4 after finishing as the D5 state runner-up last season.
Windward prevailed 59-52 in the CIF Southern Section Div. 4AA semifinal, but it was anything but a cakewalk.
"It's a good thing
Imani (Stafford)
showed up and that
Jordin Canada
wasn't going to let us lose," Windward coach
Steve Smith
told Cal-Hi Sports.
"We were 2-for-18 on threes and they dared us to shoot it," continued Smith.
Stafford, who is still not totally at full tilt after rehabbing the summer and fall, missed several layups and only finished with 10 points, but the 6-foot-7 Texas-bound post had 21 rebounds, six blocks, and altered several shots that missed.
Sophomore Canada had a game-high 19 points (four rebounds, three steals, two assists) and along with Stafford, the pair keyed a 13-4 run that pushed the Wildcats' lead to 50-37 early in the fourth quarter and sealed the deal.
(Through games played on Saturday, Feb. 25)
(Last week's ranking in parentheses)
1. (1) Windward (Los Angeles) 27-3
Coach Smith has been raving about the play of sophomore Kristen Simon. "Next year, this will be her team, but right now she's our second-leading scorer and rebounder coming off the bench as the sixth girl." Against St. Bernard, Simon had eight points and 10 rebounds. Earlier in the week, in a 66-49 win over JSerra of San Juan Capistrano, she had 11 points and nine rebounds. Next up is a CIFSS D4AA championship game matchup with new No. 17 Serra of Gardena, a 73-62 upset winner of second-seed and previous No. 17 Oaks Christian of Westlake Village.
February, 27, 2012
2/27/12
5:27
PM ET
Important announcement from Cal-Hi Sports
|
Archived Cal-Hi Sports content
Top ranked CIF Southern Section Div. I-AA teams to run into each other in this week's semifinals and finals. Will there be a new No. 1 for the state next week?

Other highlights of this week's rankings include:
Sacred Heart Cathedral, Jesuit of Carmichael and Lincoln of San Diego all get the nod to go into the top 20 as newcomers.
Previous No. 13 Damien of La Verne and No. 15 Bishop Montgomery of Torrance are upset and done for the season.
Huge games by Mayfair's Dion Wright and Gardena Serra's Dakarai Tucker lead their teams to section championship games.
Get all the details in the ESPNHS rankings tool.
February, 9, 2012
2/09/12
5:02
PM ET
By
Mark Tennis
| ESPN.com
Important announcement from Cal-Hi Sports
|
Archived Cal-Hi Sports content
No new No. 1 teams this week, but Gardena Serra is a new No. 2 in Division IV. Westchester also is coming on strong in Division I.
A staple of the Cal-Hi Sports rankings system for more than 30 years is the divisional breakdown of teams leading into the CIF state basketball championships.
Here is the second listing of boys teams this season with analysis and bubble teams for each division (records listed after games of Feb. 4 with some teams that have results included for this week):
CIF Division I
1. (1) Mater Dei (Santa Ana) 22-2
2. (2) Long Beach Poly (Long Beach) 21-1
3. (3) Etiwanda 24-1
4. (5) De La Salle (Concord) 20-2
5. (6) Taft (Woodland Hills) 22-3
6. (4) Loyola (Los Angeles) 20-4
7. (7) Sheldon (Sacramento) 18-5
8. (13) Westchester (Los Angeles) 19-5
9. (10) Jesuit (Carmichael) 19-5
10. (11) Capistrano Valley (Mission Viejo) 21-3
11. (NR) Oxnard 23-2
12. (9) Buchanan (Clovis) 20-3
13. (NR) Piedmont Hills (San Jose) 21-1
14. (NR) Santa Monica 16-8
15. (8) Lutheran (Orange) 14-10
Drops:
Previous No. 12 Fairfax (Los Angeles); No. 14 Mission Viejo; No. 15 J.W. North (Riverside).
Bubble:
Central (Fresno) 17-6, Crescenta Valley (La Crescenta) 21-5, Fairfax (Los Angeles) 17-9, Foothill (Tustin) 19-5, Mission Viejo 21-3, Palisades (Pacific Palisades) 15-10
Comments:
The team to watch in this division is Westchester of Los Angeles. Coach Ed Azzam's club moved up five spots in this division this week and is looking more and more like it can give Taft of Woodland Hills or any other team in the L.A. City Section a real run for its money right now. The Comets, of course, have a tremendous history of success that can only make the players that much more confident. They have won six CIF Division I state crowns and have never lost in a state final.
January, 18, 2012
1/18/12
11:30
PM ET
By
Harold Abend
| ESPN.com
Jordan Adams is back at Mater Dei and should be good to go when No. 2 Monarchs play No. 1 Windward on Feb. 3.

The bad news for future opponents is music to the ears of Mater Dei of Santa Ana coach Kevin Kiernan and the Monarchs' faithful.

"She's been back for four games and playing pretty well even though she's not 100 percent, but even a 70 percent Jordan Adams is one of the best players in the state," Kiernan told Cal-Hi Sports.

Adams, who has been out since the second half of a loss to Riverdale Baptist of Maryland at the Nike TOC in Arizona, missed eight-and-a-half games and almost three weeks, with the Monarchs suffering both their losses in her absence.

Had not Canadian-born transfer Nirra Fields been playing lights out in her absence, Mater Dei might have had more problems in its grueling schedule.

With both girls in the lineup on MLK Day at the Tony Matson Memorial Classic at Orange Lutheran, Mater Dei put a 63-27 shellacking on previously state-ranked Anaheim Canyon. Fields had 30 points (six steals) and Adams 11 points.

"Nirra is something else. You've got to see her," Kiernan remarked. "She's starting to rev it up."

The Cal-Hi Sports caravan will get the chance to see Fields and Adams against Windward of Los Angeles in a probable No. 1 vs. No. 2 state showdown on Feb. 3 in Santa Ana at the Nike Extravaganza.

Despite Windward taking an out-of-state 62-48 loss to POWERADE FAB 50 top-ranked St. Mary's of Phoenix last week, the girls remain as the No. 1 California team in this week's national rankings and No. 1 in the Cal-Hi Sports state rankings.

Coach Steve Smith and the girls have shied away from no one this season. Before they meet Mater Dei, they'll be coming off a Jan. 28 match-p at Long Beach City College with current state No. 3 Long Beach Poly.

(Previous ranking in parentheses)
(After games of Monday, Jan. 16)

1. (1) Windward (Los Angeles) 16-3
It's pretty tough to come home from two major tournaments involving nationally-ranked teams, play a few running clock league games, then have to face the FAB 50 No. 1 team in the nation on its home turf, but that's exactly what coach Steve Smith tried to do, and it didn't work. The Wildcats fell behind 32-16 in the second quarter against St. Mary's of Phoenix, and although sophomore power forward Kristen Simon scored seven unanswered points in the third quarter to get the girls to within five points of the lead, the D1-recruit laden local girls closed out a 62-48 win.

2. (2) Mater Dei (Santa Ana) 17-2
The eight-day four-game stretch was a lot easier with Jordan Adams back in the line-up. In her first game back, a Trinity League 67-57 victory over Orange Lutheran at home, the 6-foot-1 USC-bound phenom had 11 points. Two nights later, she had her best outing in the four games with 18 points in a blowout of Fullerton Rosary. Meanwhile, Adams' backcourt mate and UCLA-committed Nirra Fields continues to dominate. Besides the 30 points she had against Canyon, the 5-foot-9 flash had 27 in the Orange Lutheran win. The fourth win of the week was a running clock win over Pacifica of Oxnard.