High-SchoolCalifornia:

Huntington Beach Edison
July, 4, 2012
7/04/12
4:24
AM ET
By
Mark Tennis
| ESPN.com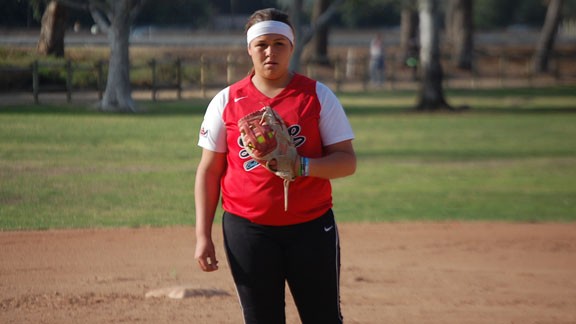 Morales Family/ESPNHSIndio's Heather Morales has put her name into the state record book.
With baseball done, it's time to switch to softball and first up is the 2012 Cal-Hi Sports all-state underclass honorees. There is a first team of 30 players and a second team of 30 more. All are non-seniors.
CIF Southern Section powerhouse Pacifica of Garden Grove lands two pitchers and two position players on either first or second team to lead the way on the 2012 Cal-Hi Sports all-state softball underclass teams.
Amador Valley of the CIF North Coast Section has three players selected while other schools to have more than one player named are Chino Hills, Colton, Edison of Huntington Beach, El Diamante of Visalia, Mission Viejo and Norco.
With help from assistant editor Paul Muyskens, here are the
2012 Cal-Hi Sports All-State Softball Underclass Teams
:
April, 24, 2012
4/24/12
11:21
PM ET
By
Mark Tennis
| ESPN.com
It's a new order for the top five as Norco and Amador Valley have to swap spots behind No. 1 Pacifica of Garden Grove.

When the margins of victory between top teams are so close, frequent changes in the rankings are common.

That's true on the local level in addition to state and national. In Orange County, for example, where the competition is among the best in the country, the pecking order for the local rankings changes every week.

This week's hottest teams in Orange County – at least coming into the week – were Edison of Huntington Beach and Esperanza of Anaheim. Those teams were up to No. 3 and No. 4 in the county and also were up to No. 5 and No. 9 in the state.

The biggest changes in this week's rankings were to put Norco back up to No. 2 and to move up previous bubble team Simi Valley in front of previous No. 4 Royal of Simi Valley. The Pioneers beat the Highlanders last week 2-0 and avenged an earlier loss.

(Through games played Monday, April 23)
(Previous ranking in parentheses)
(Writeups also by Paul Muyskens, Harold Abend)

1. (1) Pacifica (Garden Grove) 20-1
While the Mariners didn't play last week, they are likely getting some good news this week in the POWERADE FAB 50 national rankings. A good number of teams ranked in the top 20 lost last week so maybe it was a good time not to play. When Pacifica took the field on Tuesday for an Empire League contest against Cypress it broke a two-week break from games.

April, 10, 2012
4/10/12
9:32
PM ET
By
Mark Tennis
| ESPN.com
Pacifica gets the bats sizzling at Michelle Carew Classic and moves up to No. 1 in this week's state rankings.

After a quiet week of the state top 20 softball rankings, the order at the top had to be re-shuffled after the outcomes of the Michelle Carew Classic in Anaheim Hills and the Livermore Stampede in Livermore.

Previous No. 2 Pacifica of Garden Grove is the new No. 1 after winning the Michelle Carew Classic title. Previous No. 1 Norco lost its first game of the season earlier in the tournament 2-1 to Lutheran of Orange.

Moving up into the No. 2 spot is unbeaten Amador Valley of Pleasanton, which topped previous No. 3 Archbishop Mitty of San Jose in the semifinals and then beat Livermore in the final.

(Through games played Monday, April 9)
(Previous ranking in parentheses)
(Writeups also by Harold Abend, Paul Muyskens)

1. (2) Pacifica (Garden Grove) 19-1
The Mariners didn't avenge their only loss to Norco at the Michelle Carew Classic, but they battered the field that included Norco and are an easy call to replace the Cougars as the state's No. 1 team. Pacifica won the title with a 13-4 victory over Los Alamitos behind tourney MVP Rebecca Lee and most valuable pitcher Kaylee Carlson. The semifinal win was 7-2 against host Canyon of Anaheim.

April, 5, 2012
4/05/12
6:57
PM ET
By
Mark Tennis
| ESPN.com
Five teams get added into each expanded version of the final rankings with teams to watch for next season included as well. Teams getting final bumps include Brea Olinda, Miramonte of Orinda, Modesto Christian and Ripon Christian.

With help from Stockton office assistant editor Paul Muyskens, here are the ninth and final listings of the top-ranked girls teams in the state this season for each division (records listed after state championship games played on Saturday, March 24; previous ranking in parentheses):

CIF Division I
1. (1) Mater Dei (Santa Ana) 34-3
2. (2) Long Beach Poly (Long Beach) 31-4
3. (4) Brea Olinda (Brea) 26-7
4. (3) Berkeley 29-3
5. (5) Summit (Fontana) 28-4
6. (6) Santiago (Corona) 31-2
7. (8) Huntington Beach 26-6
8. (9) Edison (Huntington Beach) 23-4
9. (7) Etiwanda 23-4
10. (10) El Toro (Lake Forest) 27-4
11. (11) Hanford 25-5
12. (12) Troy (Fullerton) 19-8
13. (14) Narbonne (Harbor City) 28-7
14. (15) San Diego 27-6
15. (13) Kennedy (Sacramento) 26-9
Drops: None.
Expanded Next Five Teams: 16. Pleasant Grove (Elk Grove) 22-10; 17. Oak Ridge (El Dorado Hills) 25-9; 18. Deer Valley (Antioch) 22-9; 19. Stockdale (Bakersfield) 26-5; 20. Rialto 25-2.
Honorable Mention: Canyon Springs (Moreno Valley) 20-8, Granite Hills (El Cajon) 30-5*, Gunn (Palo Alto) 21-7, Heritage (Brentwood) 25-6, Lowell (San Francisco) 25-6, Palo Alto 19-6.
Teams to Watch Next Season: Berkeley, Corona Santiago, Mater Dei, Long Beach Poly, Huntington Beach Edison, Hanford, Troy, Sacramento Kennedy.

January, 25, 2012
1/25/12
3:18
PM ET
By
Harold Abend
| ESPN.com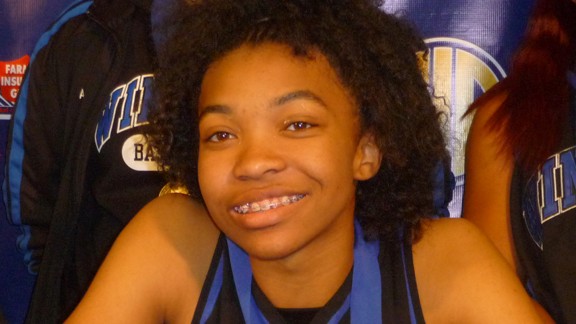 Mark Tennis/ESPNHSImani Stafford and her teammates from top-ranked Windward face tough task Saturday with game in Long Beach against No. 3 Long Beach Poly.
Important announcement from Cal-Hi Sports
|
Archived Cal-Hi Sports content
Karlie Samuelson returns for No. 7 Edison of Huntington Beach. This week's newcomers are Carondelet and Chaminade with huge matchup coming Saturday between No. 1 Windward and No. 3 Long Beach Poly.
Junior guard Karlie Samuelson from Edison of Huntington Beach, a who gets a 90 scout's grade from ESPNHS Girls Basketball, returned from injury last week with a 15-point performance in a 59-37 win over Los Alamitos. Two nights later, she had a season-high 28 points (five 3-pointers) in a 75-59 victory over Bishop's of La Jolla.
The 6-foot-1 Samuelson had been hobbled for a month by a bad ankle.
"She's taped up and wearing a brace but the swelling is down and she came back really strong against Bishop's – and that's good because we're going to need her," Chargers' coach Dan Wiley told Cal-Hi Sports.
This week, St. Mary's of Berkeley will welcome back sophomore phenom Gabby Green, which could help that team make a push for a spot in the top 20. The No. 5 player and No. 2 guard from the Class of 2014 according to ESPNHS Girls Basketball is scheduled to make her return in a game against Richmond Kennedy.
The 6-foot-1 Green has been out since July when she broke her ankle early on in her first game with California Storm's Team Taurasi.
The Berkeley girls were the only top 10 team to take a loss last week, and while it looks bad on the surface coming to a St. Mary's (Berkeley) team with six losses, the loss actually shows how good St. Mary's is even severely short-handed.
Despite playing without Green, and another promising sophomore, 5-foot-11 forward Taylor Berry, the Panthers have played very well, learning how to play without Green in a super tough early schedule, and improving all along.
Now, with Green back, together with fellow sophomore standout Mikayla Cowling and senior Shannon Mauldin, they'll be gearing up for the Division IV playoffs and a return trip to Power Balance Arena in Sacramento in March.
(Previous ranking in parentheses)
(After games of Saturday, Jan. 21)
(Contributing: Mark Tennis, Paul Muyskens)
1. (1) Windward (Los Angeles) 16-3

The Wildcats had a week to rest up after the long stretch of travel that concluded last Monday with the loss to FAB 50 No. 1 St. Mary's of Phoenix. After playing Pacific Hills (Los Angeles) on Tuesday, Windward then gets a matchup Saturday against No. 3 Long Beach Poly at Long Beach City College. In that one, coach Steve Smith and the girls will certainly have their top state ranking challenged.
January, 18, 2012
1/18/12
11:30
PM ET
By
Harold Abend
| ESPN.com
Jordan Adams is back at Mater Dei and should be good to go when No. 2 Monarchs play No. 1 Windward on Feb. 3.

The bad news for future opponents is music to the ears of Mater Dei of Santa Ana coach Kevin Kiernan and the Monarchs' faithful.

"She's been back for four games and playing pretty well even though she's not 100 percent, but even a 70 percent Jordan Adams is one of the best players in the state," Kiernan told Cal-Hi Sports.

Adams, who has been out since the second half of a loss to Riverdale Baptist of Maryland at the Nike TOC in Arizona, missed eight-and-a-half games and almost three weeks, with the Monarchs suffering both their losses in her absence.

Had not Canadian-born transfer Nirra Fields been playing lights out in her absence, Mater Dei might have had more problems in its grueling schedule.

With both girls in the lineup on MLK Day at the Tony Matson Memorial Classic at Orange Lutheran, Mater Dei put a 63-27 shellacking on previously state-ranked Anaheim Canyon. Fields had 30 points (six steals) and Adams 11 points.

"Nirra is something else. You've got to see her," Kiernan remarked. "She's starting to rev it up."

The Cal-Hi Sports caravan will get the chance to see Fields and Adams against Windward of Los Angeles in a probable No. 1 vs. No. 2 state showdown on Feb. 3 in Santa Ana at the Nike Extravaganza.

Despite Windward taking an out-of-state 62-48 loss to POWERADE FAB 50 top-ranked St. Mary's of Phoenix last week, the girls remain as the No. 1 California team in this week's national rankings and No. 1 in the Cal-Hi Sports state rankings.

Coach Steve Smith and the girls have shied away from no one this season. Before they meet Mater Dei, they'll be coming off a Jan. 28 match-p at Long Beach City College with current state No. 3 Long Beach Poly.

(Previous ranking in parentheses)
(After games of Monday, Jan. 16)

1. (1) Windward (Los Angeles) 16-3
It's pretty tough to come home from two major tournaments involving nationally-ranked teams, play a few running clock league games, then have to face the FAB 50 No. 1 team in the nation on its home turf, but that's exactly what coach Steve Smith tried to do, and it didn't work. The Wildcats fell behind 32-16 in the second quarter against St. Mary's of Phoenix, and although sophomore power forward Kristen Simon scored seven unanswered points in the third quarter to get the girls to within five points of the lead, the D1-recruit laden local girls closed out a 62-48 win.

2. (2) Mater Dei (Santa Ana) 17-2
The eight-day four-game stretch was a lot easier with Jordan Adams back in the line-up. In her first game back, a Trinity League 67-57 victory over Orange Lutheran at home, the 6-foot-1 USC-bound phenom had 11 points. Two nights later, she had her best outing in the four games with 18 points in a blowout of Fullerton Rosary. Meanwhile, Adams' backcourt mate and UCLA-committed Nirra Fields continues to dominate. Besides the 30 points she had against Canyon, the 5-foot-9 flash had 27 in the Orange Lutheran win. The fourth win of the week was a running clock win over Pacifica of Oxnard.