High-SchoolCalifornia:

Infinity Laufou
May, 4, 2012
5/04/12
12:55
PM ET
By
Harold Abend & Paul Muyskens
| ESPN.com
Homers still piling up for hitting phenom Sierra Romero of Vista Murrieta. Others among this week's best include Los Al's Laufou, Hart's Ziese and Millbrae Mills' Giusti.

Note: We're proud once again to collect weekly writeups of the most significant individual high school softball totals in California. We use these as the basis for updating the state record book, which has been published seven times, most recently in the spring of 2009. To report a state stat star of your own, please email highlights to Mark.Tennis@espn.com.

(After games of Saturday, April 28; includes some games as of Wednesday, May 2; Contributing: Bob Barnett, Mark Tennis)

Lindsey Chalmers (California, San Ramon)
The Grizzlies' sophomore pitcher that gave Cal-Hi Sports No. 3 Amador Valley of Pleasanton some trouble two weeks ago, gave Livermore even more trouble, tossing a one-hitter in a 4-0 victory.

Sophia Chiavatti (Foothill, Santa Ana)
Despite having just two hits in two official at bats, she managed to drive in six runs with a grand-slam home run and had a two-run double in the team's 11-7 loss to El Modena of Orange.

May, 2, 2012
5/02/12
1:18
PM ET
By
Mark Tennis
| ESPN.com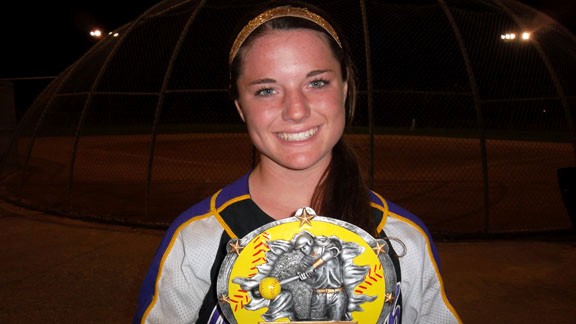 Harold Abend/ESPNHSAmador Valley's Johanna Grauer was the MVP of the 2012 Livermore Stampede.
Tough call at No. 2 as Norco stays in that position despite loss to Corona Santiago. Highest rising newcomers are Los Osos and Del Oro.
Knee-jerk reactions in the rankings game are common, but looking way down the road is more important.
A knee-jerk reaction would have been to dump Norco from its No. 2 statewide ranking after a loss last week to Corona Santiago.
That move was seriously considered this week in favor of unbeaten Amador Valley, but Norco still has just two losses overall, beat Santiago 12-4 earlier in the season and still has a win over No. 1 Pacifica. Throw all that together and compare a possible final No. 1 decision if Norco were to win the CIF Southern Section Division I title and it still looks like the Cougars would have the edge over Amador due to strength of schedule. It's also much smoother to leave the rankings as is now than the alternative, which would be to move up Amador now and possibly have to hop Norco in front later.