High-SchoolCalifornia:

Jabari Bird
August, 11, 2012
8/11/12
11:00
AM ET
By
Ronnie Flores
| ESPN.com
The final 12 players selected to participate in the seventh annual Under Armour Elite 24 event at Venice Beach were announced last Thursday.
Featuring 24 of the nation's top high school basketball players, Under Armour Elite 24 participants are selected based on their performance during AAU tournaments and national summer camps by ESPN high school basketball experts. The
first 12 players
were announced two week ago.
The 2012 Under Armour Elite 24 will be held at the Venice Beach Courts in Los Angeles Aug. 24-25. The game airs live on ESPNU at 7 p.m. ET Aug. 25, while the Under Armour Slam Dunk Contest will air Aug. 24 at 7 p.m. ET on ESPNU.
Aaron Gordon
, last season's Cal-Hi Sports Mr. Basketball state player of the year and the No. 6 ranked prospect in the
ESPN 100
, leads the class of 2013 contingent. Also included is
Jabari Bird
, ranked No. 20 in the ESPN 100 and Gordon's teammate on the Oakland Soldiers AAU club. Gordon and Bird led their respective high school teams to state championships last season and the duo led the Soldiers to the Nike Peach Jam title last month.
The Elite 24 roster includes five of the top 10 players in the ESPN 100.
Tyus Jones
, the No. 2-ranked player in the
ESPN 60
, leads the class of 2014 contingent. Three of the top six players in the ESPN 60 are on the Elite 24 roster.
Five Under Armour Elite 24 players have committed to colleges:
Nate Britt
II to North Carolina,
Aquille Carr
to Seton Hall,
Nigel Williams-Goss
to Washington, and both
Conner Frankamp
and
Brannen Greene
to Kansas.
Below is the full list of the second 12 players selected to the game. The specific team rosters and dunk contest participants will be announced prior to the event. To view the first dozen players,
CLICK HERE
.
Join
our Under Armour Elite 24 fan page on Facebook and don't forget to follow the event on twitter:
@UAElite24
May, 14, 2012
5/14/12
12:47
PM ET
By
Mark Tennis
| ESPN.com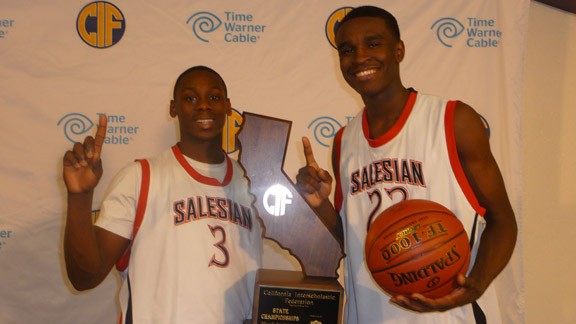 Mark Tennis/ESPNHSMario Dunn and Jabari Bird are juniors and have a chance to do this again.
California hoops may never be the same with the addition of the open division next season. If it works well, it could have ramifications across the nation.
There's no secret that the CIF state basketball playoffs, for both boys and girls, has needed a shot in the arm for a long time.
Two weekends ago, the CIF Federation Council may have provided that boost by voting in favor of adding an open division as a sixth division to the state playoffs.
There's a good chance that adding an open division will result in increased attendance and TV viewership. Two years ago, for example, the Mater Dei of Santa Ana and St. Mary's of Stockton girls possibly would have played in an open division final that also would have determined which team was going to be No. 1 in the nation.
The open division will be for teams from any division, any section and regardless of enrollment.
April, 30, 2012
4/30/12
11:09
AM ET
By
Mark Tennis & Ronnie Flores
| ESPN.com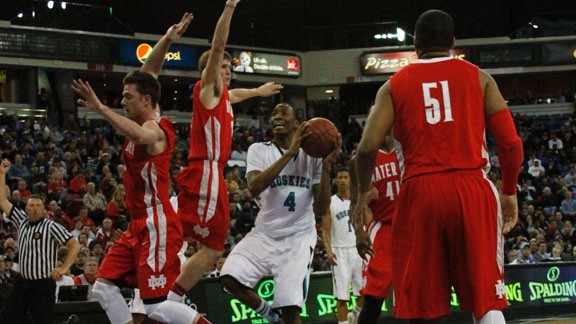 Willie Eashman/ESPNHSIt's a minefield of Monarchs for all-state player Dakarai Allen in D1 state final.
The five finalists for Mr. Basketball are joined by 25 others on the overall Cal-Hi Sports All-State teams regardless of CIF division or year in school. Click here for All-State Underclass or All-State by CIF Divisions.
FIRST FIVE
F Jabari Bird (Salesian, Richmond) 6-6 Jr.
The first team all-state junior and Mr. Basketball State Player of the Year finalist was the catalyst to Salesian's Division IV state title appearance. He scored 24 points to lead his team to a come-from behind win over Price of Los Angeles in the championship. Salesian's leading scorer (18.7 points per game) and rebounder (4.8) is the No. 8 player in the nation for the 2013 class by ESPN.
April, 26, 2012
4/26/12
12:59
AM ET
By
Mark Tennis
| ESPN.com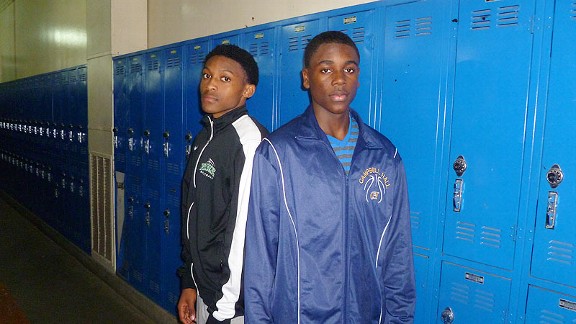 Sean Ceglinsky/For ESPNLA.comMarcus LoVett Jr. (back) is leading a strong contigent of standout freshmen basketball players in Southern California.
The first of the various ESPNHS Cal-Hi Sports all-state teams is announced and it's a look at the best from the Class of 2013, 2014 and 2015. Aaron Holiday (Campbell Hall) is in the front.

ALL-STATE JUNIORS
First Team

F Jabari Bird (Salesian, Richmond) 6-6
F Aaron Gordon (Archbishop Mitty, San Jose) 6-8
G Isaac Hamilton (St. John Bosco, Bellflower) 6-5
G Ron Lee Jr. (Oak Park, Agoura Hills) 6-2
F Roschon Prince (Long Beach Poly) 6-6
March, 31, 2012
3/31/12
6:18
PM ET
By
Mark Tennis
| ESPN.com
Just like the girls, a group of five boys are in line to be selected as the 2012 honoree by Cal-Hi Sports. The Mr. Basketball State Player of the Year list now goes back almost 100 years and includes numerous NBA superstars.

Two players from CIF Division I state champion Mater Dei of Santa Ana plus two highly ranked juniors from the San Francisco Bay Area and a McDonald's All-American have been chosen by Cal-Hi Sports as finalists for the 2012 Mr. Basketball State Player of the Year.

The Mater Dei seniors – Katin Reinhardt and Xavier Johnson – aren't the only members of a CIF state championship team to be a Mr. Basketball finalist, either.

March, 23, 2012
3/23/12
7:16
PM ET
By
Mark Tennis & Ronnie Flores
| ESPN.com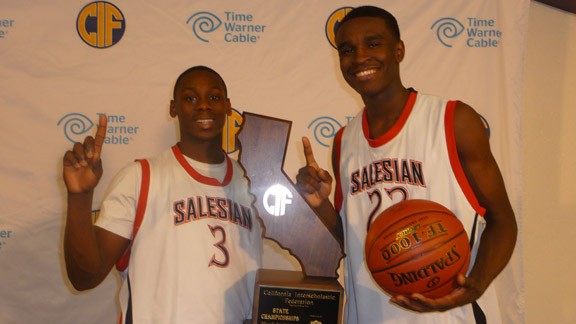 Mark Tennis/ESPNHSMario Dunn and Jabari Bird are juniors and have a chance to do this again.
Mitty repeats in Division II with Aaron Gordon leading the way. NorCal wins in Division IV as well with Salesian of Richmond topping Price.

The CIF Division IV and Division II state title games in boys basketball were played at Power Balance Arena in Sacramento. The Division I, Division III and Division V titles will be decided on Saturday.
Division II:
Archbishop Mitty (San Jose) 78, La Costa Canyon (Carlsbad) 57
It was a vintage performance for Aaron Gordon, one of the nation's top-ranked juniors, and the rest of the Monarchs' starting lineup.
The 6-foot-8 point forward dominated the boards, nailed a couple of 3-pointers and scored a game-high 33 points. Gordon's point total makes the top 10 on the all-time state title game list. He also grabbed 20 rebounds, one short of the Division II record he tied last season.
March, 22, 2012
3/22/12
6:38
PM ET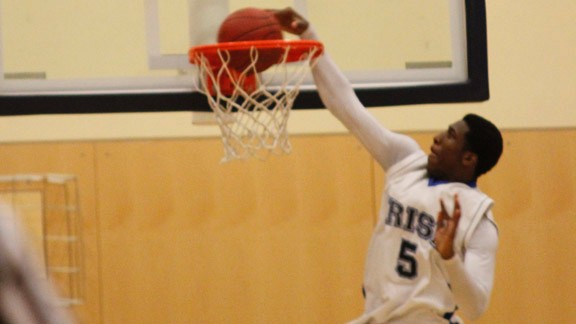 Willie Eashman/ESPNHSTaylor Johns slams one home for Sacred Heart Cathedral
As is our custom prior to CIF state finals in football and basketball, we take a crack at choosing which teams we think will win.
Note:
All of the following writeups and selections are done with the highest level of respect to both teams and all coaches. We never use point spreads and, sure, some of the scores might be a bit more lopsided than we might think. But you also never know what might happen. After all, these are teenagers.
We had one of our worst years ever in last year's CIF finals (boys and girls combined) with just six correct and four wrong. We were 7-for-10 in 2010 and were 9-for-10 in 2009.
The following writeups were completed by Ronnie Flores, Harold Abend, Mark Tennis, Paul Muyskens.
Boys Division I
(Saturday, March 24, 8 p.m.)
Cal-Hi Sports' predicted score:
Mater Dei (Santa Ana) 77, Sheldon (Sacramento) 66
The marquee game of the 2012 CIF boys state championships could live up to its billing as both teams look for historic victories.
Mater Dei, the top-ranked team in the state and the No. 8 team in the country in the POWERADE FAB 50, is gunning for its second consecutive CIF state title. Sheldon is looking to become the first Sacramento-area Division I state champion ever.