High-SchoolCalifornia:

La Canada
July, 5, 2012
7/05/12
10:29
PM ET
By
Mark Tennis
| ESPN.com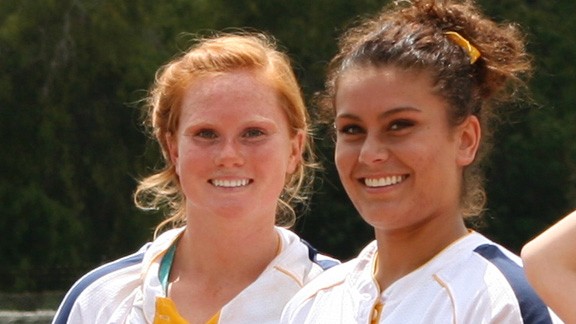 Santa Catalina HS/ESPNHSAlex Pingree (left) and Annie Aldrete starred for CCS Division III champ Santa Catalina.
Players from medium schools and small schools now take center stage in the release of the 2012 Cal-Hi Sports all-state softball teams. We guarantee that at least a few of these players will be on the elite all-state first team or second team.
Players from teams that were considered for the Division IV and Division V state rankings are small schools. Those from teams that were in the Division III state rankings would be medium schools.
With a contribution from assistant editor Paul Muyskens, here are the 2012 Cal-Hi Sports All-State Medium Schools and All-State Small Schools all-state softball teams:
June, 13, 2012
6/13/12
4:48
PM ET
By
Mark Tennis
| ESPN.com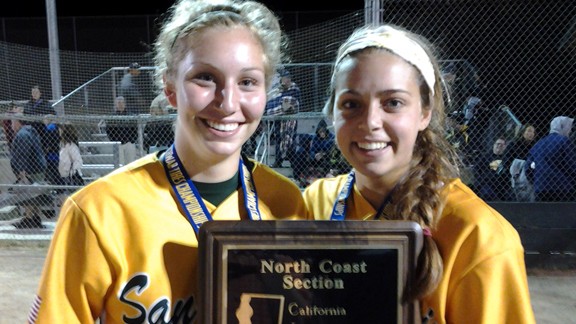 Harold Abend/ESPNHSBridget Pacchetti and Dani Albini of NCS D3 champion San Marin (Novato).
Cal-Hi Sports' mythical champs for 2012 are Norco (D1), Archbishop Mitty (D2), Chino Hills (D3), La Canada (D4) and Pomona Catholic (D5).
Being No. 1 in the state in a rankings division in softball is old hat for Archbishop Mitty of San Jose. This year's top finish statewide in Division II, based mostly on being 27-2 and winning a CIF Central Coast Section Division II title, is the school's seventh in the last nine years and makes it two in a row.
It also might be getting to be old hat for Pomona Catholic in Division V, which also ends No. 1 for a second straight year.
Here are the final divisional state rankings for the 2012 season (with contributions from Paul Muyskens; through games of Saturday, June 2):
June, 3, 2012
6/03/12
3:32
AM ET
By
Mark Tennis
| ESPN.com
After building 6-0 lead, the Cougars hold on to beat Santiago of Corona 6-4 in CIF Southern Section Division I final. Cal-Hi Sports state divisional No. 1 teams Chino Hills and La Canada also win CIFSS titles.

Three years ago, Norco High's softball team won the CIF Southern Section Division I title with a 32-2 record. That team was No. 3 in the final ESPNHS POWERADE FAB 50 national rankings.

On Saturday night at Deanna Manning Stadium in Irvine, the Cougars won the same title by topping Santiago of Corona 6-4 and posted an almost-exact 31-2 record. This team, however, is going to be No. 1 in all the rankings.

May, 31, 2012
5/31/12
5:22
PM ET
By
Mark Tennis
| ESPN.com
It's down to just two or three teams who can finish No. 1 in each division of the Cal-Hi Sports rankings heading into the final weekend of the season.

Section softball championships have been decided everywhere in the state except for the CIF Southern Section and the CIF North Coast Section entering the upcoming weekend.

No. 1 teams by division with one more week to go are Norco (D1), Archbishop Mitty (D2), Chino Hills (D3), La Canada (D4) and Pomona Catholic (D5).

Here are the fourth and next-to-last divisional state rankings for the 2012 season (with contributions from Paul Muyskens; through games of Wednesday, May 30):

May, 24, 2012
5/24/12
3:54
PM ET
By
Mark Tennis
| ESPN.com
El Diamante is the first major upset victim, but more could be on the list very quickly. Two divisional state titles also are already down to two possible winners.

This week's new Cal-Hi Sports divisional state rankings for softball were compiled after games of Wednesday but before the CIF Southern Section quarterfinals played on Thursday.

There are no new No. 1 teams, but on Wednesday highly-regarded El Diamante of Visalia saw its hopes for a second straight CIF Central Section Division I title wrecked with a 7-6 upset loss to Clovis West of Fresno.

Here are the third divisional state rankings for the 2012 season (with contributions from Paul Muyskens; through games of Wednesday, May 15):

May, 18, 2012
5/18/12
12:04
AM ET
By
Mark Tennis
| ESPN.com
There's at least one new team in every top 10 this week, but none of the newcomers are entering any higher than ninth.

Changes should be fast and furious in the Cal-Hi Sports divisional state softball rankings as the section playoffs get through with the early rounds.

That wasn't the case this week, though, as nearly all teams didn't play or had little trouble in regular season finales.

Here are the second divisional state rankings for the 2012 season (with contributions from Paul Muyskens; through games of Tuesday, May 15 and including other results from this week):

May, 11, 2012
5/11/12
8:18
PM ET
By
Mark Tennis
| ESPN.com
As with baseball, we strive to put out the annual Cal-Hi Sports five-division softball state rankings before the playoffs start so teams know which ones are in contention to be a mythical state champion.

The five teams that have been slotted in No. 1 positions at the start of the various section playoffs around the state are Pacifica of Garden Grove (Division I), Archbishop Mitty of San Jose (Division II), Chino Hills (Division III), La Canada (Division IV) and Pomona Catholic (Division V).

Here are the first divisional state rankings for the 2012 season (through games of Monday, May 7 and including some results from this week):

DIVISION I
1. Pacifica (Garden Grove) 25-1
2. Norco 24-2
3. Amador Valley (Pleasanton) 21-0
4. Lutheran (Orange) 25-4
5. El Diamante (Visalia) 27-1