High-SchoolCalifornia:

La Costa Canyon
July, 14, 2012
7/14/12
1:16
PM ET
By
Mark Tennis & Paul Muyskens
| ESPN.com
With the overall Cal-Hi Sports Athlete of the Year being a junior, a senior of the year also had to be chosen among this year's best. We also have five winners for each CIF division plus a freshman and sophomore. A total of 53 more of the state's top multi-sport and single-sport athletes named on honor roll.

Congratulations to the following boys for being selected as a 2011-12 Cal-Hi Sports State Athlete of the Year:

Seniors:
Darren Fahy (La Costa Canyon, Carlsbad) Cross Country, Track
With a runner who won a CIF Division II state cross country title and then swept both the 1600 and 3200 events at the CIF state track meet, you might be surprised that Fahy's best running event is none of those. He's best at the 3,000-meter steeplechase and several weeks ago he won at the USA Junior Championships in 9:06.83. Fahy also has clocked the best 3,000-meter steeplechase time in state history. Already named the San Diego Union-Tribune Male Athlete of the Year and the Gatorade Boys Track State Athlete of the Year, Fahy's times at the CIF state meet were 4:08.78 in the 1600 and 9:03.29 in the 3200. His best race, however, might have been the 8:54.21 he ran in the 3200 at the Arcadia Invitational. Fahy will attend Georgetown University in the fall.

Note: For additional seniors who have been singled out, look for lists under each CIF division.

July, 11, 2012
7/11/12
12:17
PM ET
By
Mark Tennis
| ESPN.com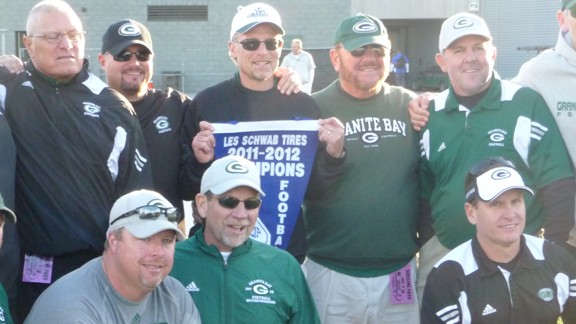 Mark Tennis/ESPNHSGranite Bay football coach Ernie Cooper (holding flag) poses with staff after 2011 Sac-Joaquin Section title game.
Mitty is best for girls sports for the ninth time while other honorees include La Costa Canyon (D2), Campolindo (D3), Serra of Gardena (D4) and St. Margaret's (D5). Eight more schools who deserve special mention for overall athletic excellence also have been singled out.
Congratulations to the following schools for collecting a statewide all-sports honor for the 2011-12 school year:
Girls Sports Only:
Archbishop Mitty (San Jose)
It might seem like the Monarchs have won this honor every year, but they actually didn't the last two years. Regarded as perhaps the best school for girls sports in the nation, Mitty lived up to that claim by winning the CIF Division II state title in basketball and by going 29-2 and finishing top 10 in the nation in softball. Mitty's other girls sports highlights included a CIF Central Coast Section co-title in soccer, the best finish in school history (2nd) in CCS golf, a second-place finish in the loaded CCS swim meet plus semifinal appearances in the CCS field hockey and tennis playoffs. This is the ninth time Mitty has been tops in the state for girls sports since the 1994-95 school year.
June, 8, 2012
6/08/12
7:00
PM ET
The last rankings of the season get expanded by 10 teams. Top five are Vista, Cathedral Catholic, Campolindo, St. Mary's of Stockton and Newbury Park.
Other highlights from this week's final top 30 baseball rankings include:
De La Salle of Concord winning NCS D1 title in first year under new coach.
El Camino Real getting walk-off win over Chatsworth (which was down to last out) in CIF L.A. City final.
Pacifica, Bonita winning CIFSS titles but not moving up in the rankings due to Newbury Park jumping in front and Mater Dei staying higher.
Click here to see the complete list within the ESPNHS rankings tool.
March, 30, 2012
3/30/12
2:15
PM ET
By
Harold Abend & Paul Muyskens
| ESPN.com
Tulare Western's Anthony Avila ties state record, Central Valley's Fabian Valencia enjoys three-homer outing while Luke Weichec of Los Altos has been swinging red-hot bat despite injury.

Note: We're proud once again to collect weekly writeups of the most significant individual high school baseball totals in California. We use these as the basis for updating the state record book, which has been published seven times, most recently in the spring of 2009. To report a state stat star of your own, please email highlights to Mark.Tennis@espn.com.

(After games of Saturday, March 24; includes some games as of Wednesday, March 28; Contributing: Bob Barnett, Mark Tennis)

Anthony Avila (Tulare Western, Tulare)
He had a career day by going 5-for-6 at the plate which included four doubles and eight RBIs in a 29-0 win over Kennedy of Delano. Avila's four doubles in a game ties the reported state record. According to our own Cal-Hi Sports record book, the first time it was done was in 1919 by William Homen of Hanford.

March, 23, 2012
3/23/12
7:16
PM ET
By
Mark Tennis & Ronnie Flores
| ESPN.com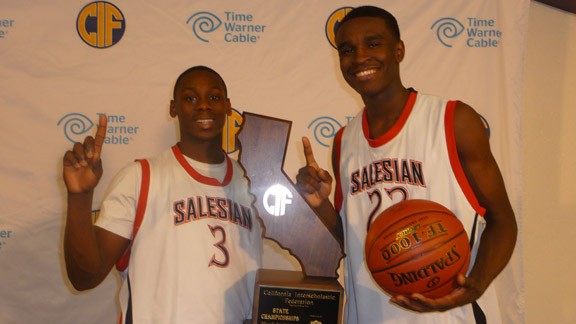 Mark Tennis/ESPNHSMario Dunn and Jabari Bird are juniors and have a chance to do this again.
Mitty repeats in Division II with Aaron Gordon leading the way. NorCal wins in Division IV as well with Salesian of Richmond topping Price.

The CIF Division IV and Division II state title games in boys basketball were played at Power Balance Arena in Sacramento. The Division I, Division III and Division V titles will be decided on Saturday.
Division II:
Archbishop Mitty (San Jose) 78, La Costa Canyon (Carlsbad) 57
It was a vintage performance for Aaron Gordon, one of the nation's top-ranked juniors, and the rest of the Monarchs' starting lineup.
The 6-foot-8 point forward dominated the boards, nailed a couple of 3-pointers and scored a game-high 33 points. Gordon's point total makes the top 10 on the all-time state title game list. He also grabbed 20 rebounds, one short of the Division II record he tied last season.
March, 17, 2012
3/17/12
6:50
PM ET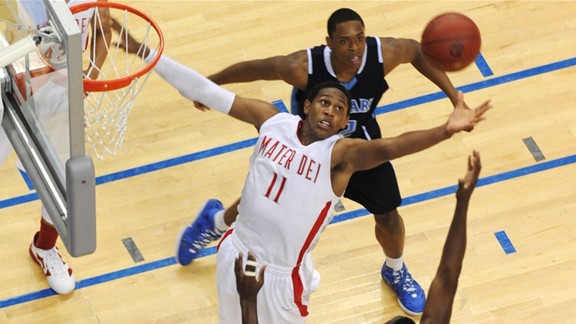 Scott Kurtz/ESPNHSXavier Johnson skies for a rebound during SoCal final.
Mater Dei pulls away in second half to beat Bullard in Division I. La Costa Canyon wins all-San Diego final while Alemany, Price and Village Christian are all heading to state as well.

The CIF Southern Regional title games were played at Citizens Bank Arena in Ontario (Divisions 1-3) and at Colony High School in Ontario (Divisions 4-5). Writeups by Ronnie Flores.
Division I:
Mater Dei (Santa Ana) 85, Bullard (Fresno) 66
The top-ranked team in the state, the Mater Dei Monarchs, faced a Bullard Knights team looking to pull of their third consecutive upset and advance to their first-ever state title game in boys' basketball.
Bullard was not only facing an experienced team that won a state title last year with the same nucleus, it was also facing the most talented team it had seen all season long.
For one half, in front of 5,712 fans, the CIF Central Section Div. I champions hung with Mater Dei (champions of the CIF Southern Section Div. I-AA bracket), but a 23-10 advantage in the third quarter spelled doom for Bullard.
March, 6, 2012
3/06/12
2:29
AM ET
NorCal teams Salesian of Richmond and De La Salle of Concord go up to No. 2 and No. 4 in this week's pecking order. Bullard of Fresno also debuts at No. 19 after winning Central Section crown.
Other highlights of this week's rankings include:
Serra of Gardena joining the top 10 after winning section title and edging in front of L.A. Loyola.
Sacred Heart Cathedral of San Francisco rolling to CCS crown and going up from No. 18 to No. 15.
Price of Los Angeles staying at No. 17 even though team had already lost in CIFSS Div. 4-AA semifinals.
Get all the details in the ESPNHS rankings tool.
February, 6, 2012
2/06/12
8:53
PM ET
Taft of Woodland Hills gets rewarded with No. 9 ranking after beating Loyola of Los Angeles at the Nike Extravaganza.
Other highlights of this week's rankings include:
La Costa Canyon, Sacred Heart Cathedral of San Francisco re-join the mix after being ranked earlier in the season
Two CIF divisional state champs from the last two years play each other this weekend when Price of Los Angeles faces La Verne Lutheran.
Sheldon wins at the buzzer against Jesuit of Carmichael, then gives No. 3 Salesian a battle to the wire one night later
Get all the details in the ESPNHS rankings tool.