High-SchoolCalifornia:

La Jolla Country Day (La Jolla)
April, 5, 2012
4/05/12
7:03
PM ET
By
Harold Abend
| ESPN.com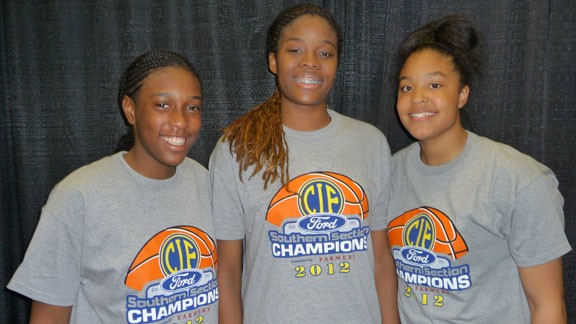 Mark Tennis/ESPNHSAdrianna Brodie, Jillian Alleyne and Brooklyn Jackson are from No. 11 Summit of Fontana.
Not one but two teams from Huntington Beach finish in the top 20 for the final rankings. Among those getting nods in expanded version are Alemany, Troy, Bellarmine-Jefferson and Pleasant Grove.
There really weren't any surprises in this year's five CIF state championship games contested at Power Balance Pavilion in Sacramento.
The way ESPNHS POWERADE FAB 50 No. 8 Mater Dei handled Berkeley 57-40 in the D1 title game, based on what teams did against the Monarchs in the Southern Regional playoffs, re-shuffled the rankings of the Northern California teams, but not that much.
Many of the assembled pundits thought the Bishop O'Dowd game with Laguna Hills might be a test for the Dragons, but coach Malik McCord's girls showed why many consider them a possible top five national team coming into next season.
In the end, four of the five CIF state champions got into the top 40 final rankings and writeups. D5 champ Brookside Christian was considered as well, but had to be behind one too many D1 teams from the CIF Sac-Joaquin Section.
April, 5, 2012
4/05/12
6:57
PM ET
By
Mark Tennis
| ESPN.com
Five teams get added into each expanded version of the final rankings with teams to watch for next season included as well. Teams getting final bumps include Brea Olinda, Miramonte of Orinda, Modesto Christian and Ripon Christian.

With help from Stockton office assistant editor Paul Muyskens, here are the ninth and final listings of the top-ranked girls teams in the state this season for each division (records listed after state championship games played on Saturday, March 24; previous ranking in parentheses):

CIF Division I
1. (1) Mater Dei (Santa Ana) 34-3
2. (2) Long Beach Poly (Long Beach) 31-4
3. (4) Brea Olinda (Brea) 26-7
4. (3) Berkeley 29-3
5. (5) Summit (Fontana) 28-4
6. (6) Santiago (Corona) 31-2
7. (8) Huntington Beach 26-6
8. (9) Edison (Huntington Beach) 23-4
9. (7) Etiwanda 23-4
10. (10) El Toro (Lake Forest) 27-4
11. (11) Hanford 25-5
12. (12) Troy (Fullerton) 19-8
13. (14) Narbonne (Harbor City) 28-7
14. (15) San Diego 27-6
15. (13) Kennedy (Sacramento) 26-9
Drops: None.
Expanded Next Five Teams: 16. Pleasant Grove (Elk Grove) 22-10; 17. Oak Ridge (El Dorado Hills) 25-9; 18. Deer Valley (Antioch) 22-9; 19. Stockdale (Bakersfield) 26-5; 20. Rialto 25-2.
Honorable Mention: Canyon Springs (Moreno Valley) 20-8, Granite Hills (El Cajon) 30-5*, Gunn (Palo Alto) 21-7, Heritage (Brentwood) 25-6, Lowell (San Francisco) 25-6, Palo Alto 19-6.
Teams to Watch Next Season: Berkeley, Corona Santiago, Mater Dei, Long Beach Poly, Huntington Beach Edison, Hanford, Troy, Sacramento Kennedy.

March, 22, 2012
3/22/12
6:35
PM ET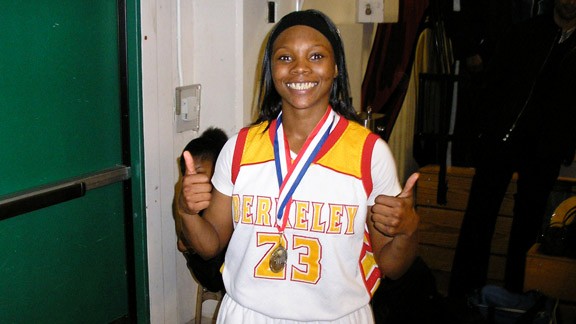 Paul Muyskens/ESPNHSGuard Elisha Davis and her team made it to the D1 state final for a second straight season.
This year's CIF state championships on the girls side feature four strong favorites and one game that is almost too close to call.
Note:
All of the following writeups and selections are done with the highest level of respect to both teams and all coaches. We never use point spreads and, sure, some of the scores might be a bit more lopsided than we might think. But you also never know what might happen. After all, these are teenagers.
We had one of our worst years ever in last year's CIF finals (boys and girls combined) with just six correct and four wrong. We were 7-for-10 in 2010 and were 9-for-10 in 2009.
The following writeups were completed by Harold Abend, Paul Muyskens.
Girls Division I
(Saturday, March 24, 9:30 a.m.)
Cal-Hi Sports' predicted score:
Mater Dei (Santa Ana) 61, Berkeley 48
There's little surprise that these two teams are meeting again for the state's big school title. What's different is the makeup of the two teams from last year.
Two-time defending state champion Mater Dei sent Kaleena Mosqueda-Lewis off to Connecticut leaving USC-bound and ESPNHS Girls Basketball Class of 2012 No. 2 Jordan Adams and Washington State-bound Alexas Williamson to carry on.
March, 20, 2012
3/20/12
7:18
PM ET
By
Harold Abend
| ESPN.com
It's a scramble after No. 1 Mater Dei and No. 2 La Jolla Country Day and it could get scrambled again for next week's final rankings after this weekend's CIF state championships.

There should be some very competitive games this coming weekend at Power Balance Pavilion in Sacramento.

More in depth analysis of the individual games will be coming from ESPNHS Cal-Hi Sports later this week.

Although we got some argument from La Jolla Day Country Day coach Terri Bamford, the top spot appears to be Mater Dei's to lose heading into its matchup with Berkeley in the D1 title game.

Windward's fall from grace has shaken things up, but its team last week isn't the same one that beat Mater Dei in the Nike Extravaganza, plus the fact Country Day split with Long Beach Poly now becomes an even bigger factor in Mater Dei being in the top position.

There were four newcomers this week with two of them still in action, new No. 15 Laguna Hills and new No. 18 Salesian of Richmond. New No. 16 Foothill (Santa Ana) and new No. 20 Orinda Miramonte both lost in their respective regional title games.

(Through games played on Saturday, March 17)
(Last week's ranking in parentheses)

1. (1) Mater Dei (Santa Ana) 33-3
The top spot in California is totally in the Monarchs' hands after a 54-43 win over a Long Beach Poly team in the CIF Division I Southern Regional title game that has split with No. 2 La Jolla Country Day. A win over Berkeley on Saturday at 6 p.m. in Sacramento at Power Balance Pavilion and coach Kevin Kiernan and his girls are in California's catbird seat for the third straight season.

March, 8, 2012
3/08/12
10:46
PM ET
By
Mark Tennis
| ESPN.com
As the CIF playoffs reach the regional quarterfinal stage this weekend, we choose teams that are most likely headed to state in each division. Only new No. 1 team this week is La Jolla Country Day in Division IV.

Thanks to an upset by Serra of Gardena over Windward of Los Angeles, the new No. 1 in this week's CIF Division IV state girls basketball rankings by Cal-Hi Sports is La Jolla Country Day.

The Torreys of coach Teri Bamford have even more on their minds, of course, than a CIF state crown as there's a chance they could be State Team of the Year for the first time.

The first step toward that will be the CIF regional playoffs over the next two weeks. La Jolla Country Day could not get past Windward in last year's regional final and could play the Wildcats again in this year's final. The good news about that is that just to get into that game Windward is probably going to have to play Serra again and win this time on the road.

All of the other four No. 1 teams according to CIF divisions from last week remain the same: Mater Dei of Santa Ana (D1), St. Mary's of Stockton (D2), Bishop O'Dowd of Oakland (D3) and Mission Prep of San Luis Obispo (D5).

With help from Stockton office assistant editor Paul Muyskens, here is the sixth listing of girls teams this season with analysis and bubble teams for each division (records listed after regional playoff games played on Wednesday, March 7 but rankings do not include any results from later in the week; previous ranking in parentheses):

February, 28, 2012
2/28/12
4:58
PM ET
By
Harold Abend
| ESPN.com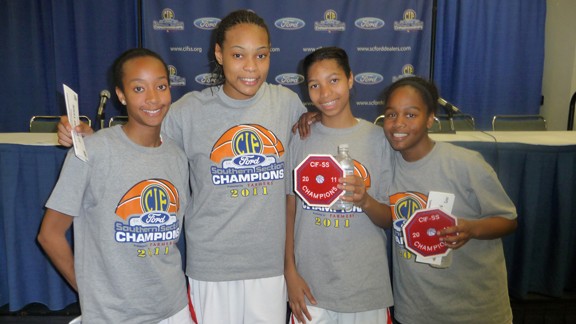 Mark Tennis/ESPNHSRejane Verin (second from left) and the rest of the Gardena Serra girls have earned a return trip to the CIFSS championships in Anaheim.
Important announcement from Cal-Hi Sports
|
Archived Cal-Hi Sports content
Serra of Gardena posts two eye-opening wins and goes from unranked to No. 16 in this week's rankings. The Cavaliers take on No. 1 Windward in CIFSS final.
The Cal-Hi Sports caravan was busy last week covering mostly boys in the CIF North Coast Section and CIF Central Coast Section, but we did have an opportunity to take in the Carondelet of Concord versus Northgate of Walnut Creek quarterfinal matchup in the NCS that preceded the host De La Salle boys game in Concord.
The Cougars led from start to finish, bolting out to a 24-9 lead after one quarter en route to an 87-58 victory.
Notre Dame-bound senior guard
Hannah Huffman
led the way with 22 points and seven rebounds with three assists. Super sophomore
Natalie Romeo
added 14 points, four rebounds, three assists and three steals. Senior
Melissa Russi
chipped in with 11 points.
Top-ranked Windward, meanwhile, proved that no matter how good you are, a poor shooting night in the playoffs can keep a game close, especially against a quality opponent like St. Bernard of Playa del Rey, which moved up to D4 after finishing as the D5 state runner-up last season.
Windward prevailed 59-52 in the CIF Southern Section Div. 4AA semifinal, but it was anything but a cakewalk.
"It's a good thing
Imani (Stafford)
showed up and that
Jordin Canada
wasn't going to let us lose," Windward coach
Steve Smith
told Cal-Hi Sports.
"We were 2-for-18 on threes and they dared us to shoot it," continued Smith.
Stafford, who is still not totally at full tilt after rehabbing the summer and fall, missed several layups and only finished with 10 points, but the 6-foot-7 Texas-bound post had 21 rebounds, six blocks, and altered several shots that missed.
Sophomore Canada had a game-high 19 points (four rebounds, three steals, two assists) and along with Stafford, the pair keyed a 13-4 run that pushed the Wildcats' lead to 50-37 early in the fourth quarter and sealed the deal.
(Through games played on Saturday, Feb. 25)
(Last week's ranking in parentheses)
1. (1) Windward (Los Angeles) 27-3
Coach Smith has been raving about the play of sophomore Kristen Simon. "Next year, this will be her team, but right now she's our second-leading scorer and rebounder coming off the bench as the sixth girl." Against St. Bernard, Simon had eight points and 10 rebounds. Earlier in the week, in a 66-49 win over JSerra of San Juan Capistrano, she had 11 points and nine rebounds. Next up is a CIFSS D4AA championship game matchup with new No. 17 Serra of Gardena, a 73-62 upset winner of second-seed and previous No. 17 Oaks Christian of Westlake Village.