High-SchoolCalifornia:

Lakewood
April, 23, 2012
4/23/12
9:18
PM ET
After first four teams from last week, it's the usual chaos as many top squads split a pair or lost in league matchups. Lakewood, J.W. North move back up into the top five.
Other highlights from this week's baseball rankings include:
Deer Valley of Antioch rocketing to No. 11 from unranked after series of S.F. Bay Area upsets.
Jesuit of Carmichael beats St. Mary's of Stockton to earn its way back into the top 20.
Other newcomers are Bonita of La Verne and El Capitan of Lakeside.
Click here to see the complete list within the ESPNHS rankings tool.
April, 3, 2012
4/03/12
9:26
PM ET
California shows rest of the nation its strength in the sport with 1-2 finish at National High School Baseball Invitational. Mater Dei's title jumps the team to No. 2 in the state, but not quite all the way to No. 1 because St. Francis of Mountain View started this week still unbeaten.
Other highlights from this week's baseball rankings include:
Harvard-Westlake back up to No. 3 and Orange Lutheran up to No. 5 after both knock off nationally ranked teams in North Carolina.
Lakewood beats Long Beach Wilson in pitching duel and gets a rankings bump as well.
Newcomers are Esperanza of Anaheim, Rancho Buena Vista and Palo Alto
Click here to see the complete list within the ESPNHS rankings tool.
February, 22, 2012
2/22/12
6:13
PM ET
By
Mark Tennis
| ESPN.com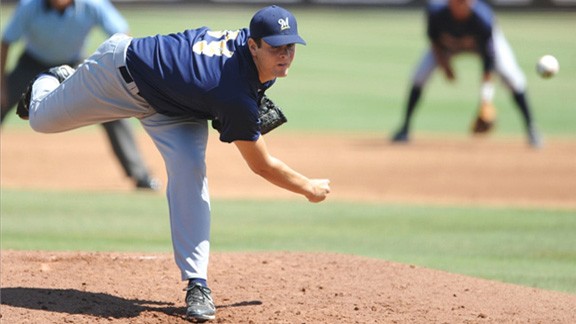 Scott Kurtz/ESPNHSLucas Giolito may be a first round pick in the 2012 MLB Draft.
Important announcement from Cal-Hi Sports
|
Archived Cal-Hi Sports content
Harvard-Westlake may have one of the best 1-2 pitching duos ever, but against the super-tough competition in Southern California it's no guarantee for anything. The Wolverines start out the spring No. 2 in the state behind Mater Dei of Santa Ana.
Much of the preseason attention for California baseball this spring has centered on the pitching combination of Lucas Giolito and Max Fried at Harvard-Westlake of North Hollywood.
Giolito was one of the top junior hurlers in the nation last season for the Wolverines and became teamed up with Fried when the athletic program at nearby Montclair Prep of Van Nuys, which is where Fried played last season, was discontinued.
Giolito was recently ranked as the No. 1 right-handed pitching prospect by ESPNHS Baseball while Fried was given the same ranking among lefties.
No matter what the two accomplish this spring and where they are picked in the Major League Baseball draft, it still will take many years before they can claim to be the best pair of pitchers any school in California has ever had.
That claim right now would have to go to Fresno High, which had two future 20-game winners in the big leagues leading the way for its famed 1958 team that went 25-1 with its only loss coming to a college freshman team. Those two were Dick Ellsworth (who later won 20 for the Chicago Cubs) and Jim Maloney (who won 20 for the Cincinnati Reds).
There's more to elite level baseball teams, of course, than pitching. There's defense, hitting for power, hitting in the clutch, base-running and sound coaching. Even the best and most talented baseball teams in the state we've seen in the last 30 years don't always win in the playoffs. That's just the nature of the sport itself.
The one team that seems to have the best combination of all of those factors – at least at the start of the season – is Mater Dei of Santa Ana. The Monarchs won the CIF Southern Section Division I title two years ago and should be outstanding this spring.
For the complete preseason top 20 state rankings, click here to go straight to the ESPNHS rankings tool.