ESPNHS California:

Long Beach Poly
August, 27, 2012
8/27/12
9:12
PM ET
By
Mark Tennis
| ESPN.com
Writeups are deeper and offer more analysis than ever before. This week's newcomers are led by St. Bonaventure and Bishop Amat. Elk Grove and Westlake among highest risers.

Thanks to Paul Muyskens and Harold Abend for contributing information and writeups. All rankings through games played Saturday night, Aug. 25. Check back later this week for Week 1 CIF State Bowl Game rankings and for State Stat Stars of the Week. If you check back and no longer see Cal-Hi Sports content on an ESPN page, please go to our twitter page @CalHiSports or our Facebook page for updates.

1. (1) DE LA SALLE (CONCORD) 0-0
Why This Ranking: The Spartans, preseason No. 1 in the state due to the best senior talent on defense they've ever had and winners of the last three CIF Open Division bowl games, should be No. 1 in the state until another California school beats them. It doesn't matter what national ranking compilers say since none of them live even close to California.
Weekend Result: Did not play.
Up Next: The Spartans travel to meet No. 6 Bellarmine (San Jose) Friday at San Jose City College. De La Salle won in double-overtime when the two parochial powers met last season.

August, 15, 2012
8/15/12
7:55
PM ET
By
Mark Tennis
| ESPN.com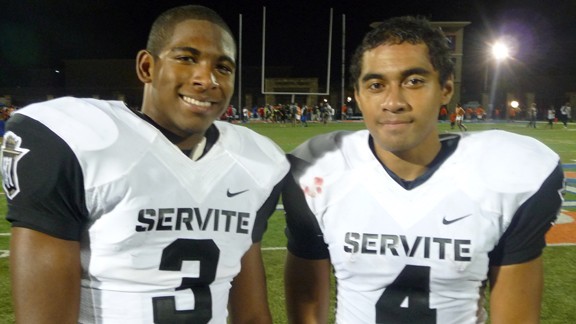 Mark Tennis/ESPNHSAndrew Moore and Mana Pauu showed flashes of great play for Servite in 2011.
Servite still has running game to challenge for CIFSS Pac-Five title, Oceanside looks for a return to the top of the San Diego Section while Rancho Cucamonga may have more D1 defensive recruits than anyone. Check this post as well for the rest of the top 25.
With contributions from Harold Abend and Paul Muyskens, here are the teams ranked from No. 11 through No. 25 in the Cal-Hi Sports preseason overall state football rankings (listed with last year's win-loss record and coach's record if available):
August, 9, 2012
8/09/12
9:05
PM ET
By
Cal-Hi Sports Staff
| ESPN.com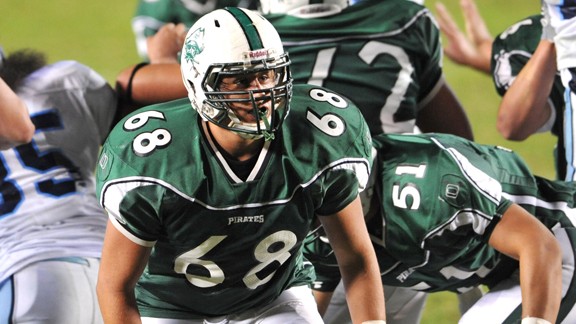 Scott Kurtz/ESPNHSLineman Jared Conway looks to block for Oceanside during 2009 CIF state bowl game.
From most league titles to consecutive section titles and most undefeated seasons, updated all-time state leaders from the Cal-Hi Sports record book in numerous postseason team categories shows Bakersfield with almost as many top totals as De La Salle of Concord.
With 20 straight league championships, 20 straight CIF North Coast Section crowns and three straight CIF Open Division state bowl titles, there's no secret that the legendary De La Salle of Concord football program owns a truckload of state records. But the Spartans are not alone as a storied program in the Golden State. Bakersfield still tops all schools for most section titles, most CIF state titles and most undefeated seasons.
Here is an updated look at the
Cal-Hi Sports
state football postseason team success categories (prior to the start of 2012 season):
July, 19, 2012
7/19/12
12:41
PM ET
By
Mark Tennis
| ESPN.com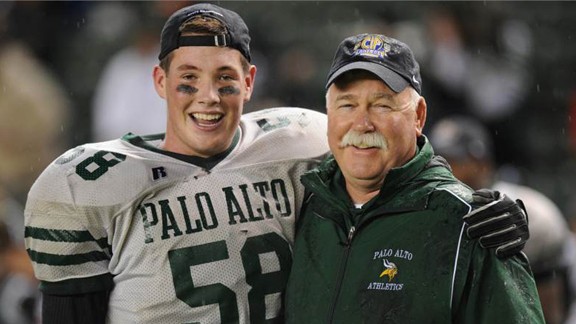 Scott Kurtz/ESPNHSKevin Anderson (left) and head coach Earl Hansen are shown after Palo Alto won 2010 CIF Division I title.
For the latest installment of our Cal-Hi Sports state football record updates, here is the new list for schools with the most all-time reported wins. Bakersfield continues to lead while Palo Alto may be about to move up into the top four.
In the last three seasons, including a 14-0 CIF Division I state title team for 2010, Palo Alto's football program has moved up two spots on the all-time state list for most varsity wins. If the Vikings continue to do well (they were 10-3 last season and reached the CIF Central Coast Section Open Division final), they could rise past two more schools this fall and settle in at No. 4.
Bakersfield, which went 13-0 in 2011 and appears to be just as loaded and maybe even better for 2012, has widened its lead over No. 2 Long Beach Poly in the last two years. The Drillers also are now six in front of the Jackrabbits on the list that does not include rugby results when rugby was considered as the alternative for 11-man football in the 1910s. Bakersfield and Long Beach Poly meet on Sept. 14 at Veteran's Stadium.
Here is the list of schools with 500 or more all-time varsity wins:
May, 15, 2012
5/15/12
3:53
PM ET
Orange Lutheran starts the post-season as the state's No. 1 team with Mater Dei and Clovis West right behind. Loss by Harvard-Westlake to Loyola drops the Wolverines to No. 4.

Other highlights from this week's baseball rankings include:
Vista continuing to climb in all of the rankings and is up to No. 5 in the state and No. 16 in the nation.
Campolindo avenging one of its losses and going back up almost to the top 10.
L.A. City powerhouse Chatsworth going in as a top 20 newcomer along with Pacifica of Garden Grove and Long Beach Poly.
Click here to see the complete list within the ESPNHS rankings tool.
March, 17, 2012
3/17/12
4:32
PM ET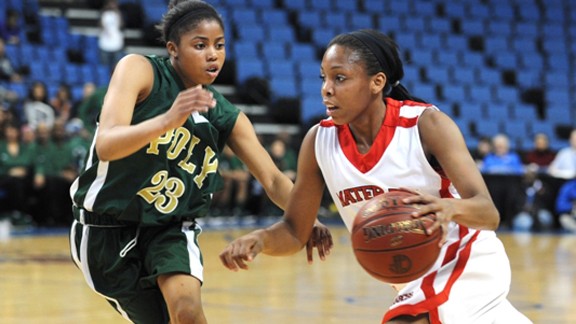 Scott Kurtz/ESPNHSNirra Fields drives into the lane against L.B. Poly's Arica Carter.
L.B. Poly player's seizure puts D1 final (won by Mater Dei) in perspective. La Jolla Country Day takes D4 crown while other victors include J.W. North (D2), Laguna Hills (D3) and Mission Prep (D5).
The CIF Southern Regional title games were played at Citizens Bank Arena in Ontario (Divisions 1-3) and at Colony High School in Ontario (Divisions 4-5). Writeups by Ronnie Flores and Mark Tennis. Contributing: Harold Abend.
Division I:
Mater Dei (Santa Ana) 54, Poly (Long Beach) 43
In a game between two teams that have played memorable playoff games in recent years with a plethora of talent on the floor, this game was a bit different. There wasn't overwhelming talent and both teams, especially Mater Dei (19 turnovers), didn't executive particularly well.
But when a team has championship experience, it finds ways to win. In this game, that was especially important considering an unfortunate incident that overshadowed the action with 3:56 remaining in the third quarter.
March, 13, 2012
3/13/12
2:00
PM ET
By
Harold Abend
| ESPN.com
Summit beating Santiago and Sac High getting some love accounts for the only changes in this week's rankings. Regional semis on Tuesday, though, could produce upset or two.

The first two rounds of the CIF Southern and Northern Regional playoffs went pretty much as seeded with a few exceptions.

It's this week that the proverbial rubber meets the road, since we'll know by Saturday night which teams will be playing for a state titles in Sacramento at Power Balance Pavilion on March 23-24.

The Cal-Hi Sports caravan was in San Francisco last week to see Kentfield Marin Catholic pull out an exciting 45-44 overtime victory over Mercy of San Francisco in Division IV action. Marin Catholic then went on the road to San Andreas where it lost 33-31 to Calaveras of San Andreas in the quarterfinals.

(Through games played on Saturday, March 10)
(Last week's ranking in parentheses)

1. (1) Mater Dei (Santa Ana) 31-3
The Monarchs will play a doubleheader with the boys once again this week after Coach Kevin Kiernan's girls won two games pretty handily last week, including ending the run of Huntington Beach in the quarterfinals with an 80-52 victory. Jordan Adams led the way against the Beach with a double-double 24 points and 13 rebounds (six assists, three steals) and Nirra Fields had 18 points after going for 25 in a 77-35 opening round win over Burbank. If Adams, after nursing an ankle injury the last two months, is rolling again with Fields, the Monarchs have to be heavy favorites to win a third straight Division I state title. They still have to deal with a hot Summit team on Tuesday to continue the run. The Long Beach Poly at Brea Olinda winner then looms before hotel rooms in Sacramento can be booked.

February, 29, 2012
2/29/12
1:09
AM ET
By
Ronnie Flores
| ESPN.com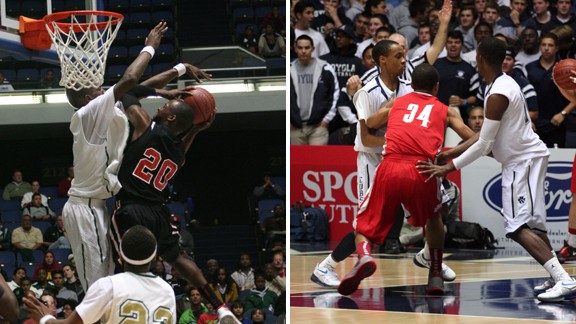 Andrew Drennen/ESPNHSThe CIFSS-Div IAA semi-finals came down to the wire in both games. In the end it will be a Mater Dei and Long Beach Poly final on Saturday.
Mater Dei and Long Beach Poly will meet in highly-anticipated CIF Southern Section Division I-AA final in a match up of state's two top-ranked teams.
Anaheim, Calif. -- The boys basketball team at Etiwanda (Etiwanda, Calif.) steadily climbed in the
POWERADE FAB 50
rankings by utilizing the most steady aspect of the game -- a vice grip man-to-man defense.
Despite not starting a player taller than 6-foot-4, the No. 32 Eagles rolled into their CIF Southern Section semifinal showdown with No. 17 Poly (Long Beach, Calif.) riding a 26-game winning streak behind consistent defensive efforts. Facing California's No. 2-ranked team, Etiwanda ran into a bigger, more athletic unit that played a great brand of defense of its own.
Poly used that size advantage, some timely free throw shooting and two big blocks down the stretch to record a 56-47 victory and hand Etiwanda its second loss of the season.
February, 28, 2012
2/28/12
4:58
PM ET
By
Harold Abend
| ESPN.com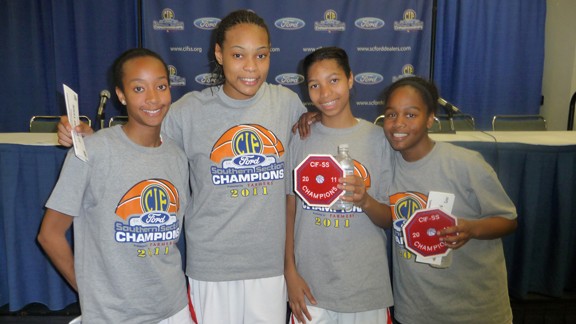 Mark Tennis/ESPNHSRejane Verin (second from left) and the rest of the Gardena Serra girls have earned a return trip to the CIFSS championships in Anaheim.
Important announcement from Cal-Hi Sports
|
Archived Cal-Hi Sports content
Serra of Gardena posts two eye-opening wins and goes from unranked to No. 16 in this week's rankings. The Cavaliers take on No. 1 Windward in CIFSS final.
The Cal-Hi Sports caravan was busy last week covering mostly boys in the CIF North Coast Section and CIF Central Coast Section, but we did have an opportunity to take in the Carondelet of Concord versus Northgate of Walnut Creek quarterfinal matchup in the NCS that preceded the host De La Salle boys game in Concord.
The Cougars led from start to finish, bolting out to a 24-9 lead after one quarter en route to an 87-58 victory.
Notre Dame-bound senior guard
Hannah Huffman
led the way with 22 points and seven rebounds with three assists. Super sophomore
Natalie Romeo
added 14 points, four rebounds, three assists and three steals. Senior
Melissa Russi
chipped in with 11 points.
Top-ranked Windward, meanwhile, proved that no matter how good you are, a poor shooting night in the playoffs can keep a game close, especially against a quality opponent like St. Bernard of Playa del Rey, which moved up to D4 after finishing as the D5 state runner-up last season.
Windward prevailed 59-52 in the CIF Southern Section Div. 4AA semifinal, but it was anything but a cakewalk.
"It's a good thing
Imani (Stafford)
showed up and that
Jordin Canada
wasn't going to let us lose," Windward coach
Steve Smith
told Cal-Hi Sports.
"We were 2-for-18 on threes and they dared us to shoot it," continued Smith.
Stafford, who is still not totally at full tilt after rehabbing the summer and fall, missed several layups and only finished with 10 points, but the 6-foot-7 Texas-bound post had 21 rebounds, six blocks, and altered several shots that missed.
Sophomore Canada had a game-high 19 points (four rebounds, three steals, two assists) and along with Stafford, the pair keyed a 13-4 run that pushed the Wildcats' lead to 50-37 early in the fourth quarter and sealed the deal.
(Through games played on Saturday, Feb. 25)
(Last week's ranking in parentheses)
1. (1) Windward (Los Angeles) 27-3
Coach Smith has been raving about the play of sophomore Kristen Simon. "Next year, this will be her team, but right now she's our second-leading scorer and rebounder coming off the bench as the sixth girl." Against St. Bernard, Simon had eight points and 10 rebounds. Earlier in the week, in a 66-49 win over JSerra of San Juan Capistrano, she had 11 points and nine rebounds. Next up is a CIFSS D4AA championship game matchup with new No. 17 Serra of Gardena, a 73-62 upset winner of second-seed and previous No. 17 Oaks Christian of Westlake Village.
February, 20, 2012
2/20/12
8:18
PM ET
Important announcement from Cal-Hi Sports
|
Archived Cal-Hi Sports content
It's the calm before the storm as every ranked team except two has little difficulty in games played last week. Next week, changes should occur due to tough matchups in the CIF Southern Section.
Other highlights of this week's rankings include:
Pacific Hills of Los Angeles returns at No. 20 in only change of the week with Sacred Heart Cathedral falling out.
Salesian, De La Salle and Newark Memorial wrap up regular seasons and move into the CIF North Coast Section playoffs as D4, D1 and D2 strong favorites.
Lamond Murray Jr. and Jason Kidd Jr. both have strong outings for their state-ranked squads.
Get all the details in the ESPNHS rankings tool.
February, 7, 2012
2/07/12
10:03
PM ET
By
Harold Abend
| ESPN.com
Important announcement from Cal-Hi Sports
|
Archived Cal-Hi Sports content
Major changes this week after the first six due to Orange County and Inland Empire teams falling. Big movers led by Lynwood (now in the top 10), Carondelet and Huntington Beach.
There was a ceremony at halftime of the San Diego Mission Bay at Lynwood game last Saturday night to retire the jersey of current Mission Bay coach
Sa'de Wiley-Gatewood
, the 2002 Ms. Basketball State Player of the Year who led Lynwood to the CIF Division I state championship that season as a sophomore.
By the time the game was over, despite a 31-point performance by previous State Athlete of the Week
Briteesha Solomon
, the pupil was schooled by the teacher, as longtime Lynwood coach
Ellis Barfield
and his Lady Knights breezed to a 70-51 victory over the Bucs.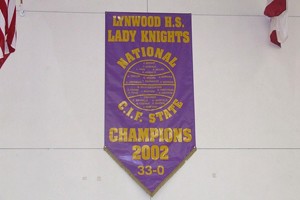 Cal-Hi SportsSa'de Wiley-Gatewood, who had her No. 15 retired last weekend when her Mission Bay team lost to Lynwood, led the Lady Knights to the 2002 FAB 50 national title.
It's been a while since Barfield, now in his 19th season at Lynwood, has had a team in the spotlight.
The 2003 team with Wiley-Gatewood as a junior got Barfield his third CIF Division I state championship, but since then, while they've been taking care of business in the San Gabriel Valley League and making some noise in the CIFSS playoffs, it hasn't been until this year that Barfield has had a team capable of making a run to Sacramento.
Plus, with the new Southern Section playoff format based on enrollment and performance over the past four years, Lynwood is now Division II and avoids the crowded D1 bracket.
Like his teams of old, Barfield has a lot of girls that can play, with seven of them averaging over five points a game.
"We have a lot of kids under the radar that don't know how good they are," Barfield said.
Barfield has coached senior point guard
Shahana Zeigler
(8.0 ppg, 3.8 rpg, 2.8 assists, 2.4 steals) since sixth grade. Versatile 6-foot senior
Jolana Ford
can play any of the positions down low.
Amber Blockmon
, a 6-foot-2 junior, is long, slender and quick, and she can hit the outside shot. According to Barfield, she's getting a lot of looks from colleges.
"Putting the kids in college, that's what keeps me here," Barfield told Cal-Hi Sports.
Unfortunately, due to a tragic loss to the California girls basketball community, the start time of Saturday's jersey ceremony and game with Mission Bay had to be pushed back to accommodate a memorial service for former Long Beach Poly star
Judith Smith
. Smith recently passed away at the age of 25 after battling health issues for several years.
(Previous ranking in parentheses)
(After games of Saturday, Feb. 4)

1. (1) Windward (Los Angeles) 21-3
The Wildcats proved on the court they are deserving of top billing in California after winning 65-62 at No. 2 Mater Dei in the Nike Extravaganza on Friday night in Santa Ana. That makes it two straight weeks the Wildcats have beaten a California heavyweight after the close win over Long Beach Poly. Macchi Smith, the hero of the victory over Poly, came through again. The sophomore guard had a team-high 16 points, including a rebound and putback off a missed free-throw by Imani Stafford with 26 seconds left that pretty much sealed the deal. The Wildcats now finish up Alpha League play and then the CIFSS playoffs, but at this point it's hard not to look ahead to a Division IV SoCal showdown with La Jolla Country Day.
September, 6, 2011
9/06/11
9:49
PM ET
(Previous ranking in parentheses)
(After games of Saturday, Sept. 3)
For writeups on each of these teams, please check out our complete
Cal-Hi Sports page
.
1. (1) De La Salle (Concord) 1-0
2. (2) Mission Viejo 1-0
3. (3) Servite (Anaheim) 1-0
4. (5) Centennial (Corona) 0-0
5. (13) Long Beach Poly (Long Beach) 1-0
6. (6) St. Bonaventure (Ventura) 0-0
7. (8) Alemany (Mission Hills) 1-0
8. (7) Grant (Sacramento) 1-1
9. (10) Santa Margarita (Rancho SM) 1-0
10. (18) Bellarmine (San Jose) 0-1
11. (12) Crespi (Encino) 1-0
12. (9) Oaks Christian (Westlake Village) 0-1
13. (33) Lincoln (Stockton) 2-0
14. (4) Pleasant Grove (Elk Grove) 1-1
15. (15) Buhach Colony (Atwater) 2-0
16. (16) Bishop Amat (La Puente) 1-0
17. (17) California (San Ramon) 1-0
18. (23) Granite Bay 2-0
19. (21) Palo Alto 1-0
20. (28) Westlake (Westlake Village) 1-0
21. (40) Eastlake (Chula Vista) 1-0
22. (22) Vista Murrieta (Murrieta) 0-0
23. (NR) Lutheran (Orange) 1-0
24. (NR) Carson 1-0
25. (11) Oceanside (Oceanside, Calif.) 1-1
Dropped Out From Preseason Top 25:
Previous No. 14 Clovis West (Fresno); No. 19 Helix (La Mesa); No. 20 Folsom; No. 24 Mater Dei (Santa Ana); No. 25 St. Mary's (Stockton).
Teams On The Bubble (alphabetical):
Del Oro (Loomis) 1-1; Folsom 1-1; Helix (La Mesa) 0-1; Mater Dei (Santa Ana) 0-1; Oak Grove (San Jose) 1-0; Palma (Salinas) 0-0; Pittsburg 1-0; Roosevelt (Corona) 0-0; San Clemente 1-0; St. John Bosco (Bellflower) 1-0; St. Mary's (Stockton) 0-1; Valley Christian (San Jose) 0-0.