High-SchoolCalifornia:

Mater Dei
May, 15, 2012
5/15/12
3:53
PM ET
Orange Lutheran starts the post-season as the state's No. 1 team with Mater Dei and Clovis West right behind. Loss by Harvard-Westlake to Loyola drops the Wolverines to No. 4.

Other highlights from this week's baseball rankings include:
Vista continuing to climb in all of the rankings and is up to No. 5 in the state and No. 16 in the nation.
Campolindo avenging one of its losses and going back up almost to the top 10.
L.A. City powerhouse Chatsworth going in as a top 20 newcomer along with Pacifica of Garden Grove and Long Beach Poly.
Click here to see the complete list within the ESPNHS rankings tool.
March, 24, 2012
3/24/12
6:03
PM ET
By
Mark Tennis & Ronnie Flores
| ESPN.com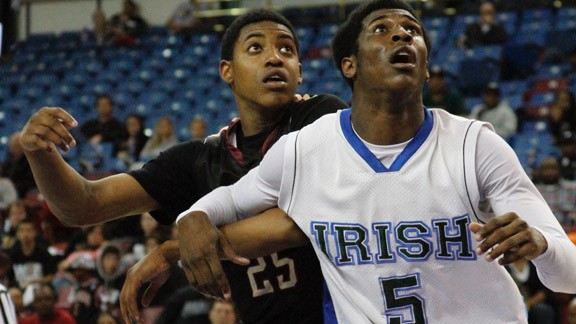 Willie Eashman/ESPNHSAlemany's Malik Anderson battles Sacred Heart Cathedral's Taylor Johns for position.
Behind 30 points from Katin Reinhardt, Mater Dei beats Sheldon in D1 final and gets state record ninth championship for coach Gary McKnight. Alemany also completes quest with D3 victory while Village Christian upends defending champ for first D5 crown.

The CIF Division I, Division III and Division V state title games in boys basketball were played at Power Balance Arena in Sacramento. The Division II and Division IV titles were decided on Friday (
click here for writeups
).
Division I:
Mater Dei (Santa Ana) 66, Sheldon (Sacramento) 48
Two hours after Mater Dei girls' coach Kevin Kiernan became the winningest in CIF history, boys' coach Gary McKnight topped even that by earning his ninth and the program's second in a row.
McKnight, who began coaching the team in 1983, broke the state record of eight set in 1997 by retired Crenshaw of Los Angeles coach Willie West.
March, 24, 2012
3/24/12
4:55
PM ET
By
Harold Abend & Mark Tennis
| ESPN.com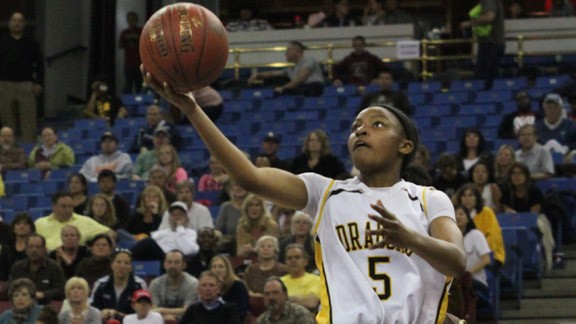 Willie Eashman/ESPNHSFreshman Aisia Robertson gave Bishop O'Dowd a lift in D3 final.
Mater Dei three-peats by pulling away from Berkeley in what looks like final game for coach Cheryl Draper. Defensive record also set by Bishop O'Dowd in Division III victory while Brookside Christian brings another state title to Stockton with D5 triumph.

The CIF Division I, Division III and Division V state title games in girls basketball were played at Power Balance Arena in Sacramento. The Division II and Division IV titles were decided on Friday.
Division I:
Mater Dei (Santa Ana) 57, Berkeley 40
In a game that was very reminiscent of the 2011 Division I state title game matchup, Mater Dei (34-3) overcame a first quarter deficit to win easily and claim its third straight state championship.
The 2010 title came in Division II with the last two in the state's big school division.
The win also solidifies Mater Dei's No. 1 position in the final Cal-Hi Sports rankings and a top 10 finish in the POWERADE FAB 50 national rankings where the Monarchs were No. 8 this past week.
February, 29, 2012
2/29/12
1:09
AM ET
By
Ronnie Flores
| ESPN.com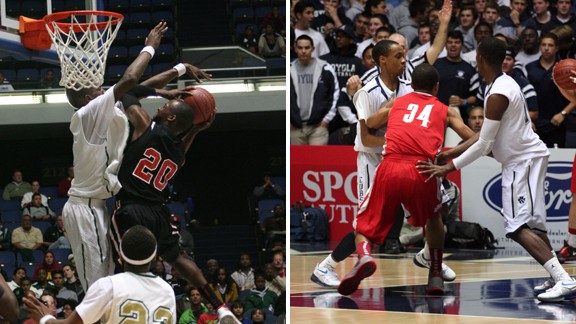 Andrew Drennen/ESPNHSThe CIFSS-Div IAA semi-finals came down to the wire in both games. In the end it will be a Mater Dei and Long Beach Poly final on Saturday.
Mater Dei and Long Beach Poly will meet in highly-anticipated CIF Southern Section Division I-AA final in a match up of state's two top-ranked teams.
Anaheim, Calif. -- The boys basketball team at Etiwanda (Etiwanda, Calif.) steadily climbed in the
POWERADE FAB 50
rankings by utilizing the most steady aspect of the game -- a vice grip man-to-man defense.
Despite not starting a player taller than 6-foot-4, the No. 32 Eagles rolled into their CIF Southern Section semifinal showdown with No. 17 Poly (Long Beach, Calif.) riding a 26-game winning streak behind consistent defensive efforts. Facing California's No. 2-ranked team, Etiwanda ran into a bigger, more athletic unit that played a great brand of defense of its own.
Poly used that size advantage, some timely free throw shooting and two big blocks down the stretch to record a 56-47 victory and hand Etiwanda its second loss of the season.
February, 3, 2012
2/03/12
10:55
PM ET
By
Harold Abend
| ESPN.com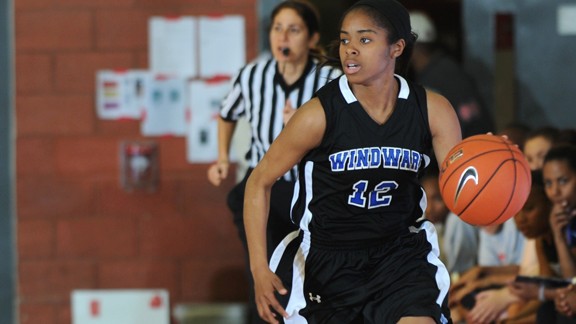 Scott Kurtz/ESPNHSWinward (Los Angeles) sophomore phenom Jordin Canada was one of three girls in double- figure scoring (10 pts.) in the top-ranked Wildcats' 65-62 win over No. 2 Mater Dei (Santa Ana).
Important announcement from Cal-Hi Sports
|
Archived Cal-Hi Sports content
Victory by the Wildcats gives them the edge if it comes down to them and Mater Dei at the end of the season for the girls' hoops State Team of the Year honor since the two teams will be in different divisions in the postseason. Go inside here as well for highlights of other games played Friday at the Nike Extravaganza, including Mater Dei boys.
Related:
Nike Extravaganza Saturday preview
The marquee game of Friday's session at the
Nike Extravaganza
pitted the top two teams in the
Cal-Hi Sports
girls state rankings was everything it was cracked up to be.
In the end, it was the size of No. 1 Windward of Los Angeles that proved the undoing of host No. 2 Mater Dei of Santa Ana in a 65-62 Wildcats' victory.
"Windward is a great team," said Mater Dei coach Kevin Kiernan. "They executed and moved the ball real well and beat us pretty good on the boards."
Windward (20-2) used its size advantage to finish with a 45-22 rebounding advantage.
Macchi Smith, the hero of Windward's 56-55 victory last Saturday over No. 4 Long Beach Poly, came through again. The sophomore guard had a team-high 16 points, including a rebound and put back off the front end of a one-and-one free-throw attempt by
Imani Stafford
with 26 seconds left that sealed the deal.
The 6-foot-7 Texas-bound Stafford only had nine points, but she pulled down 16 rebounds and blocked three shots, including a 3-point attempt by Mater Dei's Khalia Lark with 2.5 seconds left.
January, 16, 2012
1/16/12
7:41
PM ET
By
Brandon Parker
| ESPN.com
SPRINGFIELD, Mass. — It's safe to say that
Shabazz Muhammad
is at the top of UNLV's — and just about every other college's — wish list this year. And while Muhammad was his usual
spectacular self
on Monday, it was the lights-out performance by another recruit at the Hoophall Classic that had plenty of Runnin' Rebels fans salivating.
UNLV-bound
Katin Reinhardt
was downright unconscious, draining a tournament-record-tying nine 3-pointers en route to 35 points and an 88-50 win for Mater Dei (Santa Ana, Calif.) over Christ the King (Middle Village, N.Y.).
While Christ the King came in with hopes of slowing Reinhardt, the senior guard knew early on that Monday could be a special night.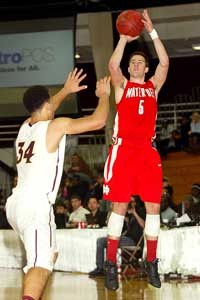 J. Anthony Roberts/ESPNHSKatin Reinhardt lit Christ the King up for 35 points in the Monarchs' big win.
"Usually when I start the game with a dunk, that gets my legs going and me in a rhythm," Reinhardt said. "So after I got that dunk in the first quarter, I felt like, 'OK, this could be big.'"
Stanley Johnson
also came up big, snatching 15 rebounds to help the Monarchs control the boards and capitalize on second-chance opportunities.
On the other hand, Christ the King, just two days removed from a tournament in Missouri, looked the part of a jet-lagged squad. The Royals were beaten early and often in transition by Mater Dei and shot just 26 percent from the field.
Omar Calhoun
tried to keep the Royals in it, but an off night (8-for-22) from the UConn recruit and a third quarter that saw the Royals get outscored 27-7 ultimately did them in.
"We saw some effects of Mater Dei," Royals coach Joe Arbitello said when asked if the long flight affected his team. "I saw Reinhardt play before and he played really well tonight, too. We were just a step slower than them. But losses like this can happen. We know we can compete."
The Monarchs, ranked No. 22 in the
POWERADE FAB 50
, improved to 16-2 on the year.
Brandon Parker covers high school sports for ESPNHS. Follow him on Twitter @brandoncparker or email him at brandon.c.parker@espn.com.