High-SchoolCalifornia:

Mission Viejo
August, 15, 2012
8/15/12
7:55
PM ET
By
Mark Tennis
| ESPN.com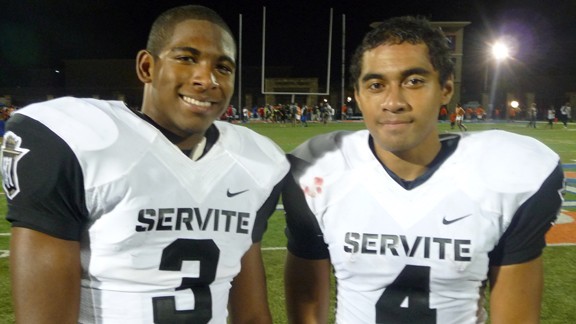 Mark Tennis/ESPNHSAndrew Moore and Mana Pauu showed flashes of great play for Servite in 2011.
Servite still has running game to challenge for CIFSS Pac-Five title, Oceanside looks for a return to the top of the San Diego Section while Rancho Cucamonga may have more D1 defensive recruits than anyone. Check this post as well for the rest of the top 25.
With contributions from Harold Abend and Paul Muyskens, here are the teams ranked from No. 11 through No. 25 in the Cal-Hi Sports preseason overall state football rankings (listed with last year's win-loss record and coach's record if available):
May, 9, 2012
5/09/12
3:39
PM ET
By
Mark Tennis
| ESPN.com
Pacifica of Garden Grove and Norco still lead the pack as the regular season in many places in the state ends this week.

The first seven positions in this week's new state softball top 20 remained in place, but there was some scrambling at the bottom.

Tuesday games are not normally taken into account for the weekly rankings, but it was impossible not to check a couple of key scores. That ended up helping Camarillo join the top 20 as a newcomer at No. 19 and also enabled Del Oro of Loomis to stay in at No. 20 despite taking a loss last week to Roseville.

(Through games played Monday, May 7) (Some results from Tuesday, May 8 also included)
(Contributing: Harold Abend, Paul Muyskens) (Previous ranking in parentheses)

1. (1) Pacifica (Garden Grove) 25-1
The Mariners remain the top team in the state (they also are No. 1 in the POWERADE FAB 50) after an 11-1 road win over Tustin and a 7-2 home win over Western of Anaheim. Nicole DeWitt led the way in the first win of the week as she homered and drove in four runs. Pacifica looks to wrap up an undefeated Empire League championship this week.

February, 4, 2012
2/04/12
5:52
PM ET
By
Ronnie Flores
| ESPN.com
Important announcement from Cal-Hi Sports
|
Archived Cal-Hi Sports content
Mater Dei, L.B. Poly look like state's top two teams in Saturday wins, but Loyola falls hard to Woodland Hills Taft
Nike Extravaganza:
Saturday Evening Recap
|
Friday Recap
|
Preview
Westchester (Los Angles) 45 , Capistrano Valley (Mission Viejo) 42
Since his team wasn't running the sets he wanted and with the game in the balance, Westchester head coach Ed Azzam had simple instructions for his team.
"I told them to go try and steal the ball," Azzam said of his team's effective full-court press late in the game. "We're going to get a steal, or they were going to make a three or lay-up."
With 4:26 remaining in the game, Westchester took a lead it would not relinquish on a steal that led to a pair of free throws by senior Je'ron Primus. He came back, stole the inbounds pass and converted a conventional 3-point play. For Primus, who led the Comets in scoring with 15 points, it was his eighth consecutive point and gave the Comets just enough cushion after they picked up the defensive intensity.
Westchester (19-5) played solid defense for the last 34 seconds of the game as Capistrano Valley (21-3) could not capitalize with a solid look on its last possession. The only shot the Cougars were able to put up was a off-balance, desperation 3-pointer from 22 feet out.
"We had a foul to give and it was the best defensive possession we had the whole game," Azzam said. "You got to give the kids credit for that one."
The flow of the game picked up in the second quarter as the teams went into halftime tied 18-18. Capo Valley had a three point lead (31-28) entering the fourth quarter.
Jonny Bates led Capo Valley with 17 points. Capistrano Valley came into the game with two losses, its most recent being a 47-43 setback to Crenshaw (Los Angeles). The other was at the hands of state No. 1 Mater Dei (Santa Ana), 91-55.
Westchester has won six games in a row, including an upset win over state No. 17 La Verne Lutheran last week. The Comets' last loss came against rival Fairfax (Los Angeles) on January 25.