High-SchoolCalifornia:

Oaks Christian
February, 3, 2012
2/03/12
10:55
PM ET
By
Harold Abend
| ESPN.com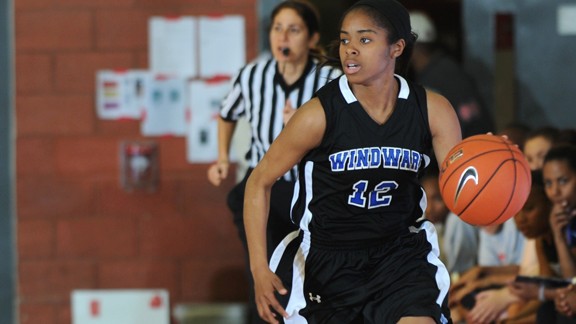 Scott Kurtz/ESPNHSWinward (Los Angeles) sophomore phenom Jordin Canada was one of three girls in double- figure scoring (10 pts.) in the top-ranked Wildcats' 65-62 win over No. 2 Mater Dei (Santa Ana).
Important announcement from Cal-Hi Sports
|
Archived Cal-Hi Sports content
Victory by the Wildcats gives them the edge if it comes down to them and Mater Dei at the end of the season for the girls' hoops State Team of the Year honor since the two teams will be in different divisions in the postseason. Go inside here as well for highlights of other games played Friday at the Nike Extravaganza, including Mater Dei boys.
Related:
Nike Extravaganza Saturday preview
The marquee game of Friday's session at the
Nike Extravaganza
pitted the top two teams in the
Cal-Hi Sports
girls state rankings was everything it was cracked up to be.
In the end, it was the size of No. 1 Windward of Los Angeles that proved the undoing of host No. 2 Mater Dei of Santa Ana in a 65-62 Wildcats' victory.
"Windward is a great team," said Mater Dei coach Kevin Kiernan. "They executed and moved the ball real well and beat us pretty good on the boards."
Windward (20-2) used its size advantage to finish with a 45-22 rebounding advantage.
Macchi Smith, the hero of Windward's 56-55 victory last Saturday over No. 4 Long Beach Poly, came through again. The sophomore guard had a team-high 16 points, including a rebound and put back off the front end of a one-and-one free-throw attempt by
Imani Stafford
with 26 seconds left that sealed the deal.
The 6-foot-7 Texas-bound Stafford only had nine points, but she pulled down 16 rebounds and blocked three shots, including a 3-point attempt by Mater Dei's Khalia Lark with 2.5 seconds left.
October, 9, 2011
10/09/11
3:24
AM ET
Check here to see which teams may be going up, which ones going down in next week's state rankings, the sixth of the 2011 regular season
After a busy Thursday night that was highlighted by Westlake's 43-21 triumph over Oaks Christian in a matchup of top 10 teams, the Friday slate of games was marked by Redlands East Valley posting a 10-7 win over No. 3 Mission Viejo. The Diablos entered the season with a number of top returnees from last year's 13-1 team and lost earlier to FAB 50 national No. 1 Don Bosco Prep of New Jersey. This loss, though, is more of a stunner, especially with the REV defense holding Mission to just one score. We can't recall of a bigger regular season win for the REV program under coach Kurt Bruich. We'll have to consult with some of our Inland Empire friends to see what they think now of the pecking order involving the Wildcats along with unbeaten Vista Murrieta and 4-1 Corona Centennial, which has that early loss to St. Bonaventure that is looking much worse with recent results although it was in a close game.
The complete Top 25 state weekend scoreboard through reported results of Friday night follows (this scoreboard will be updated after Saturday night as well):
1. De La Salle (Concord, Calif.) 4-1
Defeated Foothill (Pleasanton) 39-3.
2. Servite (Anaheim, Calif.) 4-1
Does not play.
3. Mission Viejo (Mission Viejo, Calif.) 4-2
LOST to Redlands East Valley (Redlands) 10-7.
4. Santa Margarita (Rancho SM, Calif.) 5-0
Does not play
5. Oaks Christian (Westlake Village, Calif.) 3-2
Lost to No. 10 Westlake (Westlake Village) 43-21 on Thursday.
6. Long Beach Poly (Long Beach, Calif.) 5-1
Defeated Jordan (Long Beach) 67-6.
7. St. Bonaventure (Ventura, Calif.) 4-1
Defeated Moorpark 28-17 on Thursday.
8. Centennial (Corona, Calif.) 4-1
Defeated J.W. North (Riverside) 52-34.
9. Bellarmine (San Jose, Calif.) 4-1
Defeated Valley Christian (San Jose) 48-6.
10. Westlake (Westlake Village, Calif.) 4-0
Defeated No. 5 Oaks Christian (Westlake Village) 43-21 on Thursday.
11. Vista Murrieta (Murrieta, Calif.) 5-0
Defeated Palisades (Pacific Palisades) 37-0.
12. Pleasant Grove (Elk Grove, Calif.) 5-1
Defeated Ponderosa (Shingle Springs) 58-7.
13. Del Oro (Loomis, Calif.) 5-1
Defeated Rocklin 37-7.
14. Buhach Colony (Atwater, Calif.) 6-0
Defeated Turlock 33-19.
15. California (San Ramon, Calif.) 5-0
Defeated Monte Vista (Danville) 25-24.
16. Lutheran (Orange, Calif.) 5-0
Does not play.
17. Oceanside (Oceanside, Calif.) 3-1-1
Tied Mission Hills (San Marcos) 10-10.
18. San Clemente (San Clemente, Calif.) 6-0
Defeated West Adams Prep (Los Angeles) 35-6 on Saturday.
19. Helix (La Mesa, Calif.) 5-1
Defeated Mount Miguel (Spring Valley) 49-7.
20. Clovis (Clovis, Calif.) 5-0
Does not play
21. Upland 5-0
Does not play
22. Bishop Amat (La Puente, Calif.) 5-1
Defeated Venice 38-35 on Thursday.
23. Lincoln (Stockton, Calif.) 5-1
Defeated Chavez (Stockton) 49-19.
24. Bakersfield (Bakersfield, Calif.) 5-0
Does not play.
25. Crespi (Encino, Calif.) 5-1
Defeated Taft (Woodland Hills) 56-7 on Thursday.
Teams On The Bubble (alphabetical):
Carson 2-3
Elk Grove 6-0
Dorsey (Los Angeles) 3-1
Folsom 5-1
J.W. North (Riverside) 4-1
Loyola (Los Angeles) 4-1
Mater Dei (Santa Ana) 2-3
Rancho Cucamonga 5-0
Redlands East Valley (Redlands) 5-0
Serra (San Mateo) 5-0
St. John Bosco (Bellflower) 4-1
St. Mary's (Stockton) 4-2