High-SchoolCalifornia:

Orange Lutheran
May, 22, 2012
5/22/12
2:55
PM ET
By
Mark Tennis
| ESPN.com
There could be a lot of changes next week, but this week the first 15 teams from last week are the same. Only newcomers are Heritage of Brentwood and Canyon of Anaheim.

The next two weeks of the state top 20 softball rankings are especially tricky because there are so many important games on Tuesdays. Our aim has been to get the new rankings posted at least a few hours before those games are played.

This week's most important Tuesday game is No. 2 Pacifica of Garden Grove playing No. 8 Royal of Simi Valley in the CIF Southern Section Division 1 playoffs. That score won't be included in this week's top 20, but we'll have updated info when the next divisional state rankings are compiled.

(Through games played Monday, May 21)
(Contributing: Harold Abend, Paul Muyskens)
(Previous ranking in parentheses)

May, 8, 2012
5/08/12
4:58
PM ET
Monday games are counted this week, which sure helps newcomer Pleasant Grove and hurts previous No. 2 J.W. North.

Other highlights from this week's baseball rankings include:
New No. 4 Clovis West venturing to the Oakland Coliseum and picking up a win over state-ranked Campolindo.
Orange Lutheran staying in position to probably earn top seed in CIF Southern Section Div. I playoffs.
Agoura and Tracy making top 20 debuts for the first time this season while Long Beach Wilson goes back in.
Click here to see the complete list within the ESPNHS rankings tool.

April, 3, 2012
4/03/12
9:26
PM ET
California shows rest of the nation its strength in the sport with 1-2 finish at National High School Baseball Invitational. Mater Dei's title jumps the team to No. 2 in the state, but not quite all the way to No. 1 because St. Francis of Mountain View started this week still unbeaten.
Other highlights from this week's baseball rankings include:
Harvard-Westlake back up to No. 3 and Orange Lutheran up to No. 5 after both knock off nationally ranked teams in North Carolina.
Lakewood beats Long Beach Wilson in pitching duel and gets a rankings bump as well.
Newcomers are Esperanza of Anaheim, Rancho Buena Vista and Palo Alto
Click here to see the complete list within the ESPNHS rankings tool.
March, 16, 2012
3/16/12
1:17
PM ET
By
Mark Tennis
| ESPN.com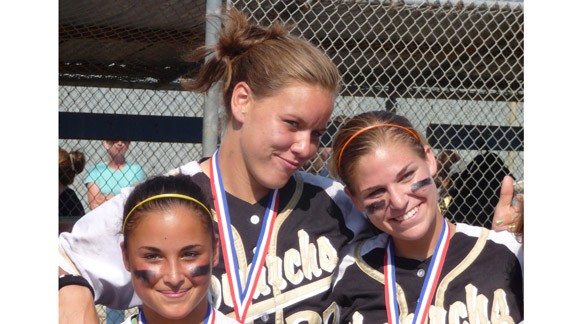 Mark Tennis/ESPNHSAmong those celebrating in 2010 when Archbishop Mitty clinched FAB 50 national title were Vanessa Alvarez (left), Keilani Ricketts (center) and Alex Arnold (right). Ricketts now stars at Oklahoma while Alvarez and Arnold are now seniors.
Norco surges to the top while other teams coming up quickly include Woodcreek, Amador Valley, Lutheran of Orange and Torrey Pines.
This week's state top 20 for girls softball was actually completed on Wednesday so that the POWERADE FAB 50 national rankings could be done, but it wasn't possible to complete the package for the California page until Friday morning. Some results from Wednesday and Thursday may not be included. Thanks to Harold Abend and Paul Muyskens for their contributions to these rankings.
(Through games played Tuesday, March 15)
(Previous ranking in parentheses)
1. (8) Norco 5-0

Coach Rick Robinson's team is stuffed with experienced, talented players and showed just how good it will be this season by winning the prestigious title of last weekend's Arizona Tournament of Champions. Among those that the Cougars beat during the week were state-ranked Chino Hills in the semifinals and previous state No. 3 Pacifica in the final.
2. (3) Pacifica (Garden Grove) 6-1

Sophomore Kaylee Carlson pitched well all weekend for the Mariners at the big tourney in Bullhead City, Ariz. Although Norco got to her for a four-run inning in the 4-0 loss in the final, Carlson was more than solid in the team's earlier wins against Taylorsville (Utah), previous state No. 1 Los Alamitos, Lakewood and Saugus.
March, 4, 2012
3/04/12
4:05
AM ET
By
Ronnie Flores
| ESPN.com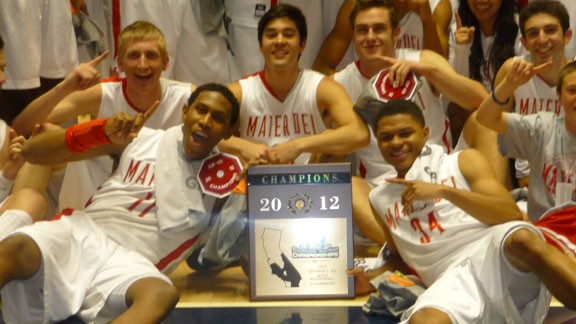 Mark Tennis/ESPNHSMater Dei standouts Xavier Johnson (left) and Jordan Strawberry (right) spread out on the floor with CIFSS title plaque in between.
According to Cal-Hi Sports record book, school's 21st section title also ties state record. Barring a regional upset or strange seeding, the Monarchs and Jackrabbits could meet again in the D1 South championship with trip to state title game on the line. Other winners in CIFSS finals on Saturday in Anaheim include Orange Lutheran, Alemany, Mayfair, Pasadena and Inglewood.
Going into the highly-anticipated CIF Southern Section Division I-AA final between state No. 1 Mater Dei of Santa Ana, the defending state champions, and No. 2 Long Beach Poly, the defending CIFSS Div. I-AA champ, Mater Dei coach Gary McKnight felt rebounding was the key.
March, 1, 2012
3/01/12
11:55
PM ET
By
Paul Muyskens & Harold Abend
| ESPN.com
Archived Cal-Hi Sports content from previous platform
Basketball still reigns with big-time totals from those such as Robert Upshaw of San Joaquin Memorial, Gabe York of Orange Lutheran and Marcus Lee of Antioch Deer Valley. But baseball joins the show as well, led by Lucas Giolito and his 100-mph fastball.
Note:
We're proud once again to collect weekly writeups of the most significant individual high school basketball totals in California. This week, we also are adding baseball for the first time this school year. We use these as the basis for updating the state record book, which has been published seven times, most recently in the spring of 2009. To report a state stat star of your own, please email highlights to Mark.Tennis@espn.com.
(After games of Saturday, Feb. 25 and some games as of Tuesday, Feb. 28; Contributing: Bob Barnett, Mark Tennis)
Leroy Abraham (Natomas, Sacramento)

He scored a game-high 39 points while teammate Marquice Clark added 24 points in a 81-77 road win against El Dorado of Placerville in Sac-Joaquin Section Division III post-season play.
Alex Fertig (Buchanan, Clovis)

The senior standout scored a game-high of 30 points in a 72-54 win over Edison of Fresno in the CIF Central Section Division I playoffs. Before the season-ending loss to Clovis West, Alex had scored scored 2,258 career points, sixth-best in section history.
February, 3, 2012
2/03/12
10:55
PM ET
By
Harold Abend
| ESPN.com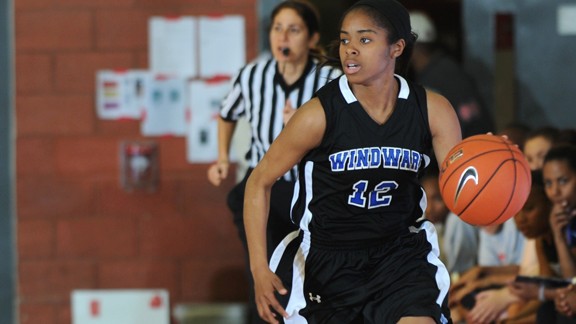 Scott Kurtz/ESPNHSWinward (Los Angeles) sophomore phenom Jordin Canada was one of three girls in double- figure scoring (10 pts.) in the top-ranked Wildcats' 65-62 win over No. 2 Mater Dei (Santa Ana).
Important announcement from Cal-Hi Sports
|
Archived Cal-Hi Sports content
Victory by the Wildcats gives them the edge if it comes down to them and Mater Dei at the end of the season for the girls' hoops State Team of the Year honor since the two teams will be in different divisions in the postseason. Go inside here as well for highlights of other games played Friday at the Nike Extravaganza, including Mater Dei boys.
Related:
Nike Extravaganza Saturday preview
The marquee game of Friday's session at the
Nike Extravaganza
pitted the top two teams in the
Cal-Hi Sports
girls state rankings was everything it was cracked up to be.
In the end, it was the size of No. 1 Windward of Los Angeles that proved the undoing of host No. 2 Mater Dei of Santa Ana in a 65-62 Wildcats' victory.
"Windward is a great team," said Mater Dei coach Kevin Kiernan. "They executed and moved the ball real well and beat us pretty good on the boards."
Windward (20-2) used its size advantage to finish with a 45-22 rebounding advantage.
Macchi Smith, the hero of Windward's 56-55 victory last Saturday over No. 4 Long Beach Poly, came through again. The sophomore guard had a team-high 16 points, including a rebound and put back off the front end of a one-and-one free-throw attempt by
Imani Stafford
with 26 seconds left that sealed the deal.
The 6-foot-7 Texas-bound Stafford only had nine points, but she pulled down 16 rebounds and blocked three shots, including a 3-point attempt by Mater Dei's Khalia Lark with 2.5 seconds left.
January, 17, 2012
1/17/12
3:46
AM ET
By
Ronnie Flores
| ESPN.com
The marquee boys game of the 3rd Annual Tony Matson Memorial Classic at Orange Lutheran High School on MLK Monday was supposed to be a battle of Southern California teams looking to make a splash in the POWERADE FAB 50 national rankings and the Cal-Hi Sports state rankings.

Lutheran (Orange) came into the game ranked No. 49 in the FAB 50 and No. 4 in the state, but was reeling without the services of state Mr. Basketball candidate Gabe York. He suffered an appendectomy before New Year's and on MLK Monday the Lancers lost to state No. 15 La Verne Lutheran 60-58.

It was Orange Lutheran's third consecutive loss. It was a game effort, but last week the Lancers also lost to unranked JSerra (San Juan Capistrano) 67-52 and to state No. 1 Mater Dei (Santa Ana), 65-51 without the services of the No. 36 player in the ESPNU 100.

Outside of Lutheran's struggles, California's top teams fared well over MLK weekend and will move up in the next set of FAB 50 and West Region rankings.

Mater Dei, which was No. 22 in the FAB 50, routed Christ The King (Middle Village, N.Y.) 88-50 Monday at the Hoophall Classic in Springfield, Mass. UNLV commit Katin Reinhardt drained nine 3-pointers and finished with 35 points.

New York City basketball is not what it used to be on a national level, but Mater Dei's victory was still impressive nonetheless.

Mater Dei's victory also came one game after Bishop Gorman (Las Vegas) defeated DeMatha Catholic (Hyattsville, Md.) 73-65 behind a 37-point performance from Mr. Basketball USA candidate Shabazz Muhammad. DeMatha came into the came ranked No. 5 in the FAB 50 and Mater Dei owns a 10-point victory over Bishop Gorman, so that bodes well for the Monarchs and California's other top-ranked teams.

La Verne Lutheran also won a game at the Hoophall Classic on Saturday, defeating traditional New Jersey power St. Patrick (Elizabeth, N.J.) 68-66 behind 30 points from state Mr. Basketball candidate Grant Jerrett.

State No. 2 Long Beach Poly ventured to the University of Washington for the King Holiday Hoop Fest and came away with a 64-58 victory over Rainier Beach (Seattle). Poly came into the game No. 26 in the FAB 50 with Rainier Beach No. 27. Juniors Roschon Prince (20 points, eight rebounds) and Jordan Bell (13 points, 13 rebounds, 5 assists, four blocks) led the way for the Jackrabbits.

The one California team likely to move into the FAB 50 this week would be 17-1 Crespi of Encino, which did not play on MLK Monday. As for Orange Lutheran, the Lancers could have more potential problems as the school is looking into claims York may have jeopardized his high school eligibility by participating in an adult league game, according to the Los Angeles Times.

In an email sent to EPNHS and Cal-Hi Sports, CIF Southern Section spokesman Thom Simmons did not have any facts about the unfolding situation. He did clarify that York (or any other player in a similar situation) would be immediately ineligible for two games for every game he participated in with another team during the high school season.

According to our colleague Neal Nieves of CaliforniaPreps.com, who spoke to York before Monday's game, the Arizona recruit will sit out at least one more week because of the appendectomy.

According to Nieves, York would have sat out Monday evening's game even if there weren't any questions surrounding his eligibility with the Lancers.