High-SchoolCalifornia:

San Jose Archbishop Mitty
March, 17, 2012
3/17/12
5:44
PM ET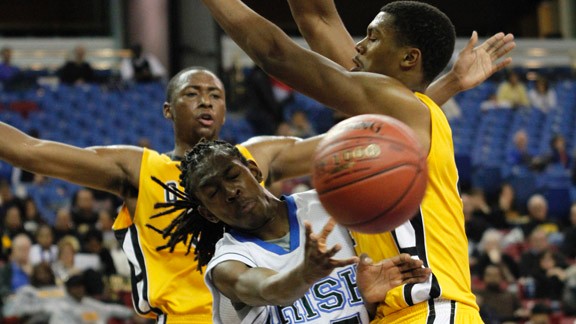 Willie Eashman/ESPNHSHerman Pratt looks for opening against Bishop O'Dowd defense.
Sheldon turns back upset bid in Division I final. Other victors are Archbishop Mitty in D2, Sacred Heart Cathedral in D3, Salesian in D4 and St. Joseph Notre Dame in D5.
The CIF Northern Regional title games were played at Power Balance Arena in Sacramento (Divisions 1-3) and at Folsom High School (Divisions 4-5). Writeups by Mark Tennis and Paul Muyskens.
Division I:
Sheldon (Sacramento) 61, Jesuit (Carmichael) 56

All the clichés about the fourth time being the charm for Jesuit in the NorCal final after going 0-3 during the season against the Huskies were getting dusted off in the first half of this matchup.
The Marauders came out of the locker room on fire, making eight of their first 11 shots and were up by as much as 17 points at 23-6 early in the second quarter.
A 10-point run later in the second period got Sheldon within striking distance with a 25-16 halftime score. The team's two main standouts, juniors Dakarai Allen and D'Erryl Williams, then came through in the second half and especially down the stretch.
March, 12, 2012
3/12/12
5:22
PM ET
No new teams crack the list, but there's lots of shuffling due to Bullard beating Taft of Woodland Hills and Loyola sending Etiwanda out of the SoCal playoffs.
Other highlights of this week's rankings include:
Archbishop Mitty joins the top five after easy win in NorCal Division II playoffs.
Grant Jerrett shines in matchup versus another of state's top centers and leads La Verne Lutheran into CIF Division IV South semifinals.
Mayfair holds on to win in D2 playoffs and moves up into this week's top 10.
Get all the details in the ESPNHS rankings tool.
March, 8, 2012
3/08/12
4:22
PM ET
By
Mark Tennis & Paul Muyskens
| ESPN.com
Preseason No. 1 Mitty splits a doubleheader and drops behind Los Alamitos, Etiwanda and Pacifica of Garden Grove in this week's first regular-season pecking order of state's top teams.

Yes, we know that coaches sometimes don't go with their No. 1 pitchers in both games of a doubleheader, but the differences between top teams in California is miniscule so a loss in one of those games can still impact the rankings.

Preseason No. 1 Archbishop Mitty of San Jose fell in the second-game of a doubleheader last weekend to Clovis West of Fresno. After winning the first game with ace Vanessa Alvarez in the circle, the Monarchs lost in the nightcap.

Coach Brian Yocke's team didn't drop far after that loss, but it was enough to move up preseason No. 2 Los Alamitos, preseason No. 3 Etiwanda and preseason No. 6 Pacifica of Garden Grove. None of those three teams stubbed their toes in early games.

Woodcreek of Roseville, coached by Art Banks, one of the best in the business, makes the biggest move of the first rankings. The Timberwolves have begun 6-0, which includes a win over preseason No. 5 Sheldon. They debut at No. 10 this week and could go higher next week. Woodcreek plays nationally ranked Gulliver Prep (Miami) on Friday as Gulliver Prep is making a journey specifically to play tough Northern California competition.

(Through games played Tuesday, March 8)
(Preseason ranking in parentheses)

1. (2) Los Alamitos 3-0
The Griffins will head to the Tournament of Champions in Arizona this weekend as the state's top team after an 11-0 win earlier this week over Kennedy of La Palma to remain undefeated. Wins over Rosary of Fullerton and San Clemente kicked off the season.

2. (3) Etiwanda 4-0
Soaring to easy victories in their first four games, the Eagles have outscored their opponents by a combined 67-4. Delaney Spaulding and Jenna Isbel each drove in three runs in their recent 15-0 win over Brea Olinda.

February, 23, 2012
2/23/12
10:00
AM ET
By
Mark Tennis
| ESPN.com
Important announcement from Cal-Hi Sports
|
Archived Cal-Hi Sports content
The No. 1 teams are the same as last week in the Cal-Hi Sports divisional state rankings for boys hoops, but a few notable teams have already been defeated in section playoffs.
Defending CIF Division IV state champ Windward of Los Angeles was among those who lost in CIF Southern Section playoff games on Tuesday night. Also falling was Damien of La Verne, which has been No. 2 in the Division III state rankings since early in the season.
Here is the fourth listing of boys teams this season with analysis and bubble teams for each division (records listed after games of Tuesday, Feb. 21 with some teams that have results included for this week):
CIF Division I
1. (1) Mater Dei (Santa Ana) 25-2
2. (2) Long Beach Poly (Long Beach) 24-1
3. (3) Etiwanda 27-1
4. (4) De La Salle (Concord) 24-2
5. (5) Taft (Woodland Hills) 25-3
6. (6) Loyola (Los Angeles) 22-4
7. (7) Sheldon (Sacramento) 22-5
8. (8) Jesuit (Carmichael) 22-5
9. (10) Bullard (Fresno) 26-3
10. (11) Westchester (Los Angeles) 21-6
11. (13) Mission Viejo 25-3
12. (14) Fairfax (Los Angeles) 20-9
13. (15) Santa Monica 20-8
14. (NR) Capistrano Valley (Mission Viejo) 24-4
15. (NR) Lutheran (Orange) 17-11
Drops:
Previous No. 9 Oxnard; No. 12 Piedmont Hills (San Jose).
Bubble:
Central (Fresno) 20-6, Clovis West (Fresno) 19-5, Crescenta Valley (La Crescenta) 24-5, Foothill (Tustin) 23-5, Palisades (Pacific Palisades) 17-10, Piedmont Hills (San Jose) 25-2, Upland 20-9.
Comments:
The difference between the losses suffered last week by Oxnard to Quartz Hill and by Piedmont Hills to Leigh of San Jose is that Oxnard's was in the CIF Southern Section Div. I-AA playoffs. The Yellowjackets' season, therefore, is over. Quartz Hill then lost to Upland in the next round and Upland plays Loyola in the quarterfinals. The semis in the Southern Section's top division, which could feature Long Beach Poly against Etiwanda, would be played next Tuesday at the Anaheim Arena.