High-SchoolCalifornia:

Santa Ana Mater Dei
September, 4, 2012
9/04/12
8:40
PM ET
By
Mark Tennis
| ESPN.com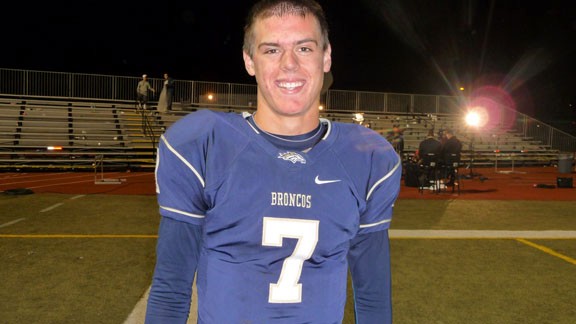 Mark Tennis/ESPNHSVista Murrieta quarterback Nick Stevens had a strong first game against Colorado opponent.
Mission Viejo, Serra of Gardena and Helix among those coming up quickly. Newcomers led by new No. 20 Vacaville and new No. 21 Notre Dame of Sherman Oaks.
Contributing: Paul Muyskens, Ronnie Flores, Harold Abend
All rankings through games played Saturday night, Sept. 1. Check back later this week for Week 2 CIF State Bowl Game rankings and for the next State Stat Stars of the Week. If you check back and no longer see Cal-Hi Sports content on an ESPN page, please go to our twitter page @CalHiSports or our Facebook page at https://www.facebook.com/pages/CalHiSportscom/162897664162 for updates.
1. (1) DE LA SALLE (CONCORD) 1-0
Why This Ranking:
The three-time defending CIF Open Division champions have not lost to a California team since 2008 and showed little signs of a drop from last year in the first game.
Weekend Result:
After going to two overtimes to beat defending CIF Central Coast Section Division I champ Bellarmine of San Jose in last year's opener, the Spartans scored on their second play and had little difficulty in beating the Bells 41-7. Tiapepe Vitale had 15 carries for 181 yards and three touchdowns. New quarterback Chris Williams rushed for two scores and had a 58-yard TD pass to Austin Hooper in which Hooper broke several tackles.
Up Next:
This year's game against an out-of-state foe comes Friday at home against Mullen Prep of Denver. Mullen arrives after getting a 14-13 win in a much-hyped game against Valor Christian of Highlands Ranch that drew NFL QB Peyton Manning to the sidelines. Coach Bob Ladouceur expects his team will get a much stiffer challenge than what Bellarmine presented.
July, 11, 2012
7/11/12
12:17
PM ET
By
Mark Tennis
| ESPN.com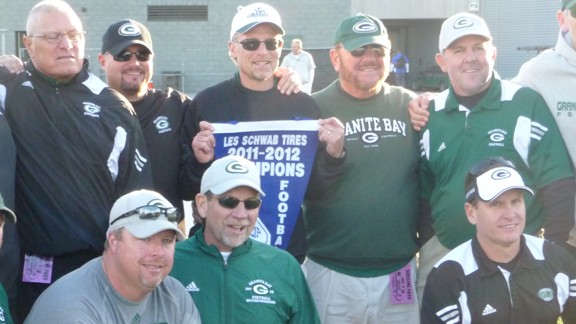 Mark Tennis/ESPNHSGranite Bay football coach Ernie Cooper (holding flag) poses with staff after 2011 Sac-Joaquin Section title game.
Mitty is best for girls sports for the ninth time while other honorees include La Costa Canyon (D2), Campolindo (D3), Serra of Gardena (D4) and St. Margaret's (D5). Eight more schools who deserve special mention for overall athletic excellence also have been singled out.
Congratulations to the following schools for collecting a statewide all-sports honor for the 2011-12 school year:
Girls Sports Only:
Archbishop Mitty (San Jose)
It might seem like the Monarchs have won this honor every year, but they actually didn't the last two years. Regarded as perhaps the best school for girls sports in the nation, Mitty lived up to that claim by winning the CIF Division II state title in basketball and by going 29-2 and finishing top 10 in the nation in softball. Mitty's other girls sports highlights included a CIF Central Coast Section co-title in soccer, the best finish in school history (2nd) in CCS golf, a second-place finish in the loaded CCS swim meet plus semifinal appearances in the CCS field hockey and tennis playoffs. This is the ninth time Mitty has been tops in the state for girls sports since the 1994-95 school year.
May, 28, 2012
5/28/12
10:59
PM ET
Mater Dei back to No. 1 in the state, but strong No. 2 has emerged in San Diego as Vista is up to 29-3 after first two games of section playoffs. Also on the rise is Cathedral Catholic, Campolindo and St. Mary's of Stockton.
Other highlights from this week's baseball rankings include:
Valley Christian of San Jose winning CCS Division I title on a no-hitter.
Bullard of Fresno winning CIF Central Section top division title and assuring itself of at least top 13 final ranking.
West Ranch and Newbury Park earning spots in the CIFSS D1 semifinals and going up into the top 20.
Click here to see the complete list within the ESPNHS rankings tool.

May, 14, 2012
5/14/12
12:47
PM ET
By
Mark Tennis
| ESPN.com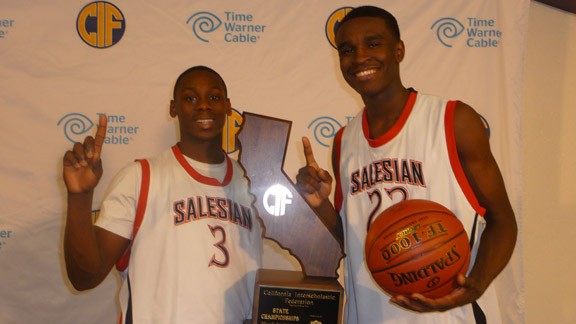 Mark Tennis/ESPNHSMario Dunn and Jabari Bird are juniors and have a chance to do this again.
California hoops may never be the same with the addition of the open division next season. If it works well, it could have ramifications across the nation.
There's no secret that the CIF state basketball playoffs, for both boys and girls, has needed a shot in the arm for a long time.
Two weekends ago, the CIF Federation Council may have provided that boost by voting in favor of adding an open division as a sixth division to the state playoffs.
There's a good chance that adding an open division will result in increased attendance and TV viewership. Two years ago, for example, the Mater Dei of Santa Ana and St. Mary's of Stockton girls possibly would have played in an open division final that also would have determined which team was going to be No. 1 in the nation.
The open division will be for teams from any division, any section and regardless of enrollment.
April, 3, 2012
4/03/12
9:26
PM ET
California shows rest of the nation its strength in the sport with 1-2 finish at National High School Baseball Invitational. Mater Dei's title jumps the team to No. 2 in the state, but not quite all the way to No. 1 because St. Francis of Mountain View started this week still unbeaten.
Other highlights from this week's baseball rankings include:
Harvard-Westlake back up to No. 3 and Orange Lutheran up to No. 5 after both knock off nationally ranked teams in North Carolina.
Lakewood beats Long Beach Wilson in pitching duel and gets a rankings bump as well.
Newcomers are Esperanza of Anaheim, Rancho Buena Vista and Palo Alto
Click here to see the complete list within the ESPNHS rankings tool.
March, 17, 2012
3/17/12
4:32
PM ET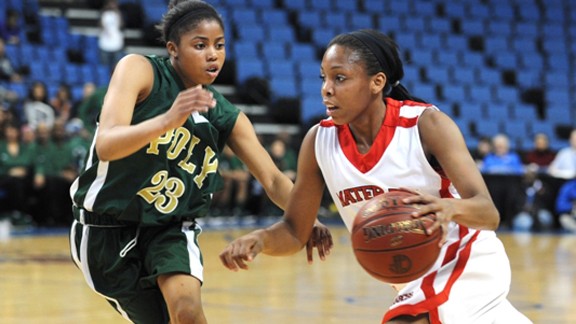 Scott Kurtz/ESPNHSNirra Fields drives into the lane against L.B. Poly's Arica Carter.
L.B. Poly player's seizure puts D1 final (won by Mater Dei) in perspective. La Jolla Country Day takes D4 crown while other victors include J.W. North (D2), Laguna Hills (D3) and Mission Prep (D5).
The CIF Southern Regional title games were played at Citizens Bank Arena in Ontario (Divisions 1-3) and at Colony High School in Ontario (Divisions 4-5). Writeups by Ronnie Flores and Mark Tennis. Contributing: Harold Abend.
Division I:
Mater Dei (Santa Ana) 54, Poly (Long Beach) 43
In a game between two teams that have played memorable playoff games in recent years with a plethora of talent on the floor, this game was a bit different. There wasn't overwhelming talent and both teams, especially Mater Dei (19 turnovers), didn't executive particularly well.
But when a team has championship experience, it finds ways to win. In this game, that was especially important considering an unfortunate incident that overshadowed the action with 3:56 remaining in the third quarter.
March, 3, 2012
3/03/12
6:15
PM ET
By
Mark Tennis
| ESPN.com
Here's the first installment of two posts we'll be doing Saturday in which we'll make our recommendations for which girls teams should be seeded No. 1 in next week's CIF regional playoffs.

Division I South: Mater Dei (Santa Ana)
A no-brainer here as the Monarchs are the two-time defending CIF state champs and have been FAB 50 national champs for two straight years as well. They won a loaded CIF Southern Section Div. IAA bracket that included other highly ranked teams in the state such as Brea Olinda, Long Beach Poly and Santiago of Corona. Santiago was 30-0 until running into the MD buzzsaw and lost 71-32 in the semifinals. A Monarch final against either Brea or Poly is definitely possible.

February, 22, 2012
2/22/12
6:13
PM ET
By
Mark Tennis
| ESPN.com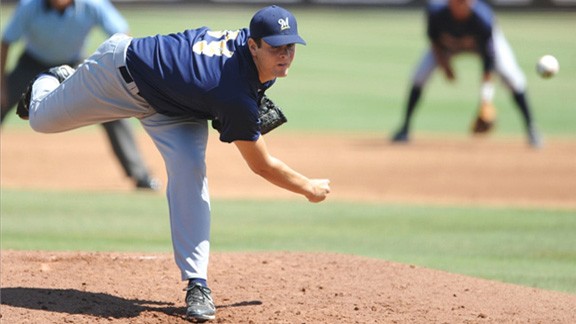 Scott Kurtz/ESPNHSLucas Giolito may be a first round pick in the 2012 MLB Draft.
Important announcement from Cal-Hi Sports
|
Archived Cal-Hi Sports content
Harvard-Westlake may have one of the best 1-2 pitching duos ever, but against the super-tough competition in Southern California it's no guarantee for anything. The Wolverines start out the spring No. 2 in the state behind Mater Dei of Santa Ana.
Much of the preseason attention for California baseball this spring has centered on the pitching combination of Lucas Giolito and Max Fried at Harvard-Westlake of North Hollywood.
Giolito was one of the top junior hurlers in the nation last season for the Wolverines and became teamed up with Fried when the athletic program at nearby Montclair Prep of Van Nuys, which is where Fried played last season, was discontinued.
Giolito was recently ranked as the No. 1 right-handed pitching prospect by ESPNHS Baseball while Fried was given the same ranking among lefties.
No matter what the two accomplish this spring and where they are picked in the Major League Baseball draft, it still will take many years before they can claim to be the best pair of pitchers any school in California has ever had.
That claim right now would have to go to Fresno High, which had two future 20-game winners in the big leagues leading the way for its famed 1958 team that went 25-1 with its only loss coming to a college freshman team. Those two were Dick Ellsworth (who later won 20 for the Chicago Cubs) and Jim Maloney (who won 20 for the Cincinnati Reds).
There's more to elite level baseball teams, of course, than pitching. There's defense, hitting for power, hitting in the clutch, base-running and sound coaching. Even the best and most talented baseball teams in the state we've seen in the last 30 years don't always win in the playoffs. That's just the nature of the sport itself.
The one team that seems to have the best combination of all of those factors – at least at the start of the season – is Mater Dei of Santa Ana. The Monarchs won the CIF Southern Section Division I title two years ago and should be outstanding this spring.
For the complete preseason top 20 state rankings, click here to go straight to the ESPNHS rankings tool.

January, 30, 2012
1/30/12
5:13
PM ET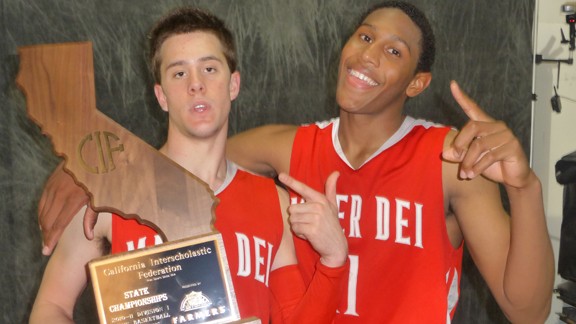 Mark Tennis/ESPNHSKatin Reinhardt and Xavier Johnson have Mater Dei fans thinking about another CIF state title.
Important announcement from Cal-Hi Sports
|
Archived Cal-Hi Sports content
Three new teams make big jumps with Bishop Montgomery, Taft of Woodland Hills and Pacific Hills all going in higher than No. 17.

Other highlights of this week's rankings include:
No. 1 Mater Dei and No. 2 Long Beach Poly both have games at this Saturday's Nike Extravaganza at Mater Dei.
Max Guercy shines with 27 points and six assists as Alemany beats Loyola and joins top five.
Northern California's No. 1 team remains Salesian of Richmond.
Get all the details in the ESPNHS rankings tool.
January, 18, 2012
1/18/12
11:30
PM ET
By
Harold Abend
| ESPN.com
Jordan Adams is back at Mater Dei and should be good to go when No. 2 Monarchs play No. 1 Windward on Feb. 3.

The bad news for future opponents is music to the ears of Mater Dei of Santa Ana coach Kevin Kiernan and the Monarchs' faithful.

"She's been back for four games and playing pretty well even though she's not 100 percent, but even a 70 percent Jordan Adams is one of the best players in the state," Kiernan told Cal-Hi Sports.

Adams, who has been out since the second half of a loss to Riverdale Baptist of Maryland at the Nike TOC in Arizona, missed eight-and-a-half games and almost three weeks, with the Monarchs suffering both their losses in her absence.

Had not Canadian-born transfer Nirra Fields been playing lights out in her absence, Mater Dei might have had more problems in its grueling schedule.

With both girls in the lineup on MLK Day at the Tony Matson Memorial Classic at Orange Lutheran, Mater Dei put a 63-27 shellacking on previously state-ranked Anaheim Canyon. Fields had 30 points (six steals) and Adams 11 points.

"Nirra is something else. You've got to see her," Kiernan remarked. "She's starting to rev it up."

The Cal-Hi Sports caravan will get the chance to see Fields and Adams against Windward of Los Angeles in a probable No. 1 vs. No. 2 state showdown on Feb. 3 in Santa Ana at the Nike Extravaganza.

Despite Windward taking an out-of-state 62-48 loss to POWERADE FAB 50 top-ranked St. Mary's of Phoenix last week, the girls remain as the No. 1 California team in this week's national rankings and No. 1 in the Cal-Hi Sports state rankings.

Coach Steve Smith and the girls have shied away from no one this season. Before they meet Mater Dei, they'll be coming off a Jan. 28 match-p at Long Beach City College with current state No. 3 Long Beach Poly.

(Previous ranking in parentheses)
(After games of Monday, Jan. 16)

1. (1) Windward (Los Angeles) 16-3
It's pretty tough to come home from two major tournaments involving nationally-ranked teams, play a few running clock league games, then have to face the FAB 50 No. 1 team in the nation on its home turf, but that's exactly what coach Steve Smith tried to do, and it didn't work. The Wildcats fell behind 32-16 in the second quarter against St. Mary's of Phoenix, and although sophomore power forward Kristen Simon scored seven unanswered points in the third quarter to get the girls to within five points of the lead, the D1-recruit laden local girls closed out a 62-48 win.

2. (2) Mater Dei (Santa Ana) 17-2
The eight-day four-game stretch was a lot easier with Jordan Adams back in the line-up. In her first game back, a Trinity League 67-57 victory over Orange Lutheran at home, the 6-foot-1 USC-bound phenom had 11 points. Two nights later, she had her best outing in the four games with 18 points in a blowout of Fullerton Rosary. Meanwhile, Adams' backcourt mate and UCLA-committed Nirra Fields continues to dominate. Besides the 30 points she had against Canyon, the 5-foot-9 flash had 27 in the Orange Lutheran win. The fourth win of the week was a running clock win over Pacifica of Oxnard.