High-SchoolCalifornia:

Stockton St. Mary's
August, 7, 2012
8/07/12
9:21
AM ET
By
Harold Abend
| ESPN.com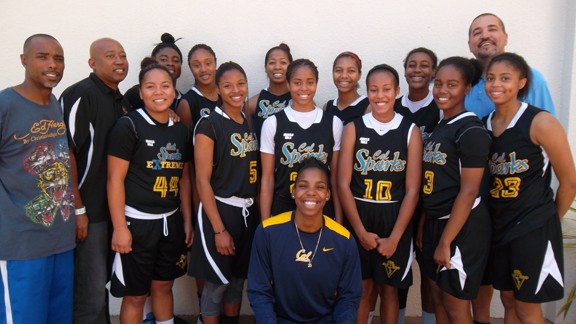 Harold Abend/ESPNHSThe Cal Sparks Gold team shined in more than one tourney in the summer of 2012.
Cal Sparks Gold team completes strong season by winning Summer in the City event. Girls from St. Mary's of Stockton also shine in different event.
Note:
See Part 1 of this story that took a look at the Next Level All-American Camp on July 6-7 in San Diego, the Next Level Nationals on July 8-10 in San Diego and for two national events near Nashville, Tenn.
Halfway through the NCAA-mandated week-long "dark period" of basketball recruiting when Division I college coaches can't observe players or events, the Girls of Summer basketball caravan provided the eyes and ears for those coaches at the July 19-22
San Diego Classic
.
Of the overall 200 teams competing, 40 were in the 3A Division that was observed.
Despite playing without 2013 stars
Courtney Range
and
Onome Jemerigbe
, St. Mary's (Stockton) won it's first-ever 3A title with an exciting 48-47 win over a Central Catholic of Portland (Ore.) team that was at full strength with All-American candidates
Kailee Johnson
and
Jordan Reynolds
both playing.
May, 28, 2012
5/28/12
10:59
PM ET
Mater Dei back to No. 1 in the state, but strong No. 2 has emerged in San Diego as Vista is up to 29-3 after first two games of section playoffs. Also on the rise is Cathedral Catholic, Campolindo and St. Mary's of Stockton.
Other highlights from this week's baseball rankings include:
Valley Christian of San Jose winning CCS Division I title on a no-hitter.
Bullard of Fresno winning CIF Central Section top division title and assuring itself of at least top 13 final ranking.
West Ranch and Newbury Park earning spots in the CIFSS D1 semifinals and going up into the top 20.
Click here to see the complete list within the ESPNHS rankings tool.

May, 27, 2012
5/27/12
1:53
PM ET
By
Mark Tennis
| ESPN.com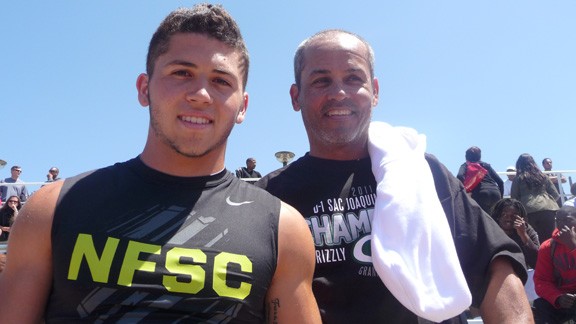 Mark Tennis/ESPNHSGranite Bay's Johnny Cooley (with dad, Robert) had one of top SPARQ ratings at 2012 Nike combine in Oakland.
From the Nike events of last weekend, it's obvious that rebuilding seasons are becoming extinct for top programs in the CIF Sac-Joaquin Section. Lincoln of Stockton may have early edge in 2012 for the Cal-Hi Sports preseason state rankings with its running back-quarterback combo, but defending champs in Division I, II and III have impressive players, too.
After watching the Division I and Division II championship games last December in the CIF Sac-Joaquin Section and noticing all of the seniors leading squads at Granite Bay, Pleasant Grove of Elk Grove, Vacaville and Folsom, you'd think that those teams are going to drastically fall off in 2012.
You'd be thinking incorrectly. The section has emerged as a genuine hot spot in the state in the last five to six years and at last weekend's Nike-based football events in the Bay Area all of the top teams from the section showcased players who look like they'll be able to step up this fall.
May, 24, 2012
5/24/12
8:33
PM ET
By
Mark Tennis
| ESPN.com
It could be a record number of changes in Division I as seven new teams have forced their way into the Cal-Hi Sports rankings with playoff wins. There is a new No. 1 in Division II as well with Campolindo taking over for upset-bitten Harvard-Westlake.

On Tuesday, Harvard-Westlake of North Hollywood joined the club of top-ranked teams done for the season when the Wolverines (who have been as high as No. 2 in the nation this season) were sent packing in the CIF Southern Section Division II playoffs by Valencia of Placentia.

On Wednesday, another team that has been in the top 10 in the nation, St. Francis of Mountain View, was knocked out of the CIF Central Coast Section Division I playoffs by San Benito of Hollister.

Last Friday, the upset bug began biting when it struck Clovis West of Fresno. Defending CIFSS Division I champ J.W. North of Riverside also has been knocked out of the playoffs as well.

Here are the third divisional state rankings for the 2012 season (thanks to Paul Muyskens for contributions; previous rank in parentheses; through games of Wednesday, May 23 which is why they don't match the top 20 state rankings from earlier in the week):

May, 8, 2012
5/08/12
4:58
PM ET
Monday games are counted this week, which sure helps newcomer Pleasant Grove and hurts previous No. 2 J.W. North.

Other highlights from this week's baseball rankings include:
New No. 4 Clovis West venturing to the Oakland Coliseum and picking up a win over state-ranked Campolindo.
Orange Lutheran staying in position to probably earn top seed in CIF Southern Section Div. I playoffs.
Agoura and Tracy making top 20 debuts for the first time this season while Long Beach Wilson goes back in.
Click here to see the complete list within the ESPNHS rankings tool.

March, 27, 2012
3/27/12
9:13
PM ET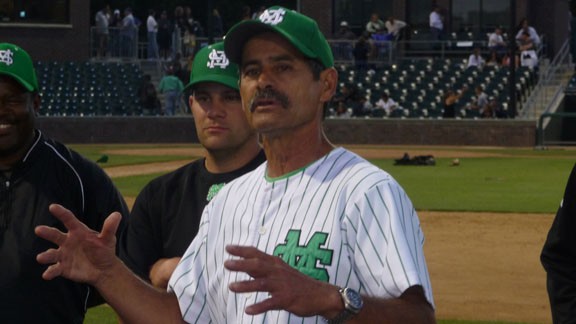 Mark Tennis/ESPNHSStockton St. Mary's coach Pete Pijl annually sets up very tough schedule for his team.
St. Francis and Valley Christian move up to No. 2 and No. 3 heading into Friday matchup in Mountain View.
Other highlights from this week's baseball rankings include:
Orange Lutheran rises to No. 5 with Harvard-Westlake going up to No. 7 as both teams travel to North Carolina this week for major invitational.
Highest-rising newcomer is Vista of the San Diego Section, but both West Ranch of Valencia and St. Mary's of Stockton get some momentum going as well.
One-loss teams Lakewood, Redlands and El Toro are all now in the top 10.
Click here to see the complete list within the ESPNHS rankings tool.
March, 4, 2012
3/04/12
1:56
AM ET
By
Mark Tennis
| ESPN.com
Here's the second installment of posts in which we've made our recommendations for which girls teams should be seeded No. 1 in next week's CIF regional playoffs. Check our page on Sunday night for reaction to all of the regional pairings.

Division II North: St. Mary's (Stockton)
The Rams are going for their second straight CIF state title in this division (and fourth overall) and have had mostly glorified workouts so far, including a 64-29 victory over McNair of Lodi in Saturday's Sac-Joaquin Section championship. North Coast Section champ Carondelet of Concord and CCS champ Archbishop Mitty of San Jose will present challenges to St. Mary's in the regional playoffs, but not for the top seed.

February, 11, 2012
2/11/12
12:42
AM ET
By
Mark Tennis
| ESPN.com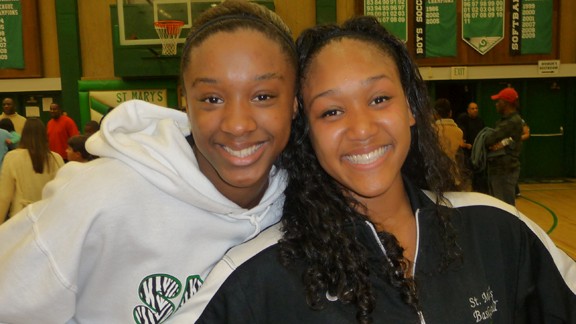 Mark Tennis/ESPNHSCourtney Range and Charise Holloway both shined for St. Mary's in big win over Bishop O'Dowd.
Important announcement from Cal-Hi Sports
|
Archived Cal-Hi Sports content
Special night for longtime L.A. Fremont boys coach Sam Sullivan
Rams beat Bishop O'Dowd of Oakland in matchup of region's top two teams. Courtney Range, Charise Holloway both star for St. Mary's.
Since winning a memorable 2009 CIF Division III Northern California title game over Sacred Heart Cathedral of San Francisco, the St. Mary's of Stockton girls basketball team has for the most part ruled the region.
According to the final
Cal-Hi Sports
state rankings, the Rams were the top-ranked team in Northern California after winning CIF state titles in 2009, 2010 and 2011, but in order to make it an unprecedented four in a row it was paramount for them to beat visiting Bishop O'Dowd of Oakland on Saturday afternoon at Morelli Gym in Stockton.
Bishop O'Dowd actually came into Saturday's game as the higher-ranked team at No. 5 in the state and No. 1 in the region. The Dragons also will be in a different state playoff division than St. Mary's, which meant the winner Saturday would have the rankings edge at the end of the season.
With the home crowd rocking, the Rams buried eight of their first 11 shots from beyond the 3-point line and were successful getting the game into a frantic pace in the first half. The Dragons mounted a fourth quarter comeback, but had to come from too far behind and ended up with a 76-67 defeat.
November, 22, 2011
11/22/11
7:16
PM ET
By
Harold Abend
| ESPN.com
Although both schools boast a long presence and football tradition in the Sacramento/San Joaquin Valley area, with St. Mary's of Stockton opening in 1876 and Vacaville in 1898, the two teams had only met once before on the gridiron prior to last Friday in Vacaville.

Now, after a 27-19 victory by the host Bulldogs in the second round of the CIF Sac-Joaquin Section Division II playoffs, Vacaville has won both meetings. The first was a 36-0 triumph in the 1985 section playoffs.

The game also marked the return of St. Mary's quarterback Bowe Merin after he missed five weeks with a broken collarbone.

The 6-foot-2, 195-pound senior started strong, throwing touchdown passes in the first and second quarter to give the Rams a 13-6 lead, but near the end of the first half he caught a bad break.

After the St. Mary's defense (which played well) forced a punt, Merin was intercepted on a tipped ball that went right to Timmy Scott.

Five plays later and with 32 seconds left in the half, Curtis Goins scored on a 1-yard plunge to knot things at 13-13.

When St. Mary's got the ball back, Merin threw an incompletion and a second interception to end the half. The momentum had clearly swung to the home team.

Last week's NorCal Top 20 Offensive Player of the Week, senior running back Melvin Mason, took it 55 yards to the house on the first play from scrimmage in the second half, and the force was even more with Vacaville.

Mason would score a third straight Bulldogs' touchdown before the Rams posted a TD with 11 seconds to play.

"The coaches told me to fake the ball and the defense would fly to me so it would open up the other guys," said Mason, who did most of his damage in the second half, finishing with 23 carries for 150 yards and the two scores, plus an interception on defense.

The recipient of that faking was backfield mate Goins. The junior halfback rushed for 122 yards and a touchdown. He also threw a 22-yard option pass that set up Mason's final score.

"There's a lot of resolve in the kids we have. This was a game we measured our program on this year and they just beat a great team," Vacaville coach Mike Papadopoulos told Cal-Hi Sports.

The win had major implications on the various state and Northern California rankings. Marin Catholic of Kentfield, having a win over Vacaville ,means the Wildcats could leapfrog a few teams and bring the Bulldogs along.

The Cal-Hi Sports caravan then completed a 250-mile weekend on Saturday at Novato, where the Hornets improved to 9-2 after a 34-16 win over Sebastopol Analy in the CIF North Coast Section Division III playoffs.

Herve Changeux went for 300 yards for the second straight week. The junior running back rushed for a school record 346 yards with one score, and now has 1,090 yards and 11 touchdowns in his last four games. For the season, he's run for 1,763 yards and 19 scores.