High-SchoolCalifornia:

Su'a Cravens
August, 13, 2012
8/13/12
2:58
PM ET
By
Mark Tennis
| ESPN.com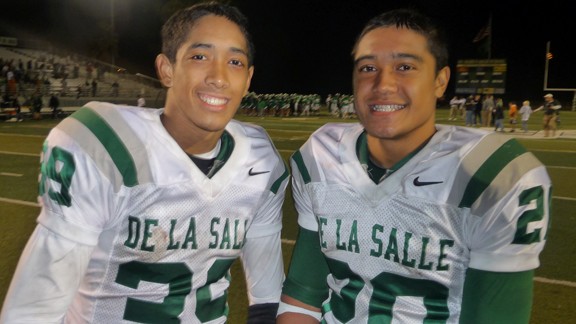 Mark Tennis/ESPNHSRunning backs Dasmond Tautalatasi and Tiapepe Vitale were standout underclassmen last season for CIF Open Division championship team.
We won't bother with a corny countdown because we'd have to be clueless not to have De La Salle, Santa Margarita and Vista Murrieta as the state's top three to start the 2012 football season.
If you're in the business of covering high school football, like we have done at
Cal-Hi Sports
for almost 35 years, preseason rankings are a necessity and they are fun to do.
With CIF state and regional bowl games this season, though, and with more and more top teams seeking each other out in early-season matchups, the preseason rankings don't actually mean that much. Still, if you're going to do them, they should make sense.
May, 17, 2012
5/17/12
3:29
AM ET
By
Mark Tennis
| ESPN.com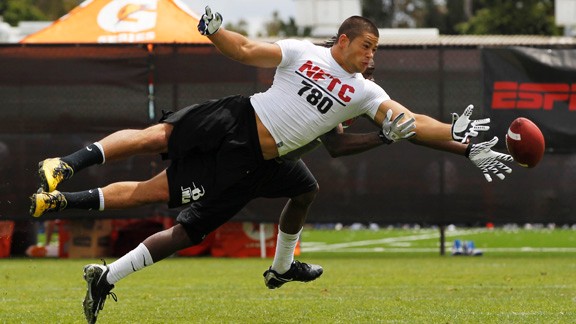 Danny Moloshok/ESPNHSChris Santini of San Jose Leland stretches out during play at the 2011 Northern California Nike camp.
With three major events coming up this weekend in Northern California, it's time to start looking ahead for what to watch around the state in the coming months before the start of the 2012 season.
1. Why does the Elite 11 tryout, Nike SPARQ Combine and Nike Football Training Camp held in the Bay Area each season seem to be superior to the same events in Southern California?
There's an obvious answer here and that is simply that the NorCal events are later in the year and therefore gives athletes more time to train for them. There are, after all, many SoCal kids who come up north each year while not as many NorCal kids go down south.
January, 25, 2012
1/25/12
9:02
PM ET
By
Mark Tennis & Paul Muyskens
| ESPN.com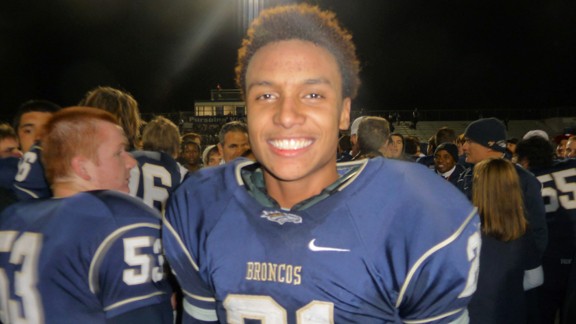 Mark Tennis/ESPNHSSu'a Cravens, the State Junior of the Year, celebrates for Vista Murrieta after team won CIF Southern Section Inland Division title.
Important announcement from Cal-Hi Sports
|
Archived Cal-Hi Sports content
State Junior of the Year Su'a Cravens and De La Salle's Michael Barton, leader of the best defense to play in a CIF state bowl game, top this group of players.
Note: This is the fourth release of several highlighting the 33rd annual edition of the ESPNHS Cal-Hi Sports All-State Football Team. Previous releases focused on small schools, medium schools and underclass.
Here is a closer look at the 12 players chosen first team defense:
DL Ellis McCarthy (Monrovia) 6-5, 295, Sr.

The State Medium Schools Player of the Year had 21 sacks the last two seasons for the Wildcats in helping the team win back-to-back CIF Southern Section Mid-Valley Division championships. McCarthy had more than 100 tackles in those seasons combined and was a USA Today first-team All-American. He committed to Cal during the U.S. Army All-American Bowl, then de-committed and has since announced for UCLA.
DL Aziz Shittu (Buhach Colony, Atwater) 6-4, 255, Sr.

Named the Merced-Sun Star Defensive Player of the Year, he helped lead the Thunder to a second straight Central California Conference title before their undefeated season came to an end in the CIF Sac-Joaquin Section Division II semifinals to eventual champion Vacaville. On the year, Shittu had 89 tackles and eight sacks and played in the U.S. Army All-American Bowl. He has yet to decide on a college but has said his final four consist of Stanford, Cal, USC and UCLA.
December, 13, 2011
12/13/11
1:06
PM ET
Monday
|
Tuesday
| Wednesday | Thursday | Friday
Whether you're putting together a grouping of best quarterbacks or worst albums, or you're making that special list for Santa, there's nothing quite like a good list. So in honor of the holiday season we're bringing you lists all week long — Merry List-Mas!
Today
: The top underclassmen in high school football.
The state championships are approaching and the Class of 2012 has had a great run, but it's never too early to start looking at the impressive players in the Class of 2013 and beyond. Who's going to rule the gridiron in California next season? We give you the early rundown of who to watch for.
5. Khari McGee (JR), Fresno Edison, QB
4. Su'a Cravens (JR), Vista Murrieta, S
3. Justin Davis, Stockton Lincoln, RB
2. Michael Hutchings (JR), De La Salle, LB
1. Troy Williams (JR), Narbonne, QB
Credentials: Has led Narbonne to Division I championship game by passing for 3,172 yards and 34 touchdowns and running for 590 yards and 10 TDs
Click here
to check out some of the other states in our Five Days of List-Mas.
Tomorrow: The POWERADE California Weekly Basketball Rankings.
Did I miss someone who should be on the list? Hit me on Twitter (@ESPNHSGrimala) and let me know about it.