High-SchoolCalifornia:

Troy Williams
August, 28, 2012
8/28/12
7:54
PM ET
By
Mark Tennis
| ESPN.com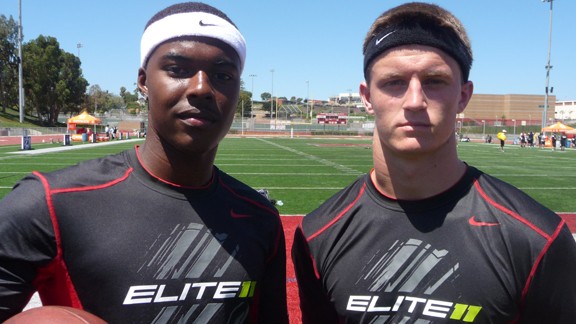 Mark Tennis/ESPNHSIt is possible that Elite 11 QBs Troy Williams of Narbonne and Johnny Stanton of Santa Margarita could meet in CIF SoCal Open Division bowl game.
No. 1 teams are De La Salle, Santa Margarita, Oakdale, Oceanside, Marin Catholic, Monrovia, Central Catholic and Sierra Canyon. Seven of those eight face difficult opponents this weekend.
Before checking out each division, please remember that the four teams that ultimately are chosen to play in the first Northern California and Southern California Open Division bowl games can come from any division.
August, 22, 2012
8/22/12
7:59
PM ET
By
Mark Tennis
| ESPN.com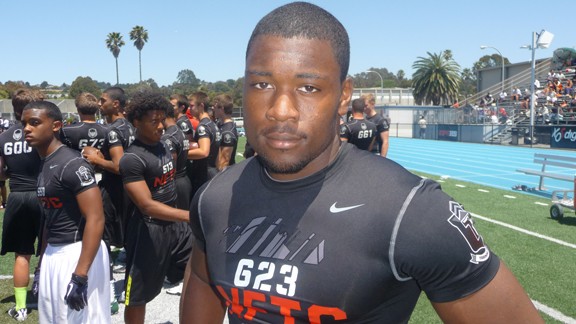 Mark Tennis/ESPNHSConcord's Olito Thompson set NorCal record for rushing yards in 2011.
Receiver Drew Wolitarsky, quarterbacks Jared Goff and Conner Manning and running back Olito Thompson are among the most prolific returning stat stars on 88-player preseason watch list.
Entering his senior season at Canyon of Canyon Country, receiver
Drew Wolitarsky
has already amassed 192 catches for 3,869 yards and 39 touchdowns.
That has helped him earn a selection to this year's preseason all-state team (announced this week) and also gets him within reach of two
Cal-Hi Sports
state records.
January, 25, 2012
1/25/12
9:01
PM ET
By
Mark Tennis & Paul Muyskens
| ESPN.com
Important announcement from Cal-Hi Sports
|
Archived Cal-Hi Sports content
Five of the six who have gained Cal-Hi Sports All-State first team honors in this category are quarterbacks who run and pass, including the most prolific rusher-passer for one season in state history.
Note: This is the fourth release of several highlighting the 33rd annual edition of the ESPNHS Cal-Hi Sports All-State Football Team. Previous releases focused on small schools, medium schools and underclass.
Here is a closer look at the six players chosen first team multi-purpose:
QB/RB Brandon Lewis (Helix, La Mesa) 5-11, 175, Sr.

After an impressive junior year, Lewis had an even better senior season as he led the Highlanders to the Division II state championship. On the year, he passed for 2,750 yards and 34 touchdowns to earn the San Diego Section Offensive Player of the Year honor. Lacking the size that would make him more recruited, he may end up getting picked later this spring in the Major League Baseball amateur draft as he was a starting pitcher for the school's baseball team. Lewis also could scramble for first downs when needed and shined in Helix's biggest games.
December, 13, 2011
12/13/11
1:06
PM ET
Monday
|
Tuesday
| Wednesday | Thursday | Friday
Whether you're putting together a grouping of best quarterbacks or worst albums, or you're making that special list for Santa, there's nothing quite like a good list. So in honor of the holiday season we're bringing you lists all week long — Merry List-Mas!
Today
: The top underclassmen in high school football.
The state championships are approaching and the Class of 2012 has had a great run, but it's never too early to start looking at the impressive players in the Class of 2013 and beyond. Who's going to rule the gridiron in California next season? We give you the early rundown of who to watch for.
5. Khari McGee (JR), Fresno Edison, QB
4. Su'a Cravens (JR), Vista Murrieta, S
3. Justin Davis, Stockton Lincoln, RB
2. Michael Hutchings (JR), De La Salle, LB
1. Troy Williams (JR), Narbonne, QB
Credentials: Has led Narbonne to Division I championship game by passing for 3,172 yards and 34 touchdowns and running for 590 yards and 10 TDs
Click here
to check out some of the other states in our Five Days of List-Mas.
Tomorrow: The POWERADE California Weekly Basketball Rankings.
Did I miss someone who should be on the list? Hit me on Twitter (@ESPNHSGrimala) and let me know about it.
October, 22, 2011
10/22/11
5:10
AM ET
Check here to see which teams may be going up, which ones going down in next week's state rankings, the eighth of the 2011 regular season. We begin with an on-site report from Ronnie Flores from game between Carson and Narbonne of Harbor City.
With Grant of Sacramento going into last week's top 25 as a three-loss team, two three-loss bubble teams from Southern California were hoping to make a big splash this week with key league wins. Both played tough league foes and counted that the rugged non-league games earlier in the season would help them get over the hump Friday night.
Both teams, however, saw their bubble burst as they went down in defeat.
In the Trinity League, Mater Dei of Santa Ana had the momentum of last week's big win over previous No. 3 Santa Margarita of Rancho Santa Margarita as a potential springboard to a good showing against fellow bubble squad St. John Bosco of Bellflower. The Monarchs' offense, however, fell flat and they were defeated by the Braves 24-3.
Mater Dei did a great job defensively against Santa Margarita, but couldn't stop the running game of St. John Bosco, which came in 5-1 and recorded its first victory over the Monarchs since the 2002 season. Braves' running backs DeVonte Young and Royce Moore combined for 263 yards and three touchdowns.
While the Monarchs were soundly defeated, Carson lost a heartbreaker to Narbonne of Harbor City 38-37 in a Marine League showdown. With 3:02 remaining in the game, standout Narbonne QB Troy Williams, a junior, scored on a 4-yard keeper to give his team a 38-31 lead.
On Carson's final drive, it looked like Narbonne (5-2) had the Colts stopped when QB Kevin McMahon eluded two rushers and found standout WR Darreus Rodgers rolling his way towards the sideline and lofted him a pass. Rodgers pulled in one of his patented one-hand grabs for a gain of 15 yards to the Gauchos' 16-yard line. McMahon (25-35, 220 yards, 2 TDs, 1 INT) then hit Rodgers a few yards past the line of scrimmage in the flat, and he turned it up and carried a host of defenders down to the one-yard line. On the next snap with 1:08 remaining, McMahon dived into the end zone for six points.
Disaster then struck for Carson (3-4) as the potential game-tying extra point never was attempted because of a bad snap that sailed high.
Carson's drive started at the 50-yard line following an electrifying 37-yard kickoff return by junior RB Tony Ingram. He also took the game's opening kickoff 86 yards for a touchdown and finished with 189 all-purpose yards.
Carson coach Elijah Asante said there was never any doubt what his team was going to do after the Colts scored their final touchdown.
"It's a fundamental football play," Asante said in front of a coach from another school whose team had a bye week and suggested Carson should have went for two. "You kick the ball and give yourself a chance to go to overtime.
"Sometimes you come out on top. I tip my hat off to them, they came out on top. We're trying to get better every week."
Williams, who finished with 228 yards passing and two touchdowns in addition to rushing for 45 yards and the go-ahead score, had a hunch Carson's final play might go badly, but not in the fashion it did.
"I thought they were going to miss the kick, but not like that with a bad snap," he said ."That was real fortunate for us right there. I knew it was going to be a good game, but not down to the wire like that."
The complete Top 25 state weekend scoreboard through reported results of Friday night follows:
1. De La Salle (Concord, Calif.) 6-1
Defeated Monte Vista (Danville) 42-21.
2. Servite (Anaheim, Calif.) 6-1
Defeated JSerra Catholic (San Juan Capistrano) 42-14.
3. Westlake (Westlake Village, Calif.) 7-0
Defeated Moorpark, 34-13.
4. Bellarmine (San Jose, Calif.) 6-1
Defeated Archbishop Mitty (San Jose) 28-19.
5. Vista Murrieta (Murrieta, Calif.) 7-0
Defeated Temecula Valley (Temecula) 41-3
6. Centennial (Corona, Calif.) 6-1
Defeated Norco 45-18.
7. Redlands East Valley (Redlands, Calif.) 7-0
Defeated Redlands 21-14 (OT)
8. Mission Viejo (Mission Viejo, Calif.) 5-2
Did not play.
9. Long Beach Poly (Long Beach, Calif.) 6-1
Did not play.
10. Oaks Christian (Westlake Village, Calif.) 5-2
Defeated Thousand Oaks 24-17.
11. St. Bonaventure (Ventura, Calif.) 6-1
Defeated Agoura (Agoura Hills) 56-0.
12. Pleasant Grove (Elk Grove, Calif.) 6-1
Defeated Oak Ridge (El Dorado Hills) 49-14.
13. Del Oro (Loomis, Calif.) 7-1
Defeated Granite Bay 28-24.
14. San Clemente (San Clemente, Calif.) 8-0
Defeated Dana Hills (Dana Point) 35-10.
15. Buhach Colony (Atwater, Calif.) 8-0
Defeated Merced 35-23.
16. Helix (La Mesa, Calif.) 7-1
Defeated Grossmont (El Cajon) 42-0.
17. Clovis (Clovis, Calif.) 7-0
Defeated Central (Fresno) 21-7.
18. Upland (Upland, Calif.) 7-0
Defeated No. 23 Rancho Cucamonga 31-17.
19. Lincoln (Stockton, Calif.) 7-1
Defeated Franklin (Stockton) 42-14.
20. Elk Grove (Elk Grove, Calif.) 8-0
Defeated Monterey Trail (Elk Grove) 47-14.
21. Bakersfield (Bakersfield, Calif.) 7-0
Defeated Frontier (Bakersfield) 42-35.
22. Crespi (Encino, Calif.) 6-2
LOST to Bishop Amat (La Puente) 28-14.
23. Rancho Cucamonga (Rancho Cucamonga, Calif.) 6-1
LOST to No. 18 Upland 31-17.
24. Dorsey (Los Angeles, Calif.) 6-1
Defeated Manual Arts (Los Angeles) 46-6.
25. Grant (Sacramento, Calif.) 5-3
Defeated Davis 58-0.
Teams On The Bubble (alphabetical):
Alemany (Mission Hills) 4-2
California (San Ramon) 6-1
Folsom 7-1
J.W. North (Riverside) 6-1
Loyola (Los Angeles) 6-1
Narbonne (Harbor City) 5-2
Oceanside 5-1-1
Rancho Verde (Moreno Valley) 7-0
San Ramon Valley (Danville) 6-1
Santa Margarita (Rancho SM) 6-1
St. John Bosco (Bellflower) 6-1
St. Mary's (Stockton) 6-2
Note: Bubble teams that lost included Carson, Lutheran (Orange), Mater Dei (Santa Ana).