High-SchoolCalifornia:

Tyrell Robinson
March, 17, 2012
3/17/12
6:50
PM ET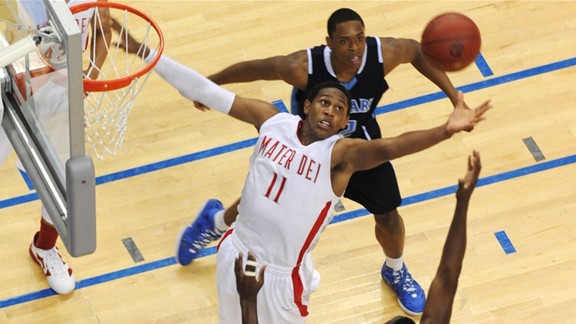 Scott Kurtz/ESPNHSXavier Johnson skies for a rebound during SoCal final.
Mater Dei pulls away in second half to beat Bullard in Division I. La Costa Canyon wins all-San Diego final while Alemany, Price and Village Christian are all heading to state as well.

The CIF Southern Regional title games were played at Citizens Bank Arena in Ontario (Divisions 1-3) and at Colony High School in Ontario (Divisions 4-5). Writeups by Ronnie Flores.
Division I:
Mater Dei (Santa Ana) 85, Bullard (Fresno) 66
The top-ranked team in the state, the Mater Dei Monarchs, faced a Bullard Knights team looking to pull of their third consecutive upset and advance to their first-ever state title game in boys' basketball.
Bullard was not only facing an experienced team that won a state title last year with the same nucleus, it was also facing the most talented team it had seen all season long.
For one half, in front of 5,712 fans, the CIF Central Section Div. I champions hung with Mater Dei (champions of the CIF Southern Section Div. I-AA bracket), but a 23-10 advantage in the third quarter spelled doom for Bullard.
March, 15, 2012
3/15/12
9:36
PM ET
By
Mark Tennis
| ESPN.com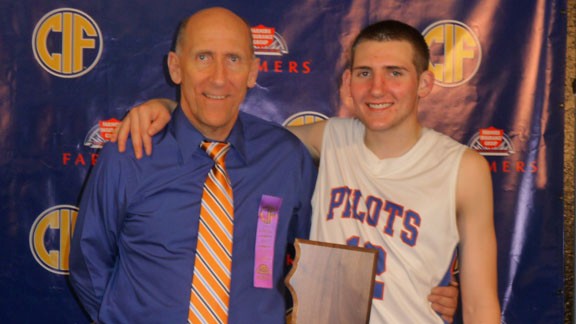 Mark Tennis/ESPNHSCoach Don Lippi, who recently won his 700th game, poses with his son after 2011 team at St. Joseph Notre Dame won CIF state title.
Regional finals set for Saturday at four sites as the road to the 2012 CIF state championships on March 23-24 gets very narrow.
Highlights from Tuesday's games included:
"Bullard of Fresno upsetting nationally ranked Long Beach Poly on 40-foot bomb
"Katin Reinhardt coming back for No. 1 Mater Dei and scoring 21 points in win over Loyola
"Alameda St. Joseph Notre Dame's Don Lippi joining exclusive
ESPNHS Cal-Hi Sports
record book list by picking up 700th career triumph
"Mater Dei (D1), Archbishop Mitty (D2), Alemany (D3), Salesian of Richmond (D4) and St. Joseph Notre Dame (D5) remaining as No. 1 teams
February, 23, 2012
2/23/12
10:00
AM ET
By
Mark Tennis
| ESPN.com
Important announcement from Cal-Hi Sports
|
Archived Cal-Hi Sports content
The No. 1 teams are the same as last week in the Cal-Hi Sports divisional state rankings for boys hoops, but a few notable teams have already been defeated in section playoffs.
Defending CIF Division IV state champ Windward of Los Angeles was among those who lost in CIF Southern Section playoff games on Tuesday night. Also falling was Damien of La Verne, which has been No. 2 in the Division III state rankings since early in the season.
Here is the fourth listing of boys teams this season with analysis and bubble teams for each division (records listed after games of Tuesday, Feb. 21 with some teams that have results included for this week):
CIF Division I
1. (1) Mater Dei (Santa Ana) 25-2
2. (2) Long Beach Poly (Long Beach) 24-1
3. (3) Etiwanda 27-1
4. (4) De La Salle (Concord) 24-2
5. (5) Taft (Woodland Hills) 25-3
6. (6) Loyola (Los Angeles) 22-4
7. (7) Sheldon (Sacramento) 22-5
8. (8) Jesuit (Carmichael) 22-5
9. (10) Bullard (Fresno) 26-3
10. (11) Westchester (Los Angeles) 21-6
11. (13) Mission Viejo 25-3
12. (14) Fairfax (Los Angeles) 20-9
13. (15) Santa Monica 20-8
14. (NR) Capistrano Valley (Mission Viejo) 24-4
15. (NR) Lutheran (Orange) 17-11
Drops:
Previous No. 9 Oxnard; No. 12 Piedmont Hills (San Jose).
Bubble:
Central (Fresno) 20-6, Clovis West (Fresno) 19-5, Crescenta Valley (La Crescenta) 24-5, Foothill (Tustin) 23-5, Palisades (Pacific Palisades) 17-10, Piedmont Hills (San Jose) 25-2, Upland 20-9.
Comments:
The difference between the losses suffered last week by Oxnard to Quartz Hill and by Piedmont Hills to Leigh of San Jose is that Oxnard's was in the CIF Southern Section Div. I-AA playoffs. The Yellowjackets' season, therefore, is over. Quartz Hill then lost to Upland in the next round and Upland plays Loyola in the quarterfinals. The semis in the Southern Section's top division, which could feature Long Beach Poly against Etiwanda, would be played next Tuesday at the Anaheim Arena.