High-SchoolCalifornia:

Xavier Johnson
April, 29, 2012
4/29/12
2:02
PM ET
By
Mark Tennis
| ESPN.com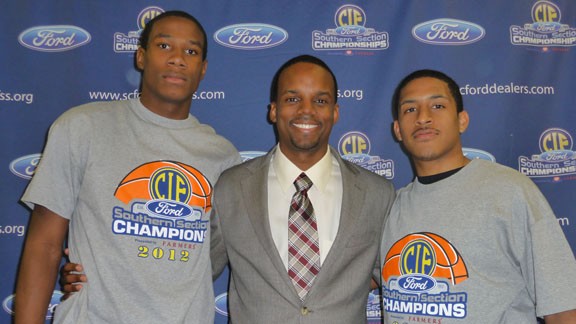 Mark Tennis/ESPNHSDivision III all-state players Marqueze Coleman and Max Guercy of Alemany flank coach Tray Meeks.
This is the second group of 2012 Cal-Hi Sports all-state boys basketball teams, which breaks down best of the best within each CIF state playoff division. Click here for the all-state underclass teams.
ALL-STATE DIVISION I

First Team
G Aaric Armstead (Bullard, Fresno) 6-4 Sr.
F Anthony January (Taft, Woodland Hills) 6-7 Sr.
F Xavier Johnson (Mater Dei, Santa Ana) 6-7 Sr.
G Katin Reinhardt (Mater Dei, Santa Ana) 6-5 Sr.
G Gabe York (Lutheran, Orange) 6-2 Sr.
March, 31, 2012
3/31/12
6:18
PM ET
By
Mark Tennis
| ESPN.com
Just like the girls, a group of five boys are in line to be selected as the 2012 honoree by Cal-Hi Sports. The Mr. Basketball State Player of the Year list now goes back almost 100 years and includes numerous NBA superstars.

Two players from CIF Division I state champion Mater Dei of Santa Ana plus two highly ranked juniors from the San Francisco Bay Area and a McDonald's All-American have been chosen by Cal-Hi Sports as finalists for the 2012 Mr. Basketball State Player of the Year.

The Mater Dei seniors – Katin Reinhardt and Xavier Johnson – aren't the only members of a CIF state championship team to be a Mr. Basketball finalist, either.

March, 24, 2012
3/24/12
6:03
PM ET
By
Mark Tennis & Ronnie Flores
| ESPN.com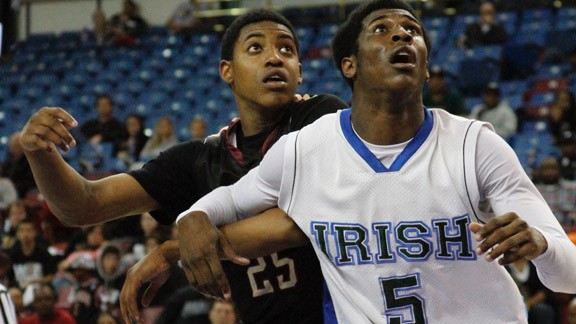 Willie Eashman/ESPNHSAlemany's Malik Anderson battles Sacred Heart Cathedral's Taylor Johns for position.
Behind 30 points from Katin Reinhardt, Mater Dei beats Sheldon in D1 final and gets state record ninth championship for coach Gary McKnight. Alemany also completes quest with D3 victory while Village Christian upends defending champ for first D5 crown.

The CIF Division I, Division III and Division V state title games in boys basketball were played at Power Balance Arena in Sacramento. The Division II and Division IV titles were decided on Friday (
click here for writeups
).
Division I:
Mater Dei (Santa Ana) 66, Sheldon (Sacramento) 48
Two hours after Mater Dei girls' coach Kevin Kiernan became the winningest in CIF history, boys' coach Gary McKnight topped even that by earning his ninth and the program's second in a row.
McKnight, who began coaching the team in 1983, broke the state record of eight set in 1997 by retired Crenshaw of Los Angeles coach Willie West.
March, 22, 2012
3/22/12
6:38
PM ET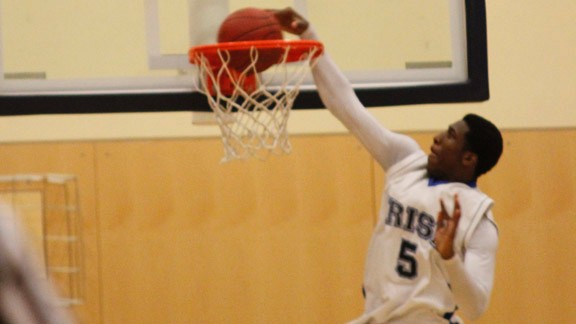 Willie Eashman/ESPNHSTaylor Johns slams one home for Sacred Heart Cathedral
As is our custom prior to CIF state finals in football and basketball, we take a crack at choosing which teams we think will win.
Note:
All of the following writeups and selections are done with the highest level of respect to both teams and all coaches. We never use point spreads and, sure, some of the scores might be a bit more lopsided than we might think. But you also never know what might happen. After all, these are teenagers.
We had one of our worst years ever in last year's CIF finals (boys and girls combined) with just six correct and four wrong. We were 7-for-10 in 2010 and were 9-for-10 in 2009.
The following writeups were completed by Ronnie Flores, Harold Abend, Mark Tennis, Paul Muyskens.
Boys Division I
(Saturday, March 24, 8 p.m.)
Cal-Hi Sports' predicted score:
Mater Dei (Santa Ana) 77, Sheldon (Sacramento) 66
The marquee game of the 2012 CIF boys state championships could live up to its billing as both teams look for historic victories.
Mater Dei, the top-ranked team in the state and the No. 8 team in the country in the POWERADE FAB 50, is gunning for its second consecutive CIF state title. Sheldon is looking to become the first Sacramento-area Division I state champion ever.
March, 4, 2012
3/04/12
4:05
AM ET
By
Ronnie Flores
| ESPN.com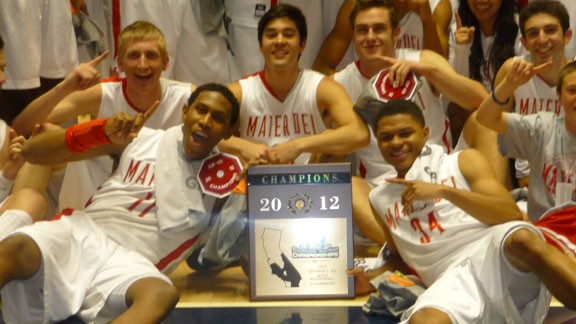 Mark Tennis/ESPNHSMater Dei standouts Xavier Johnson (left) and Jordan Strawberry (right) spread out on the floor with CIFSS title plaque in between.
According to Cal-Hi Sports record book, school's 21st section title also ties state record. Barring a regional upset or strange seeding, the Monarchs and Jackrabbits could meet again in the D1 South championship with trip to state title game on the line. Other winners in CIFSS finals on Saturday in Anaheim include Orange Lutheran, Alemany, Mayfair, Pasadena and Inglewood.
Going into the highly-anticipated CIF Southern Section Division I-AA final between state No. 1 Mater Dei of Santa Ana, the defending state champions, and No. 2 Long Beach Poly, the defending CIFSS Div. I-AA champ, Mater Dei coach Gary McKnight felt rebounding was the key.
February, 3, 2012
2/03/12
10:55
PM ET
By
Harold Abend
| ESPN.com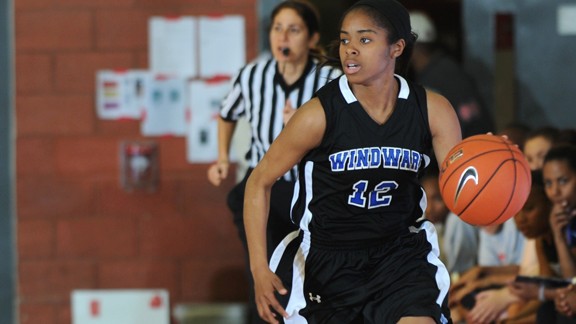 Scott Kurtz/ESPNHSWinward (Los Angeles) sophomore phenom Jordin Canada was one of three girls in double- figure scoring (10 pts.) in the top-ranked Wildcats' 65-62 win over No. 2 Mater Dei (Santa Ana).
Important announcement from Cal-Hi Sports
|
Archived Cal-Hi Sports content
Victory by the Wildcats gives them the edge if it comes down to them and Mater Dei at the end of the season for the girls' hoops State Team of the Year honor since the two teams will be in different divisions in the postseason. Go inside here as well for highlights of other games played Friday at the Nike Extravaganza, including Mater Dei boys.
Related:
Nike Extravaganza Saturday preview
The marquee game of Friday's session at the
Nike Extravaganza
pitted the top two teams in the
Cal-Hi Sports
girls state rankings was everything it was cracked up to be.
In the end, it was the size of No. 1 Windward of Los Angeles that proved the undoing of host No. 2 Mater Dei of Santa Ana in a 65-62 Wildcats' victory.
"Windward is a great team," said Mater Dei coach Kevin Kiernan. "They executed and moved the ball real well and beat us pretty good on the boards."
Windward (20-2) used its size advantage to finish with a 45-22 rebounding advantage.
Macchi Smith, the hero of Windward's 56-55 victory last Saturday over No. 4 Long Beach Poly, came through again. The sophomore guard had a team-high 16 points, including a rebound and put back off the front end of a one-and-one free-throw attempt by
Imani Stafford
with 26 seconds left that sealed the deal.
The 6-foot-7 Texas-bound Stafford only had nine points, but she pulled down 16 rebounds and blocked three shots, including a 3-point attempt by Mater Dei's Khalia Lark with 2.5 seconds left.