High-SchoolColorado:

ESPNHS Magazine
November, 29, 2011
11/29/11
10:36
AM ET
By
Christopher Parish
| ESPN.com
This story originally appeared in the Holiday issue of ESPNHS magazine's Colorado edition.
There's a cliché in basketball — there's only one ball. Teams with lots of talent (read: the Miami Heat) struggle with this from time to time. How are LeBron James, Dwyane Wade and Chris Bosh all going to get the shots they're used to?
The Heat figured it out (sort of) and went to the NBA Finals. Chaparral is hoping to do the same thing (well except getting to the NBA Finals, of course — the Wolverines are aiming for the CHSAA state final). Head coach Robert Johnson has arguably the best backcourt in the state, a young guard in development and a quality shooting guard. Last season, Chaparral made a nice run in the 5A state tournament before falling to top-seeded Arapahoe.
"We were junior-heavy," Johnson says. "With this now a senior class, and with a couple younger talented kids, we are expecting to have the biggest season of this team's short history. I believe we are capable of winning the state title."
But first, Johnson needs to figure out how best to balance his two stars, seniors
JOSH ADAMS
and
CORY CALVERT
. Adams, a Wyoming recruit, averaged 16.1 points per game last season.
"He has the ability to take over any game," Johnson says. "Defensively, he can guard 6-8 post players and 5-10 guards."
Calvert is also a D-I college recruit; he's committed to BYU.
"He sees the court as well as anyone I've seen," Johnson says. "He sees passing angles and executes them well before anyone else sees them."
Sophomore guard
BRANDON MALONE
is a young star on the rise for the Wolverines, and senior
REECE ELLIOTT
is a senior with a great outside shooting touch. If Johnson finds an inside presence, Chaparral will be extremely dangerous.
Christopher Parish is an associate editor with ESPNHS magazine. You can reach him on Twitter
@CParishESPNHS
.
November, 25, 2011
11/25/11
10:36
AM ET
By
Lucas O'Neill
| ESPN.com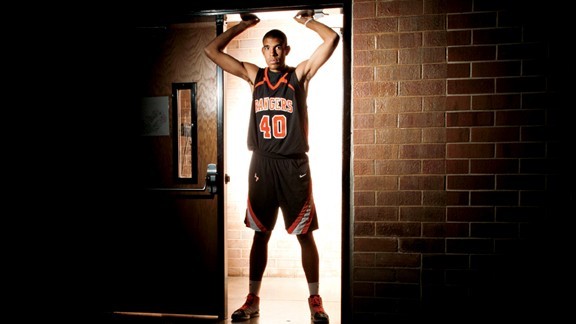 Eric Bellamy/ESPNHSLewis-Palmer senior Josh Scott, a Colorado recruit, is laid back off the court but has a mean streak on it.
This story originally appeared in the Holiday issue of ESPNHS magazine's Colorado edition.
Don't be fooled.
Josh Scott can come across as a gentle giant. The Lewis-Palmer senior is friendly and gregarious, popular with classmates. The eldest of A.J. and Theresa Scott's five boys, Josh is constantly carting around his brothers, his friends and his brothers' friends in his beat-up silver Kia Amanti.
"He's like the team mom," says his brother Jordan, a junior forward for Lewis-Palmer. "He drives all of us that live close — at least until a couple weeks ago when all of us got our license(s)."
Scott is also a member of the Rowdy Rangers, a spirit group at Lewis-Palmer. He's literally a choirboy. In fact, he's lifting his voice every chance he gets.
"All the time, he never stops," Jordan says. "When he's not talking, he's singing."
Then there was the time Josh helped a girl he hardly knew get to her car because she had an injured ankle. The 6-foot-10 big man swooped her up in his arms and carried her from the gym, down the hallway, through the doors and out to the parking lot. He didn't think anyone was watching, but his coach, Russ McKinstry, saw the whole thing.
"That's the type of kid Josh is," McKinstry says. "Nobody would have known that happened, he just did it because he's a good person. He's just a good person at heart."
September, 27, 2011
9/27/11
5:02
PM ET
By
Christopher Parish
| ESPN.com
The Colorado All-State soccer team will be unveiled in our October issue of the magazine. But if you haven't seen it yet, here's who we picked as the top players in the state.

STARTING 11
Position/Name, School, Year, Club Team

[F] Danny Jensen, Evergreen, Junior, Colorado Rush
Star forward notched 23 goals for 4A semifinalists last fall
[F] Oscar Montes, Bear Creek, Junior, Colorado Rush
Talented underclassman earned All-Colorado honors last year
[F] Shane O'Neill, Fairview, Senior, Colorado Rapids
Dangerous scorer is also a star basketball player
[MF] Danny Childs, Sand Creek, Senior, Pride SC
One of the state's most dynamic scorers; 29 G and 28 A last fall
[MF] Karsten Hanlin, Cherry Creek, Senior, Colorado Rapids
All-Colorado midfielder led Bruins to 5A state crown
[MF] Lexington Leitmayr, ThunderRidge, Senior, Real Colorado
His breakout year helped Grizzlies to 5A semis
[MF] Matt Marchena, Columbine, Senior, Colorado Rush
The unquestioned leader of up-and-coming Rebels squad
[MF] Jake Martinez, Liberty, Senior, Real Colorado
Also made the ESPNHS West Region "Starting 11" team
[D] Mark Dotseth, Air Academy, Senior, Real Colorado
His stellar defense helped Air Academy win Class 4A crown
[D] Chris Gurule, Niwot, Senior, Colorado Rapids
Named Longmont Times-Call Player of the Year last season
[GK] Christian Nicolosi, Mountain Vista, Senior, Colorado Rush
Allowed only five goals in 495 minutes of playing time last season

OTHER TOP PLAYERS
Position/Name, School, Year, Club Team

[F] Jesse Ham, Denver Christian, Senior, Real Colorado
Part of a soccer-playing family; his brother plays at Washington
[F] Akio Ohtake-Gordon, Wheat Ridge, Senior, Colorado Rush
Dangerous up front, as his 21 goals and nine assists can attest
[F] Nathan Rubio, Air Academy, Senior, Pride SC
Knee injury will keep him out this year, but he's still one of state's best
[MF] Yasin Abdulgasem, Overland, Junior, Real Colorado
Aurora Sentinel first-teamer owned the middle of the pitch
[MF] Jack Huettel, Boulder, Senior, Boulder County Force
Versatile midfielder is his team's lone returning starter from last year
[MF] Emmanuel Martinez, Bear Creek, Junior, Colorado Rush
His four-goal game vs. Lakewood showed glimpse of his potential
[MF] Ricardo Perez, Rocky Mountain, Junior, Colorado Rapids
Considered one of the nation's top midfielders in the Class of 2013
[MF] Dillon Serna, Horizon, Senior, Colorado Rapids
Represented the US in the U-17 World Cup in Mexico
[D] Cole Davis, Cherry Creek, Senior, Colorado Rapids
Anchored defense that gave up only 15 goals last season
[D] Jason Prichard, Eaglecrest, Senior, Colorado Rush
One of only two non-seniors on All-Aurora Sentinel first team
[GK] Ethan Horvath, Arapahoe, Junior, Real Colorado
Has trained with U-17 National Team and various European clubs

Note: The Starting 11 is comprised of the best players in Colordo who were projected to suit up for their high school teams this year. The Other Top Players are comprised of high school players as well as club-only players.
August, 22, 2011
8/22/11
6:28
PM ET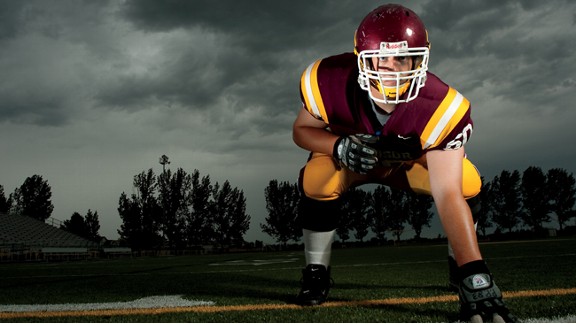 Eric Bellamy/ESPNHSWindsor senior lineman Joey O'Connor has verbally committed to Penn State
Windsor senior offensive lineman
Joey O'Connor
graced the cover of the September issue of our ESPNHS Colorado magazine, which hit schools this week. O'Connor plays in one of Colorado's smaller classifications, but he has the game for a major college program. And following his final high school season, O'Connor
is headed East
to play for the Penn State Nittany Lions.
O'Connor is rated
the nation's No. 104 recruit in the ESPNU 150
. The 6-foot-4, 280-pound lineman was actually a stellar hockey player and nearly moved to Canada to pursue his dream of playing in the NHL before picking up football.
For more on his impressive story,
click here
.
August, 22, 2011
8/22/11
10:39
AM ET
By
Christopher Parish
| ESPN.com
Below is our preseason All-State football team for Colorado, as featured in our ESPNHS Colorado magazine, plus an additional 50 top players. The team is based on projected on-field performance and accomplishments, not necessarily recruiting potential. For a list of the top football recruits in the state,
click here
.
Want to see the All-State teams for the other 49 states?
We've got 'em right here
.
Think there's someone we're missing? Tell us about him in the comments or reach out on Twitter (
@CParishESPNHS
).
OFFENSE
Cyler Miles, Mullen, QB, Senior
Elite 11 finalist led the Mustangs to a state title last season