High-SchoolConnecticut:

Casey Cochran
December, 12, 2011
12/12/11
12:10
PM ET

Kent School, Hockey
Credentials: This isn't the first "A-List" for Nieves. The NHL Central Scouting service lists him as an "A" prospect, meaning he's a potential first-round pick in the next draft.
Click here
to check out some of the other states in our Five Days of List-Mas.
Tomorrow: The top underclassman football players from Connecticut.
Think I missed someone who should be on the A-List? Hit me on Twitter (
@ESPNHSGrimala
) and make your case.
December, 1, 2011
12/01/11
11:01
AM ET
The Gatorade State Players of the Year for football have been
announced
, and there was not much suspense when it came to the Connecticut race. Masuk quarterback
Casey Cochran has claimed the award
for the second straight season after throwing for 2,801 yards and 36 touchdowns. Cochran, a senior, has Masuk at 11-0 heading into this weekend's Class L semifinal game against Daniel Hand.
Personally, I can't think of one argument against Cochran. Sure, other players have had great seasons, but none can match Cochran's combination of career achievements, great numbers, team success and overall value to his team.
Masuk is ranked No. 1
in the state and two wins away from a second consecutive championship, and Cochran is the guy most responsible for that.
I think the Gatorade guys got this one very right.
To read the complete rundown of Cochran's credentials,
click here
.
To see all the winners for every state,
click here
.
November, 25, 2011
11/25/11
9:30
AM ET
By
Lucas O'Neill
| ESPN.com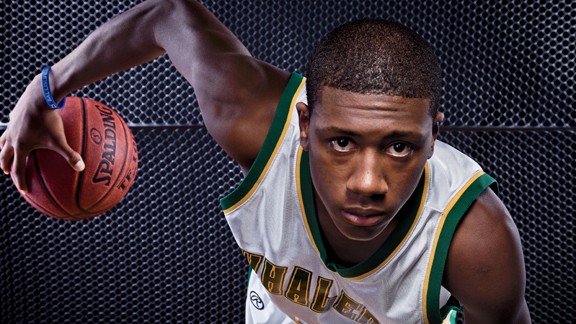 Christopher Beauchamp/ESPNHSNew London senior Kris Dunn is No. 29 in the ESPNU 100
This story originally appeared in the Holiday issue of ESPNHS magazine's Connecticut edition.
You'd like Kris Dunn.
At first blush, the New London senior comes across as a happy-go-lucky kid, all smiles and jokes and goofiness. He's exceedingly polite but possesses a mischievous grin. A bit lanky at 6-foot-3, he exudes an air of fun — an adventurer ready for his next caper.
Even on the basketball court, the kid they call Stretch is a bundle of energy, creating havoc — not to mention steals and baskets — with his exuberance. But challenge him, tell him he's no good at basketball, and a different persona surfaces.
"The smile disappears," says Doug Henton, a senior guard at New London. "Once he steps on the court, he's all about business."
Henton recalls a game last year when a Stonington player made the mistake of talking trash to Dunn, who responded by tossing the ball off the backboard to himself and throwing down an emphatic dunk.
Let that be a lesson to any opposing player: Don't make Kris Dunn angry. You wouldn't like him when he's angry.
Rated the nation's No. 2 point guard in the ESPNU 100, Dunn has used his split personality to become one of the best players in state history. He's led a storied New London program to the Class L title game each of the past two seasons, and last year he averaged 25.6 points, 9.6 rebounds, 4.5 steals and 5.0 assists a game as the Whalers went undefeated and emerged as state champions.
"You never have to worry about Kris not playing hard on the basketball court," says New London coach Craig Parker.
A Providence commit, Dunn is back at New London this season looking to cement his legacy as the top player in the program's storied history. As recently as this past summer, however, his return didn't seem likely. Dunn and fellow Connecticut Basketball Club star Andre Drummond committed to spend their senior years prepping at Wilbraham & Monson Academy in Massachusetts. But Dunn decided at the last minute that he'd rather return to New London, while Drummond enrolled early at UConn this fall.
Initially, Dunn had been drawn to the idea of playing with his good friend against elevated competition, and of getting the college feel a year early. He thought it'd help his maturation process. But when he sat down to talk with his family about it, they asked if he really wanted to take that step.
In the end, Dunn decided to stay home.
"I didn't want to bail on New London like that because this is where everything started," he says.
When he arrived at New London, Dunn was a 5-10 freshman, gangly and without a jump shot to speak of. He still started and earned All-State honors.
"Sophomore year he had a jump shot but was not that athletic," says Henton. "Junior year he was dunking on people.
"I can't wait to see what he comes back with (this year)."
Those gains came from hours in the gym and on the court. With CBC, Dunn often played up an age group, and his skills — and recruiting profile — grew as he did. Along with adding around five inches of height, Dunn has added roughly 20 pounds of muscle to his frame since freshman year and now checks in at 180.
"Kris has made a commitment to basketball," adds Parker. "He's constantly playing, he's constantly practicing. He's worked a lot to improve his outside shot and I think you'll see more of that this year."
Dunn credits his work ethic largely to his father, John Seldon. Dunn was born in Connecticut but spent his early years in Virginia with his mom before returning to live with his dad at age 11. They were both committed to making up for lost time, and Seldon impressed upon his son the value of hard work, competitiveness and academics.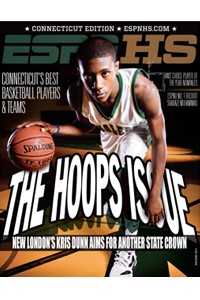 Christopher Beauchamp/ESPNHSProvidence-bound Kris Dunn averaged 25.6 points, 9.6 rebounds and 5.0 assists per game last year
"He's always in the gym getting better," says Casey Cochran, who led New London to a state football title as a freshman and is now the signal-caller for Masuk. "He's really dedicated."
But Cochran also sees the silly side of Dunn. Their fathers are old friends — both played football for New London — and Cochran and Dunn have been close for several years. On occasion, they have "Ugly Sweater Night," which pretty much speaks for itself.
"He's always got a smile on his face," says Cochran, a UConn commit who's the state's top football player. "He's always laughing or smiling."
A self-described class clown, Dunn's off-court demeanor is as unpredictable as his skill set is varied. In addition to ugly sweaters, he likes turtles, video games and math. He also has a strong faith in God.
Dunn has thought a lot about trying out for the New London soccer, tennis and baseball teams but always decides to focus instead on hoops. He was a good football player when he was younger, and his dad is still a little disappointed Kris chose basketball instead.
He even plays golf twice a week and thinks he could make that team, too.
"I try to play people," he says, "but I like to joke around so people don't really take me serious."
That's never a problem on the court, where Dunn is a factor in every aspect of the game.
He may be asked to do even more this season. While New London returns most of its key players, the Whalers will be without Torin Childs-Harris, an All-State wing now doing a prep year at St. Thomas More.
If anyone is up to the task, it's Dunn. While he can take it to the rack with ease, defenders have to play him close because of his improved outside shot. If they double-team him or use a box-and-one, he's more than capable of getting his teammates involved, as his career average of more than five assists per game demonstrates. With his bounce, Dunn can outrebound most forwards, and with his quickness he's always a threat on the break.
Like his favorite player, Kobe Bryant, Dunn even relishes the opportunity to lock down the opposing team's best perimeter player. And most of the time he does it all with a smile on his face.
"He's just a tremendous athlete and a terrific young man," says Parker.
What's not to like?
November, 23, 2011
11/23/11
1:58
PM ET
As we get set for the start of the state playoffs, let's pick the final regular season games.
Newtown (8-1) at No. 1 Masuk (9-0)
Newtown is coming off a shootout win over Bunnell (54-48), so they're not afraid of getting into a high-scoring game with Masuk. Still, I'm picking the Panthers until someone beats them. That's how much faith I have in Casey Cochran, Colin Markus and friends.
MASUK 45, NEWTOWN 31
No. 2 Xavier (9-0) at Middletown (6-3)
I would have been tempted to go with Middletown as an upset pick until they lost to Farmington last week.
XAVIER 34, MIDDLETOWN 14
No. 3 Daniel Hand (9-0) at Guilford (4-5)
Hand is too quick and too big up front.
DANIEL HAND 38, GUILFORD 7
No. 5 Ansonia (10-0) at Naugatuck (6-3)
Arkeel Newsome's first Thanksgiving Day game should be a special one.
ANSONIA 42, NAUGATUCK 14
No. 9 Darien (8-1) at No. 7 New Canaan (8-1)
This is one of the biggest matchups of the week. The once-great Darien defense has given up 26.3 points in the last three games, which makes me lean toward New Canaan.
NEW CANAAN 30, DARIEN 20
Greenwich (8-1) at No. 10 Staples (8-0)
Staples has beaten every team on the schedule this season, and there have been some tough opponents along the way. I'm sticking with the Wreckers.
STAPLES 24, GREENWICH 10
Think I made a bad call? Hit me on Twitter (
@ESPNHSGrimala
).
November, 11, 2011
11/11/11
4:06
PM ET
With just two weeks left in the regular season, football awards are starting to come into focus. The Gatorade State Player of the Year award is the most prestigious, as Masuk quarterback
Casey Cochran
can tell you — he won it last year as a junior. Eric Snyder is part of the ESPNHS team that researches and analyzes potential Gatorade POY candidates, and he's
on the record
naming Cochran and Cromwell senior quarterback
Anthony Morales
as the frontrunners right now.
Cochran is having another unbelievable season, with 2,123 passing yards and 29 touchdowns (against just three interceptions). The UConn recruit is also leading the
No. 1 team
in the state.
Morales is right up there with Cochran in terms of stats — he's passed for 2,376 yards and 30 TDs (four INTs).
Both guys have good cases, but in my opinion it's going to be hard to unseat Cochran. Not only is he the defending POY, but he became the state's all-time leader in passing yards and touchdowns this season. That kind of stuff can end up being a tiebreaker if the race is close at the end of the year.
To read the full breakdown, which includes other top Gatorade POY candidates,
click here
.
November, 4, 2011
11/04/11
3:59
PM ET
Thanks to the Nor'easter that miserably dropped approximately 80 inches of snow (my approximation) in Connecticut, the football game between Pomperaug and No. 1 Masuk had to be rescheduled from Friday to Saturday and moved from Masuk to Pomperaug's turf field. Will any of this swing the game in a tangible way? I'm not sure, but let's jump in and discuss it in this week's preview.
Week 8 Preview
The Game:
No. 1 Masuk (7-0) at Pomperaug (6-1)
Saturday, 7 p.m.
The Players:
Masuk — You should know all the key players for Masuk at this point. Senior quarterback Casey Cochran (1,846 yards, 27 TDs) inflicts more damage than an October snowstorm, and senior running back Colin Markus (914 yards, 12 TDs) is more elusive than electricity after an October snowstorm. The Panthers are scoring almost 57 points per game, so you probably don't want to get into a shootout against Masuk — it's more futile than searching for a hotel vacancy after an October snowstorm.
Pomperaug —Senior linebacker Tyler Valenti has already racked up more than 100 tackles on the season, but he'll need to contribute more than his physical abilities on Saturday night. Masuk's passing attack is more complicated than a power company's service restoration map after an October snowstorm, so Valenti will have to keep his crew up to speed by communicating and leading on the field. Senior linebacker/defensive back Andrew Reel is another coverage guy who will have to come up huge; Reel is also Pomperaug's leading rusher.
The Stakes:
This is the toughest game Masuk has played this season, and it may end up being their most challenging regular-season contest. For Pomperaug, it's a chance to knock off the No. 1 team in the state and jump back into the discussion themselves. That should be motivation enough.
The Prediction:
Pomperaug has held opponents to 12.5 points per game this season, so the defense is legit. But in the team's one loss, they got picked apart by Bunnell, a team that uses a spread passing offense. That leads me to think Cochran will be able to put points on the board, and as we discussed earlier, getting into a shootout with Masuk is like an October snowstorm — they're both just awful, awful concepts that should never come to pass under any circumstances. That's why I'm going with Masuk.
MASUK 45, POMPERAUG 21
For the rest of the Week 8 picks, click here.
Think I made a bad call? Hit me on Twitter (
@ESPNHSGrimala
).
September, 23, 2011
9/23/11
10:41
AM ET
In a fairly calm opening weekend that saw most of the
POWERADE Top 10
win their games easily, Hillhouse was the lone team that suffered a major upset. Entering the season ranked No. 4, a blocked field goal in the waning seconds sent Hillhouse home 0-1 and out of the Top 10, and it doesn't get any easier this week against No. 10 Cheshire.
The Game:
No. 10 Cheshire at Hillhouse
Friday, 3:30 p.m.
The Players:
Cheshire — Senior quarterback Michael John Ecke was the biggest revelation in Cheshire's 46-18 win over Hamden last week. Ecke completed 16 passes to six different receivers, passing for 188 yards and three touchdowns. Senior Sebastian Little did most of the damage, catching five balls for 105 yards and a pair of touchdowns.
Hillhouse — The Academics are more likely to keep the ball on the ground, using a committee of ball carriers to punish the Cheshire defense. Junior Anderson Andre was one of four backs to receive between 5 to 8 carries last week, toting it six times for 135 yards and two TDs.
The Stakes:
This game is huge for Hillhouse after losing in Week 1. Even though the Academics proved they could turn it on at the end of the season last year, dropping to 0-2 would be a near-catastrophe.
The Prediction:
Hillhouse has the makings of a dominant ground game, and sometimes playing keep away is the best way to stop an opponent's passing attack. I think the Academics dominate time of possession and come away with a very important victory.
HILLHOUSE 16, CHESHIRE 10
Other notable games:
No. 1 Masuk vs. New Fairfield
I see no reason why the Masuk offense would slow down now. Big day for QB Casey Cochran and WR Thomas Milone. MASUK 41, NEW FAIRFIELD 7
No. 2 Xavier vs. Foran
Xavier is likely playing without junior QB Tim Boyle, but this is where having two excellent quarterbacks pays off. Senior Pat D'Amato gets the job done this week. XAVIER 28, FORAN 6
No. 10 Glastonbury vs. Newington
Glastonbury's defense could end up being one of the state's best. I think they show it on Saturday against Newington. GLASTONBURY 24, NEWINGTON 7
September, 16, 2011
9/16/11
2:57
PM ET
As part of our football coverage here, I offer up my hypothetical fantasy football picks every week. Note: This league is completely made up. If you are in a high school fantasy football league, please seek professional help.
START 'EM
RB — Colin Markus, Masuk
Most of the preseason hype surrounding No. 1 Masuk has been centered on QB Casey Cochran, and rightfully so. Cochran is the best player in the state. But Markus has been hugely productive in the Panthers' offense — last year, he rushed for 1,535 yards and 25 touchdowns, and he also finished third on the team with 32 receptions (303 yards, six TDs). So whether Masuk is running or throwing, Markus is usually involved. The Week 1 matchup against Oxford is favorable, too. Last year, Masuk hung 69 points on Oxford.
Projection: 16 carries, 115 yards, 2 TDs; 4 catches, 44 yards, 1 TD
QB — Kellen Croce, Pomperaug
Croce started slowly last year, but in the final eight games he completed 60 percent of his passes for 1,730 yards (with a 13-6 TD-INT ratio). Pomperaug has a strong group of experienced receivers returning, so Croce will be able to air it out even more this season. I think he's good for 20-plus touchdown passes and could possibly approach 30. One of his worst games of 2010 came against tonight's opponent, Brookfield, but I still think Croce will put up big numbers.
Projection: 22 of 32, 260 yards, 3 TDs
WR — Aaron Berardino, Windsor
Berardino was one of the state's top scorers at the WR position last year, putting up 850 yards and an impressive 10 touchdowns. And with junior QB Robert Fleeting back for another season under center, Berardino should see a bump in his numbers. Against Wethersfield tonight, I expect the Warriors to lean on him early. 10-plus targets seems like a lock.
Projection: 8 catches, 105 yards, 1 TD
BENCH CITY
RB — Amihr Bess, Notre Dame-West Haven
Coming off a 1,000-yard season in which he scored 11 touchdowns, you might think Bess is a good option to plug into your starting lineup this week. But look at the Week 1 opponent — Xavier. The Falcons are ranked No. 2 in the state, in large part thanks to their defense, which held Bess under 100 yards last season. If he gets more than 15 carries or over 90 yards, I'll be shocked. Stash Bess for now and start him against a better matchup next week.
Projection: 12 carries, 68 yards, 0 TDs
* Projections based on 1 QB, 2 RB, 2 WR format; No PPR
Want to join my (nonexistent) fantasy football league? Hit me on Twitter (
@ESPNHSGrimala
).
September, 2, 2011
9/02/11
10:39
AM ET
Casey Cochran is pretty good. The Masuk senior is the top quarterback in Connecticut and the reigning Gatorade State Player of the Year, but he's not perfect. So we invited him to Bristol for a workout session with college analyst and former NFL quarterback Brock Huard as part of ESPN's "Year of the QB."
In part one, Huard breaks down game film with Cochran, and the former Washington star gives him some useful pointers on pocket presence, footwork and mental preparation — all the things that separate good QBs from great QBs. Huard and Cochran also worked on
throwing mechanics
, ran some
passing drills
and did some
gym training
.
Check out the film study video below:
August, 22, 2011
8/22/11
2:36
PM ET
Who's ready for some All-State action? Below is our preseason All-State football team for Connecticut, as featured in the September issue of ESPNHS magazine, plus an additional 50 top players. The team is based on projected on-field performance and accomplishments, not necessarily recruiting potential. For a list of the top recruits in the state,
click here
.
Just to give you a taste, the first team QBs are posted here, with the full All-State team listed after the jump. Think I made a mistake somewhere? Unlikely, but tell me about it in the comments or hit me on Twitter (
@ESPNHSGrimala
).
ESPNHS Connecticut All-State Football
First team
Offense
Bryan Castelot, Bunnell, QB, Junior
Tossed seven touchdown passes in one game last year
Casey Cochran, Masuk, QB, Senior
Reigning Gatorade State Player of the Year
Matt Milano, New Canaan, QB, Senior
Threw 42 touchdown passes in 2010
August, 22, 2011
8/22/11
12:54
PM ET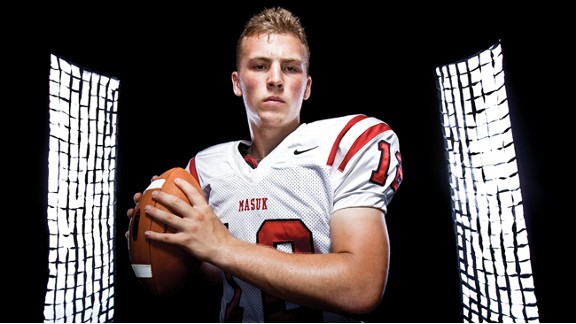 Christopher Beauchamp/ESPNHSCasey Cochran
Casey Cochran is no stranger to Connecticut football fans — the reigning Gatorade State Player of the Year is a favorite to win the award again as a senior, and he's got Masuk at No. 1 in the ESPNHS
preseason rankings
. But Cochran doesn't get the same kind of respect on the national level, and that's something he's looking to change this season, as detailed in this
Pulitzer-worthy
cover
story
in the September issue of ESPNHS.
If the rankings seem low to you, you're not alone. Everyone who has worked with Cochran or observed him on a daily basis seems to agree he should be in the discussion for the nation's best quarterback.

Cochran himself is one of the believers.

"I like to think I belong up there with the best guys," he says. "I try not to worry too much about where I'm ranked. I know it's somewhere in the 30s, but that's motivated me to work hard, and that's made me a better player."
For the complete story,
click here
.
August, 19, 2011
8/19/11
4:27
PM ET
And with the first post in the Connecticut blog, ESPNHS selects: Preseason football rankings. We'll give you the top three here, the rest of the Top 10 and some explanations after the jump.
Masuk (Monroe)
Xavier (Middletown)
New Canaan