High-SchoolFlorida:

ESPNHS Magazine
February, 28, 2012
2/28/12
9:26
AM ET
By
Lucas O'Neill
| ESPN.com
This article appears in the March issue of ESPNHS magazine
Walker Weickel
and
Jesse Winker
have been teammates on the Olympia (Orlando, Fla.) varsity baseball team for the past four years. This fall, they teamed up for the gold-medal-winning 18U National Team at the Pan Am Championships in Colombia. And as you can tell from this conversation, it was clearly the experience of a lifetime.
Winker:
Wearing USA on your chest, that's a huge deal. It gives you goose bumps every time you see it. Winning gold, bringing it home, that was awesome.
Weickel:
Once I was able to hear my name called and Jesse's name called, and we were able to put the colors on together, it was really just kind of a surreal feeling.
Winker:
Two guys from the same school? That's awesome. It was a true honor, and I'm glad we both got to do it.
Weickel:
Going down to a foreign country like Colombia and being put in that environment of poverty and struggle and dealing with that off the field, it really gave you a sense of appreciation for what you play for here. Down there, when you're from the USA, you're kind of looked at like an outsider. We played Colombia. We played Venezuela. It's a lot more boos and a lot more negative cheering in the crowd. At the same time, it kind of empowers you and gives you that sense of accomplishment — not just as a baseball player, but as an American.
Winker:
It really was us 20 and our parents against Colombia. There were other countries there and every game everyone wants to beat you. That bus ride home after we won gold: There's not a greater feeling.
Weickel:
The coolest feeling of the entire trip for me was after the championship game standing on the podium. We all had our medals on and there were probably 15 or 20 thousand fans in the stadium for the ceremony. They started playing the national anthem, and the only people who could sing along were the 20 players and our families.
Winker:
And the dog pile was awesome. We won on a walkoff hit, so we all came flying out of the dugout. And I'll never forget it because I jumped on and I rolled off immediately, and I look over and I see Walker and he has the flag and he's just running for the pile. He jumped so high; I'll never forget that.
Weickel:
After the game-winning hit, everybody just took off running. I stayed back for a second and undid the flag and made sure I was the last guy out on the field, carrying the flag. I was kind of the cherry on top of the dog pile.
November, 23, 2011
11/23/11
9:55
AM ET
By
Lucas O'Neill
| ESPN.com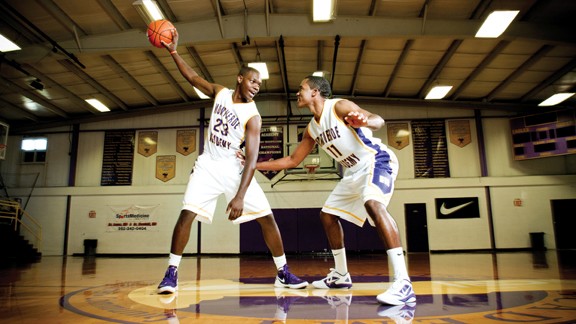 Riku/ESPNHSMichael Frazier (23) and Kasey Hill (11) look to lead Montverde Academy to a national title.
This story originally appeared in the Holiday issue of ESPNHS magazine's Florida edition.
Most days at lunch, Michael Frazier and Kasey Hill head to the gym to shoot hoops. It's a chance for Montverde Academy's starting guards and new teammates to get to know each other. It's also a lesson in contrast.
Frazier and Hill bring different skill sets, backgrounds and personalities to the table, but they're of one mind when it comes to this season. The goal is to lead the Eagles — who started 2011-12 as the state's top team and No. 10 in the POWERADE FAB 50 — to a national championship.
Their differences could help them do it.
"I think we both know we're the leaders of the team, and for us to win the national championship, we're going to have to step up and have everyone give it their all," Frazier says.
Hill, who is rated the nation's No. 16 junior in the ESPNU 60, can get to the rim at will and dunks with uncanny ease for a 6-foot-1 point guard. He averaged 20.4 points and 6.8 assists per game as a freshman at Mount Dora Bible and earned All-County first team honors in his first season at Montverde last year. He's also been working hard on his outside shot, and Frazier provides an excellent example.
"He keeps the same form every time when he shoots," Hill says. "He's always square and he always follows through."
A Florida-bound senior shooting guard who is rated the nation's No. 93 recruit (No. 2 in the state) in the ESPNU 100, Frazier averaged 29.7 points and 9.7 rebounds per game last year for Plant. He also excels academically, arriving at Montverde in August with a 4.7 GPA. He says credit goes to his dad, Michael Sr., a pastor who early on told his son his brains would take him further than a basketball would.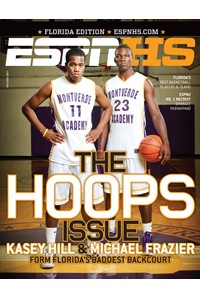 Riku/ESPNHSFlorida natives Kasey Hill (11) and Michael Frazier (23) lead a Montverde Academy team stacked with talented international players.
For Hill, school has always been more of challenge. He started playing varsity basketball in sixth grade at Mount Dora, and his grandmother, Emma Fisher, says that forced him to mature quickly.
"He was moving so fast with his skills, it's like he didn't have time to be a little boy," Fisher says. "He was out there with the best of those guys and they were talking big-boy talk, and he didn't fit in."
That was only part of the struggle. Hill says his mother was often absent, while his dad is in prison. It's something that has caused him significant pain over the years, but he's come to a place where he can open up about it. "It's not something I would wish on any kid," Hill says. "You see so much and you have to grow up a totally different way. Some nights I'd just cry all night just wishing my parents were together, or at a tournament watching me play.
"It's just a different lifestyle that you don't choose. You just have to step up and be able to learn. I think it helps you a lot."
That last line might seem like a contradiction, but it's not. Hill draws strengths from the obstacles he's overcome.
"Basketball is easy for Kasey," says Jeff Simmons, Hill's guardian. "It's everything else that he's learned to balance and be better at that's made him what he is today."
November, 11, 2011
11/11/11
11:22
AM ET
By
Lucas O'Neill
| ESPN.com
The Belen Jesuit swimming team will go for its sixth consecutive Class 2A title at the Pinch-A-Penny FHSAA Swimming and Diving Finals tomorrow in Orlando. It'll be a tall order for the Wolverines, who last year graduated two swimmers — Andy Vazquez and Carlos Omana — crucial to those title runs. Last fall we did a
cover story in ESPNHS Magazine
on Vazquez and Omana, who are now at Boston University and Florida, respectively. The pair combined for eight individual gold medals in their careers and also teamed up for five relay state titles. That kind of production is impossible to replace.
Still, Belen is not without hope. Kirk Peppas' squad is led by Julian Ballestas, a junior who won the 100 free last year and was on both the 200 and 400 free relay squads that took gold. In
our story
, Ballestas talked about the influence Vazquez and Omana had on him: "They're really good leaders," he said. "Chacho is more of a pumpup guy. Andy's kind of the wise one, I guess you can put it that way."
This year it has largely fallen on Ballestas to provide that leadership. Whether the Wolverines make it six in a row tomorrow or not, what they've already accomplished is one of the most impressive team feats in Florida state history.
In Class 3A, Palm Harbor University secured the title on Thursday. The Hurricanes didn't have a single individual champ (senior David Morgan had second- and third-place finishes and led the 200 medley relay squad to gold), but still secured their second title in four years. They finished runner-up to Miami Palmetto last season.
The Class 1A finals take place at the YMCA Aquatic Center today. Bolles, which has won the most swimming titles in state history (33), including 23 straight, has to be considered the favorite, but Tampa Prep, Providence School, Lake Highland Prep and Plantation American Heritage should all be in the mix.
November, 8, 2011
11/08/11
4:13
PM ET
By
Lucas O'Neill
| ESPN.com
See all 50 All-State teams plus D.C.
With the 2011-12 hoops season set to tip off, ESPNHS has all the info you need on the top players in Florida.
We've broken down the state's top 20 players into four teams based on their talent. Keep in mind, these preseason selections are based on past accomplishments and projected on-court performance in addition to recruit rankings.
For a list of the top senior basketball recruits in Florida,
click here
.
FIRST TEAM
G: Michael Frazier, Montverde Academy, 6-5/195, Senior

Florida-bound SG is one of the nation's best shooters.
G: Kasey Hill, Montverde Academy, 6-1/175, Junior

The state's best point guard has been playing varsity since sixth grade.
F: Malik Price-Martin, Monsignor Pace, 6-8/187, Junior

Versatile All-State PF is state's No. 4 junior is the ESPNU 60.
F: Chris Walker, Holmes County, 6-10/195, Junior

Hyper-athletic combo forward is nation's No. 5 junior in the ESPNU 60.
C: Joel James, Dwyer, 6-10/260, Senior

UNC-bound big helped Panthers win state last year.
SECOND TEAM
G: Torian Graham, Arlington Country Day, 6-4/200, Senior

North Carolina native is nation's No. 38 senior in ESPNU 100.
G: Solomon Poole, Terry Parker, 6-0/180, Junior

Nation's No. 22 junior in ESPNU 60; brother Stacey plays for Kentucky.
G: Shawn Smith, Faith Baptist, 6-4/180, Senior

Florida's No. 3 senior in the ESPNU 100 is committed to Mizzou.
F: Jordan Goodman, Arlington Country Day, 6-9/210, Senior

Independent schools Player of the Year has committed to Texas Tech.
F: Demetrius Henry, Northeast, 6-8/200, Senior

State's No. 5 senior in ESPNU 100 has offers from Clemson and Va. Tech.
THIRD TEAM
G: Trey Boykin, Arlington Country Day, 6-5/200, Junior

Says one rival coach: "That boy can shoot it and can fly through the air."
G: Dillon Graham, First Academy, 6-4/180, Senior

Florida commit led First Academy to state title game last year.
G: Mitchell Wilbekin, The Rock School, 6-0/165, Sophomore

Dynamic combo guard is brother of Florida sophomore Scottie.
F: Stephon Blair, Dillard, 6-9/240, Senior

A beast in the paint, Blair has offers from USF and UCF, among others.
C: Dakari Johnson, Montverde Academy, 6-10/250, Sophomore

Nation's No. 4 sophomore is likely ineligible due to transfer rules.
FOURTH TEAM
G: Farad Cobb, Summit Christian, 6-1/165, Senior

Committed to Chattanooga; led Summit Christian to state title last year.
G: Traveon Henry, Pine Crest, 6-1/200, Senior

Committed to Northwestern for football, may be even better at hoops.
G: Devontae Morgan, Tampa Prep, 6-3/175, Senior

A three-year starter, Morgan looks to lead Prep to a state crown.
F: Junior Etou, Arlington Country Day, 6-7/210, Junior

Rated the nation's No. 51 junior in the ESPNU 60.
F: Landry Nnoko, Montverde Academy, 6-11/220, Senior

Cameroon native "runs like a deer," according to coach.
Think we missed someone? Let us know in the comments, hit me up on Twitter (@LucasESPN) or send me an email.
September, 29, 2011
9/29/11
9:47
AM ET
By
Lucas O'Neill
| ESPN.com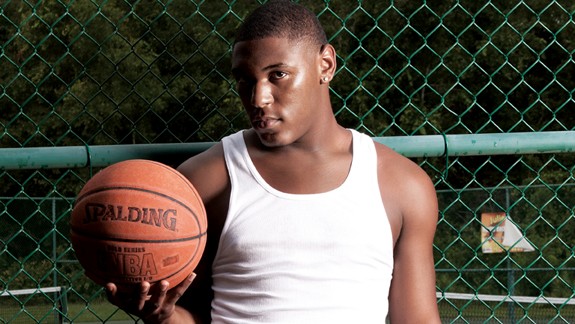 Ren Dittfield/ESPNHSBasketball has helped DeAndre Turner through tough times.
This story originally appeared in the October issue of ESPNHS magazine. Click here to subscribe.
Dionne Smith couldn't sleep.
Her son, DeAndre Turner, was at a party, and she had a bad feeling about it. Dionne didn't normally let DeAndre go out: He was only in the seventh grade and already so talented as a basketball player that she felt he had too much to lose. But DeAndre was a good kid on spring break, so his mother hesitantly let him go.
Daneka Brown, Dionne's eldest child, kept getting phone calls from her mother.
"She kept waking up saying, 'Something's wrong, something's wrong,'" Daneka recalls.
Dionne was right. That night in 2009, a group of boys drove by and shot up the house where the party was being held. DeAndre, who wasn't involved in the altercation believed to be behind the drive-by, was outside and got hit in the leg. He very nearly had to have it amputated.
At the hospital, the boy Dionne nicknamed Poppa as a toddler was crying, but it wasn't because of the pain or the trauma. DeAndre had an AAU tournament that weekend and was coming to terms with the fact that he wouldn't be able to play.
That tells you much of what you need to know about DeAndre Turner. He fell in love with basketball when he started playing as a 10-year-old, and few things have been able to keep him off the court since. Now a 6-foot-2, 205-pound sophomore at Ocoee (Ocoee, Fla.), he is considered one of the state's best players in the Class of 2014.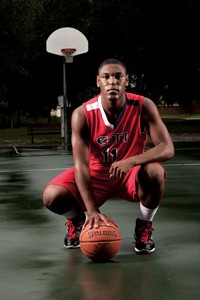 Ren Dittfield/ESPNHSTurner, a sophomore, plays AAU ball with Each 1 Teach 1. He is considered one of the state's top prospects in the Class of 2014.
DeAndre would make a speedy recovery from the shooting, but it was just the beginning of a stretch of tragedy and bad luck that would befall him. That summer, Dionne passed away due to complications from lupus, an autoimmune disorder. DeAndre was just a baby when his father died, and he was especially close to his mother. She would come to every practice and game until her illness kept her away.
Before they could even hold the funeral, the house DeAndre was staying in with Daneka and his six brothers burned down due to an accidental grease fire.
The normally happy-go-lucky Poppa simply shut down.
"I was devastated," he says. "I didn't want to talk to anybody. I didn't want to play basketball. I didn't want to talk to friends. I just wanted to stay in."
Eventually, basketball brought him back. Last year, he led Ocoee in scoring (12.5 ppg) as a freshman, an impressive feat that fits his Poppa moniker.
"He just brings a leadership he doesn't even need to vocalize, it's just there," says Matthew Post, a history and government teacher who was an assistant basketball coach last year. "As a 15-year-old on varsity, we knew we could give him the ball."
On the court there are never any problems, but off the court continues to be a struggle. Dionne had begged Daneka, just 21 at the time, to keep the family together after she passed. Daneka got custody of five of the younger boys, and she's kept her promise.
It hasn't been easy, though, and toward the end of last year DeAndre's grades started to suffer. He won't be eligible to play for Ocoee this year as a result of his sub-2.0 GPA. Daneka thinks the school struggles have coincided with the family struggles — processing his mother's loss and living in a crowded household with no real parental supervision.
It almost seems unfair, then, that the one thing he could count on — hoops — has now been taken away, too. But his older siblings are working with him on his grades and DeAndre is confident he can get back on the court soon.
"Basketball is just keeping me on track, keeping me focused," he says. "There are some days that I sit down and think about it, and know that I lost a lot, and I just need to make it for my family."
That's a lot of pressure for a 16-year-old, but the boy they call Poppa can shoulder the burden.
Lucas O'Neill is a senior writer for ESPNHS and runs the Florida blog. Follow him on Twitter (@LucasESPN) or send him an email.
September, 28, 2011
9/28/11
12:22
PM ET
By
Lucas O'Neill
| ESPN.com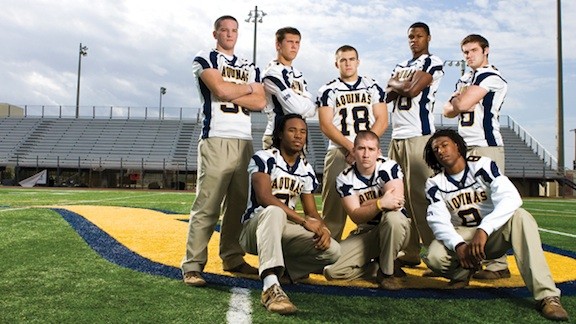 Ren Dittfield/ESPNHSThe 2008 state and national champions. Clockwise from top left: William Nesselt, Dylan Drake, Ben Turk, Gabe Holmes, Jordan Cowart, Duron Carter, Ryan Becker and Dezmen Southward.
St. Thomas Aquinas football, currently ranked No. 2 in the
POWERADE FAB 50
Team Rankings, is chasing its third national title in the past four years. The Raiders were the inaugural POWERADE national champs back in 2008, when they were featured in
ESPNHS magazine
. That squad crushed perennial power Lakeland in the Class 5A state championship to secure its second consecutive title.
The team was loaded with talent, as the photo above demonstrates: Dezmen Southward went on to play for Wisconsin; Ben Turk and Jordan Cowart for Notre Dame; Ryan Becker for Florida State and then Penn; Duron Carter for Ohio State and now Alabama; Gabe Holmes for Purdue; William Nesselt for UMass; and Dylan Drake for Yale. And that was just the seniors — the team featured a bevy of underclassmen that would also go on to play Division I football.
August, 25, 2011
8/25/11
4:53
PM ET
By
Lucas O'Neill
| ESPN.com
Dr. Phillips has not one but two talented Griffeys. Trey is a senior receiver for the football team, while Taryn, a sophomore, tears it up on the basketball court. Both display the trademark dedication and skill that made their father, Ken Griffey Jr., an MLB legend. Here's a behind-the-scenes look at their recent photo shoot for ESPNHS Magazine.
Read more about Trey
Read more about Taryn
August, 23, 2011
8/23/11
11:53
AM ET
By
Lucas O'Neill
| ESPN.com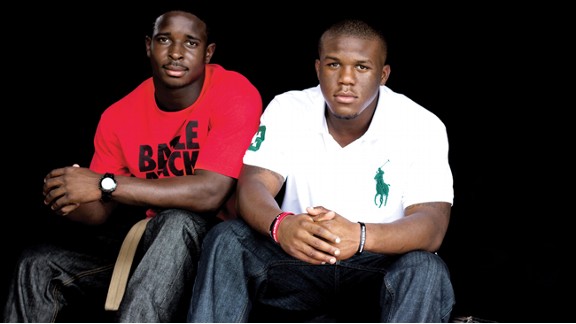 RIKU/ESPNHSFlorida's Sony Michel (left) and Kelvin Taylor are two of the nation's top running backs.
Copies of the ESPNHS Florida magazine start hitting schools (
or homes
) this week, and running backs Kelvin Taylor of Glades Day and Sony Michel of Plantation American Heritage are on the cover. Check out this eyebrow-raising quote from Michel, a sophomore: "Everybody wants to go to the NFL. I want to be in the Hall of Fame." Michel and Taylor are different kinds of backs and different kinds of kids, but they do have some surface similarities:
Each of them is arguably the nation's top running back in his respective class. Each has started since the eighth grade, putting up crazy stats against older competition. Each will have a scholarship to a Division I powerhouse of his choosing. Each is 5-foot-10 and 195 pounds. And each hails from South Florida.

But perhaps the most jarring similarity, at least to the other football teams in the state? Neither is a senior.
Click here
to read the full story.