High-SchoolFlorida:

Recruiting
February, 18, 2012
2/18/12
12:08
PM ET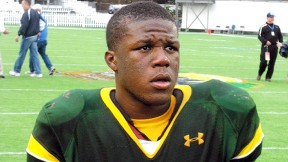 Corey Long/ESPN.comKelvin Taylor becomes the fifth member of Florida's class of 2013.
GAINESVILLE, Fla. -- Florida's junior day got
started with an early bang on Saturday
, as the Gators secured a verbal commitment from five-star running back and Florida legacy
Kelvin Taylor
(Belle Glades, Fla./Glades Day).
Taylor, who surpassed Emmit Smith as the all-time leading rusher in the state of Florida this past season with 9,698 yards, said Florida is where he feels best.
"They just have a great program and great coaching staff. I feel so comfortable around their coaching staff," Taylor said. "It's closer to home and they have great tradition."
Originally, Taylor was planning to wait until national signing day to make his decision, but after careful consideration he decided to end the process early.
"I just wanted to go ahead and get it out of the way," Taylor said. "I felt more comfortable at Florida, and I wanted to focus more on my high school career, so I just wanted to get it done with. I also want to enroll in January, so that's another reason I decided to make the decision early."
Taylor said he plans to enroll early in January 2013.
February, 11, 2012
2/11/12
12:56
PM ET
By
Mike Loveday
| ESPN.com
November, 8, 2011
11/08/11
4:13
PM ET
By
Lucas O'Neill
| ESPN.com
See all 50 All-State teams plus D.C.
With the 2011-12 hoops season set to tip off, ESPNHS has all the info you need on the top players in Florida.
We've broken down the state's top 20 players into four teams based on their talent. Keep in mind, these preseason selections are based on past accomplishments and projected on-court performance in addition to recruit rankings.
For a list of the top senior basketball recruits in Florida,
click here
.
FIRST TEAM
G: Michael Frazier, Montverde Academy, 6-5/195, Senior

Florida-bound SG is one of the nation's best shooters.
G: Kasey Hill, Montverde Academy, 6-1/175, Junior

The state's best point guard has been playing varsity since sixth grade.
F: Malik Price-Martin, Monsignor Pace, 6-8/187, Junior

Versatile All-State PF is state's No. 4 junior is the ESPNU 60.
F: Chris Walker, Holmes County, 6-10/195, Junior

Hyper-athletic combo forward is nation's No. 5 junior in the ESPNU 60.
C: Joel James, Dwyer, 6-10/260, Senior

UNC-bound big helped Panthers win state last year.
SECOND TEAM
G: Torian Graham, Arlington Country Day, 6-4/200, Senior

North Carolina native is nation's No. 38 senior in ESPNU 100.
G: Solomon Poole, Terry Parker, 6-0/180, Junior

Nation's No. 22 junior in ESPNU 60; brother Stacey plays for Kentucky.
G: Shawn Smith, Faith Baptist, 6-4/180, Senior

Florida's No. 3 senior in the ESPNU 100 is committed to Mizzou.
F: Jordan Goodman, Arlington Country Day, 6-9/210, Senior

Independent schools Player of the Year has committed to Texas Tech.
F: Demetrius Henry, Northeast, 6-8/200, Senior

State's No. 5 senior in ESPNU 100 has offers from Clemson and Va. Tech.
THIRD TEAM
G: Trey Boykin, Arlington Country Day, 6-5/200, Junior

Says one rival coach: "That boy can shoot it and can fly through the air."
G: Dillon Graham, First Academy, 6-4/180, Senior

Florida commit led First Academy to state title game last year.
G: Mitchell Wilbekin, The Rock School, 6-0/165, Sophomore

Dynamic combo guard is brother of Florida sophomore Scottie.
F: Stephon Blair, Dillard, 6-9/240, Senior

A beast in the paint, Blair has offers from USF and UCF, among others.
C: Dakari Johnson, Montverde Academy, 6-10/250, Sophomore

Nation's No. 4 sophomore is likely ineligible due to transfer rules.
FOURTH TEAM
G: Farad Cobb, Summit Christian, 6-1/165, Senior

Committed to Chattanooga; led Summit Christian to state title last year.
G: Traveon Henry, Pine Crest, 6-1/200, Senior

Committed to Northwestern for football, may be even better at hoops.
G: Devontae Morgan, Tampa Prep, 6-3/175, Senior

A three-year starter, Morgan looks to lead Prep to a state crown.
F: Junior Etou, Arlington Country Day, 6-7/210, Junior

Rated the nation's No. 51 junior in the ESPNU 60.
F: Landry Nnoko, Montverde Academy, 6-11/220, Senior

Cameroon native "runs like a deer," according to coach.
Think we missed someone? Let us know in the comments, hit me up on Twitter (@LucasESPN) or send me an email.
September, 16, 2011
9/16/11
11:09
AM ET
By
Lucas O'Neill
| ESPN.com
With FSU hosting Oklahoma, Florida welcoming Tennessee and Miami bringing on Ohio State, many of Florida's top recruits — whether they're committed to colleges or not — are going to be in Tallahassee, Gainesville or Miami on Saturday. ESPN Recruiting
has the lowdown
.
The top-five matchup between Florida State and Oklahoma is the big one with over a dozen ESPNU 150 prospects planning on making the trip to Tallahassee, including FSU commits Mario Pender (Cape Coral, Fla./Island Coast) and Marvin Bracy (Orlando, Fla./Boone). Uncommitted ESPNU 150 prospects like Nelson Agholor (Tampa, Fla./Berkeley Prep) and Kent Taylor (Odessa, Fla./Land O'Lakes) are also planning to attend.
To see which recruits are heading to the state's other two big matchups,
read the full story here
.
August, 22, 2011
8/22/11
3:17
PM ET
By
Lucas O'Neill
| ESPN.com
Below is our preseason All-State football team for Florida, as featured in the ESPNHS Florida magazine (
subscribe
), plus an additional 125 top players. The team is based on projected on-field performance and past accomplishments — and not necessarily recruiting potential. For a list of the top football recruits in the state,
click here
.
Think there's someone we're missing? Tell us about him in the comments or reach out on Twitter (
@LucasESPN
).
OFFENSE
David Thompson, Westminster Christian, QB, Senior
State's all-time HR king could play baseball and football for The U
Nick Patti, Dr. Phillips, QB, Senior
Threw 32 TDs in 2010, leading the Panthers to the Class 6A state title game
Derrick Henry, Yulee, RB, Junior
Has racked up 60 TDs and more than 5,000 yards in his first two years
Sony Michel, Plantation American Heritage, RB, Sophomore
Could be the nation's top recruit by the time he's a senior
Kelvin Taylor, Glades Day, RB, Junior
State career TD record-holder has led team to consecutive state championships
Chris Black, First Coast, WR, Senior
Rated the nation's No. 3 wideout in the ESPNU 150
Angelo Jean-Louis, Palm Beach Central, WR, Senior
Miami commit is the nation's No. 7 wide receiver in the ESPNU 150
Avery Johnson, Blanche Ely, WR, Senior
Under Armour All-American is the brother of Cardinals' Patrick Peterson
Jessamen Dunker, Boynton Beach, OL, Senior
Gators commit checks in at 6-foot-6, 315 pounds
John Theus, Bolles, OL, Senior
An ESPNHS Junior All-American last year, he has committed to Georgia
Avery Young, Palm Beach Gardens, OL, Senior
The 6-foot-5, 270-pound tackle has offers from Florida and FSU, among others
DEFENSE
Dante Fowler Jr., Lakewood, DL, Senior
Had 20 sacks, 107 tackles and five fumble recoveries in 2010
Jelani Hamilton, St. Thomas Aquinas, DL, Senior
The 6-foot-5 Miami recruit anchors the defense of the state's top team
Tyriq McCord, Tampa Jefferson, DL, Senior
Defensive end is No. 99 overall recruit in the ESPNU 150
Keith Brown, Miami Norland, LB, Senior
Miami commit helped Vikings to state title game
Noor Davis, Leesburg, LB, Senior
Stanford commit rated the nation's No. 2 linebackers in the ESPNU 150
Eddie Williams, Arnold, LB, Senior
Alabama recruit also plays QB and DB for Arnold
Nelson Agholor, Berkeley Prep, DB, Senior
Also a standout WR and RB, he puts the "elite" in athlete.
Travis Blanks, North Florida Christian, DB, Senior
LSU commit is the nation's No. 2 safety in the ESPNU 150
Deon Bush, Miami Columbus, DB, Senior
Explorers safety has terrific speed and size
Tracy Howard, Miramar, DB, Senior
Rated the nation's No. 1 cornerback in the ESPNU 150
Amos Leggett, Homestead, DB, Senior
The 5-foot-11 cornerback has committed to Miami
Next 125 after the jump...