High-SchoolFlorida:

Alex Thompson
February, 22, 2012
2/22/12
4:11
PM ET
By
Lucas O'Neill
| ESPN.com
As
expected
, there are some major shakeups in
this week's rankings
due to the fact that several of the state's top 25 teams played one another during the first two rounds of regional tournaments. Let's jump right in.
Though it might not qualify as a huge upset,
West Orange
knocking off
Dr. Phillips
is big news in 8A. After two consecutive years of losing to Austin Rivers and Winter Park in the state finals, it looked like this might be DP's year. It was not to be for the Panthers and junior guard
RaShawn Powell
. For its part, West Orange chose the right time to peak and is now one of the hottest teams in the state. Led by Murray State signee
Erik McCree
(18 ppg), the Warriors knocked off Olympia to win the district title and now find themselves in the regional final against
Hagerty
. That has the potential to be a great game — depending on which Hagerty team shows up. Will it be the team that handed No. 1
Montverde Academy
its only in-state loss, or the team that lost to Evans, Seminole, Lake Brantley (twice) and Lake Howell? (In fairness, half of those losses came early in the season when the Huskies were missing key players due to injury.)
Moving over to 7A, No. 2
Blanche Ely
took care of business on Tuesday night, but
Steve Haney
and
St. Thomas Aquinas
didn't make it easy. Ely is the overwhelming favorite to capture the title — no other team left in the bracket is ranked in the top 25, though Atlantic and Martin County certainly could make a case for inclusion. In 6A,
Leesburg
won big for the second consecutive game. After an up-and-down season, the Yellow Jackets have finally hit their stride. Our prediction? Leesburg and
Miami Norland
in the championship.
You have to hand it to
Terry Parker
, a team that nobody was picking once star guard
Solomon Poole
was suspended last month for the remainder of the year, per FHSAA requirements, after being ejected from his second game of the season. But Parker is now in the 5A regional finals, where the Braves will face
Rutherford
.
Nature Coast Tech
, which lost to eventual state champ Leesburg in 4A last year, also prevailed, while
Lake Wales
and
Tampa Jesuit
are set to do battle after winning their respective games.
The 5A regional semis also marked the end of the road for
Alex Thompson and Jensen Beach
, who lost to a surging
Plantation American Heritage
team five days after knocking off heavily favored Dillard.
In Class 4A, three of the four teams in last week's top 25 prevailed:
Godby
won easily,
Lake Highland Prep
pounded Jones (a state finalist last year and a top 25 or bubble team for most of this one) and
Pine Crest
upset University. Upset may be putting it strongly, however: Pine Crest had beaten University last month, and the Panthers have been to the state final four or farther each of the last five years, capturing two titles when a certain
Brandon Knight
was on the roster.
Class 3A would be considered the "group of death" if this were the World Cup — the one bracket with no easy outs. In our opinion, 3A has the most difficult field this year top to bottom, tougher than even the largest classifications. Five of the remaining eight teams are in our top 25, where most of them have been all season:
Sagemont, Tampa Prep, First Academy, Father Lopez
and
Providence
. (That doesn't even include Summit Christian and Coral Springs Christian, top 25 teams eliminated by Sagemont in the past five days.) While many brackets look different now that the FHSAA has moved to eight classifications, this one has a familiar feel to it; last year, First Academy beat Lopez, Providence and Tampa Prep before falling to Sagemont in the 2A championship.
Finally, favorites
Grandview Prep
and
Orlando Christian Prep
won easily in 2A, while in 1A, top contenders
Chipley
and
Malone
advanced to face each other in the regional finals. Malone had to go through Holmes County and its star junior,
Chris Walker
, to get there.
So which teams moved into our state rankings and which dropped out?
Click here to see the full POWERADE Weekly Hoop Rankings
, including capsules on the state's top 25 squads.
February, 21, 2012
2/21/12
7:01
PM ET
By
Lucas O'Neill
| ESPN.com
After I soaked in the crowd's reaction, that's when I looked up at the scoreboard and said to myself, "Wow, we just beat Dillard."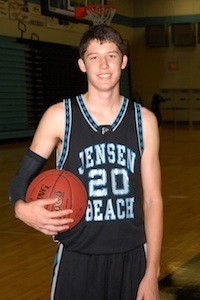 Courtesy Paul CarecciaAlex Thompson is averaging more than 24 points and 10 rebounds per game for Jensen Beach.
Alex Thompson was understandably excited after Jensen Beach knocked off Dillard in the regional quarterfinals last week. The 6-foot-8, 190-pound junior scored 24 points — and helped hold Dillard's star big man Stephon Blair to just 10 — as the Falcons upset the heavily favored Panthers, 62-53.
Dillard is perennially one of Florida's top basketball teams and entered last week's contest
ranked No. 18 in the state
. Jensen Beach (22-5), on the other hand, was a bubble team coming off a district championship win over Suncoast. Thompson scored 33 points in that contest, and the junior big man — who is averaging 24 points and 10 rebounds on the season — will try to do it again when the Falcons host Plantation American Heritage in a regional semifinal on Tuesday night. We had some questions for Thompson heading into that tilt.
How has this season gone so far? Best part?
The season has been successful, we've had our ups and downs, but overall, it has been pretty good. We've set some new marks as a school this year: most wins in a season, and our first ever win in regionals. Personally, I was able to score my 1,000th point this season. Overall, the best part of the season has been the win over Dillard or the district championship win over Suncoast (who we split with during the season)
That was a big upset of Dillard. What was the atmosphere like after the win?
We made a couple plays towards the end of the game that got the crowd going — I hit a three,
Jean Alexis
and I both converted 3-point plays, and
Sherrod Huntley
hit a three — so right when it finally ended, the whole student section stormed the court. It was wild, because the fans knew how big of an upset that it was.
What will you remember most?

It was all a blur right after the game, but I do remember one of my good friends ran up to me and pointed at me and said, "You did it. You did it." That's probably going to stick with me for a while.
Aside from you guys, area teams like Martin County have also had strong seasons. Do you think the Treasure Coast is underrated in terms of basketball talent?
Definitely. Teams like Vero Beach, Martin County, Fort Pierce Central, and us are usually around the top and playing at a high level every year. The games are very competitive along the Treasure Coast. Knowing many of the guys from AAU basketball adds to the rivalries.
What does your team need to do to go even further in the playoffs?

Keep listening to our coaches and executing our gameplan. Coach Kelly does his homework and tells us how to beat every team we play. I think that's what gives us the edge most of the time.
Last year you averaged 20 points and more than nine rebounds per game. What did you work on in the offseason to improve?

I worked on my strength, ball handling, and jumping ability over the summer, which has really helped me play on the perimeter and above the rim a lot more.
How has AAU ball affected your game? What's the major difference between that and high school ball?

AAU ball really opened my eyes to how high the level of competition is at the top. The major difference between AAU and school ball to me is that the pace is much faster in AAU and the amount of talent that can be on the floor at any given time is much higher in AAU.
What are your biggest strengths? What parts of your game still need the most work?

I would say my biggest strengths are my versatility and my shooting ability. My strength and lateral quickness are things that I need to improve during the offseason.
You're only a junior, but where are you at with the recruiting process?

I'm starting to get some notice from a few smaller division one and division two schools here and there. I'm hoping the process will really start to pick up during the upcoming AAU season.
Jensen Beach hosts Plantation American Heritage at 7 p.m. On Wednesday afternoon, we'll update the POWERADE Florida Weekly Basketball Rankings to reflect that contest and the rest of the regional semifinal games.