High-SchoolFlorida:

MLB Draft
June, 5, 2012
6/05/12
12:16
PM ET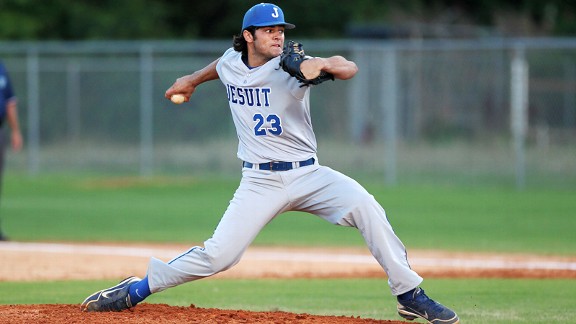 Mike Janes/Four Seam Images via AP ImagesGatorade National Player of the Year Lance McCullers of Jesuit (Tampa, Fla.) slipped to the Astros in the sandwich round likely due to signability concerns.
High school prospects figured heavily into Monday night's MLB draft, with Puerto Rican prep shortstop Carlo Correa going No. 1 overall in a surprise pick by the Houston Astros and Georgia outfielder
Byron Buxton
going No. 2 to the Minnesota Twins. In all, 35 high schoolers were drafted out of the 60 picks on Day 1.
Correa became the first Puerto Rican player to be picked No. 1 in the MLB draft. The 6-foot-4, 190-pound
native of Santa Isabel
has a powerful bat and good speed. Given his size and position, some scouts couldn't help but compare him to a young Alex Rodriguez. Buxton also earned some pretty impressive comparisons throughout the draft process, with names like Justin Upton and Andrew McCutchen being thrown around. The 6-1, 175-pound outfielder
burst onto the scene
with a number of impressive showings last summer and held strong with his performance at Appling County (Baxley, Ga.) this spring.
Correa wasn't the only high schooler from Puerto Rico who heard his name called Monday, as the Twins used the first pick of the sandwich round on lanky right-hander Jose Orlando Berrios and the Los Angeles Dodgers used the 51st pick on Jesmuel Valentin-Diaz, a teammate of Correa's at the Puerto Rico Baseball Academy.
Many had
Lance McCullers Jr.
from Jesuit (Tampa, Fla.) pegged as a possible top-10 pick, but his slide into the second round was one of the biggest stories of the evening. McCullers, a 6-2, 205-pound right-handed pitcher, ended up being selected 41st overall by the same team that picked Correa -- the Astros. McCullers,
the Gatorade National Player of the Year
, may have slipped due to high signing bonus demands, and the $1.25 million assigned to the No. 41 pick surely won't be enough to sway him from his commitment to Florida. The Astros, who have $11.2 million to spend total among their first 11 draft picks, will have to do some creative budgeting if they want to sign both Correa and McCullers Jr.
High school teammates factored prominently into Day 1 of the draft. Harvard-Westlake (Studio City, Calif.) pitching aces
Max Fried
and
Lucas Giolito
were both selected in the first round. Fried, a 6-3, 170-pound left-hander, heard his name called seventh overall by the San Diego Padres.
Fried transferred to Harvard-Westlake for his senior year
after his old school cut its athletics department, and after a dominant spring it's no surprise he went in the top 10 picks.
Giolito is a different story. Considered the No. 1 prep prospect entering the spring, the 6-6, 230-pound power righty was sidelined a few weeks into the season with a sprained ulnar-collateral ligament in his right elbow. He only recently began throwing again, and draft experts were split as to whether a team would take the risk and select him in Round 1. The answer to that question turned out to be yes, as the Washington Nationals picked him 16th overall. His pick is slotted at $2.1 million, but it may take more than that to sign him away from his commitment to UCLA, especially considering he was at one time projected to earn a signing bonus of at least twice that much.
Olympia (Orlando, Fla.) teammates
Jesse Winker
and
Walker Weickel
were both picked in the sandwich round, with Winker going 49th to the Cincinnati Reds and Weickel going 55th to the Padres. Winker, a sweet-swinging outfielder, had seen his stock surge of late. He hit close to .500 in his senior season with an OBP of .649. There was a time earlier this spring when it looked like Weickel was a sure bet to be picked higher than Winker, possibly even in the first half of the first round. But concerns about diminishing velocity pushed Weickel down draft boards.
In addition to Fried and Weickel, the Padres also grabbed prep right-hander
Zach Eflin
of Hagerty (Oviedo, Fla.) at No. 33. At 6-5 and 205 pounds, Eflin has a frame scouts love to go with a fastball that has been clocked in the mid-90s. A battle with triceps tendinitis earlier this spring may have hurt Eflin's stock slightly, but he could prove to be
one of the steals of the draft
. It may be a tough task for San Diego to sign all three of these high-upside selections, but inking even two of them would have to be considered a success.
A few other teams also went high school heavy Monday night. The Toronto Blue Jays used four of their five picks on preps, including first-rounder
D.J. Davis
from Stone County (Wiggins, Miss.) at No. 17. The Rangers grabbed a trio of prep prospects, with
Lewis Brinson
of Coral Springs (Fla.) leading the way at No. 29. The Chicago White Sox were doing flips over their draft, as they snagged Carroll (Corpus Christi, Texas) outfielder/pitcher
Courtney Hawkins
13th overall (he celebrated by doing a back flip live on TV). With their only other pick of the evening, they grabbed
Keon Barnum
of King (Tampa, Fla.) -- arguably the high schooler with the best raw power in the draft.
Stray observations
--Solon (Ohio) lefty
Matt Smoral
had injury issues his senior year — he missed most of the season with a stress fracture in his foot. When healthy, he was considered a potential top 10 talent. Toronto selected him with the No. 50 pick.
--
Joey Gallo
seems like a perfect fit for the Texas Rangers at No. 39 with his power. Gallo hit .509 with 21 homers and 80 RBIs in his final season at Bishop Gorman (Las Vegas).
--Parkview (Lilburn, Ga.) star
Matt Olson
played his best ball toward the end of the season in leading the Panthers to their second straight state title. Perhaps that played a role in him landing with Oakland at No. 47.
--Hamilton (Chandler, Ariz.) third baseman
Mitch Nay
saw his numbers drop this season as he saw fewer good pitches to hit. But there's no doubt the Blue Jays got a tremendous talent at No. 58 — Nay still impressed enough to earn Gatorade State Player of the Year honors this season.
May, 25, 2012
5/25/12
11:46
AM ET
By
Lucas O'Neill
| ESPN.com
Until recently, the experts who project where baseball prospects will be drafted and how they'll be used saw Jesuit (Tampa, Fla.) senior right-hander
Lance McCullers Jr.
as a future relief pitcher.
The idea made his father and his coach incredulous.
"I don't understand how you classify someone as a reliever" before they get to the majors, said his dad, Lance Sr., himself a former MLB relief pitcher.
"I always thought he had starter potential," added Jesuit coach Richie Warren, "and this year he's proven he's a starter and should be drafted as a starter."
For his part, McCullers didn't worry about the skeptics. He knew what people said or predicted was largely out of his control.
"I can look up all these mock drafts, but nothing I do is going to change what's going to happen," McCullers said.
Although, that's not entirely true. What McCullers could control — what he did on the mound this spring — might very well change what happens during the first day of the MLB draft. McCullers went 13-0 with a 0.18 ERA, striking out 140 batters in 77.1 innings. He didn't allow a single earned run during the regular season and led Jesuit (28-2) to the state semifinals.
In his last high school game, McCullers blanked eventual 6A champs American Heritage (Plantation, Fla.) over six innings in the semis before being pulled — and watching his team fall, 3-0, in extra innings. Jesuit, which was ranked No. 1 in the country prior to the loss, will still likely finish in the top 10 nationally in the
POWERADE FAB 50
.
Dominant as it was, his performance this season didn't come as a huge surprise. He is rated the
No. 15 prospect in the ESPN 100
and was an All-American last summer. He also earned the prestigious Jackie Robinson Award, which is presented to the nation's top rising senior prospect.
That being the case, how was it possible he was deemed a future short-innings guy? His dad has a theory: "Because I was a reliever, they didn't give him any chance to be a starter," said McCullers Sr.
But perhaps there's another explanation: The scouts and talent evaluators — at ESPN and elsewhere — had every reason to project McCullers as a reliever, because until this year that's what he was.
Prior to this spring, McCullers had never been a full-time starter for the Tigers. In his first two years on varsity, he worked mostly as a closer, posting a 0.39 ERA and helping Jesuit advance to the state title game as a sophomore. He did a little bit of everything last year but started just nine of the team's 34 games, fanning 79 in 52 innings of work.
That he had never pitched long innings was by design. Jesuit has had strong pitching since McCullers made the team as a freshman (one of just two players to do so in the past 15 years, according to Warren), including Daniel Gibson, Jesuit's ace in 2009 and 2010 and now a sophomore at the University of Florida. McCullers was also one of the team's top position players — he hit .422 with seven home runs as a junior — and the thought was that he might be drafted as such.
It was evident early on that he had a first-round arm, however, and the scouts didn't bring their radar guns to test his bat speed. McCullers was throwing in the 90s as a sophomore and was frequently in the upper-90s as a junior. The question became whether he could sustain that velocity over the course of a game or a season.
Some scouts decided the answer was no, that his mechanics lent themselves more to the bullpen. So heading into this season, it was up to McCullers to change their minds.
To prepare for his first season as a full-time starter, McCullers worked out six times a week during the offseason. Monday, Wednesday and Friday were pitching-related: mechanics and building arm strength. There was a lot of medicine ball work. Tuesday and Thursday were dedicated to the gym, in particular focusing on adding muscle to his legs.
With his long-time trainer, Orlando Chinea, and friend Jose Fernandez, the former Alonso (Tampa, Fla.) ace and a first-round pick by the Marlins last June, McCullers would also march into the woods and chop down trees, utilizing muscles unlikely to be touched in normal workout. He didn't touch a baseball the entire offseason, though he did use a softball to strengthen his shoulder.
Warren never doubted McCullers would be effective. But with the added workload, there were questions of "how he was going to deal with in-game adversity and how he was going to be able to get through innings if he had guys on base," the coach said.
And while flirting with 100 mph on the gun is great, McCullers needed to show he could maintain both speed and command in the later innings. A knock on McCullers was that he relied too much on his fastball — which as a closer may have been true — so his other pitches would be more important that ever.
McCullers left no doubts. He pitched well with men on base. He walked fewer batters than last year despite pitching 25 more innings. He threw six complete games. In one game, Warren said, McCullers was clocked throwing 98 in the first inning and 97 in the seventh. Because of that heat, his changeup and curve were devastating.
The kicker is that what may have hurt McCullers among prognosticators before the season began — his lack of starting experience — could now be viewed by prospective MLB teams as a plus: He simply doesn't have a ton of wear and tear on that right arm.
"I know he's a lot fresher than probably any kid in the country," said McCullers Sr.
McCullers wouldn't label the season a total success, since the Tigers came up short of their goal of winning a state championship. The face of the program and a three-year captain, McCullers wanted that title to cement his legacy. Falling short is going to sting for awhile.
But individually, McCullers was nothing short of phenomenal, and he likely put to rest the notion that he's destined for the bullpen. Keith Law has McCullers
going No. 11 overall in his latest mock draft
.
He could go higher or drop some. He might wind up eschewing the pro route at this stage, instead heading to Gainesville to play for the Gators. The road to the majors is a long and uncertain one, but McCullers knows the direction he wants to be headed.
"I just want to be the best," he said. "I want to be the best player to ever play this game. Is that reachable? Who knows. But as long as I'm able to go out there and strap on my cleats … that's what keeps me motivated that's what keeps me going."
May, 11, 2012
5/11/12
11:33
AM ET
By
Brandon Parker
| ESPN.com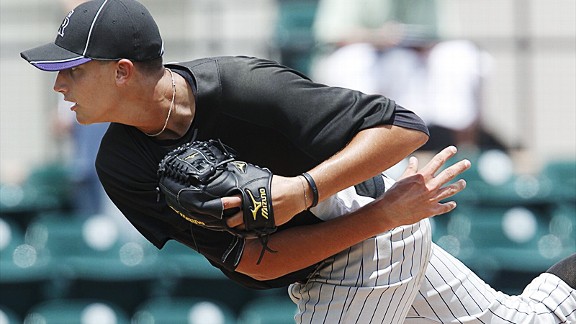 Cliff Welch/Icon SMIAfter taking up baseball as a kid to escape a difficult home life, Hagerty (Oviedo, Fla.) senior pitcher Zach Eflin is now a top MLB draft prospect.
As Hagerty (Oviedo, Fla.) coach Jered Goodwin scanned his bench for relief pitching options in the middle innings of the district title game two years ago, he kept coming back to
Zach Eflin
.
With the game on the verge of being put out of reach by a powerful Oviedo (Fla.) team, asking a sophomore to stop the bleeding was daunting. Asking a sophomore who had only recently been called up to varsity and who had quit the team a few months earlier was downright crazy. But with future MLB draft pick A.J. Cole on the hill for Oviedo, Goodwin knew he needed more than just strong relief pitching -- he needed a miracle.
He signaled for Eflin to warm up.
"I was a little nervous in the bullpen," Eflin recalls. "I mean, knowing A.J. Cole would be a high draft pick, I'm looking at going up against a full-grown man."
Thing is, Eflin had done plenty of growing up himself -- mostly against his own will. That's why he looked unfazed on the mound that night, retiring nine of the 10 batters he faced to open the door for his team's triumphant comeback win. It also explains why two years later, the right-handed pitcher is the No. 14 senior prospect in the
ESPN 100
and a likely early-round pick in the June MLB draft.
It was the type of growing up that no kid should be forced to endure. But the resilient Eflin has managed to turn the burden into a blessing.
Like most baseball players, Eflin's love for the sport stemmed from a game of catch with his dad. But the pastime that evolved into his passion was as much an opportunity for bonding as it was a distraction.
"My mother was an alcoholic, so my dad thought baseball was a good way to do some father-son bonding and give me a break from that environment," Eflin says.
Some days it worked. When he had a little league game, Eflin could take refuge on the field, forgetting about his problems at home. But on other days, when he came home to see his mom passed out on the floor, Eflin was reminded of his nightmarish circumstances.
"As a kid, it put me in a bad mood to see her like that," says Eflin, who currently has little contact with his mother. "My dad was working two jobs to support us. But when he was gone, it was just me and my two sisters living off each other. I would look forward to baseball so much because it was the only thing that got my mind off it all."
At home, Eflin learned what he never wanted to be. On the baseball field, he began to positively channel his anger and discovered what he could be instead.
"On the positive side, it helped push him to want to go to the next level," says his father, Larry. "It taught him that when you work hard for something, make it mean something so you don't sit back and let it go to waste. That's why his original goal going into high school was to be good enough to go to any school of any size on a baseball scholarship."
In his coach's eyes, it didn't take long for Eflin to reach that level of talent. After sizing him up as an eighth- and ninth-grader, Goodwin knew he had a star on his hands. A star batter, that is.
"We actually thought he was going to be a hitter," says Goodwin, who also coached Eflin on the FTB Mizuno travel squad. "He had soft hands in the field and while he had a good arm and could throw a ton of strikes, he would short-arm his throws a little bit. So the impression was he was going to swing the stick for us.
"But then he hit this growth spurt and started improving his velocity and mechanics as a pitcher. He made some strides where his pitching surpassed his hitting."
Eflin's evolution, however, came to screeching halt in the fall of his sophomore year, when he suddenly got fed up. Fed up with the conditioning and seemingly endless training. Baseball was his safe place, where he could escape the pain at home. But with fall workouts taking place four days a week and little actual baseball in between, Eflin began to resent the sport he loved.
"It was like two months of hell and I didn't want to be out there," Eflin says. "I didn't have a passion, so I left for a week. But then I started to miss the game so much."
When Eflin returned to practice, he immediately focused on regaining the trust of his teammates and coaches, all while taking his passion for training to another level. He embraced the team's weightlifting program, worked on his arm trajectory and subsequently settled into his imposing frame, which now measures 6-foot-5 and 200 pounds.
With Eflin's renewed commitment came a gradual rise in his velocity. As a sophomore, his pitches only peaked in the mid-80s, but he got by thanks to his pinpoint control. After a couple intense offseason workout programs, which included early-morning sessions of long toss and mechanical work, Eflin now has scouts drooling over his 96 mph fastballs and nasty changeups.
"He's made consistent strides throughout his whole career," Goodwin says. "One of the things that separates him from other players is he's still got so much projection. He dominates the strike zone, can put on a show in batting practice and still has so much potential."
His senior campaign only added to this belief, as Eflin went 5-2 with a 0.55 ERA and 57 strikeouts in 38 innings. This all while having 50, sometimes 60, big league scouts evaluating his every throw and movement.
In a few weeks, one major league team will draft Eflin and offer him hundreds of thousands (if not millions) of dollars to pass on his commitment to Central Florida. And though Eflin's dream has always been to one day reach the majors, he admits that going to UCF is just as enticing.
"Family is the biggest thing," Eflin says. "I can go to UCF for a lot of reasons, like both of my grandparents live within five minutes and it's close to my dad. I've never known what it's like to have a real mother, so I'm a big family man. And I thank God every day for blessing me with these opportunities."
Eflin has plenty of reasons to forget his difficult past, what with his future gleaming so bright. But oftentimes, just as he did on that fateful night two years ago when his number was surprisingly called, Eflin draws back on this pain for perspective. For every strike he throws, he knows life can throw something greater.
"Zach does a great job of winning the next pitch," Goodwin says. "If something bad happens, he could always still go compete, even as a 15-year-old. So when I put him in that game, I knew he could go make it happen.
"Zach knows baseball isn't the hardest thing he'll have to do."
Brandon Parker covers high school sports for ESPNHS. Follow him on Twitter @brandoncparker or email him at brandon.c.parker@espn.com