High-SchoolFootball:

ESPNHS Magazine
January, 10, 2012
1/10/12
11:20
AM ET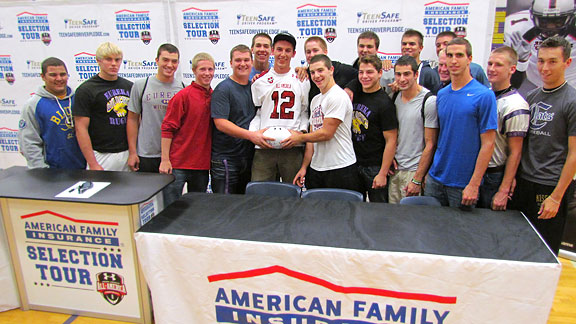 Tye Eckert/UnderArmourEureka (Mo.) senior Zach Hirth (center, in jersey) is rated the nation's No. 2 long snapper by ESPNU and was selected to the 2012 Under Armour All-America Game.
This story originally appeared in the Winter 2012 issue of ESPNHS magazine.
Scott Daly
could have gone on vacation during spring break. He could have spent the week hanging out with friends or playing video games 24/7. If nothing else, he could have at least slept in.
Instead, Daly used the spring break of his junior year to chase the unthinkable — a scholarship to be the long snapper for the Notre Dame football team.
January, 10, 2012
1/10/12
11:19
AM ET
By
Ryan Canner-O'Mealy
| ESPN.com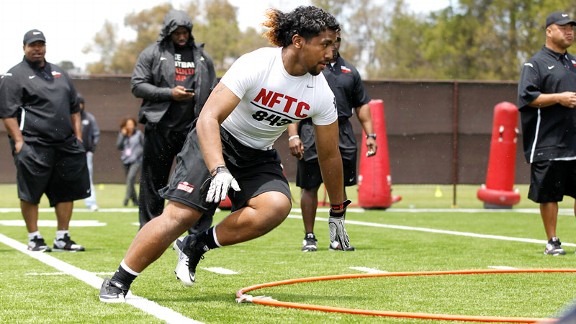 Tom Hauck for ESPN.comAfter attending last year's Nike Football SPARQ Combine in Oakland, Patterson (Calif.) defensive tackle Pio Vatuvei landed an offer from USC and committed to the Trojans.
This story originally appeared in the Winter 2012 issue of ESPNHS magazine.
Heading into last spring,
Dwayne Hoilett
was an afterthought on the recruiting trail.
Florida International had expressed some interest. Texas A&M and Texas Tech had sent a few letters. But that was it.
Then he went to the
Miami Nike Football Training Camp
.
Competing against some of the best players in the Southeast, Hoilett took his game to another level. The 6-foot-3, 225-pound defensive end showed outstanding speed, strength and pass-rushing abilities, and he walked away with D-line MVP honors.
January, 10, 2012
1/10/12
11:16
AM ET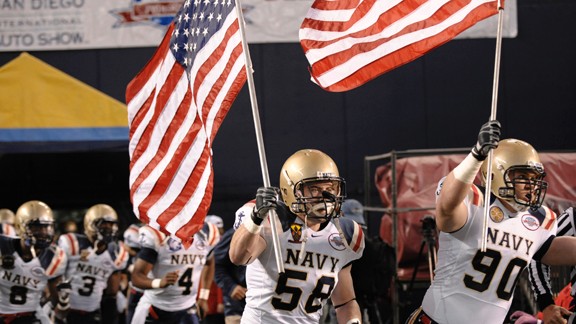 AP/Denis PoroyThousands of high school athletes each year have committed to play a Division I sport at a U.S. service academy.
This story originally appeared in the Winter 2012 issue of ESPNHS magazine.
When you commit to play a sport at one of the three major United States service academies, you are signing up for a lot more than four years of practices and games. Each school requires a five-year active duty commitment upon graduation. In a time of war, that pledge can be daunting, yet thousands accept it each year. We talked to three high school seniors who have committed to play a Division I sport at an academy to find out what went into their decisions.
November, 22, 2011
11/22/11
10:06
AM ET
By
Brandon Parker
| ESPN.com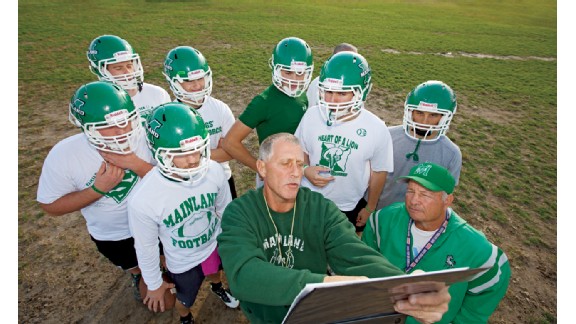 Steve Boyle/ESPNHSMainland Regional (Linwood, N.J.) football coach Bob Coffey gives his players instructions during an October practice. The Mustangs lost four of their teammates in a tragic preseason car accident.
This story originally appeared in the Holiday issue of ESPNHS magazine.
At a time when the Mainland Regional (Linwood, N.J.) community was grasping for a sense of normalcy, there was no escaping the fact that its world was off kilter.
A rare earthquake rattled the East Coast. Floodwaters engulfed the area as Hurricane Irene blew through town. But perhaps nothing sent that message more clearly than the four funerals of four teenage boys that took place in a surreal 10-day span.
On Aug. 20, as eight Mainland football players headed to a post-practice meal, the SUV they were riding in went out of control and flipped several times on the Garden State Parkway. Four players — Casey Brenner, Edgar Bozzi, Nicholas Conner and Dean Khoury — died in the crash.
"We had all of those things going on around us, but our players, coaches and school had four brothers to bury," Mainland coach Bob Coffey said. "It was one of the hardest moments of my entire life. I could live 10 lifetimes and probably never experience a tragedy like that."
In times like these, sports are often used as a refuge. But for a tight-knit community like Linwood, where Friday night football is king, it wasn't always so easy.
On game day, the players used black socks and helmets with decals to honor their fallen teammates. And even though competitive juices churned during the game, the Mustangs' opponents made a point to show their support. In the opener, Hammonton (Hammonton, N.J.) lined up to high-five the Mustangs as they ran onto the field. Meanwhile, each team in the Cape Atlantic League has worn commemorative decals on its helmets.
Initially, on-field success was hard to come by for the six-time state champion Mustangs, who started 0-2 before beating Ocean City (Ocean City, N.J.) on Sept. 23. And after holding a moment of silence before their first two games, the players found the pain too upsetting to continue the well-intentioned act. Still, the Mustangs pressed on and will close out their season Thursday in a Thanksgiving matchup against Egg Harbor Township (Egg Harbor Township, N.J.).
"It's a roller coaster of emotions," says Mainland athletic director Mike Gatley, whose first week on the job was the same week as the accident. "You remember some positives, but there's also some anger. Why did this happen to young guys in the prime of their life? But the community and players have really rallied together."
Before practice, when Coffey calls the roll, he still mentions the names "Bozzi," "Brenner," "Conner," and "Khoury," to which the players respond with a resounding "Here!" On Thursdays, the Mustangs' weekly pasta dinner is attended by the victims' parents, giving the players a welcome connection to their brothers while reassuring them that their parents' hearts remain strong.
Unfortunately, no sign of camaraderie is powerful enough to bring their teammates back. But with every tribute and display of resilience, the spiritual presence of their fallen friends pushes the community a bit closer to that often elusive feeling: normalcy.
"On Bozzi's birthday [Oct. 5], our players started something cool while we were running sprints. They said, 'Let's run these for Bozzi,'" Coffey recalls. "I thought it was great because they ran harder than they usually would; they ran with passion. It was a real good way to put a positive twist on a tragic event.
"Things like that show the character of these players and the incredible strength of our community."
Brandon Parker covers New Jersey for ESPNHS magazine and ESPNHIGHSCHOOL.com. Follow him on Twitter @brandoncparker or email him at brandon.c.parker@espn.com.
September, 30, 2011
9/30/11
9:33
AM ET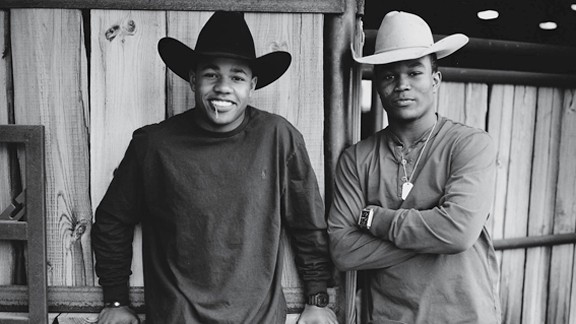 Photograph by Andreas Laszlo KonrathDefenses have had few answers for Heritage Hall (Oklahoma City) teammates Sterling Shepard & Barry J. Sanders.
Heritage Hall (Oklahoma City) senior football stars Sterling Shepard and Barry J. Sanders are arguably the nation's top gridiron tandem. The ESPNU 150 recruits went into this season with plenty of hype and they've more than backed it up, accounting for 17 touchdowns as the Chargers have cruised to a 4-0 start.
As has been the case through most of their high school football careers, Shepard and Sanders have found themselves on the sidelines in the second half of games this year due to Heritage Hall's big first-half leads.
Fortunately, the precocious pair can find plenty of competition in practice.

This story originally appeared in the October issue of ESPNHS magazine.
The toughest competition Barry J. Sanders and Sterling Shepard have seen during their time on the Heritage Hall (Oklahoma City) football team hasn't come on game day.
The Chargers -- winners of two state titles in the past three years -- frequently dominate their opponents, meaning Sanders and Shepard are often on the sideline by the second half.
"The biggest problem I have is getting them enough touches," Heritage Hall coach Andy Bogert says.
It's a nice problem to have. But for elite players like Sanders and Shepard, half a game doesn't satisfy their competitive appetites. Fortunately for them, there's practice, which serves as a game of "Can You Top This?"
Sanders and Shepard -- both two-way skill-position players ranked in the ESPNU 150 -- always go head-to-head in position drills, and sometimes it gets heated. Bogert won't let them go against each other during the full-contact portion of practice for fear of a major collision.
"They fight it out every single day," their coach says. "If one of them gets the better of the other, they're talking. It's pretty entertaining."
Sanders and Shepard use the battles as a way to gauge their skill levels.
"It's a lot of fun," Sanders says. "I don't think I'll face another receiver like him."
The two also share a bond in that their fathers were once gridiron stars. Sanders' dad, Barry, is a Hall of Fame running back. Derrick Shepard, who died when Sterling was 6, starred at Oklahoma and played in the NFL for five years.
While their one-on-one practice matchups are intense, the close friends are glad to be on the same side come game time.
"We love playing [together]," Shepard says. "It makes our jobs a lot easier."
STERLING SHEPARD
Class:
2012
Positions:
WR/RB/QB/DB
ESPNU 150 Rank:
57
HT/WT:
5-11/185
411:
Shepard was a touchdown machine last season, recording 34 total TDs, including four in the Class 3A state title game. The Oklahoma commit put up 1,015 receiving yards and added 571 yards on the ground. On defense, he tallied 103 tackles and eight INTs.
BARRY J. SANDERS
Class:
2012
Positions:
RB/CB
ESPNU 150 Rank:
77
HT/WT:
5-10/190
411:
Sanders played in just seven games last fall because of a torn ligament in his right foot, but he still managed to rush for 1,168 yards and 16 touchdowns. He's considering Oklahoma State, Florida State, Alabama and Stanford.
GO WATCH:
Check out Barry J. Sanders and Sterling Shepard for yourself when their Heritage Hall team takes on Bethany (Okla.) on Oct. 28 at 8 p.m. ET on ESPNU.